"Animation Contents Expo 2013" opening, the stage and passage are also gissil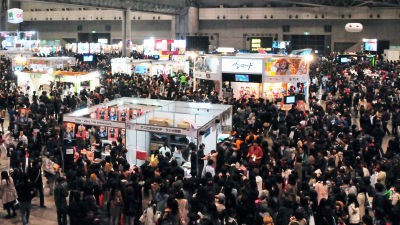 Celebration that the animation industry gave the whole power "Anime Content Expo (ACE) 2013"Is held in Makuhari Messe. This time we are using 5 holes from 1 hole, 3 hall from exhibition / merchandising booth of each company, 4 holes and 5 holes are equipped with animation and a main stage which can make a particularly long line among the merchandise among the merchandising I will.

ANIME CONTENTS EXPO 2013 | Animation Content Expo 2013
http://www.animecontentsexpo.jp/index.html

◆ March 20, 2013 18: 08: 55 seconds
"Mini Burger to eat in Bob" and other animation content Expo 2013 Collaboration food Various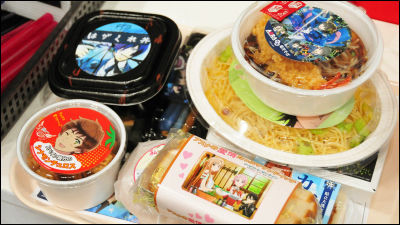 ◆ April 16, 2013 20: 00: 41 second
About the contents of "Ginga machine gang Majestic Prince" Appear five voice actors talk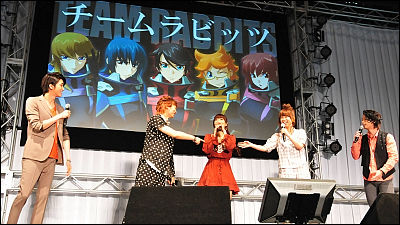 ◆ 2013 04/26 20 o'clock 13 min
Producer Takiguchi Taniguchi wants to make a royal road animation where ordinary girls appear, "Producer" tells "Fantasista Dole"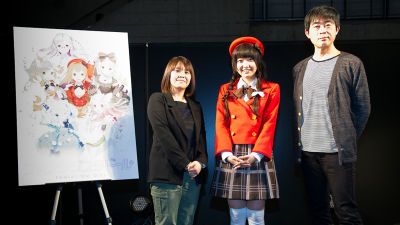 ◆ Kaihin Makuhari Station - Makuhari Messe
Most of the people who got off the coast of Kaihin Makuhari before 8 o'clock went toward Makuhari Messe.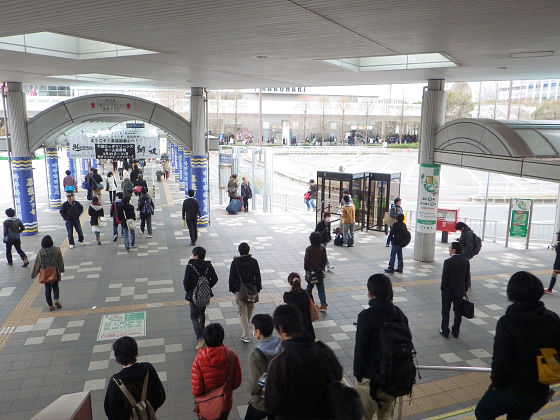 People's way to Makuhari Messe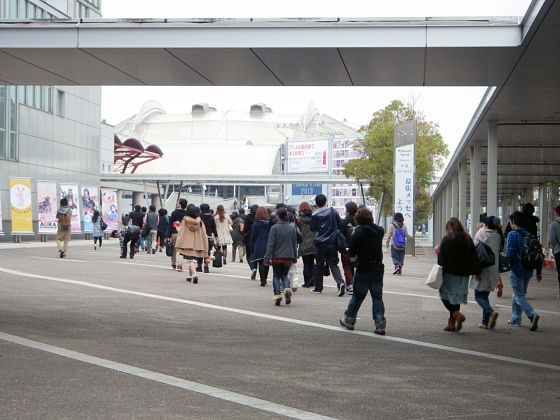 Banners and others are posted on the way



Various works of characters are sliding in the big banner to the right of "Animation's forefront, Waiting for you -".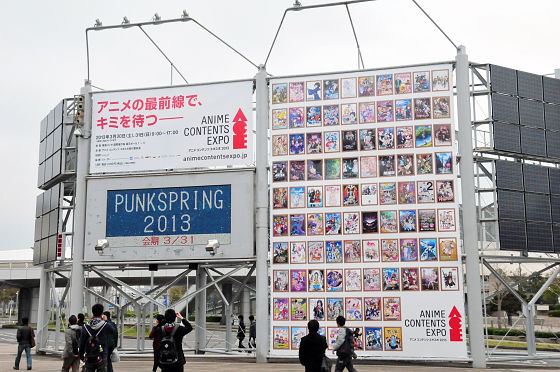 In front of 5 holes "THE IDOLM @ STER MOVIELarge banner with cast sign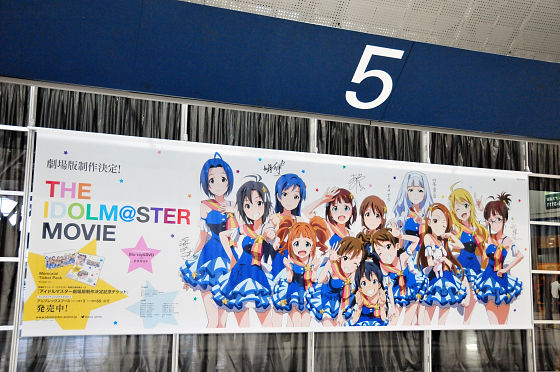 ◆ Venue landscape
This is the entrance gate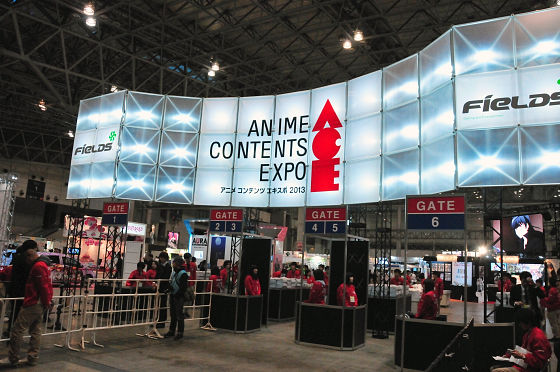 Looking from the inside it looks like this, the front shutter opens and enters the shape.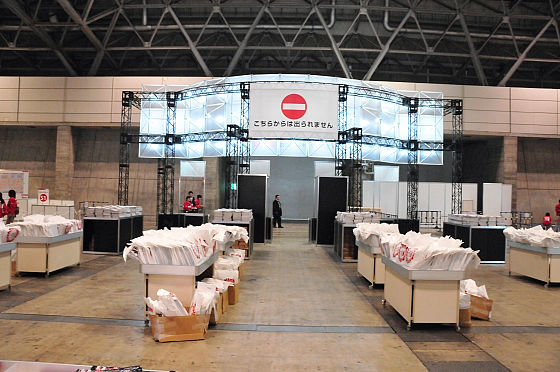 Opening
Early admission of charity fast ticket purchaser started at 8:30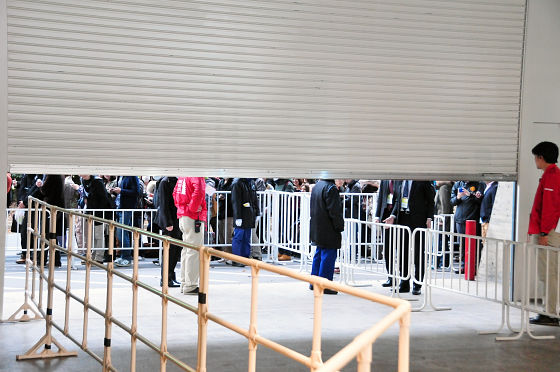 This time the number of people who do opening dash has been drastically decreasing, and despite the large number of people, quiet entrance became.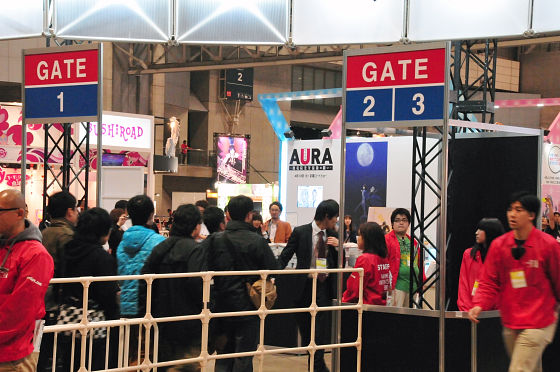 Overlooking 1 hole to 3 holes, there are such exhibitions / merchandising booths such as Aniplex, Bandai Visual, Warner Bros. and Bushiroad.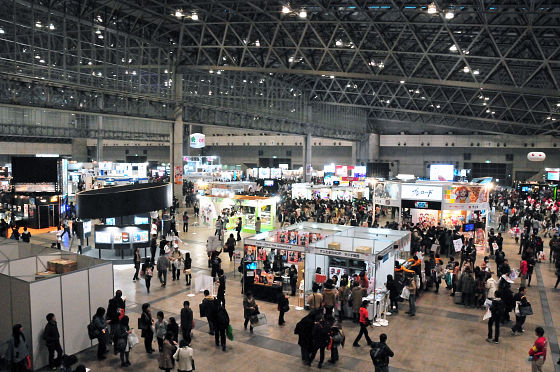 The animation booth where the queue waiting for the longest 4 hours was made last time was installed in the 4th hole which is the next hole, and a considerably large matrix space was established.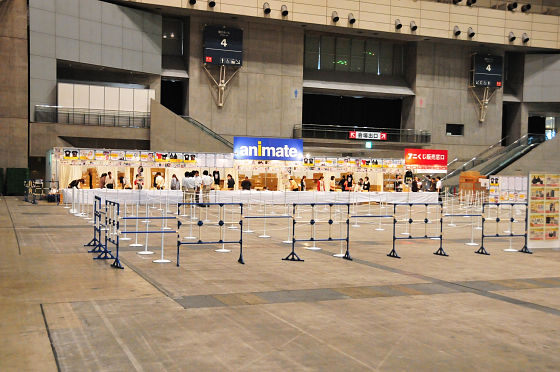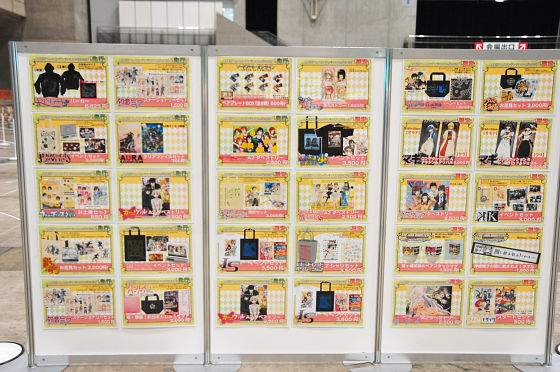 Also a rest space is also set up in the 4th hole ......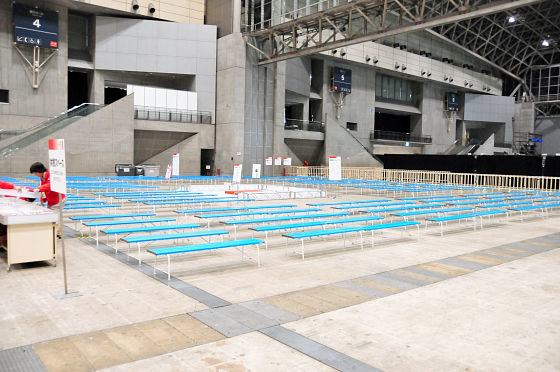 Ice sculpture performance etc will be done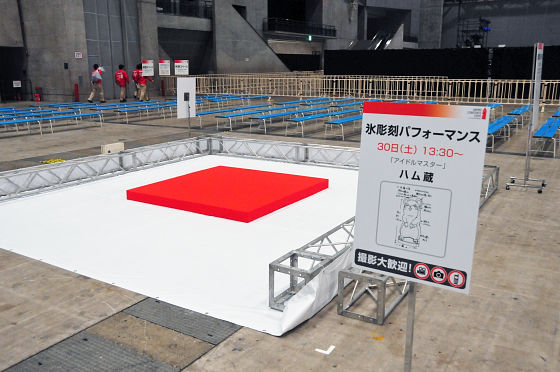 Next to the stage you can see the stage only a bit.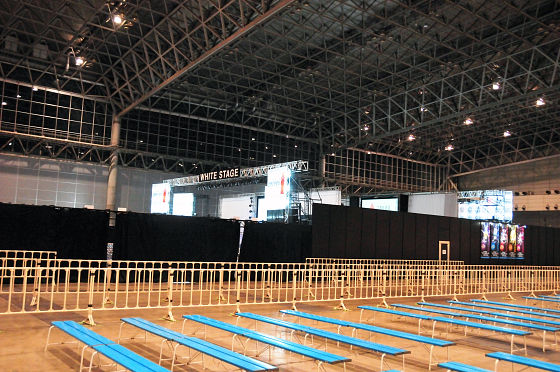 Also, there are monitors that can see the stage. Aniplex advertising producer Yuumi Takahashi says that the height of the panel that covers the stage is such that the cast on the platform from the break space can not be seen but the image on the screen is as high as it can be seen, It is made with the idea that people who could not take viewing tickets can watch while watching the monitor, like "Pro Wrestling in the Showa era".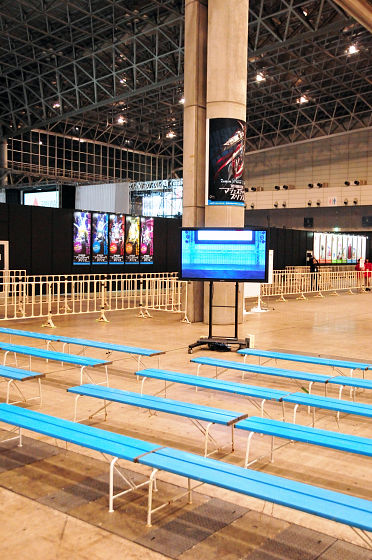 ◆ Other, various stuff you saw at the venue
A matrix is ​​born here and signs of "last tail" will rise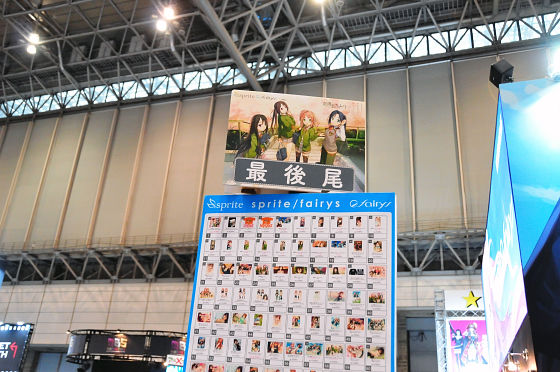 The end of the queue "There is no end" ...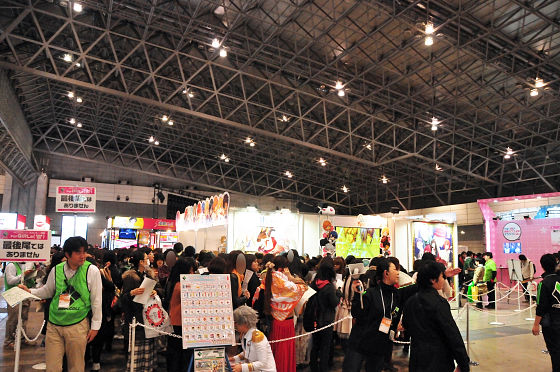 It leads to the booth exterior matrix space established at the end of the hall.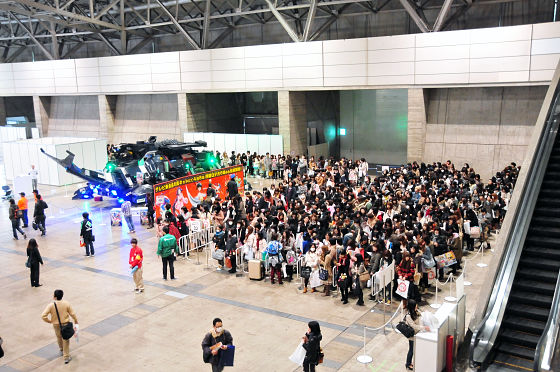 Here is a line of sales of Aniplex's theater tickets. The last tail was guided out ... ...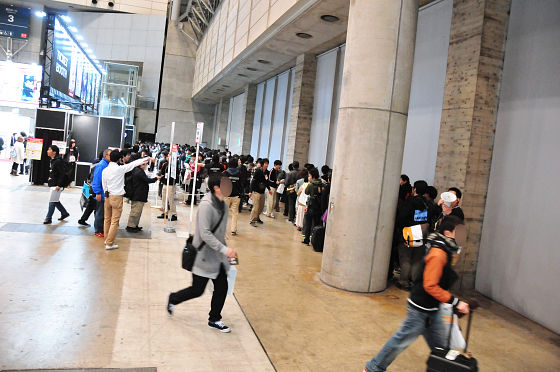 Gissil up to the outside.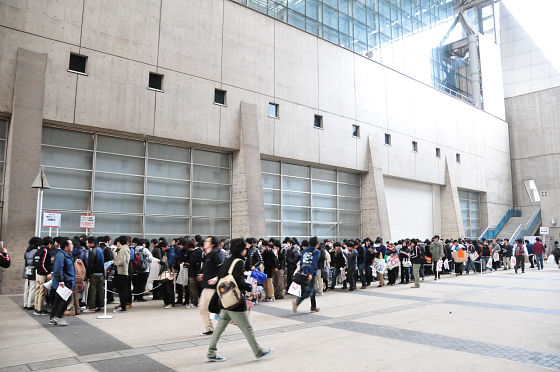 Tickets on sale look like this.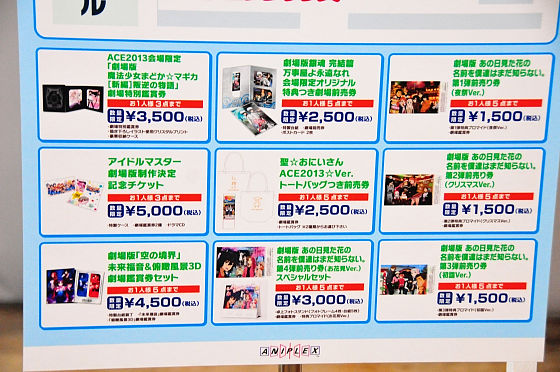 Sometimes the back of some sort of matrix will move through the venue to connect to the original queue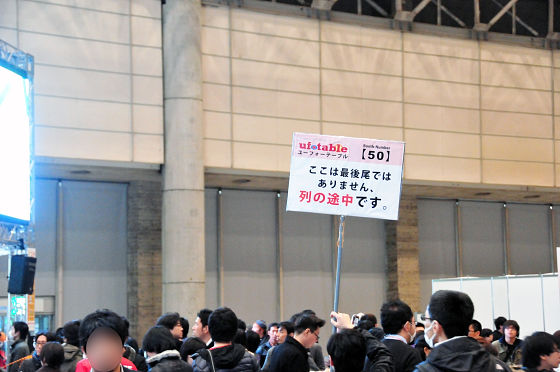 A long line was still made for animate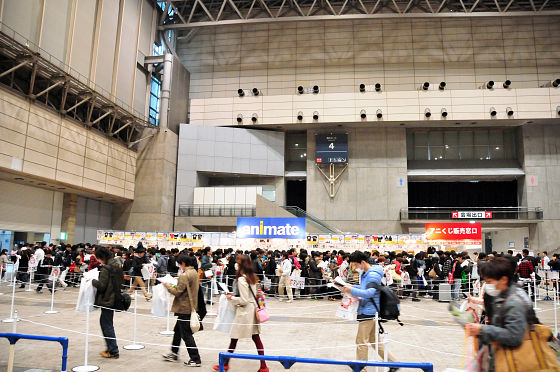 General entrance starts at 9 o'clock, outside this row. What is visible on the left is a column of purchase of the same day ticket.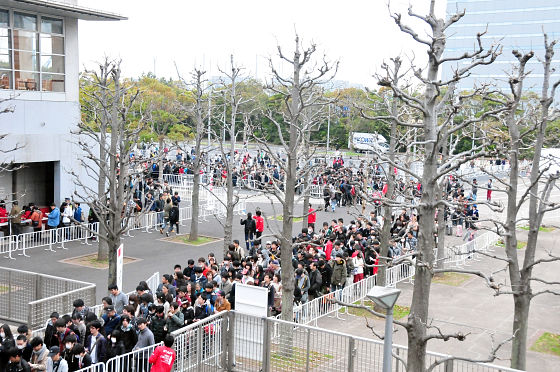 The population density in the venue will increase steadily as you enter one after another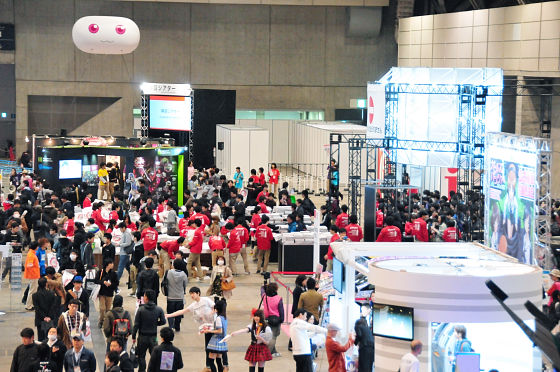 At the star-chilled booth is in the middle of a booth event. People are disappointed until the other side.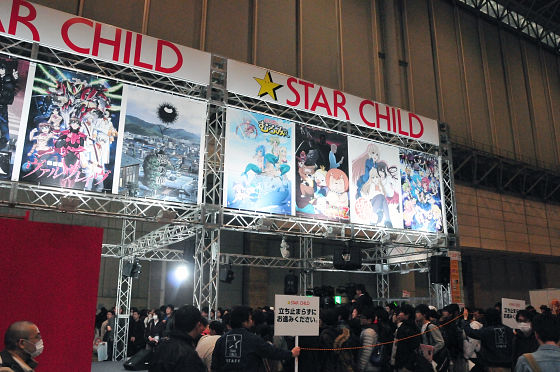 The size of the food area has also been expanded considerably this time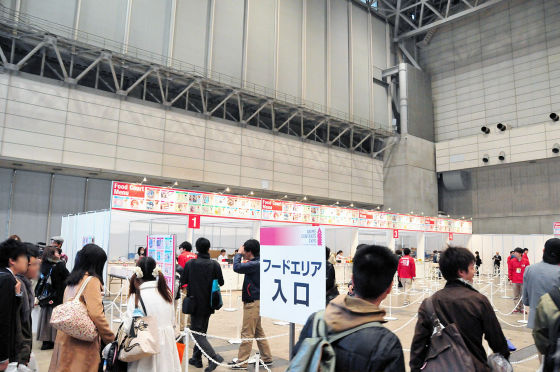 Anyway, there are lots of people and I feel hot.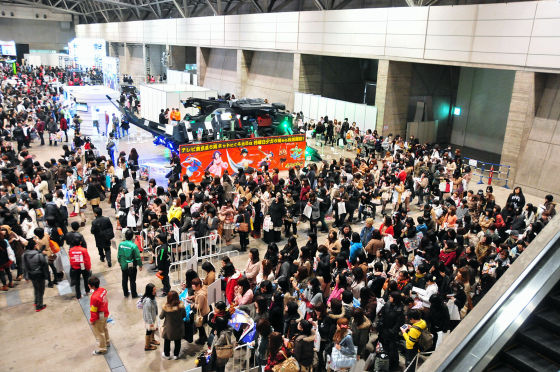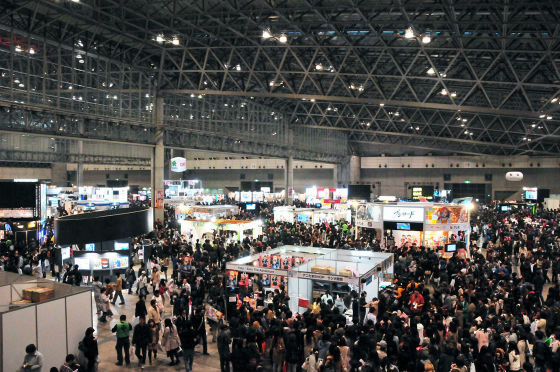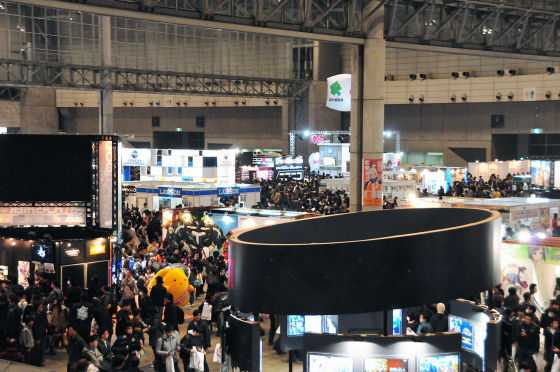 One of the Organizer's projects, "Sawawa Exhibition" that you can see while touching exhibits.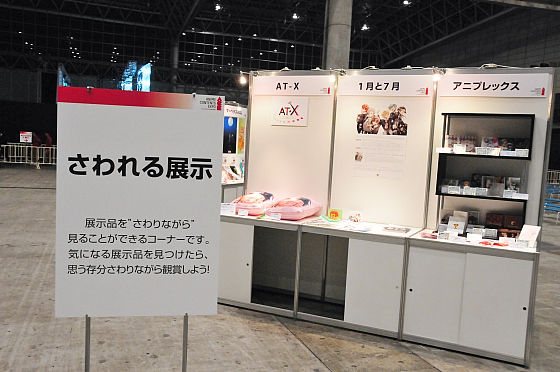 For example, it is a corner where you can read BD booklets and check the embracing pillow.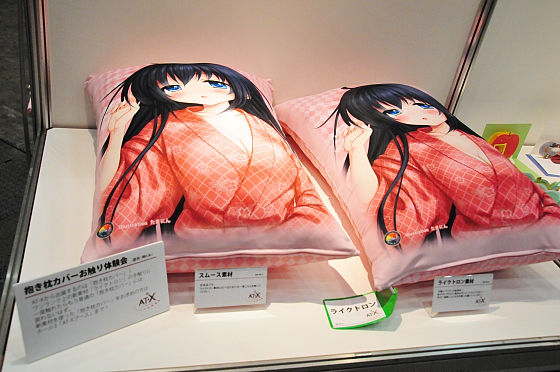 Sawasa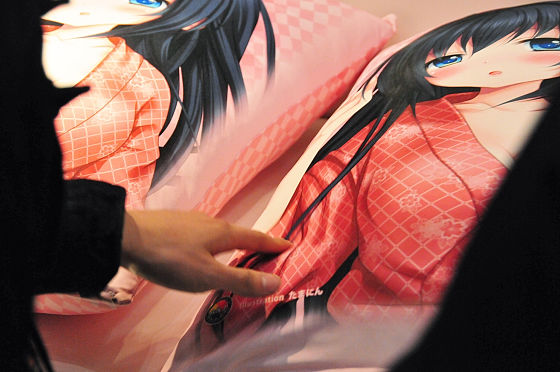 There was also a performance to reproduce the character with candy work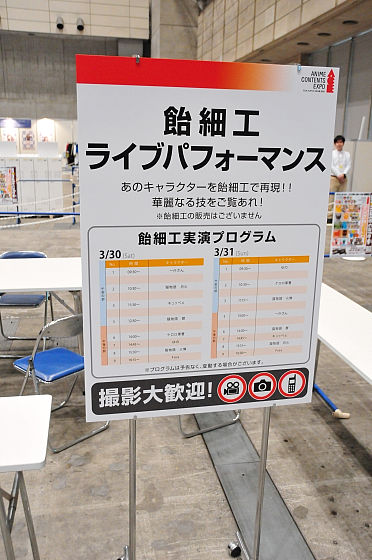 Araragi Kiyomi, Monday Tue, Embarrassment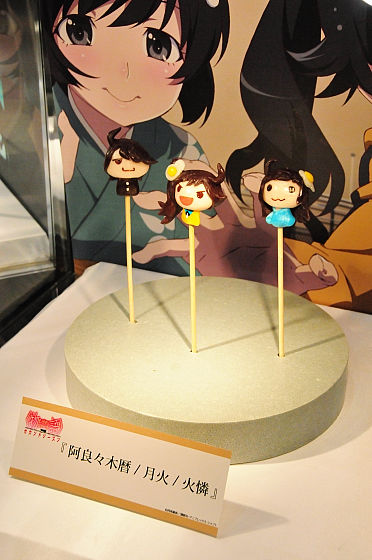 © Nishio Ishin / Kodansha · Aniplex · Shaft

Boiled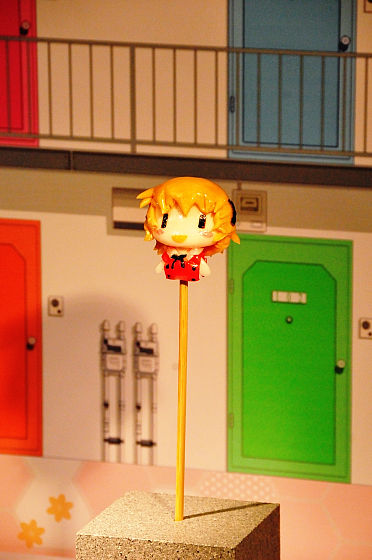 © Aoki Ume, Hoson Branch / Hidamari Susumu Association

Warner Bros. 's booth has a terrible figure of a "pillar man" ......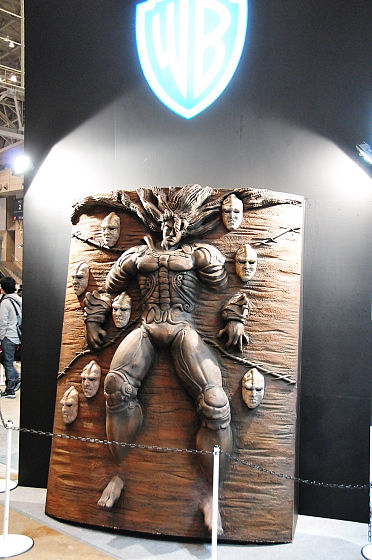 It is safe to approach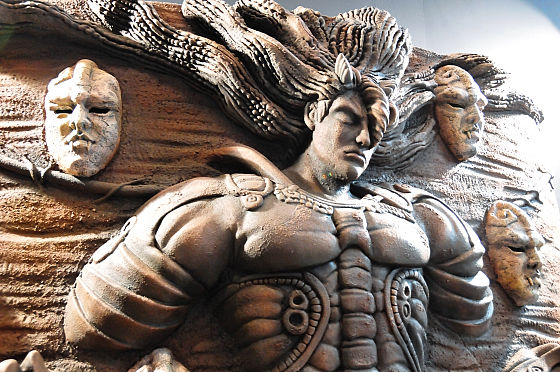 Creepy stone mask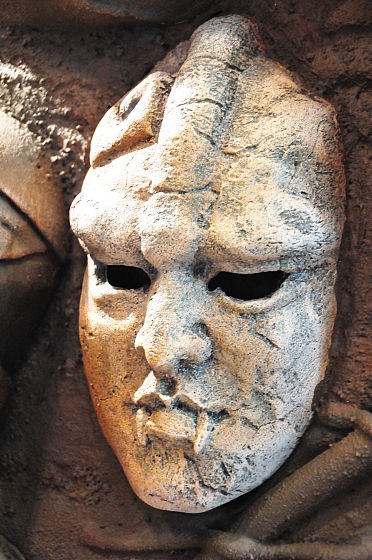 "Contract me and become a card member"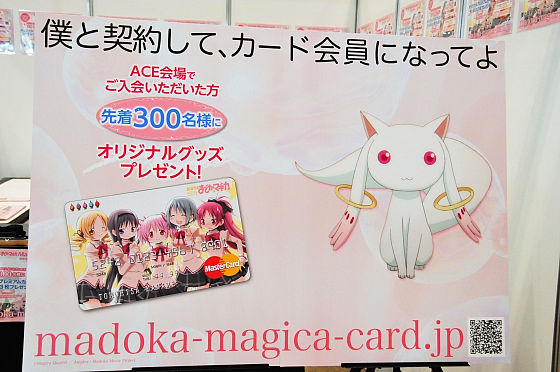 Elegant "towering up at the Dentsu booth"Attack on TitanGiant's head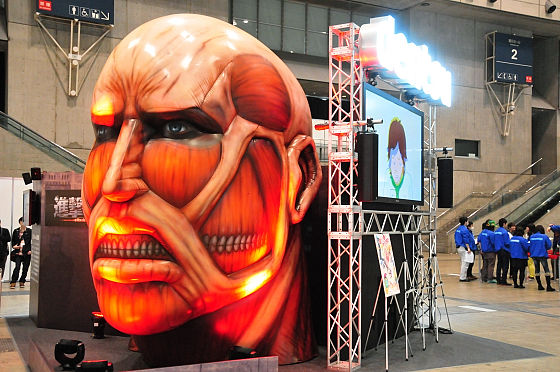 It will be broadcast on TV Tokyo series from AprilMushvugye"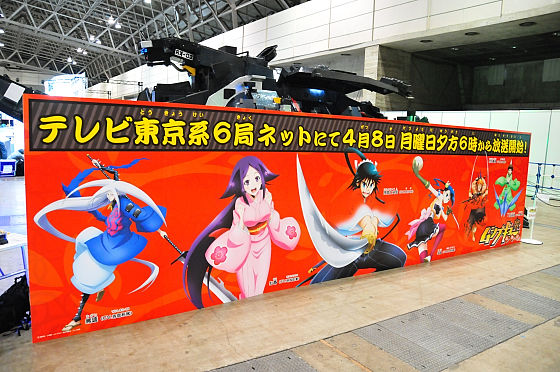 A huge beetle robot appears that has a total length of 11 m, a weight of 17 tons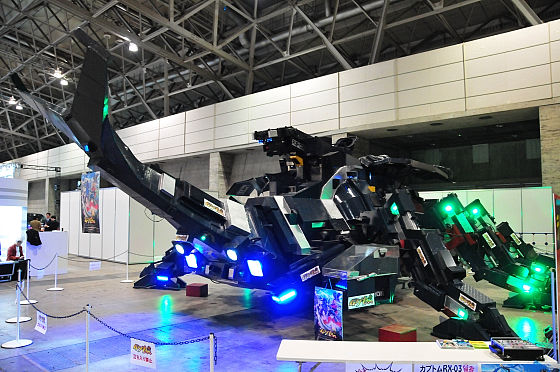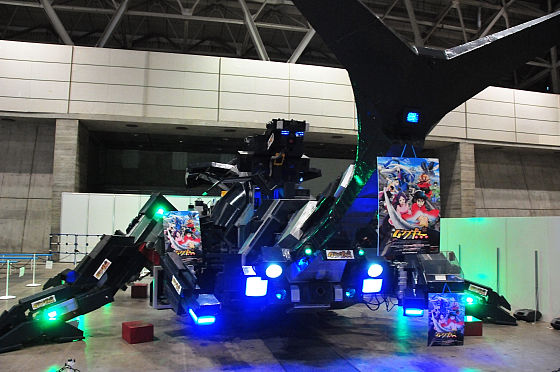 Official pain car appears in "Girls & Panzer"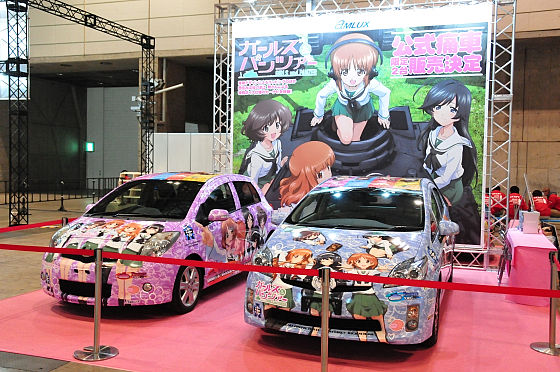 bonnet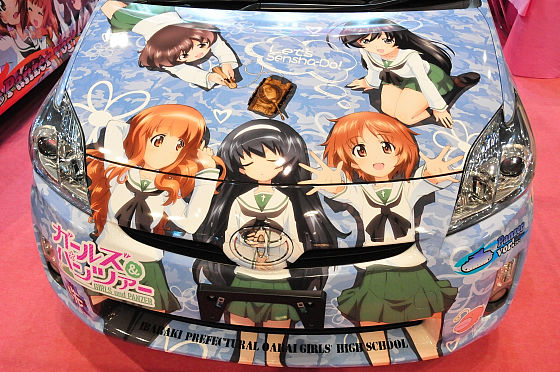 On the side is the Owase girls' school's school passage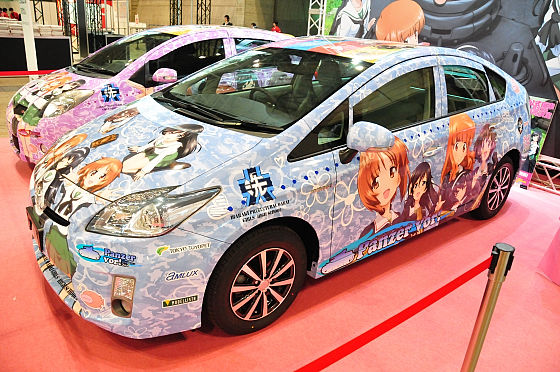 Another salute pose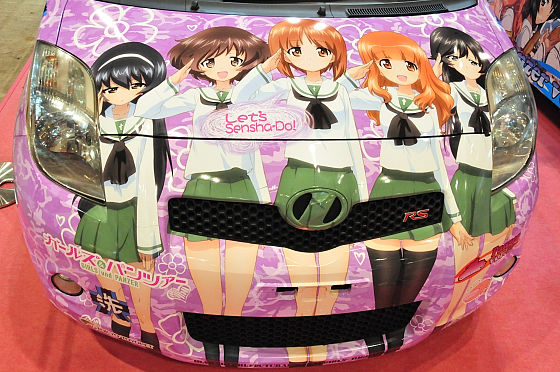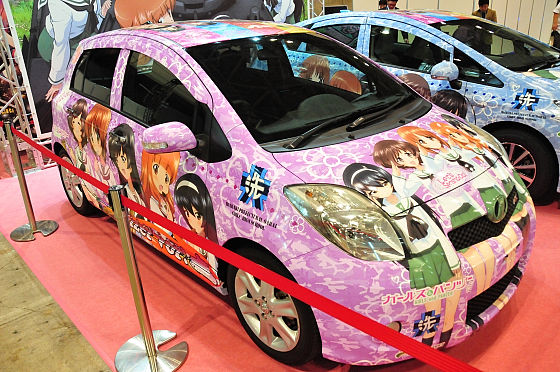 "Love Live!" There seems to be a pain car, too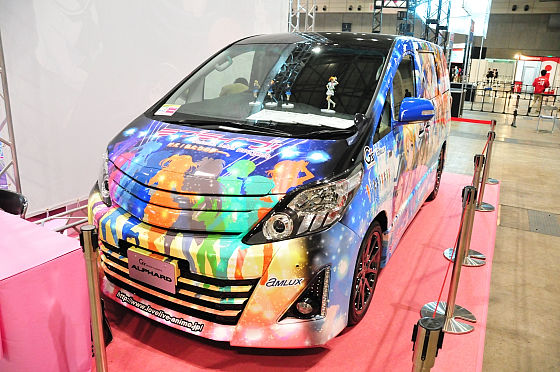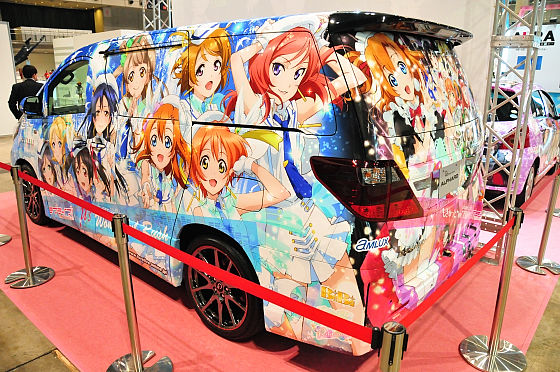 On May 31, Shin Sea Makoto's latest work "Garden of Words"Will be released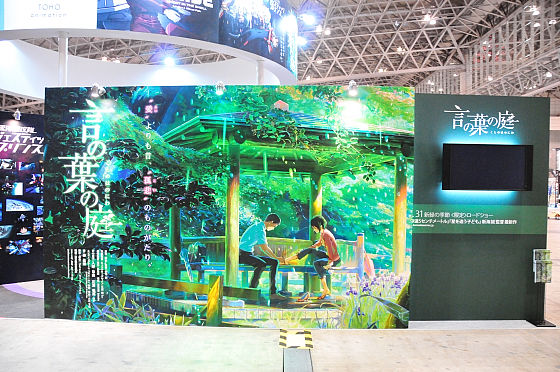 A new program of broadcasting from April "Ginga Machine Squad Majestic Prince"Panels of five robots appearing are on display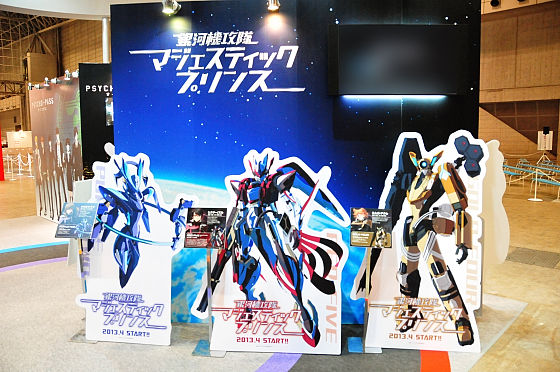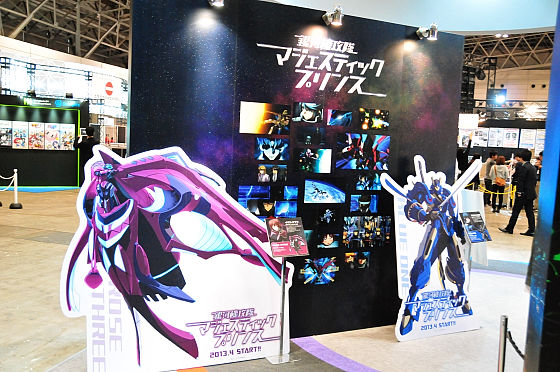 Broadcasting ended in March "PSYCHO-PASS psychopath"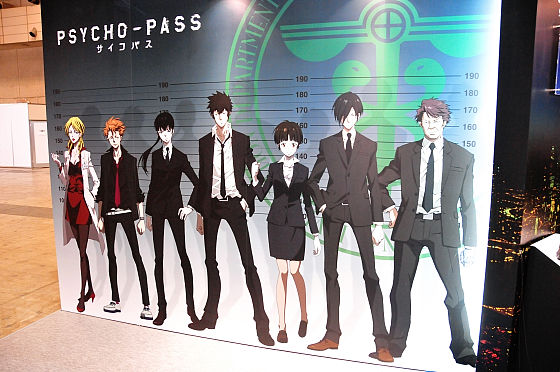 It is exhibited in a form that a handgun using the hero, Shinya Kanema can hold in hand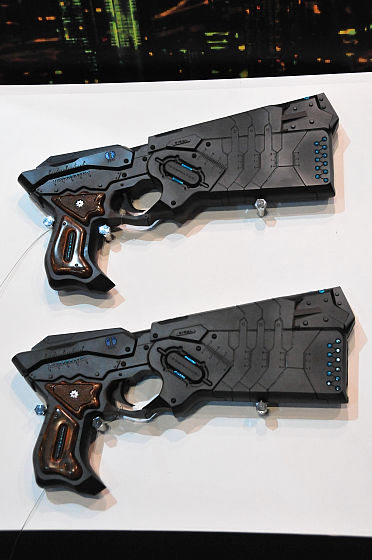 This is a costume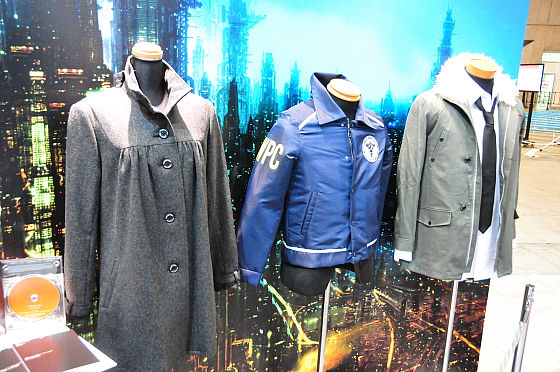 Cast sign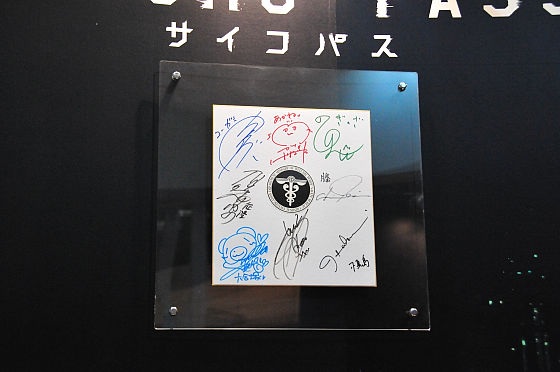 Staff message also at the nitroplus booth.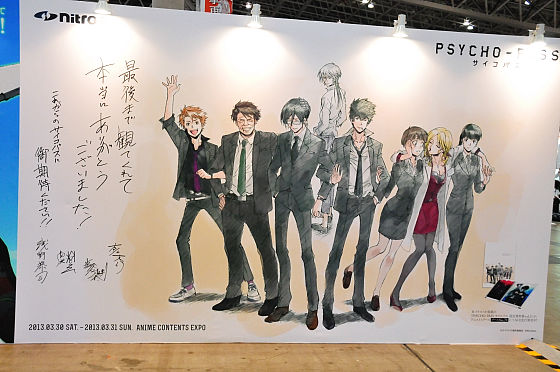 "Animation is decided"Wimpy pedals"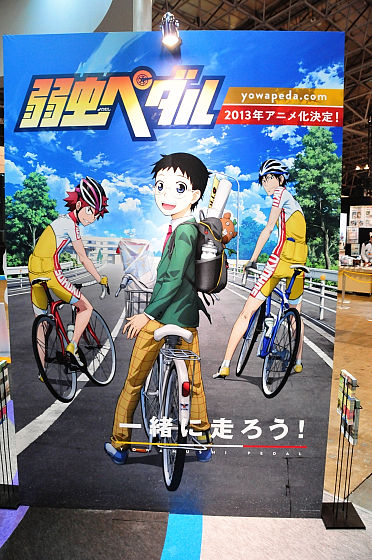 On May 10th "Holy ☆ older brotherThe movie will be released.



Starting from July 2013 "Fantasista Doll"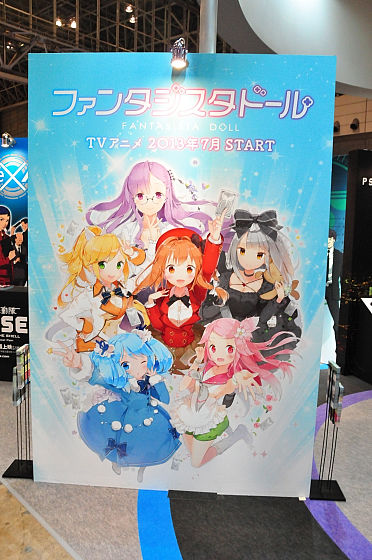 "The National Theater will be showing from June 22"Ghost in the Shell ARISE"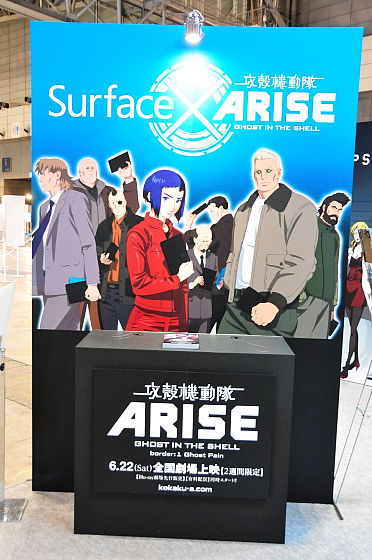 Gakuen Gakuen Card Game "Girlfriend (temporary)At the booth of the boat, there is a mechanism by which the voice of the character flows when standing in front.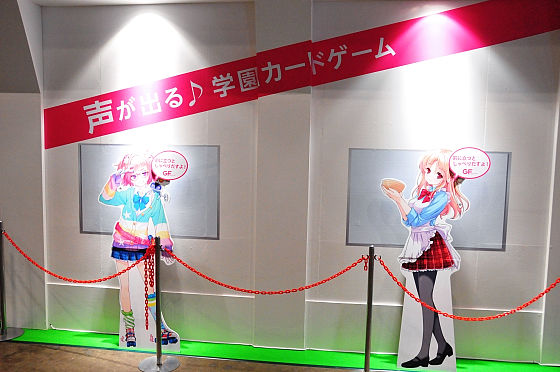 Starting in April "Gargantia on the Verdurous Planet"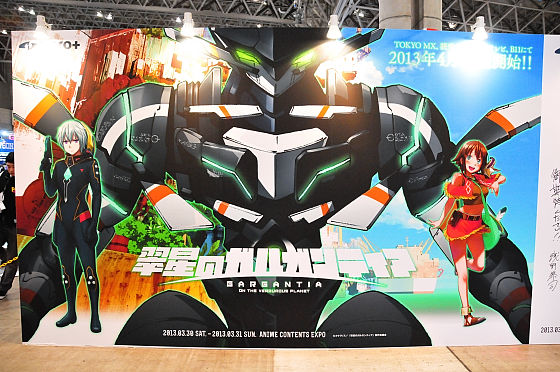 Robot animation which started in April "Valvrave The LiberatorFrom life-size big valve rave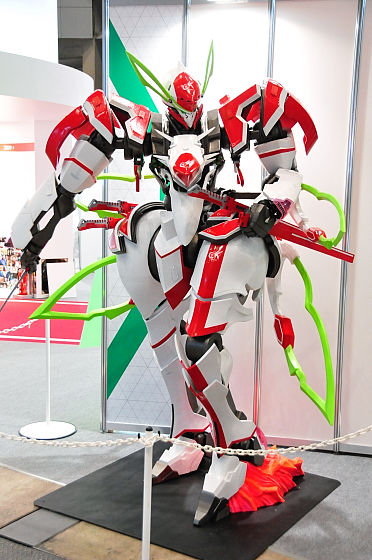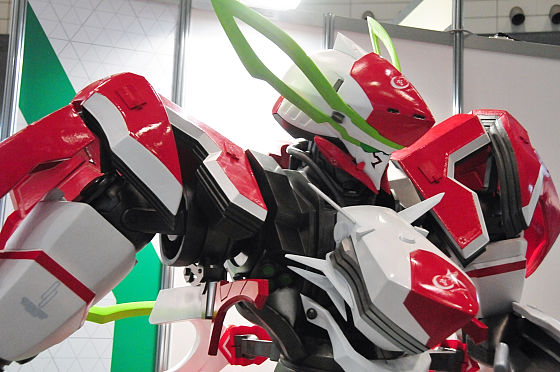 "Tengen Toppa Gurren Lagann"Panty & amp; Stocking with GarterbeltNow director Hiroyuki Ishiyuki's planning of the first television series after the establishment of the trigger started. New Type The monthly issue will be released.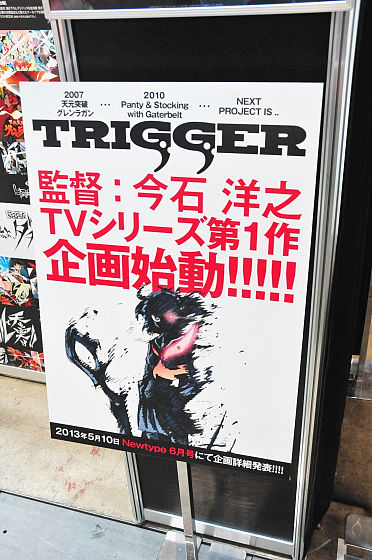 That "Tengen Toppa Gurren Lagann" will also release Complete Blu-ray BOX on June 26th.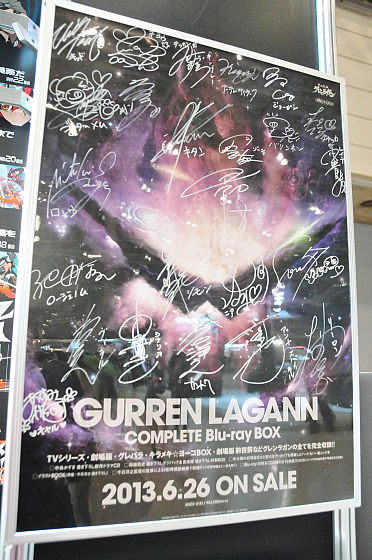 At the star-chilled booth, from around 31 o'clock on the 31st, the painter'sKudo EdgeMr. Eva 's first live painting event will be held.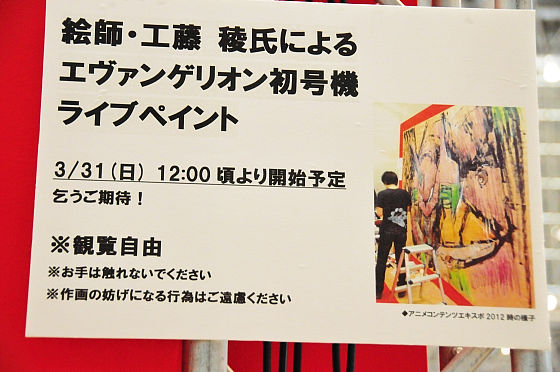 Including the daytime booth event relay, total 32 hours nonstop "A student"Is being broadcasted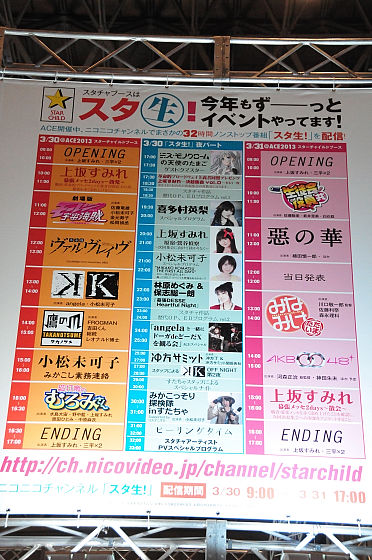 Animate cafeSo sell various limited items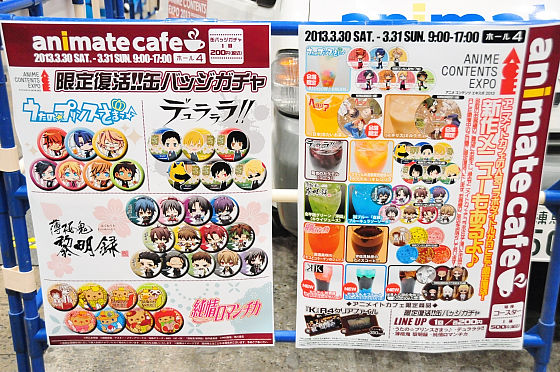 The table is decorated for each work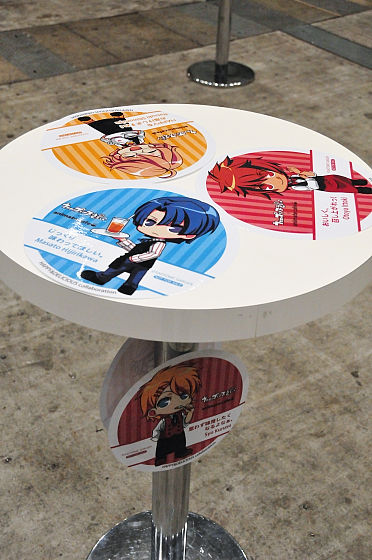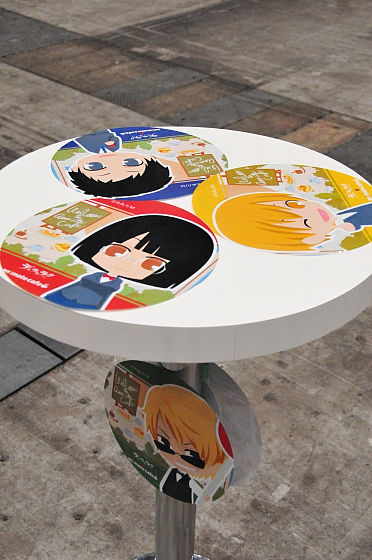 A something new project visual was announced. Title will be issued by Dengeki G's magazine August number.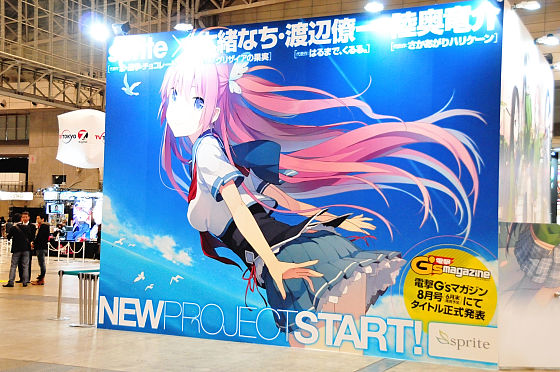 "I want to say to your older brother and sister right now!"PC games scheduled to be released in the fall of 2012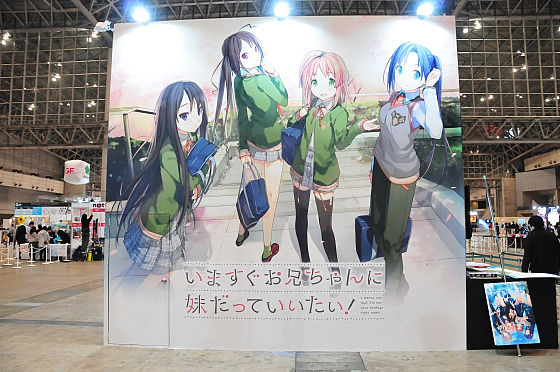 Scan the human figure to make it data, and figure it as 3D print3D print · figureBooth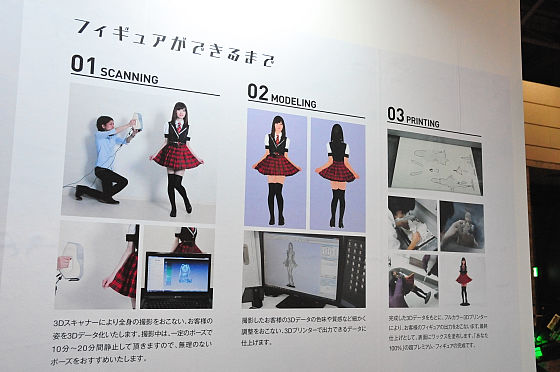 That means "I can figure it"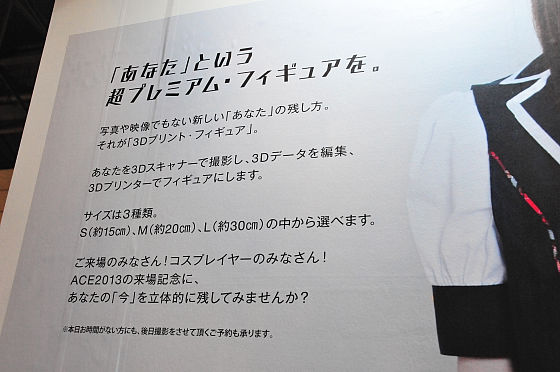 Three types of size are S size (about 15 cm), M size (about 20 cm), and L size (about 30 cm)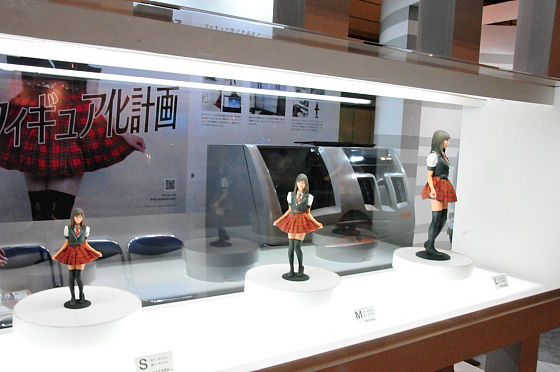 Designers were also figurized like this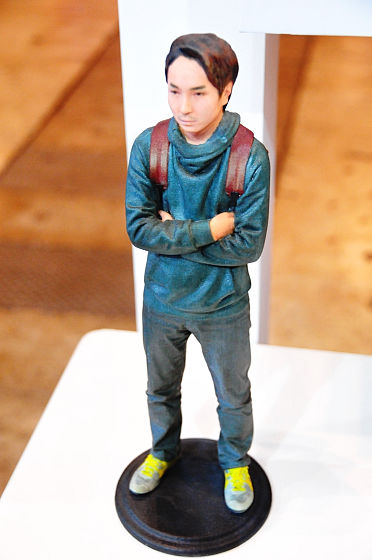 This can be made by the printer, on the spot.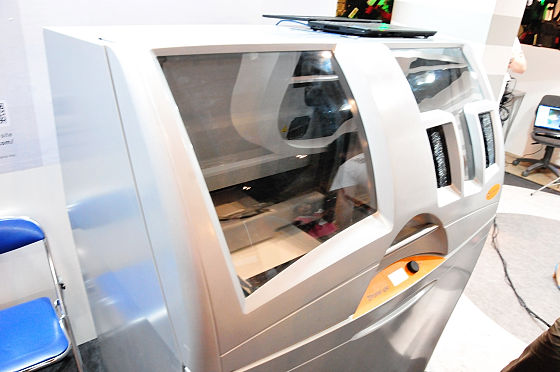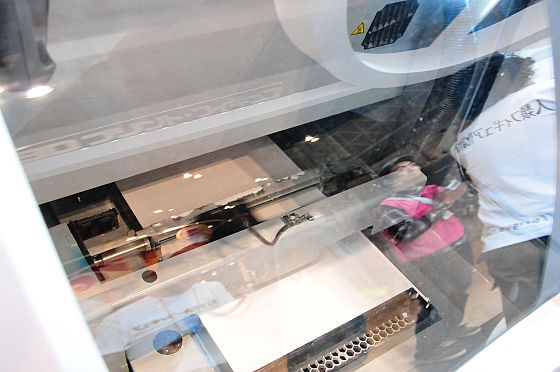 A lot of gifts that Lawson received at the collaboration campaign where Lawson went with "Magical Girl Madoka ☆ Magica" has been exhibited so far.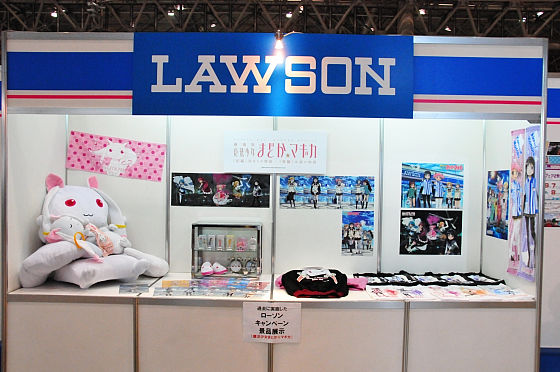 Various clear files that characters are wearing Lawson's uniform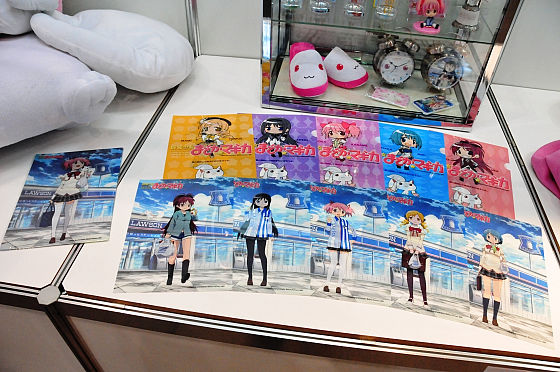 Kuubebe cushion etc.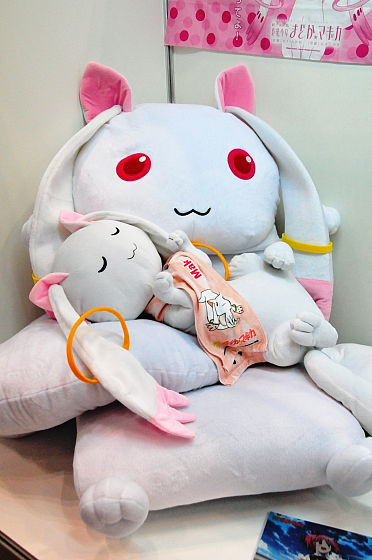 media FactoryIn the work, animation of various works was announced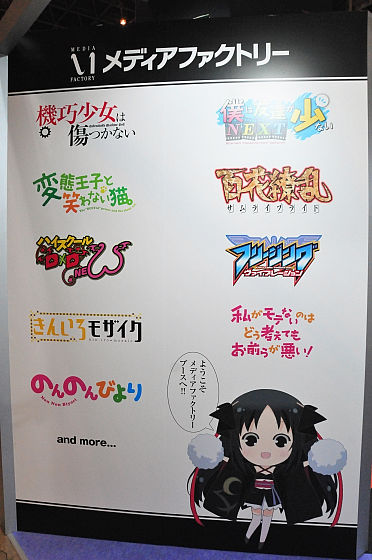 "I do not have many friends"When"Hentai-prince and a cat not to laugh."Collaboration Starter Book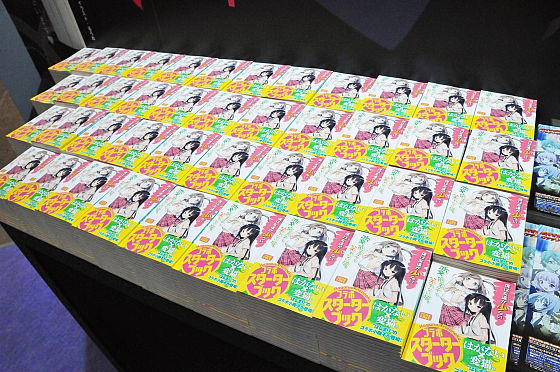 "Unbreakable Machine-DollAn animation project started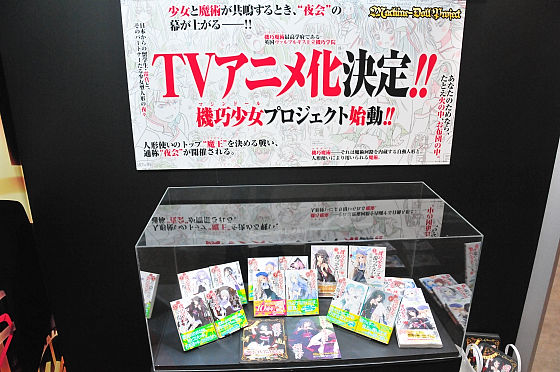 "I do not care what you think, you guys are bad!" Also decided to convert to TV animation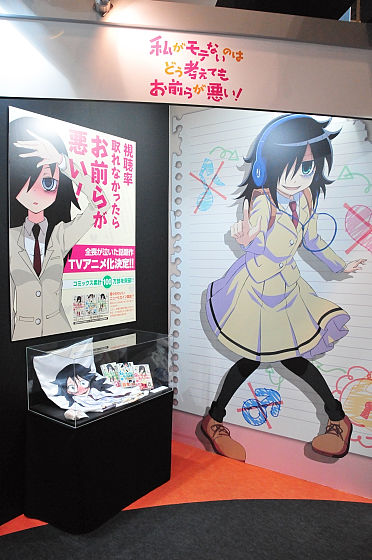 Whatever you think of me being motivated you are bad!
http://www.watamote.jp/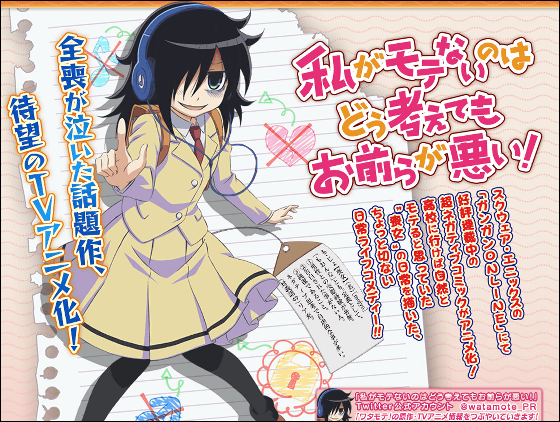 "Lunar rain"Was decided to be animated, and the promotion video was released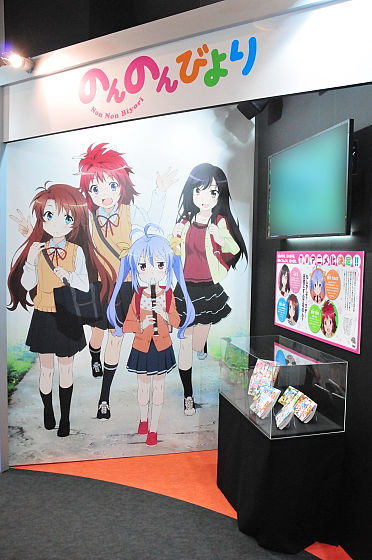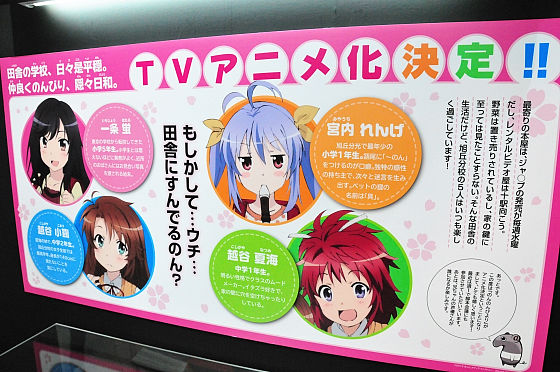 The original is like this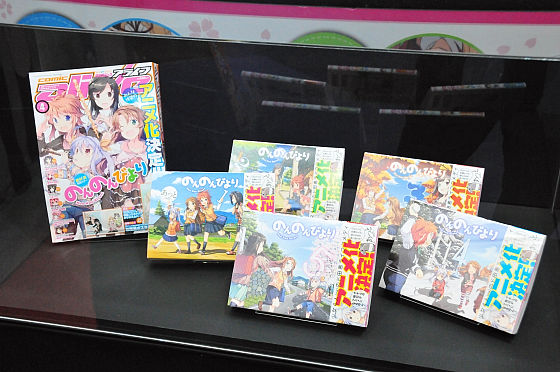 【PV】 "Non nobiti" decided to animate! Promotion video - YouTube


"High school D × D" is the second term "High school D × D NEWWill be broadcast from July 2013



Such goods are distributed at the booth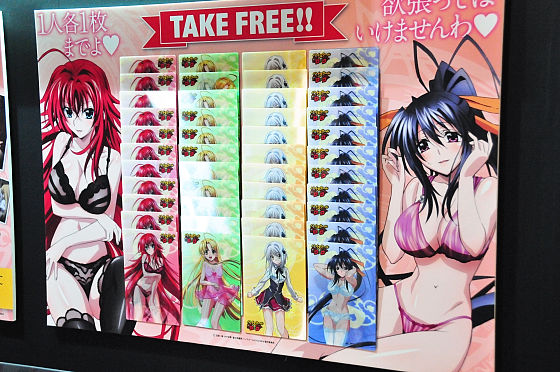 In the style of charity auction bidding with the value of hope, sales will be devoted to East Japan great earthquake disaster reconstruction support.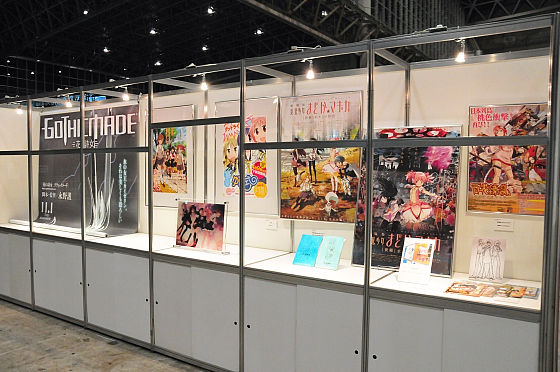 Items are, for example, those posted on cast of "THE IDOLM @ STER MOVIE" cast ....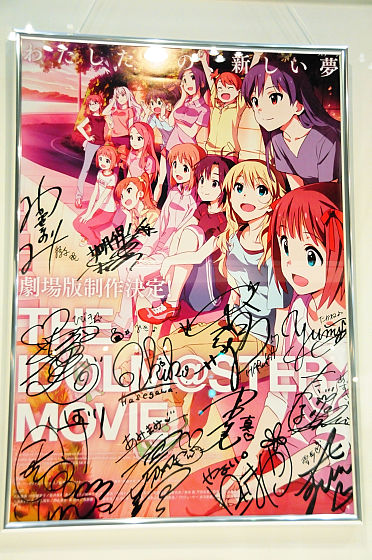 Drawing sign color paper etc.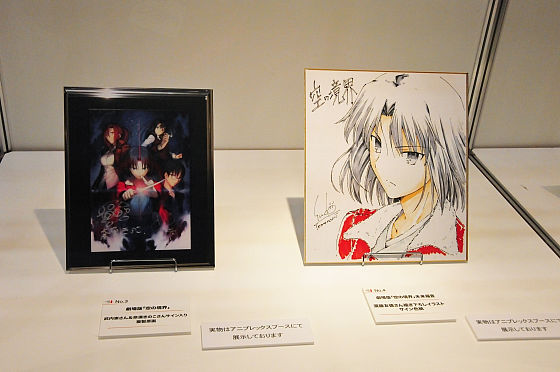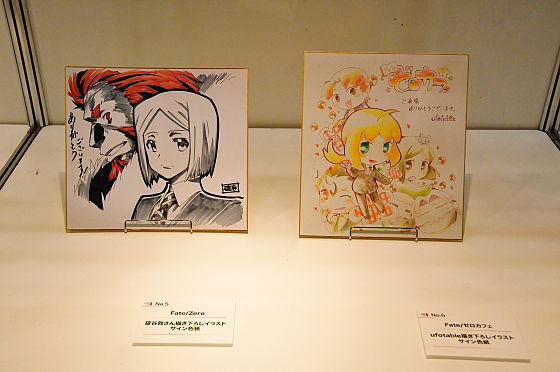 For colored paper, on the walls of the Aniplex booth, celebrating the 10th anniversary of Aniplex, the colored papers received from industry officials are adorned adequately.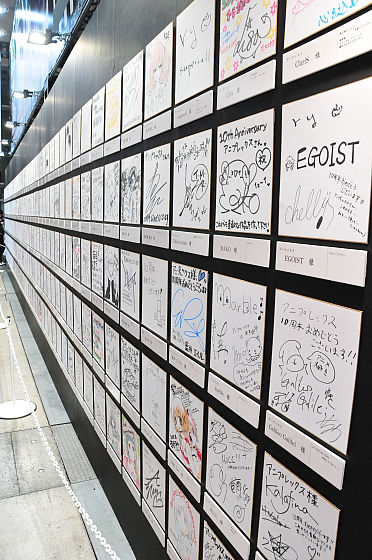 Animator, voice actor, artist etc received from us, and there was also freedom to shoot, so many people were turning the camera.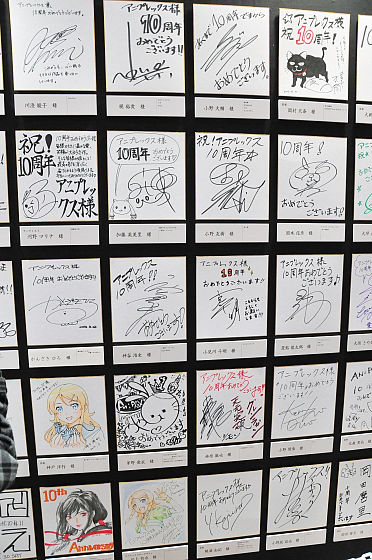 Various from a person who simply writes a signature to a person who puts a handwriting illustration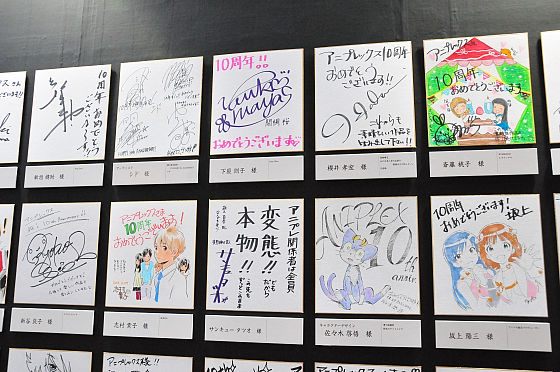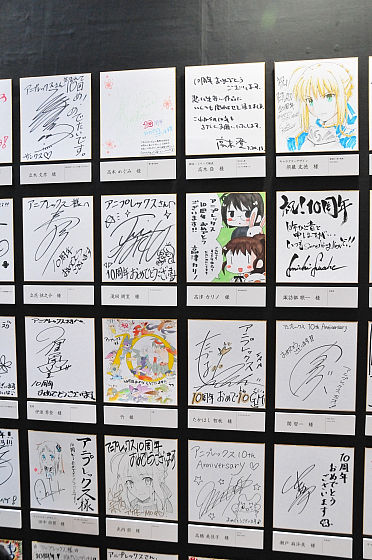 The "Logicoma" that appears in the Ghost in the Gallery ARISE is on display at the Bandai Visual booth



By the fact that Oarai girls' school won the 63rd battle road high school student tournament ... ...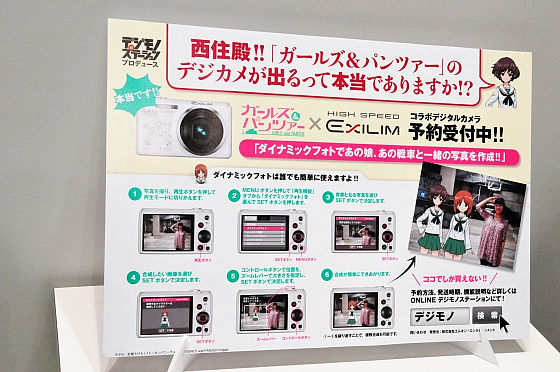 It seems that a collaboration digital camera of Girls & Panzer and EXLIM comes out.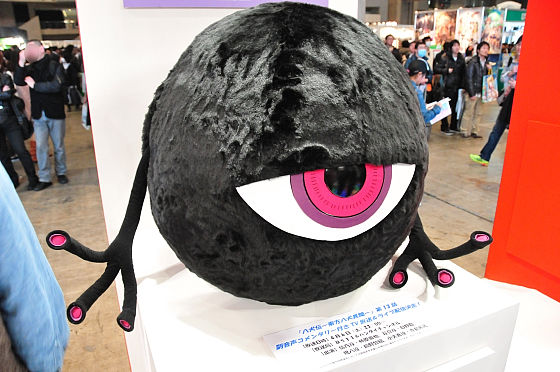 The back of the TV TOKYO Booth became a message corner and was filled with messages from visitors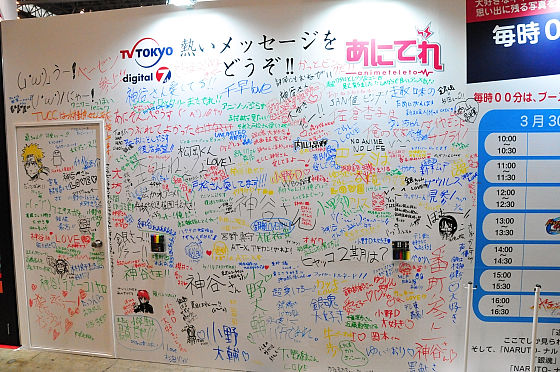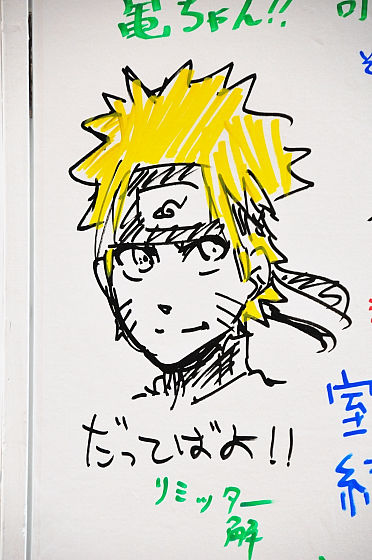 There is a blood donation corner before the third hole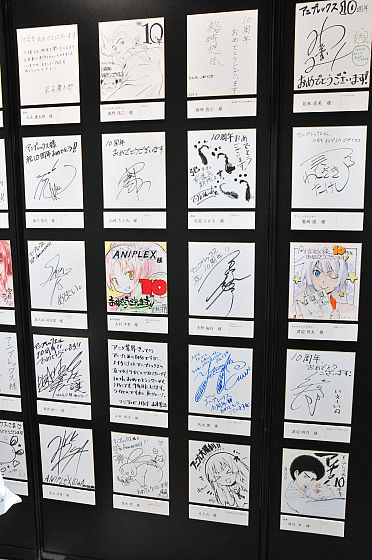 400 ml If you cooperate with blood donation you will get a NARUTO number poster



Also, if you register for "multiple donation club" you will receive a poster & mug.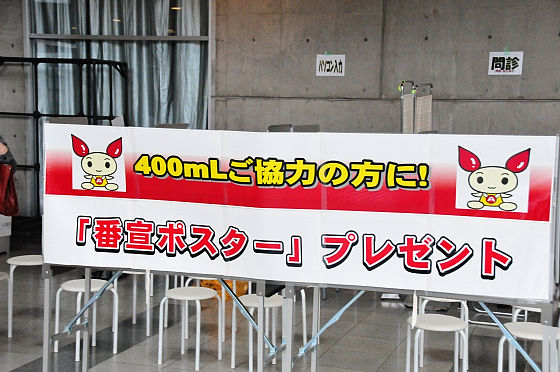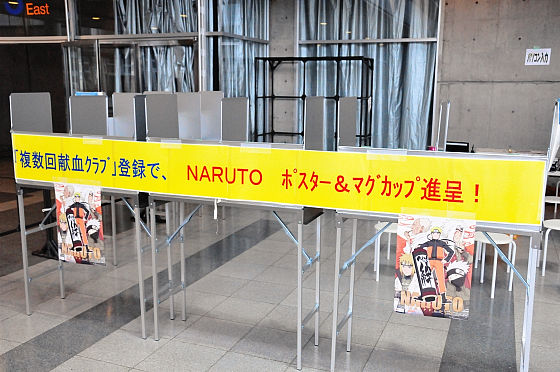 The bird's-eye view of the hall, anyway, it can be seen from a distance view that "People seems to be seriously difficult".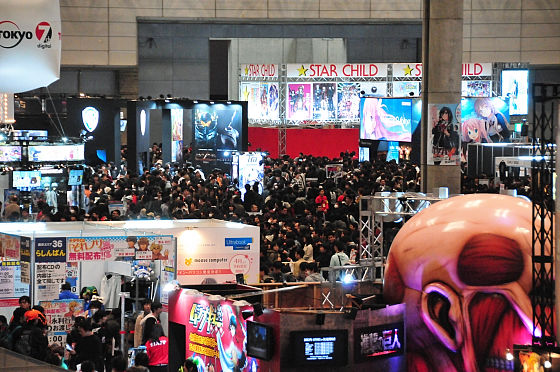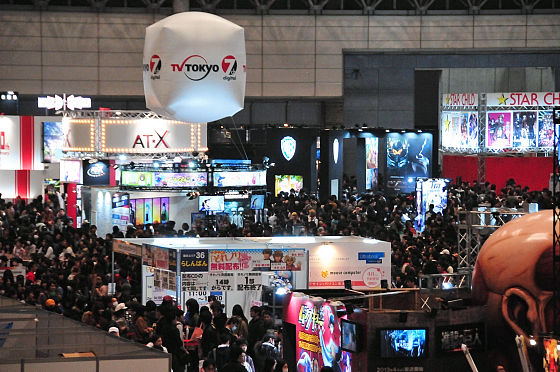 There was also a lot of people in the "Shinto Theater" screening episodes to be seen especially in animation



Also, the following works are announced as animation and release timing etc.

Magical Girl Madoka ☆ Magica by The Movie [New Story] The Story of the Rebellion
http://www.madoka-magica.com/puella.html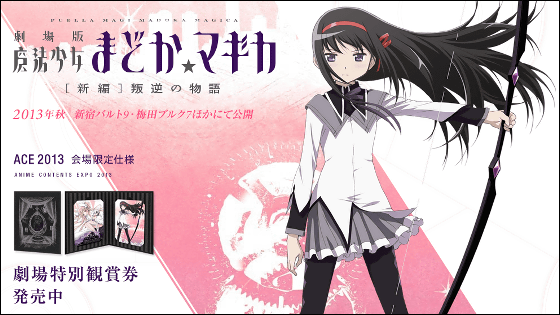 Anime "Norin" official website
http://www.no-rin.tv/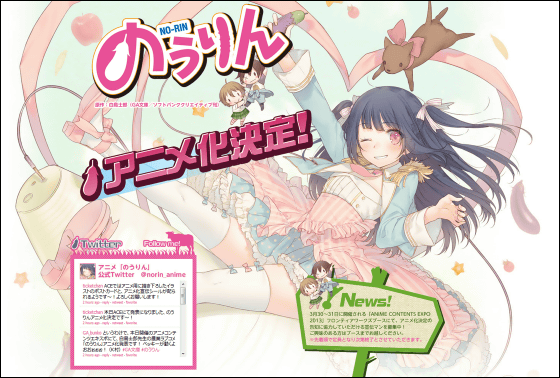 【PV】 TV animation "Kinro Mosaic" promotion video 2nd bullet - YouTube


"Movie version STEINS; GATE load area deja vu" trailer - YouTube