Headline news on March 14, 2013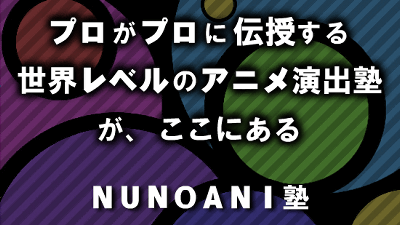 Mr. Ikuji Fujikawa, Chairman of the Japan Video Association and President of Animation Studio Pierrot,Human resource development with world-class competitive superior image directingAiming forNUNOANI cram schoolWe will launch.

In 1985, Mr. Futagawa also started a directing cram school and directed "Yu Yu White Paper" and "Bleach" from 10 studentsAibo Kouyuki, Zeid Genesis director and "NARUTO-Naruto Shippuden" storyboard staging and directing etc.Kazunori MizunoWe are producing ours. "Animation in Japan now advances abroad and ANIME has become a universal word in the world.However, it is not necessarily the case that the economic vitality and creativity of the animation industry are increasing, Mr. Norikawa said that he remembered this directing cram school when he thought that he could contribute to the future of this severe animation industry by making the best of it, even with Anime · Business Forum + 2013The animation industry has to proceed with work making and human resources development with the future in mindAlthough I was talking about it, I started to move to realize that.

The entrance examination meeting is March 31, the application deadline is April 3, and will be held every other Saturday from April 13. The target audience is mainly a creators, animators, directors, producers who are working on video related mainly to animation, but even if you do not have practical experience, you can take a campus if you have a certain basic visual expression technology And that. The number of recruits is about 15, and the tuition fee is 300,000 yen for tax.

By the way, GIGAZINE of one year ago wrote such an article.

A movie that understands the transition of venues of comic markets well - GIGAZINE

General sales of LED street lamps capable of charging electric cars started - GIGAZINE

Assembly of the plastic model "Mini Rinoceros" moving like a creature receiving the wind All the rest - GIGAZINE

◆ Story (memo · various others)
[Sad news] Susumu Ma · Ultimate infield hand, to muscle to two army camps: : There was pleasure to put together myself J

What if you could buy only one million with Doraemon's tool? : Anything If Atarimae

Lifted person \ (^ o ^) / Breaking news: [with image] I thought about "youkai hip wipe" so I want you to picture - livedoor blog

◆ Science (science · academic · technology)
Goodbye Kitora Kofun. End of field survey and closing the stone room - History News Walker

Toppan Printing: Produces the smallest book in the world 0.75 mm square - every day jp (Mainichi Newspaper)

◆ Society, Politics, Economy (Incidents · World News · Business)
New pope is Francisco I NHK news

Asahi Shimbun Digital: 45 ton windmill, bokeki wind power generator in Kyoto prefecture, broken - society

Asahi Shimbun Digital: "It's a milestone and I'm upset with coverage and coverage" Democratic · Mr. Hakuokawa · Politics

Painful news (No ∀ `): Domino Pizza officer" If Hatsune Miku is appointed, it will be sold 10 times as much as expected "Wowolta w" - Livedoor blog

◆ Lifestyle (life, life, health)
I will explain. That is to be 40 years old! - Six Apart blog

A story of a person who wants to take a mount position - a memorandum of the Internet

【President's Press Conference】 About New Made of Conventional Line Diesel - JR Tokai Central Japan Railway Company

At our company, we made 52 new Kiha 25 (secondary car) which added new functions and facilities based on Kiha 25 form of conventional rail new type diesel which we introduced newly in FY 2010, and we replace the old diesel We decided to replace them, to further improve safety and improve service.
Due to this vehicle replacement, all diesel cars owned by the Company will be newly manufactured after JR launch.

(PDF file)About starting Suica service at Sapporo Municipal Transportation Bureau etc. [PDF / 9 KB]
From June 22 Sapporo Municipal Subway, Sapporo Tsui etc. to use Suica, Suica and IC cards that can be used mutually

◆ IT · Gadget (Net · Soft · Hard · Mobile)
Twitter blog: Twitter for Windows 8

Takashi Uesugi escaped from Mr. Tomohiro Machiyama? It is! - Togetter

[NHK] It is revealed that Kuramata's connection with Koreans wwwwwww | Maintenance bulletin

◆ Anime · Game · Manga (Subcar)
Drag on Dragoon 3 | SQUARE ENIX
http://www.jp.square-enix.com/dod3/

"You can fight this boy, an alien." & "This boys, mermaid spread" / Theater Seven
We will hold an event to screen director Yamamoto Aomi's 2 original animations for 2 weeks only

◆ Sports · Entertainment · Music · Movie (Entertainment)
What is a stadium @ N J summary: 【Quick News】 Morinaga Kawasaki Blue Jays Agreement wwwwwwww

[Image] As a result of symmetry of the right half of Morifuku's face wwwwwww:
: There was pleasure to put together my own J

Please look at the situation of J people when introducing the unified sphere> What is J> Summary Tarou!

110: Wind blowing if nothing: 2013/03/08 (Fri) 13: 37: 54.96 ID: 9 XvhmcTJ
No wonder nobody thought that low rebound so far

◆ New product (clothing / food / housing)
Razor shaver 'Lamb Dash' ES-ST 25 released | Press Release | News | Panasonic Company Information | Panasonic

Easy to eat "U-shaped sand", plenty of vegetables "Rap Sand" from Lawson nationwide from March 19 (Tue) | News Release | Company Information | Lawson

"Oi Ocho Puzzle" is on sale from March 18 (Monday) | News Release List | Itoen

"Orange UP" on sale from March 18 (Monday) | News Release List | Itoen

Smoothie "Fruits smoothie + (plus)" which makes it easy to enjoy the taste flavored by five kinds of fruit juices and eleven kinds of vegetable juice Easily enjoyable with a smooth texture with smooth and thick "Fruits smoothie + (plus)" Smooth mouthfeel finished with Hokkaido milk 50% and fresh cream Milk and melon A sweet beverage "Luxury Melon Milk" that you can taste the moment of bliss created by fruit juice

Bourbon launches two new suit "sweet pasta" series finished to melt texture

· Previous headline
Headline news on 13th March 1313 - GIGAZINE