【Dread: Godam ZZ · Pull role and Mr. Kondo · Miyo chan, died of Mr. Honda deceased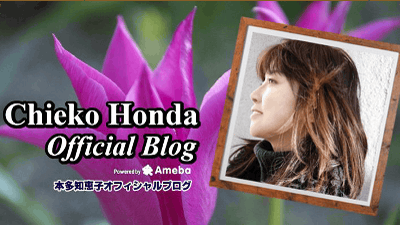 A voice actor known for playing Miyo-chan of "Kitarez Encyclopedia" and "Mobile Suit Gundam ZZ" Elp Pull and Pull To, "Mobile New Century Gundam X" Enil el etc.Honda ChiekoIt was revealed that he was dying on February 18, 2013. It was 49 years old that it was multiple cancer.

Current affairs dot com: Voice actor Chikako Honda died
http://www.jiji.com/jc/c?g=soc_30&k=2013022300230




Voice actor / Momoko Honda, died of multiple cancer and active in "Kiteter" Miyachan role etc. News - ORICON STYLE -
http://www.oricon.co.jp/news/entertainment/2022011/full/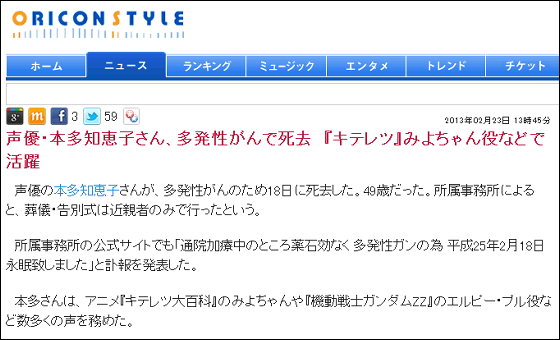 On the official website of the voice acting office / Blue 2 Production that I belonged to

Our affiliated actor Honda Kenko was in the hospital treatment and no medicinal effect
Because of multiple cancer I February 18th Heisei era.
I thank you from the bottom of my heart for your generosity.
Announcement of and is posted.

Blue two production
http://www.aoni.co.jp/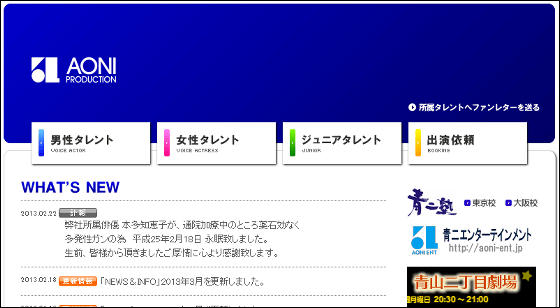 Mr. Honda debuted as the protagonist's younger sister "Mr. Plares 3 Shiro" in 1983 as a role of Makiko Amigara, an animated original character.

In 1984, he played the role of Fannerea Am, one of the heroines at "heavy fighter El Gaim" directed by Yoshiyuki Tomino, and in "Mobile Suit Gundam ZZ" in 1986 he played the role of Elp Pull and Pull To. This pull and pull toe are popular characters among the heroines of the successive Gundam series, and in the game "Super Robot Battle" series, there were many times that it was possible to lead a different development from the ones depending on the conditions. In addition, in the Gundam series, he plays Enil el at the 1996 broadcast "Mobile New Century Gundam X".

Miyo-chan (Miyoko Nono flower) of "Kitarez Encyclopedia" is also one of the representative roles, but this is the one handed over from Mayo Mayo. The voice quality of Mr. Honda and Mr. Zhu are very similar, and there were many people who did not notice.

Honda's official blogThe last update is December 31, 2012 update,

To everyone who looks at my blog with little update,
I sincerely thank you.
Although it is me, I will continue to do my best at my own pace.
Thank you.
And a message for 2013 was written.
in Note, Posted by logc_nt