McDonald's will implement "Free Monday" campaign to distribute morning Mac menu for free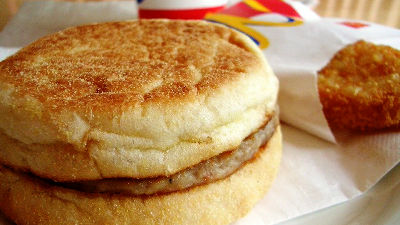 ByKanko *

McDonald 's will start from January 21st, the "free Monday" campaign which can try the morning Mac menu free of charge.

"Make a bright morning, with you" "Morning Mac" campaign
http://www.mcd-holdings.co.jp/news/2013/promotion/promo0117.html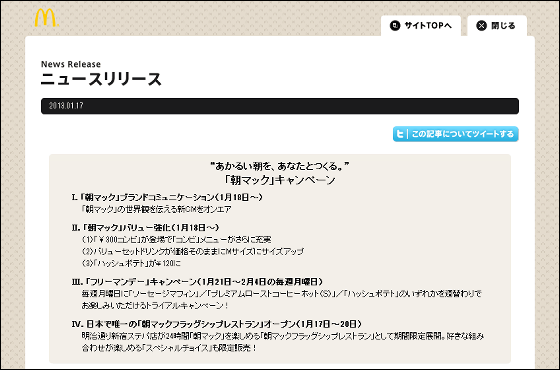 This is McDonald 's aim for the new development of the Mac users in the morning, which is to provide one of the McD Menu in the morning free every Monday. The period is 3 times in total from January 21 to February 4, with sausage muffin on January 21, premium roasted coffee hot on January 28, hash potato on February 4 .

About 2,200 morning Mac sales stores nationwide (excluding some) are scheduled to run, and the hours are from 6:00 am to 9:00 am (except for 24-hour stores from opening to 9 o'clock).

Products will be offered separately, and up to one can be handed out by one person. Also, some stores may offer free tickets sometimes.

As a measure, in addition to the start of the "CM in the morning Mac early girl" edition from 18th, as \ 300 combination, "sausage egg muffin" "egg mak muffin" and "drink (S size)" or "premium Roast coffee (S) "set newly appeared.

The value set was a set of sandwiches, hash potatoes, drinks (S), but the price will be changed and the drink will be changed to M size. In addition, the hash potatoes are individually set as 150 yen to 190 yen, and those that have been set are reduced to 120 yen.

Furthermore, McDonald's Meiji Dori Shinjuku Steppa shop in Shinjuku becomes "Morning Mac Flagship Restaurant", it will be a store where you can enjoy the Mak Menu 24 hours a day. This shop will be closed for a limited period of time until 20 o'clock on the 20th and will return to normal business from 5 am on the 21st. During the period there is no sale of the regular menu, "Special choice" which can be set by selecting favorite items from the morning Mac menu will be sold limited.

Speaking of McDonald's until January 31 "ENJOY! 60 seconds service"As a campaign to give free gift certificates for burgers if it takes more than 60 seconds to finish accounting and offer products,Because of that, terrible burgers are offered and criticism continuesOr,A person who deliberately depicts a menu that takes time to cook appearsAlthough it has become a serious thing such as it, if it does not distribute free even if it distributes it to free distribution on it ....