Delete as deletion as "Bad which one?" Image published by magazine for men on Facebook is inappropriate

ByThe Bikini Open

I was posting a comment on magazine for men posted on the Facebook page and gathered a comment that "I like women in the photo, right or left?", They received complaints from the Advertising Association as "inappropriate advertisement" I received a disposition to be done. The publisher side is rebelling as "This is not advertisement but article data".

Zoo Weekly censured by ad watchdog for 'demeaning' Facebook posts - mUmBRELLA
http://mumbrella.com.au/zoo-weekly-censured-by-ad-watchdog-for-demeaning-facebook-posts-128173

The problem is the magazine for men issued in Australia "ZOO Weekly"Posted on the official Facebook page. It has already been deleted, but the news siteMUmBRELLAThe image which was saved is kore. There is a caption that calls out that only the upper body and only the lower body of the woman in swimsuit appear side by side, and comment that "Left, right or comment with the reason chosen" together.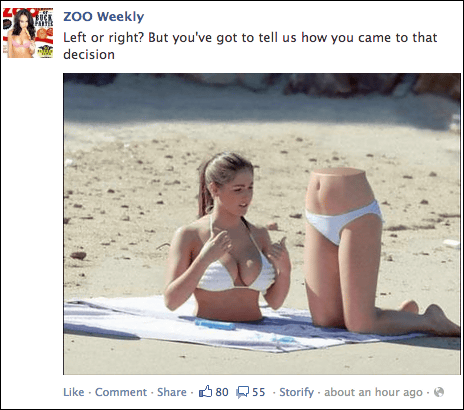 A part of the comment received here is written as "right," two holes are better than one "," left, "sandwich" can be gotten "and so on.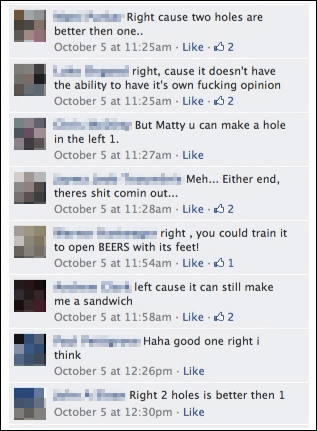 The Advertising Standards Committee thought that ZOO Weekly did something like lowering the quality of the women by asking a question asking for either one of these images and an image that cuts the woman in two. In addition, inappropriate comments for women as mentioned above are attached below this image, it continues to be the result guided by the question of ZOO Weekly, ZOO Weekly adjusts the comment display, and the community So we decided that there is an obligation to keep the Facebook page normal).

At the advertising standard committee, besides this image,

Behind the figure of a woman wearing white underpants with "Nintendo (Nintendo)" written on it is written "What is calling this console?"
A woman wearing a bikini has taken ZOO magazine and taken herself
I titled "boobipedia (boobs pedia)" in a picture with boobs lining up
We arranged ladies in bikinis and asked for readers' comments on which bikini is good
We also made a disadvantage to APC Magazines against complaints about cases such as.

About this, you can still see similar images. For example, self-taking is like this.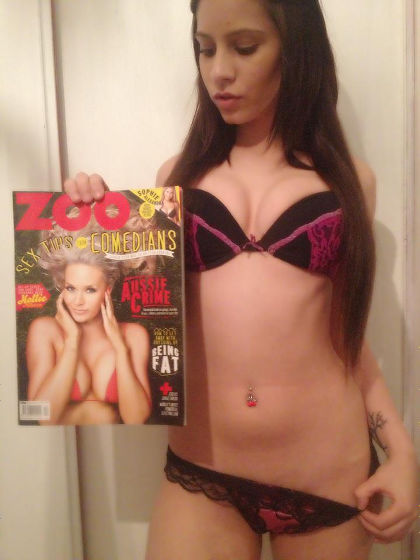 As a case of side by side ladies in bikini-like ...... I feel that they are seeking comments "from No. 1 to No. 8, which is good?" For such photos.



Initially APC initially complained that complaints "This image is not an advertisement but a part of an article, so the committee should not decide." Regarding the ruling, "Facebook page of ZOO Weekly"Marketing · Communication"It is misunderstood that modern media organizations will receive such ways of connecting with readers through social media as such. Advertisement contents are posted on Facebook pages, websites, and magazines as well as edited articles, but the part complained this time is definitely an article, not an advertisement, and there is no advance provision at the time of publication "I commented.

The rule that ZOO Weekly issued in the comment is "For the Facebook page, the installer will be responsible including comments, which should be checked at least once a day", and the Australian advertisement It was what the association announced earlier this week.

The topic became a hot topic since it was certainly a shocking thing, but if it is subject to crackdown, including comments attached to the image, it seems like you can comment on the image on the net It seems that services need to be careful ... ....
in Note, Posted by logc_nt