"BlackBerry 10" holds anniversary event on 30th January 2013, BlackBerry 10 smartphone also opened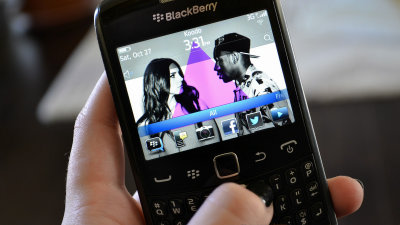 ByNikkilemieux

The release schedule has slipped in 2013 BlackBerry 10However, it is revealed by Research In Motion (RIM), a developer, to hold a presentation event on January 30, 2013. At the same time as the announcement of OS's BlackBerry 10,BlackBerry 10 smartphoneIt will be released for the first time.

BlackBerry 10 - Official News and Updates at BlackBerry.com - US
http://www.blackberry.com/blackberry10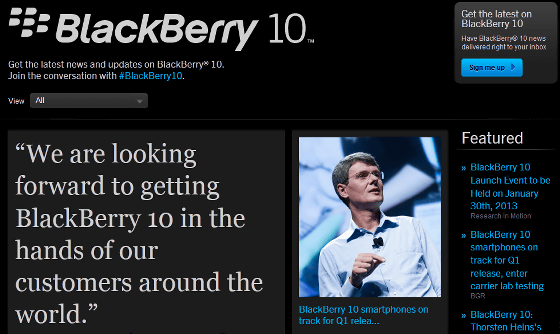 BlackBerry 10 Launch Event to be Held on January 30th 2013
http://press.rim.com/newsroom/press/2012/blackberry-10-launch-event-to-be-held-on-january-30th-2013.html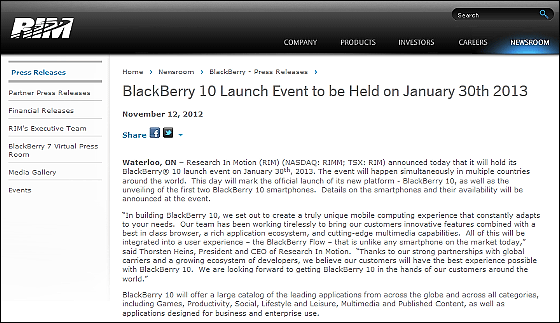 Speaking of smartphone's OS, iOS installed in the iPhone and Android, which has the largest share, are well-known, followed by Microsoft's Windows Phone etc. However, RIM's "BlackBerry" also continues to develop since 1997 It is a long-standing mobile OS.

RIM is also developing OS and terminals as Apple develops iOS as OS and iPhone as terminal. Today, smart phones are mainstream with touch panels, and standard keyboard terminals are decreasing, but BlackBerry also features a QWERTY keyboard terminal. We are endorsed mainly by businessmen, and occasionally we see people who are using in Japan as well.

RIM planned to release BlackBerry 10 as next-generation OS / next-generation terminal within 2012, but due to delayed development, the release will be postponed to 2013 and furthermore, due to further deteriorating business results, 5,000 people, one third of all employees I was fired.

One of the features of BlackBerry 10 is "BlackBerry Flow"When"BlackBerry Hub". BlackBerry Flow is described as a "new user experience" available seamlessly across applications and BlackBerry Hub. All messages and notifications, feeds and calendar events come into the BlackBerry Hub and you can see what arrives at the Hub by simply using simple gestures no matter what you are doing on your device.

"BlackBerry Keyboard"Learns what kind of sentences the user writes, and enables to input more quickly and more accurately.

"BlackBerry Balance"Personal applications and information are stored separately from the work data so that users can easily switch between private profiles and work profiles. We emerged as means to solve individual needs and corporate needs without compromising either.

RIM's CEO Sourceun Hinds commented, "BlackBerry 10 is looking forward to reaching customers around the world."