Nikon Launches Digital SLR Camera Entry Model "D5200" in December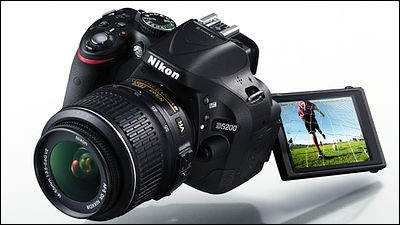 The successor to the entry model "D5100" of the digital single-lens reflex camera, the Nikon DX format CMOS sensor is installed, and the same image processing engine as the high-end "D4" etc. was adopted "D5200" It will be released in December.

D5200 | Nikon Imaging
http://www.nikon-image.com/products/camera/slr/digital/d5200/index.htm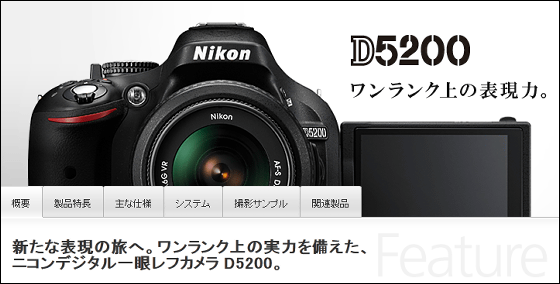 Nikon | News | Press Release: Entry model digital SLR camera "D5200" equipped with lateral opening type Bali angle LCD monitor released
http://www.nikon.co.jp/news/2012/1106_d5200_01.htm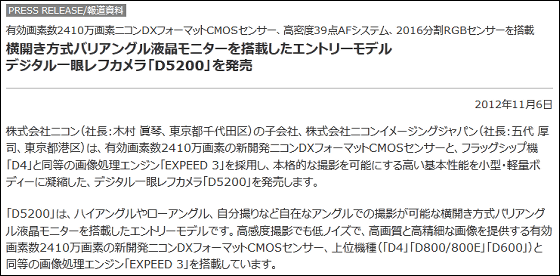 The number of effective pixels is 24.1 million pixels, and the sensitivity is usually 100 to 6400. Sensitization up to Hi2 (equivalent to ISO 25600) is also possible. The image processing engine EXPEED 3 is equivalent to the high-end model D4, D800 / D800E, D600.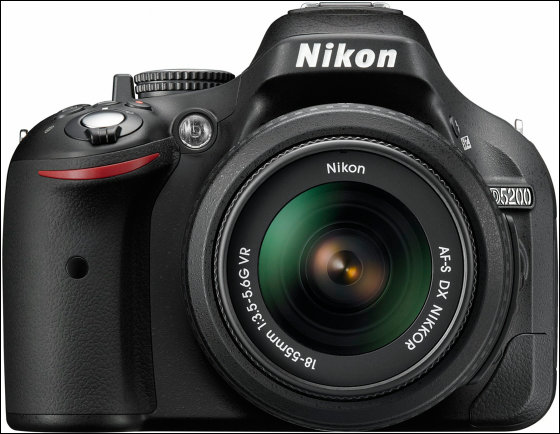 The focus point has increased to 39 points, and it is now possible to track a moving subject accurately. In addition, the 2016 divided RGB sensor realizes high-precision analysis of luminance and color information, control improvement such as autofocus, dimming, automatic exposure compensation.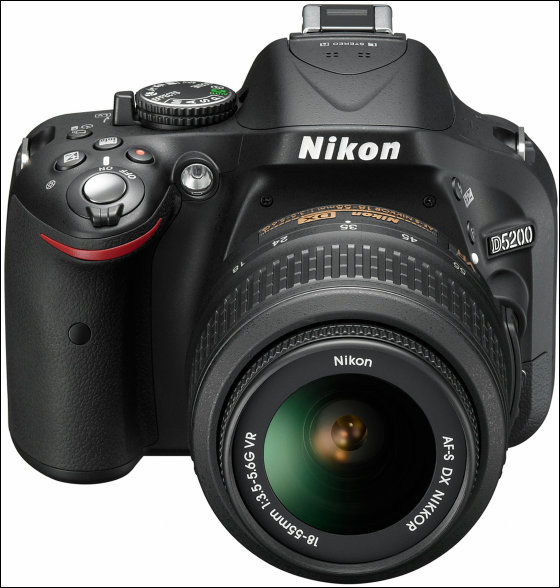 In this photograph, "included in the lens kit"AF-S DX NIKKOR 18-55 mm f / 3.5 - 5.6 G VR"Installed.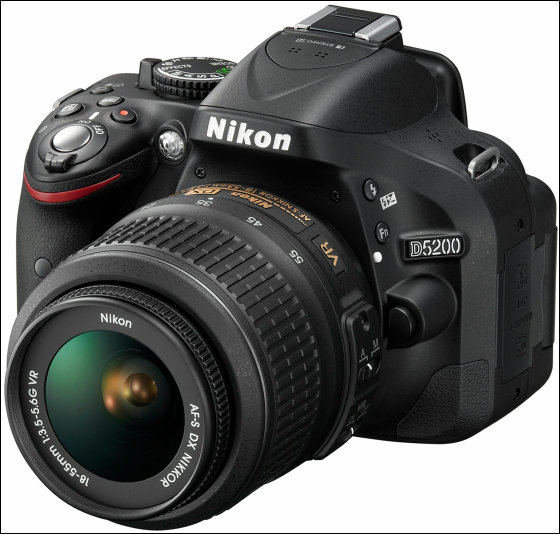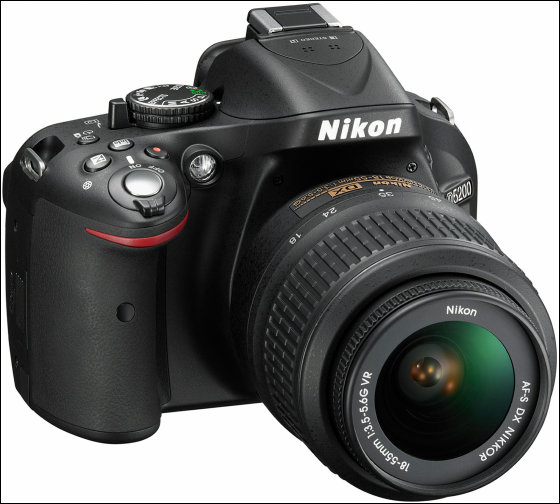 Rear side.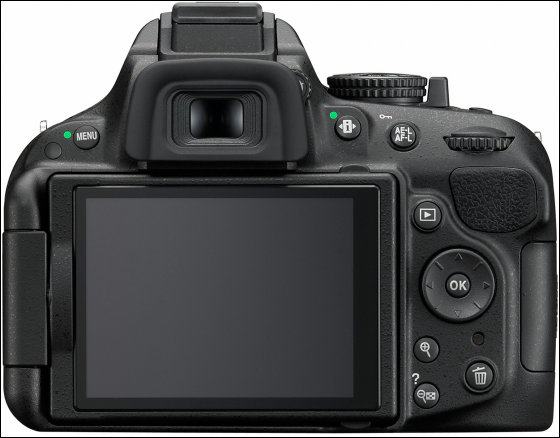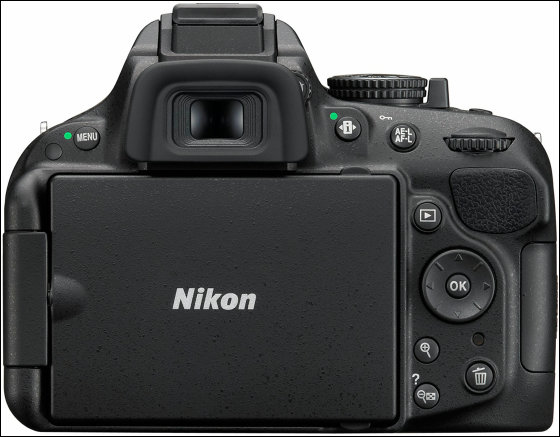 It is turned to Baliangle liquid crystal, opening and closing by 180 degrees, rotation can be from -90 ° to 180 °. It covers both high angle low angle which is difficult to peek at by optical viewfinder.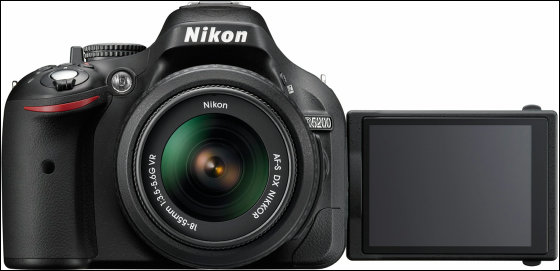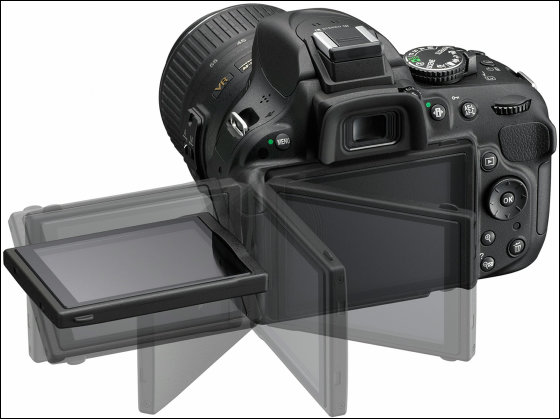 In addition to the black body color, there are red, bronze as well. However, only the kit can choose the color, only the body is black only.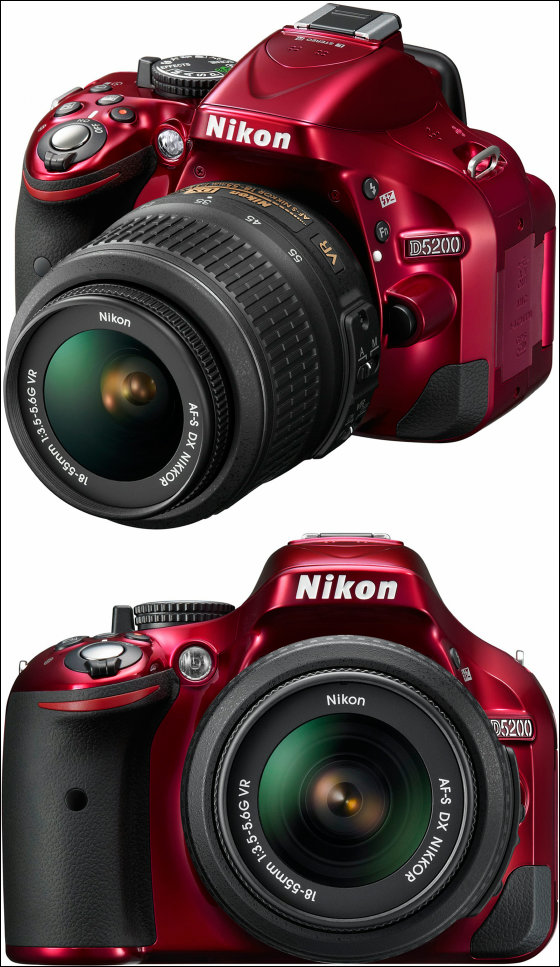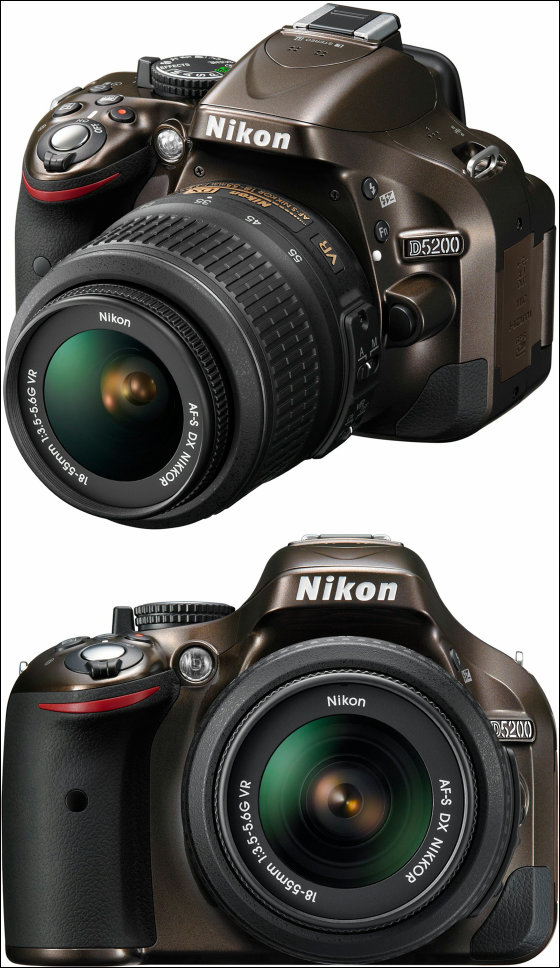 The price is an open price, but in the case of Yodobashi camera,Body only (black) is 83,800 yen,Lens kit is 98,800 yen each color,Double zoom kit is 13,4800 yenIt has become.

Yodobashi.com - What's New - Lateral Opening Nikon "D5200" with Bali Angle LCD Monitor Appears!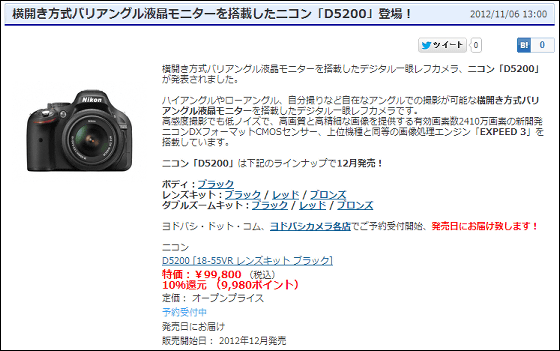 Besides this, the main specifications are as follows.

Number of effective pixels: 24.1 million pixels
Total number of pixels: 24.71 million pixels
Image sensor type: 23.5 x 15.6 mm size CMOS sensor
Number of recorded pixels: 6000 × 4000 (L), 4496 × 3000 (M), 2992 × 2000 (S)
Recording medium: SD memory card, SDHC memory card, SDXC memory card (SDHC memory card, SDXC memory card compatible with UHS-I standard)
Corresponding standards: DCF 2.0 (Design rule for Camera File system), DPOF (Digital Print Order Format), Exif 2.3 (Exchangeable image file format for digital still cameras), PictBridge
Finder: Eye level type penta mirror use Single lens reflex type viewfinder
Viewing ratio: about 95% for both up, down, left and right
Magnification: Approximately 0.78 times (when using 50 mm f / 1.4 lens, ∞, when -1.0 m -1)
Diopter adjustment range: -1.7 to + 0.7 m -1
Shutter speed: 1/4000 to 30 seconds (Can be changed to 1/3, 1/2 steps)
Release mode: 1 frame shot, low speed continuous shooting, high speed continuous shooting, self timer, 2 second remote control (ML - L 3), instant remote control (ML - L 3), silent shooting, interval timer shooting
Continuous shooting speed: Up to about 3 frames / sec at low speed, up to about 5 frames / sec at high speed
Self-timer operation time: 2, 5, 10, 20 seconds
Self-timer shooting frame number: 1 to 9 frames
Number of recorded pixels at moving image shooting / Frame rate:
· 1920 × 1080 (60i / 50i / 30p / 25p / 24p)
· 1280 × 720 (60 p / 50 p)
· 640 × 424 (30p / 25p)
Maximum recording time: 29 minutes 59 seconds (3 minutes at miniature effect)
File format: MOV
Video compression method: H.264 / MPEG-4 AVC
Audio recording system: Linear PCM
Recording device: Built-in stereo microphone, external microphone available (stereo recording), microphone sensitivity setting possible
Movie sensitivity: about 0.3, 0.7, 1, 2 (corresponding to ISO 25600) sensitization compared with ISO 200 to 6400, ISO 6400
LCD monitor: 3 type TFT liquid crystal monitor, about 920,000 dots (VGA), variable angle type, viewing angle 170 °, field of view ratio about 100%, brightness adjustable
Battery used: Li-ion rechargeable battery EN-EL 14 (1 piece used)
Battery life (Number of shootable frames): Approximately 500 frames (CIPA standard compliant)
AC adapter: EH-5b (used in combination with power connector EP-5A) (sold separately)
Tripod screw hole: 1/4 (ISO 1222)
Dimensions (W × H × D): about 129.0 × 98.0 × 78.0 mm
mass:
About only body 505 g
Including battery and SD memory card, about 555 g without body cap
Accessories: Li-ion rechargeable battery EN - EL 14, battery charger MH - 24, USB cable UC - E 17, audio video cable EG - CP 16, strap AN - DC 3 BK (black case) or AN - DC 3 RD ), AN-DC 3 BZ (in case of bronze), Body Cap BF-1 B, Accessory shoe cover BS-1, Eyepiece cap DK-5, Eyepiece target DK-20, ViewNX 2 CD-ROM