Start accepting Kindle Fire and Kindle Paperwhite from Japan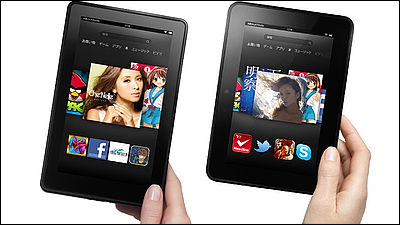 Of the Amazon e-book reader "Kindle" series, "Kindle Fire HD" and "Kindle Fire" of the latest 7-inch model of the Kindle Fire series equipped with color display, "Kindle Paperwhite" with light built in with E Ink screen Reservation acceptance from "Japan Kindle Paperwhite 3G" (3G communication fee is free) has started.

Opened "Kindle store" for Japan, Amazon.co.jp, open reservation sale of the first Japanese-ready Kindle e-book reader "Kindle Paperwhite"
http://www.amazon.co.jp/gp/press/pr/20121024/

Reservation and sale of Amazon.co.jp, "Kindle Fire HD" and "Kindle Fire" will be launched today, shipping from December 19
http://www.amazon.co.jp/gp/press/pr/201210242/

Kindle Fire HD - Successor model of the world's best-selling 7-inch tablet (15,800 yen, expected shipping date is December 19, 2012, purchase quantity is a maximum of 5)
http://www.amazon.co.jp/dp/B008UAAE44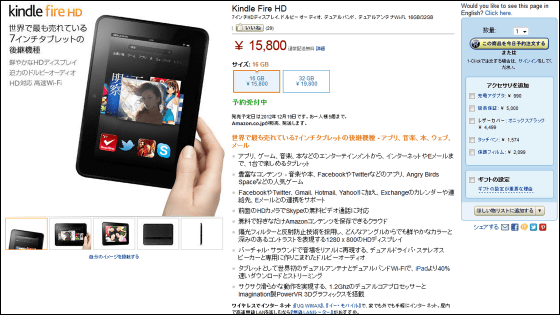 Kindle Fire - Amazon's 7-inch tablet (12,200 yen, expected date of shipment is December 19, 2012, maximum number of items purchased is 5)
http://www.amazon.co.jp/dp/B00962OKJU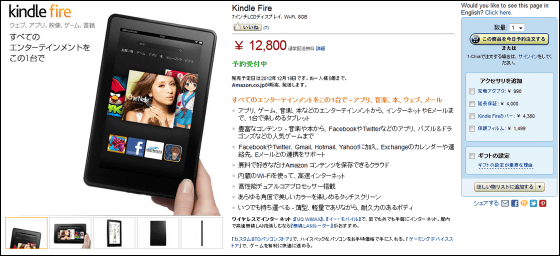 Kindle Paperwhite 3G - built-in e-book reader (12,980 yen, shipping schedule date is November 19, 2012, purchase number is up to 3 pieces)
http://www.amazon.co.jp/dp/B007OZNYMU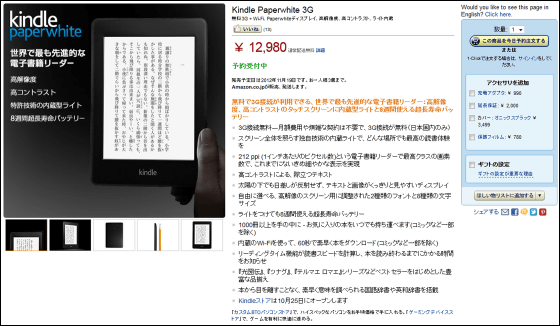 Kindle Paperwhite - built-in e-book reader (7980 yen, scheduled to ship on November 19, 2012, purchase up to 3 items)
http://www.amazon.co.jp/dp/B007OZO03M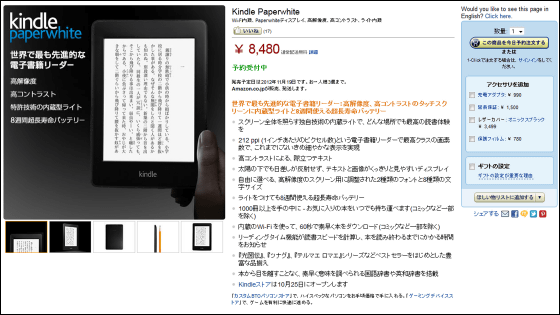 When comparing the specifications of 4 models, it looks like this.

What is the Kindle for you? Terminal comparison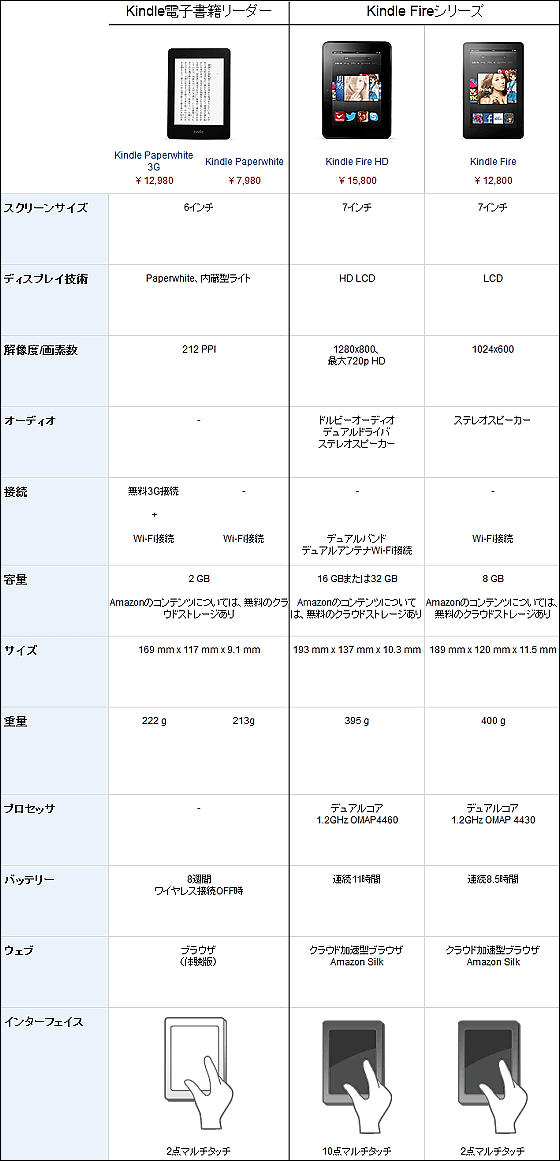 In short, if you want a Kindle that is cheap and light and has a good battery, "Kindle Paperwhite" of 8480 yen, "Kindle Paperwhite 3G" of 3G communication free if you read even on the road other than home, read the application crisply in color If you want to use "Kindle Fire", if you want to further increase the storage capacity and maximize the wireless LAN speed while enhancing the sound, it will be called "Kindle Fire HD".

The Kindle store is said to be open on 25th October.

Amazon.co.jp: Kindle Store
http://www.amazon.co.jp/gp/feature.html/?docId=3077679326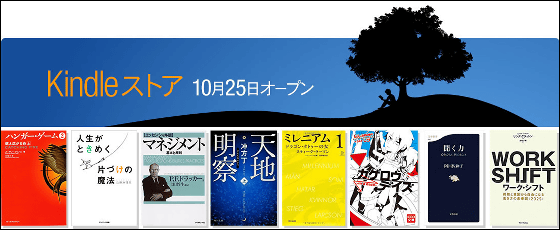 By the way, this Kindle,The main body is cost selling, and profits by content incomeAmazon's Jeff Bezos acknowledges that.

Current,Top page of Amazon.co.jpMessages from Jess Bezos are posted on.




· October 25, 2012 1:46 added
By accessing the Kindle store from the following address, about 1.4 million titles total including overseas best sellers in English and other languages, about 50,000 titles for Japanese e-books, of which 15,000 manga out of them , And free Japanese books are about 10,000 titles.

Amazon.co.jp: Kindle Store
http://www.amazon.co.jp/s/ref=sr_ex_n_1?rh=n:2250738051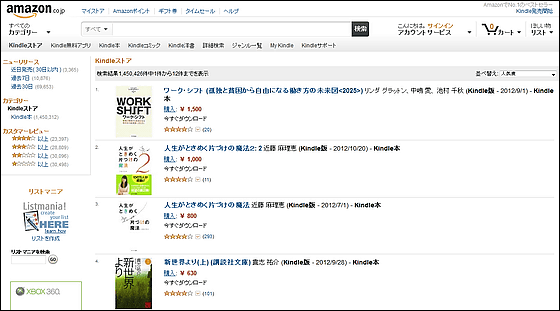 Further postscript:
It was announced that the price of Kindle Paperwhite will be cut down from 8480 yen to 7980 yen on 7th November.

Amazon's "Kindle Paperwhite" cuts to 7980 yen, to the same price as Rakuten's "kobo glo"