The power of the 7-inch waterproof and dust-proof tablet "AQUOS PAD" of "IGZO" display which the battery has about 2.5 times is like this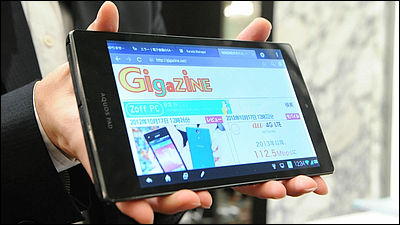 The new generation display "IGZO (igo)" with low power consumption is mounted, achieving battery holding of about 2.5 times (compared with Sharp's 7 inch tablet EB - A 71 GJ - B with continuous still image display time), high speed Also supports communication "4 G LTE", it can connect with AQUOS and AQUOS Blu-ray via Wi-Fi or MHL, lightweight, slim waterproof / dustproof tablet "AQUOS PAD"is.

Tablet AQUOS (Aquos) PAD (pad) SHT 21
http://www.kddi.com/corporate/news_release/2012/1017f/besshi11.html

Arrive at booth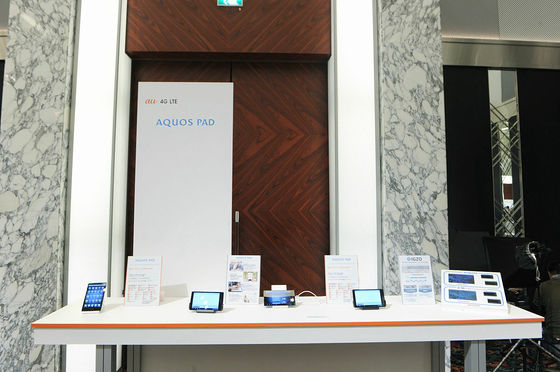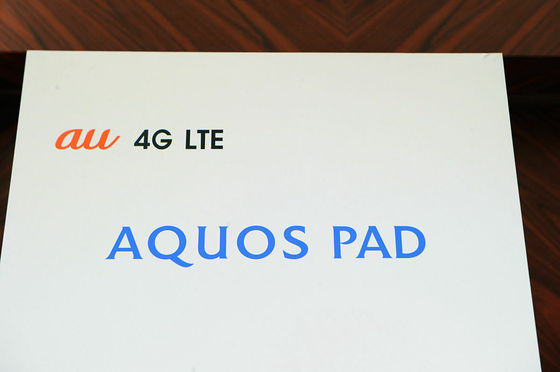 The display is 7.0 inches (1280 x 800), the ROM is about 16 GB, the RAM is about 1 GB, the battery is about 3460 mAh, the CPU is dual core 1.5 GHz (MSM 8960), the OS is Android 4.0, the tethering is a maximum of 10, 1 seg · NFC · It is waterproof and dust-proof.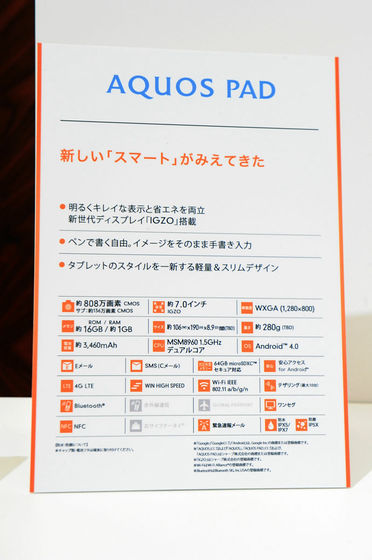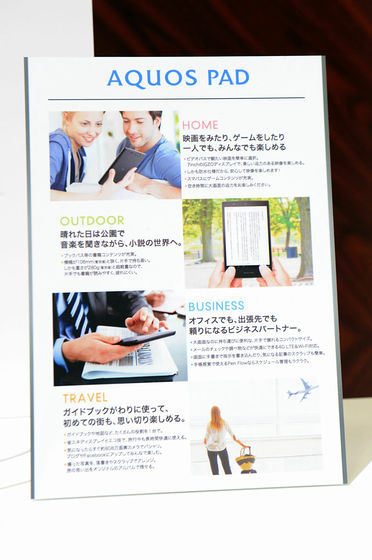 Explanation of the mechanism of why IGZO would save power. It realizes power saving by reducing the number of times of rewriting during still image display and furthermore it is possible to operate even with a thinner pen or nail because the noise generation time is small, and in addition, the frame itself can be slimmed and the main body itself can be made slim Why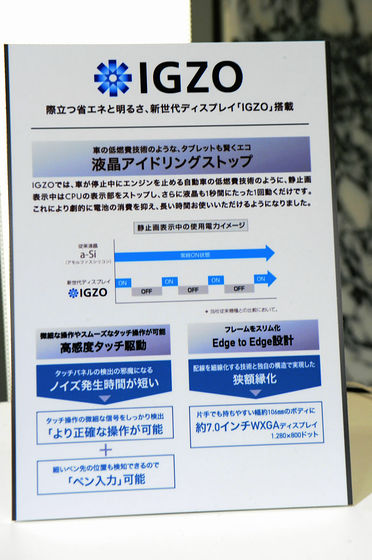 Exhibit showing how much electricity consumption is actually decreased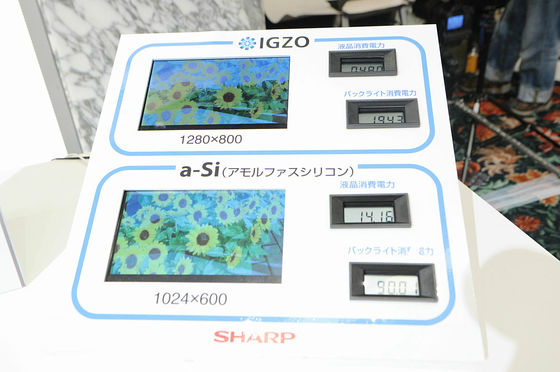 First of all, a conventional liquid crystal of 1024 × 600 pixels by amorphous silicon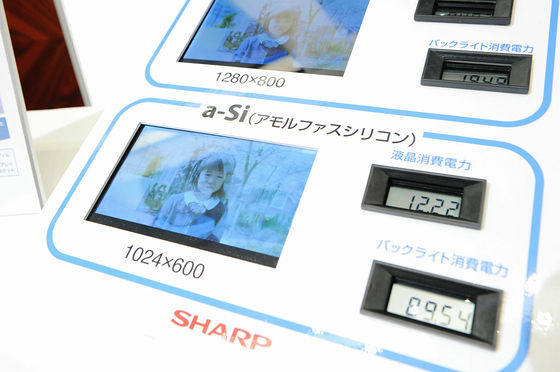 The liquid crystal power consumption is 12.26, the backlight power consumption is 89.62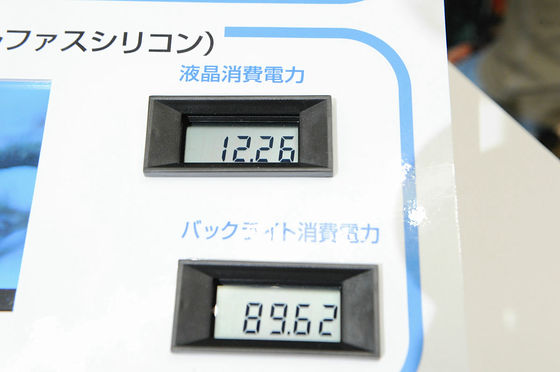 In the case of 1280 × 800 pixels by IGZO liquid crystal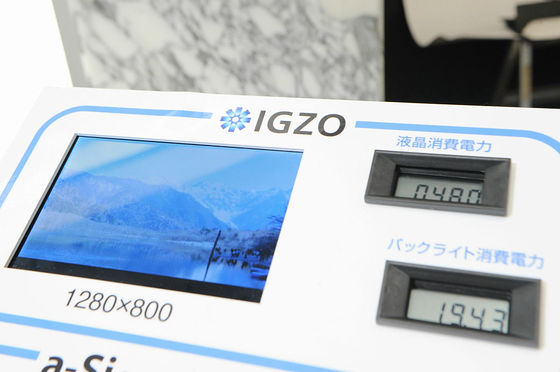 The liquid crystal power consumption is 4.78, the backlight power consumption is 19.43, still no problem in visibility.



The actual appearance looks like this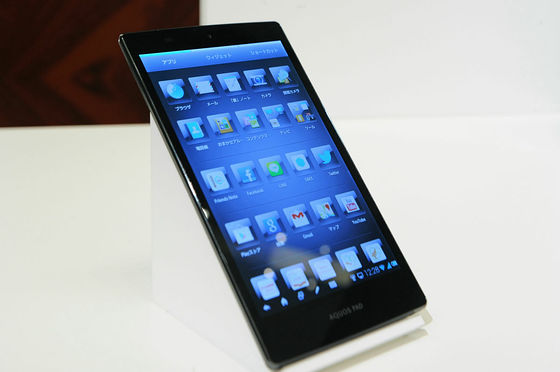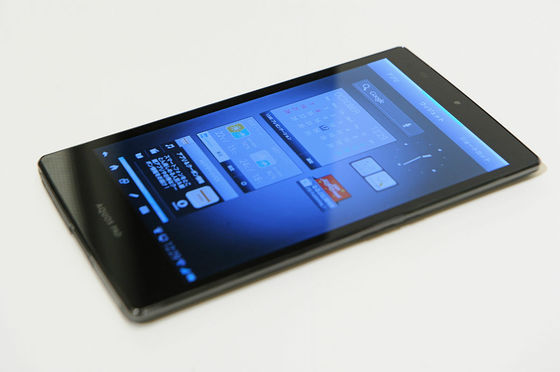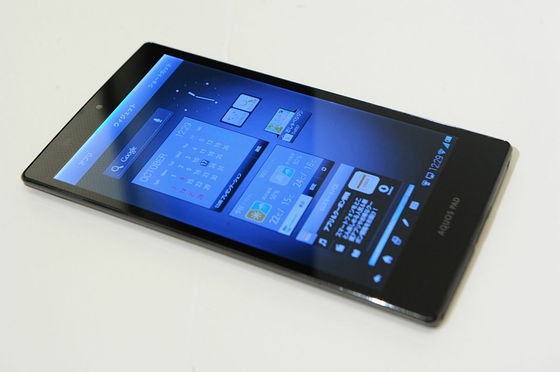 The size is 106 × height 190 × thickness 8.9 mm, weighs about 280 g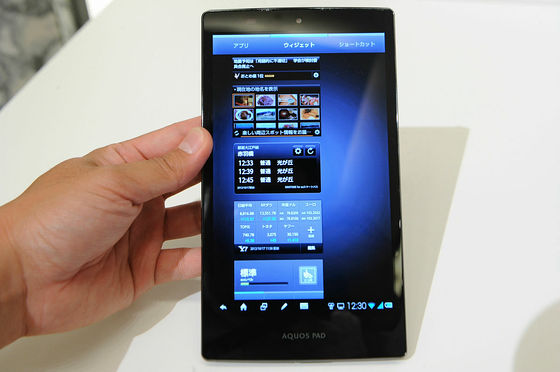 The camera has about 8.08 million pixels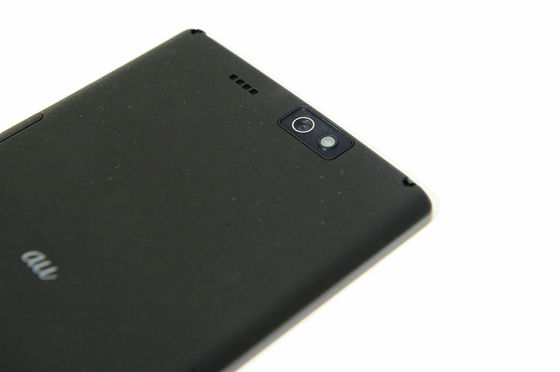 The sub camera has about 1.36 million pixels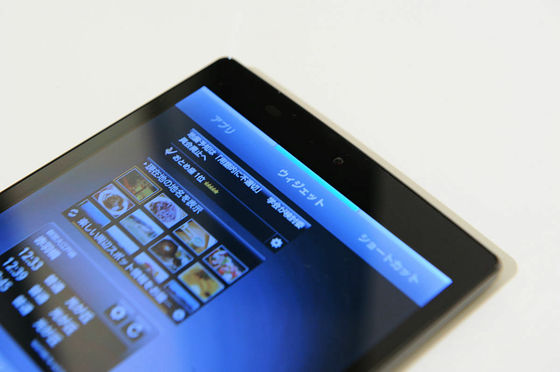 The bottom is like this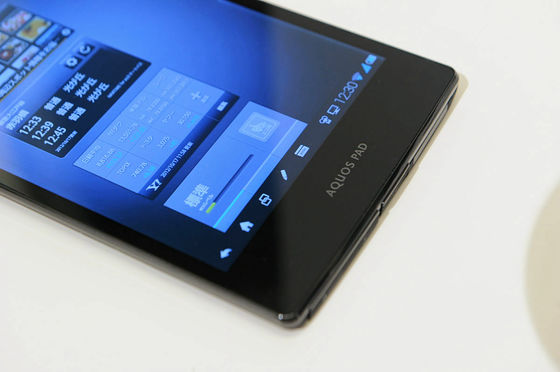 side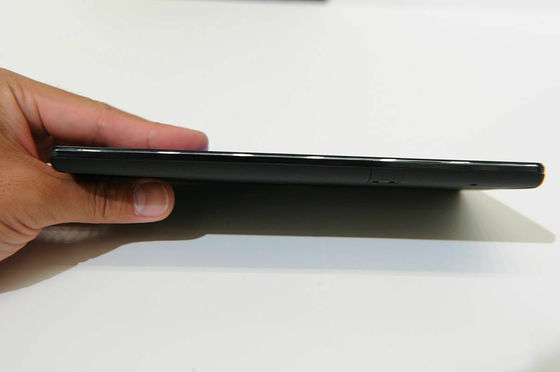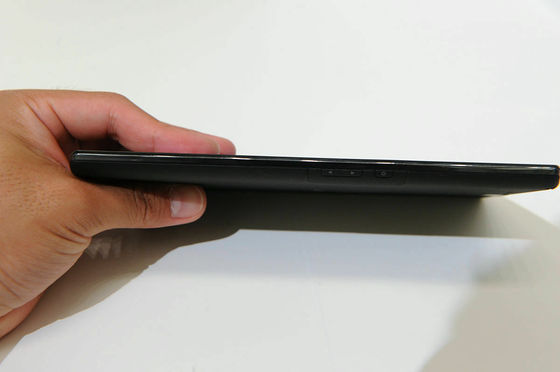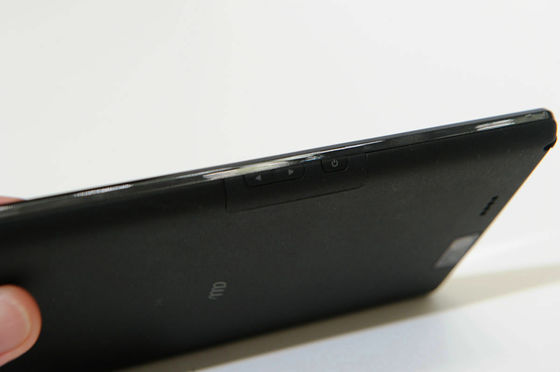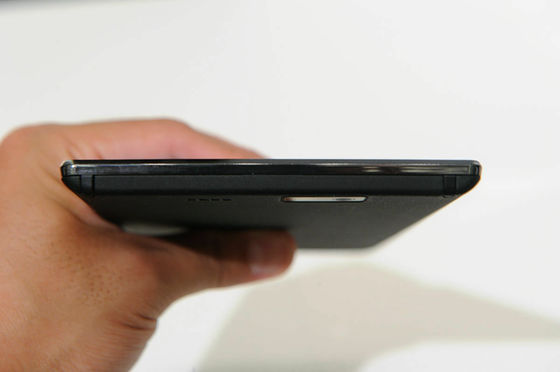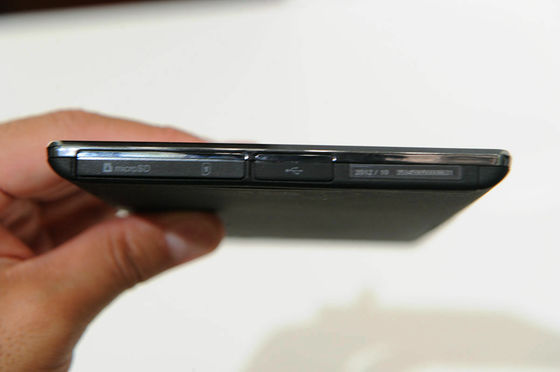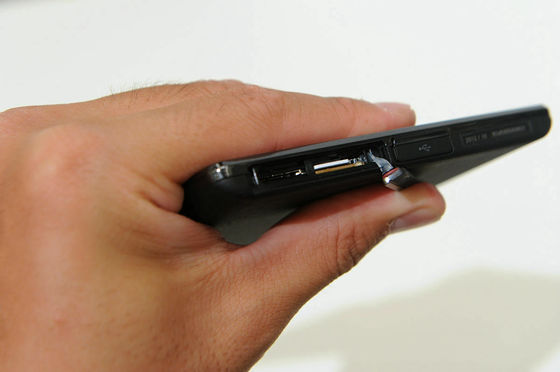 back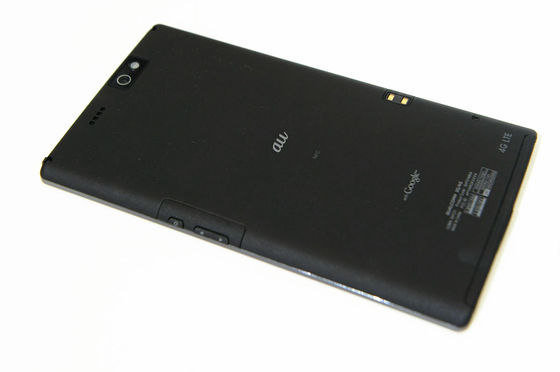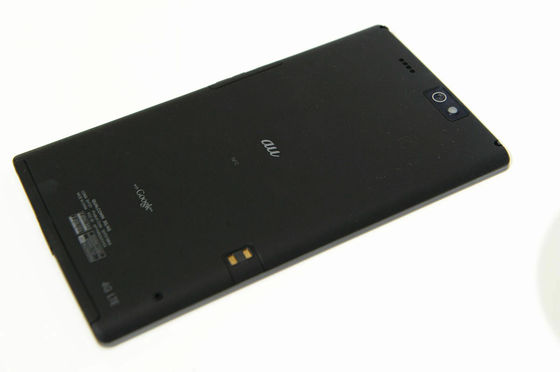 software keyboard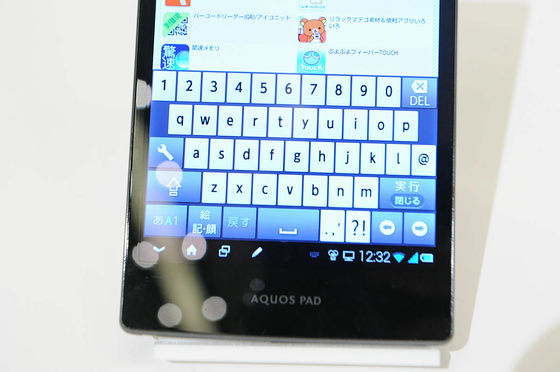 I tried displaying GIGAZINE



Landscape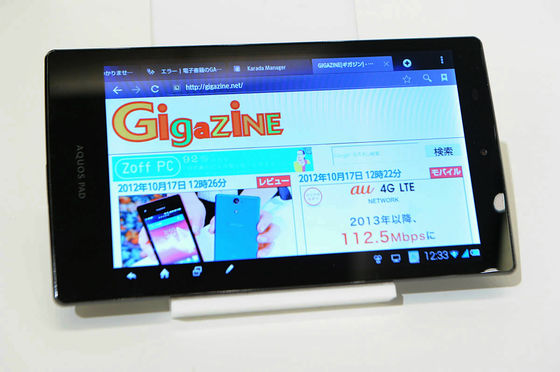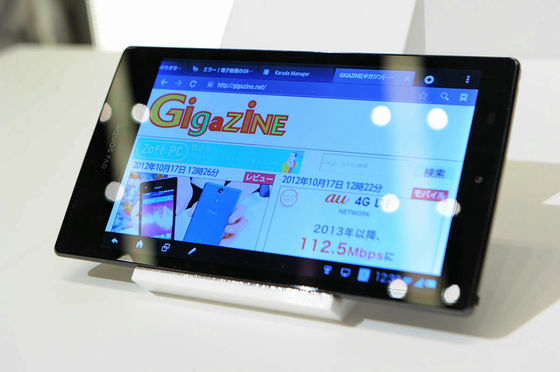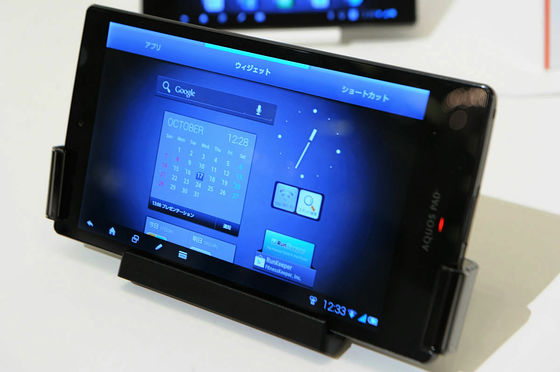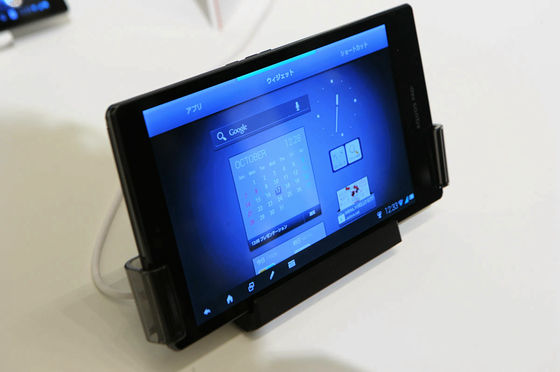 When you have it in hand this size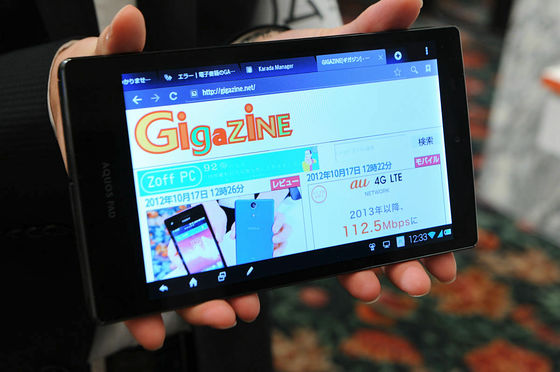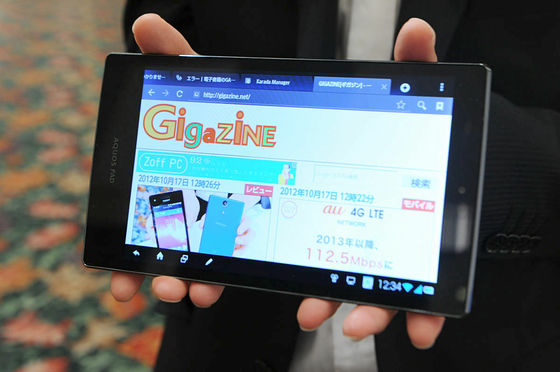 The product introduction movie looks like the following.

AQUOS PAD SHT 21 Product introduction video - YouTube


In addition, it is scheduled to be released in early December 2012.