Movie summarized every year how many pieces of TV animation was broadcasted in the past 50 years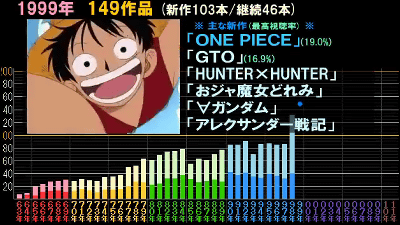 The history of Japanese TV animation began with "Astro Boy" in 1963, celebrating half a century this year. The number of works that have been broadcast so far will be substantial, but how the number has changed over time is summarized in a single movie. It has a length of 15 minutes, but it contains images of the works representing the year, and it is in the blink of an eye when you see it.

The history of TV animation seen from the number of broadcast pieces - YouTube


This summary counts the number of domestically produced TV animations broadcasted by terrestrial, BS and CS. It does not include movies etc.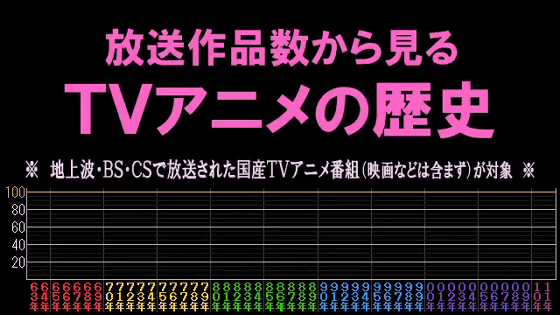 Started from 'Astro Boy' in 1963, there are 7 works. Atom has recorded a maximum audience rating of 40.3%.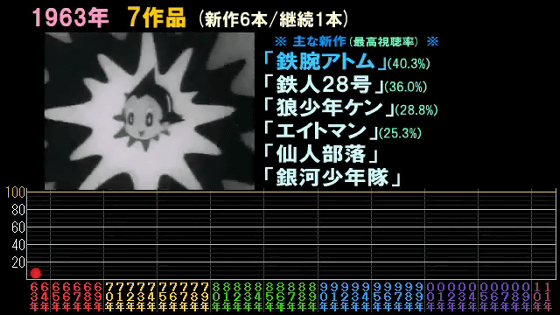 9 works in 1964.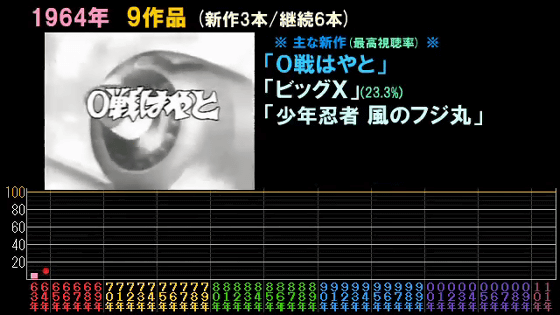 "Jungle Emperor" in 1965 is color. More than 10 new works were made as early as possible.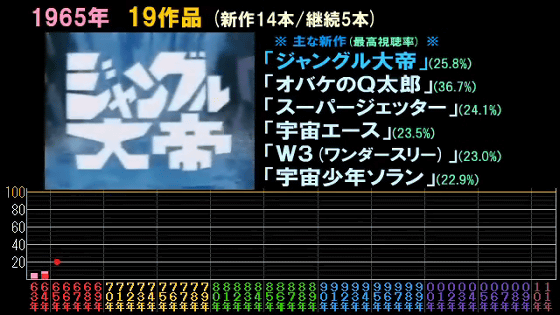 1966's "Wizard of Sorry" is black and white again. Incidentally, it is also the year the special drama "Ultra Q" was broadcast.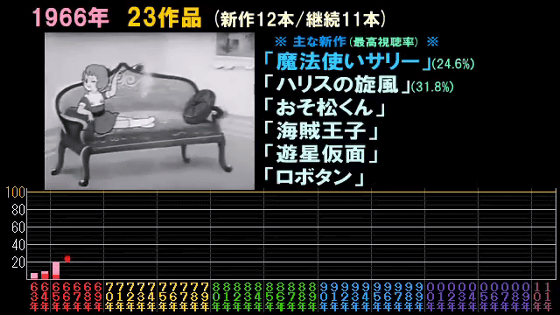 In 1969 the broadcast continues even today "SazaeStarted. Annual number of animations reached 30 works.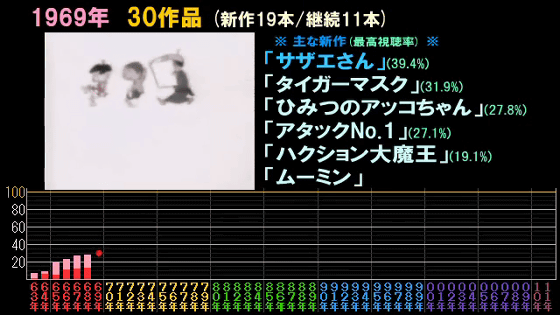 The first series of "Lupine the 3rd" was broadcasted in 1971.



"Space Battleship Yamato" in 1974.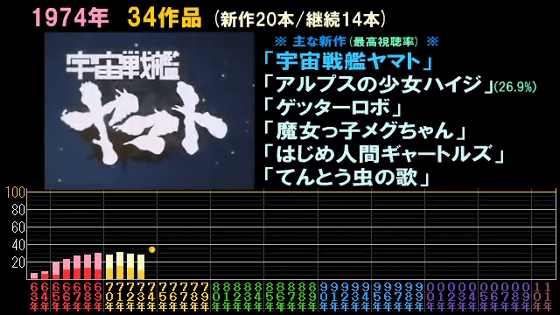 "Time Bokan Series Yatterman" was broadcasted in 1977. This series continued until Itaidakiman in 1983, and remake was also done in 2008. 50 works are broadcasted in one year, about one course (3 months) now.



"Mobile Suit Gundam" in 1979. Although the first episode was due to poor viewership, all 52 episodes planned to be terminated with 43 episodes, but won a high popularity leading to present by rebroadcasting and theatrical version trilogy.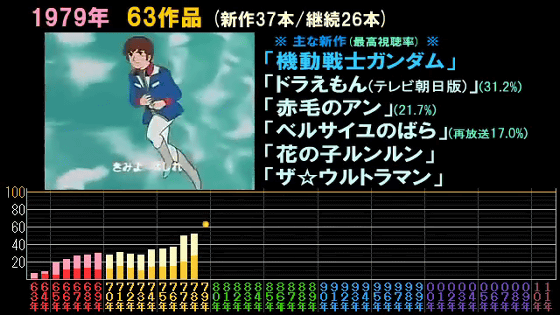 In 1982, "Super Dimension Fortress Macross" which is still continuing the series was broadcasted.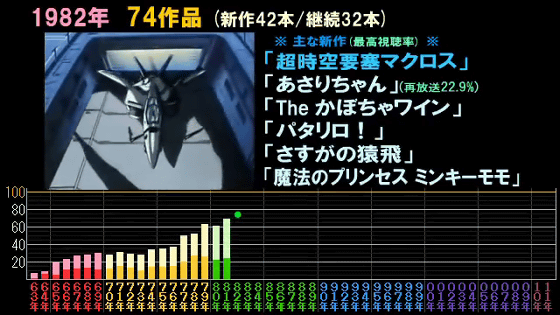 Until 1984 the number of works rose sharply and was close to 80 works, but in 1985 the number of new works drastically decreased. However, since 1986, animation of popular manga of weekly Shonen Jump series such as "Saint Seiya" "Dragon Ball" started broadcasting.



The standard anime series for children "Soreike! Anpanman" started in 1988.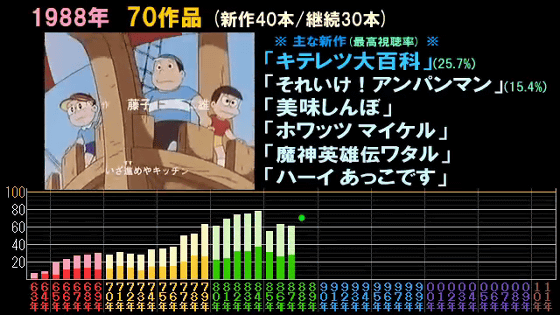 In 1990, this time also a family-friendly longevity program "Chibi Maruko-chan" started. This first period was broadcasted until 1992, the second period started in 1995, and continues until now. In this year, breaking through 80 marks a year on the base. "The brave series" also started this year, and 8 works were made until 1998.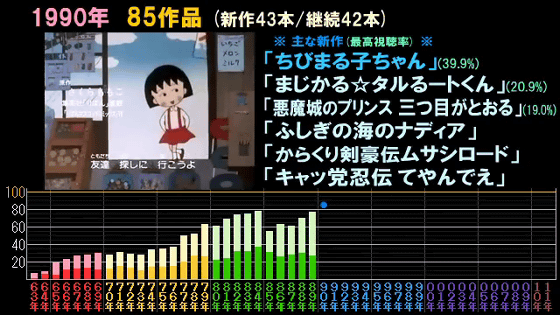 In 1991 "Elderan" series "Absolutely Invincible Raisin O" was aired. The series is a trilogy and will last until 1994.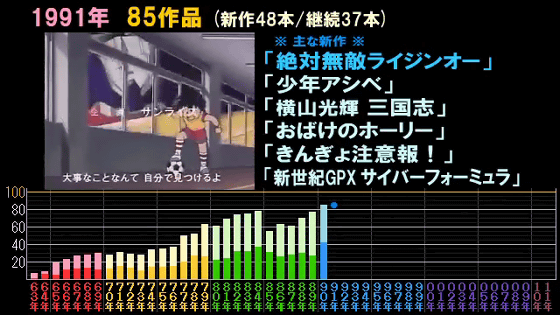 Finally in 1992 it reached 90 works a year. "Crayon Shin chan" who was a representative of a program which one does not want to show to children once started this year. Shinnisuke at the beginning of the broadcast had abandoned her mother as "Masae", but eventually he began to call it "Mother", and now it has become a standard staple of family animation.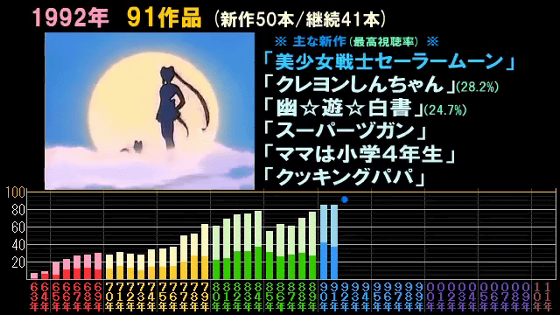 1995 is "Neon Genesis Evangelion". No way to say that new movies are still being made in 2012 ......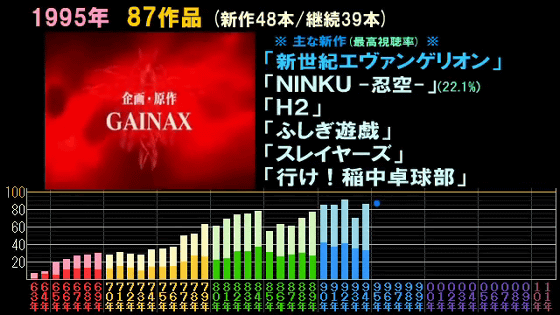 "Detective Conan" started in 1996. When I look again, Conan is a different person.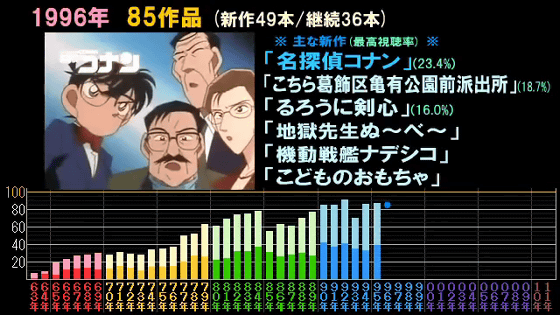 In 1997, "Pocket Monster", this also continues to the present while changing the series.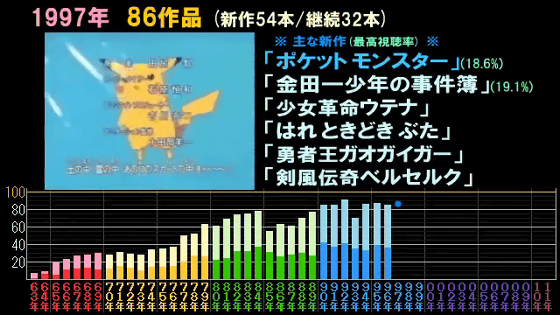 When it exceeded 100 works in 1998, it increased to 149 works in 1999. Only new works exceed 100 works.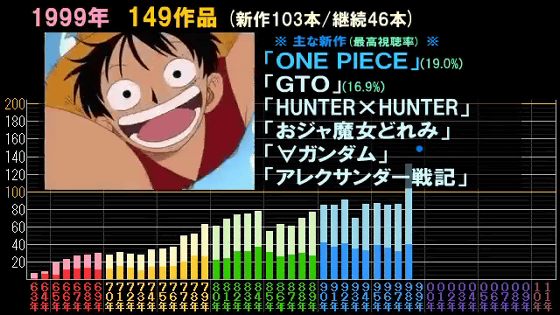 "NARUTO -" started from 2002 as well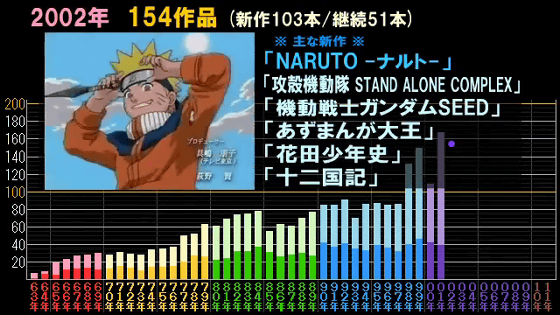 In 2004, it reached 200 works a year.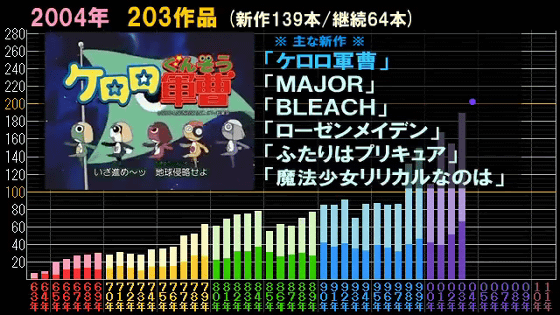 And in 2006 we have reached the highest number of 279 works ever. There are 195 new works and 84 continuous works, and this is the peak.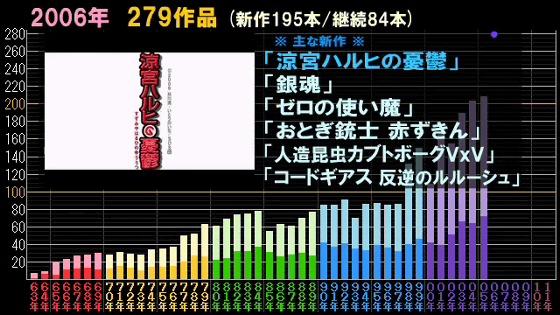 "Lucky Star" and others were broadcasted in 2007. The number of continuations remains as high as 91, but the number of new works decreased to 159 and it decreased considerably in 2006.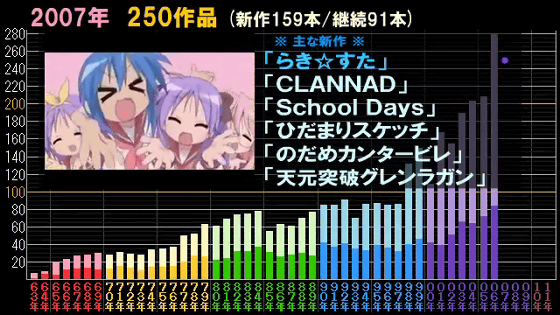 In 2009, "K-ON!" Was broadcasted 218 works. It feels like just 2006 was too much ....



Although it cut 200 pieces a year in 2010, last year in 2011, 220 works and a little number recovered. What will happen in 2012?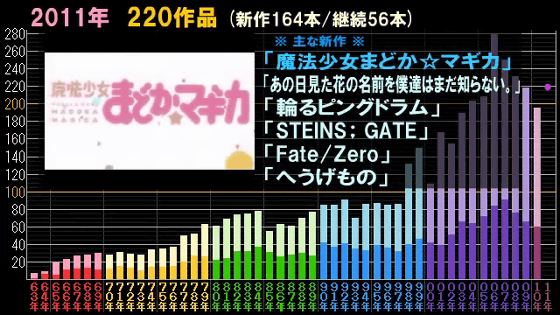 By the way, the number of works broadcasted by April 2012 is 3013 works.