Twitter client "Twit" to the end of development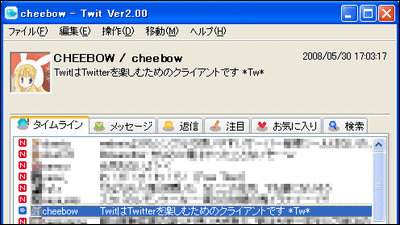 It was released from April 2007,Also included in the Forest of the WindowIt is,Wind forest grand prize Gold AwardA Twitter client that runs on Windows as well as winning "TwitIt is clear that the development is over.

Hibino Noawa: I will finish the development of Twit
http://cheebow.info/chemt/archives/2012/09/twit_end_of_dev.html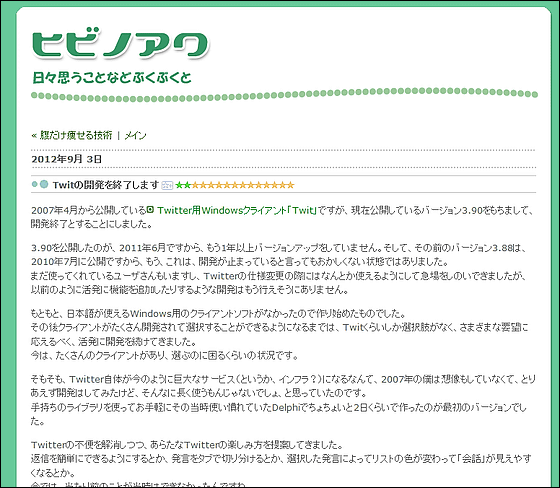 According to the official statement by the author, the history that the following began development.


Originally, there was no client software for Windows which can use Japanese, so I started making it.
Until thereafter, as many clients were developed and able to choose, Twit had only choices and we have been actively developing to respond to various demands.
Now, there are a lot of clients, it is a situation that it is troublesome to choose.

In the first place, I did not imagine that Twitter itself would become a huge service (or infrastructure?) As it is now, I tried developing for the time being, but I guess it is not that long I thought.
It was the first version that I made with Delphi who was familiar with that at the time using the library of the hand at about 2 days in about two days.

While solving the inconvenience of Twitter, I have proposed a new way to enjoy Twitter.
It makes it easy to reply, cuts out the remarks by tabs, or the color of the list changes according to the selected remarks and "conversation" becomes easy to see.
Now it was impossible for us to do something obvious at the time.

However, "The time has changed, it's five years since then." "Of course, motivation is not as it was at that time, even if you do not make it, there is already something neat, and Twitter has changed, too." That's why Twitter's API specification change (The usage rule of Twitter API has changed and the number of requests is within 60 basic times per hour - GIGAZINE) And told it as follows.


Twit's history was a history of battle between Twitter troubles and repeated specification changes, but still Twitter and our developers have gone hand in hand.
However, it is a time when I can not proceed with the relationship as of that time.

Already in Japan "P3: PeraPeraPrv」Announced the end of development on August 28, 2012 due to Twitter specification change, even overseas"Tweetbot for MacHas canceled the provision of the alpha version to the public due to a major change in the API or a change in contract,Provide beta version only for alpha version account usersIt is certain that Twitter's movement will continue to give influence to various aspects in the future.

There is no plan to release the source code of Twit for publication of the source code etc. Or, I think that it is impossible for anyone other than me to build a development environment in the first place. Because I am using a library or the like. "