How is "anchovy × herbal shrimp mayonnaise" that won the Grand Prix among all 116 works different from the fut's Ebimayo?


Osaka king general, the other day "The world's largest mosaic picture using gyoza"It was certified as the Guinness world record, but this new challenge is to try commercializing the menu which won the Grand Prix from among all 116 pieces in the company menu contest.

The grand prix was "Anchovy × herbal shrimp mayonnaise"I decided to go to eat because it is finished in Western style Ebimayo using herbal fragrance and anchovy tasty sauce. I decided to go eat.

"Anchovy × Herbal Prawn Mayonnaise" at some stores in "Osaka kingdom" will be sold for a limited period and limited period from June 13 th to June 30 th

This is Osaka king.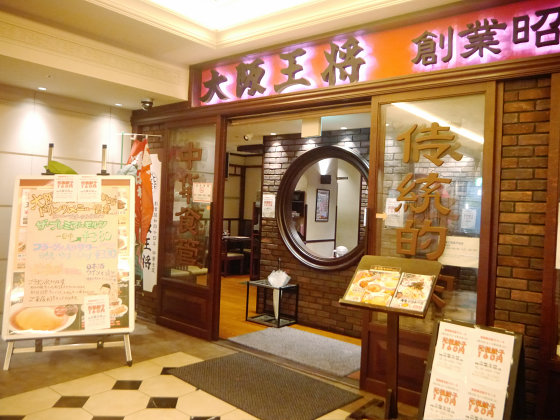 The menu I am planning for this time is "anchovy × herbal shrimp mayonnaise" (490 yen including tax), it sells until 30th June (Saturday) and only offers 10 meals a day.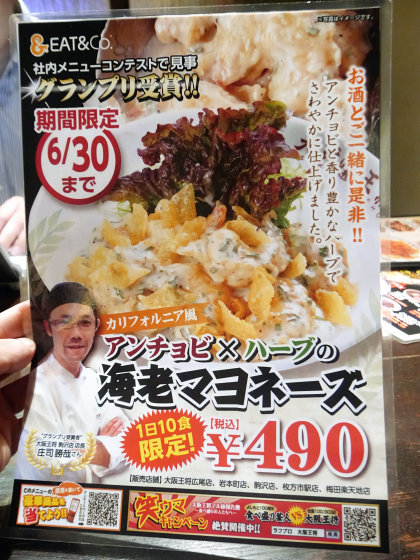 About 10 minutes to wait after ordering "Anchovy × Herb Shrimp mayonnaise" finally won the Grand Prix finally. I feel that it is not enough amount of source as compared with the menu picture.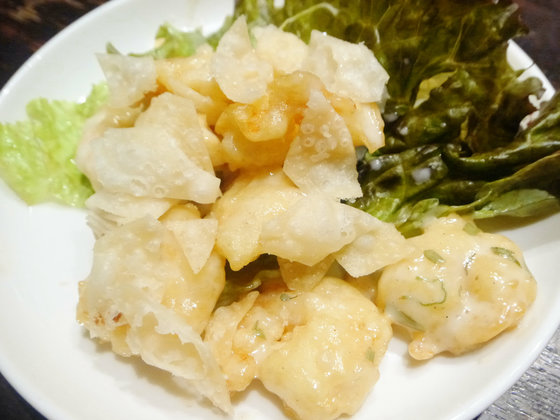 It seems that you can enjoy the taste finished with anchovies and herbs.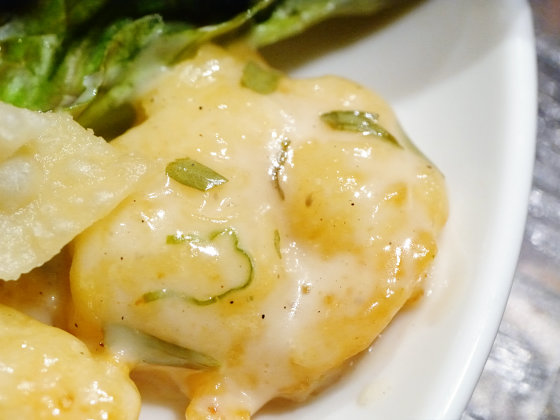 Not just shrimp "Ozak"It looks like fly like it, but this is fried wonton.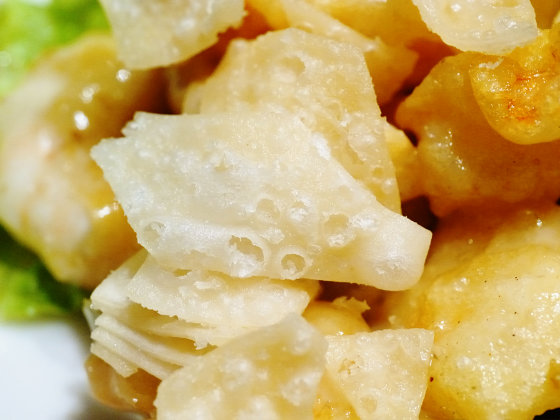 Okay, we will. Although the flavor of anchovies and herbs is indistinguishable, the contrast of the crispy Wonton fry's texture and the shrimp pre-made feeling is very good.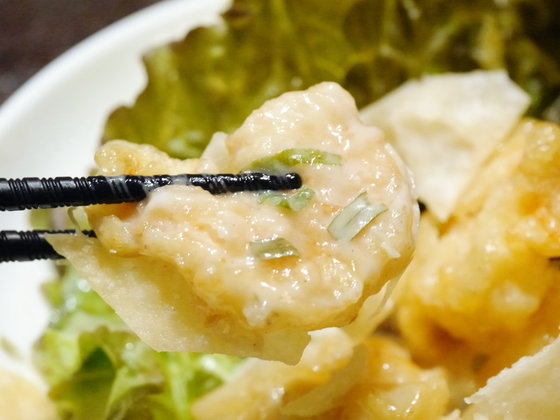 Shrimp is a refreshing taste of refreshing taste, but when a strong seasoned sauce of mayonnaise flavor tangles, it is possible to taste rich umami.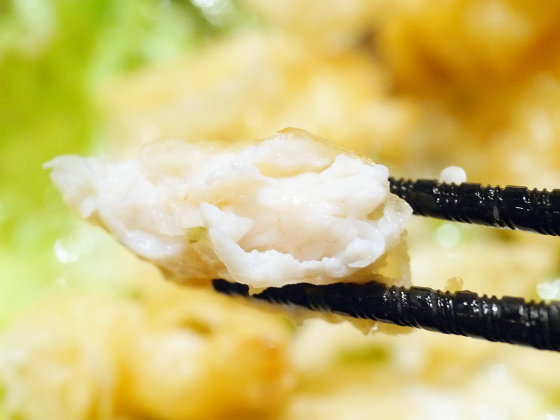 When trying to get ready to satisfy the stomach, when I saw the menu suddenly, "Special shrimp mayonnaise" (630 yen including tax) caught my eye. "Maybe you can understand the taste in comparison with this menu ...", so we decided to order "anchovy × herbal prawn mayonnaise" again with "special shrimp special mayonnaise".

This is "special shrimp special mayonnaise". It seems that there is more volume than "Anchovy × Herb Shrimp Mayonnaise" ... ...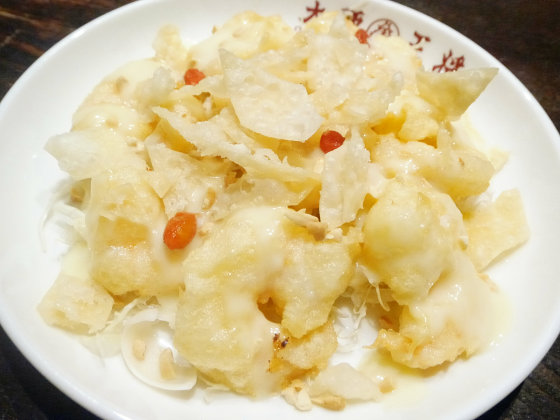 Actually, the shrimp which is included in both shrimp and 8 shrimp, the shrimp volume is the same result.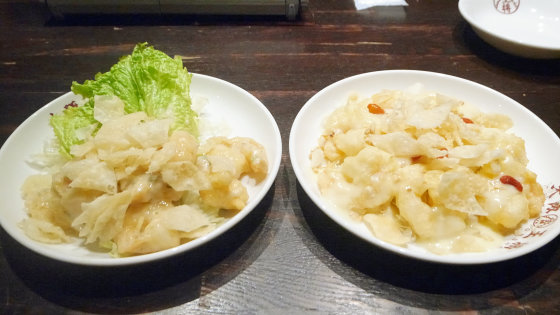 If you compare with yourself how you taste it, you can see that there is a clear difference. Taste is added to "special shrimp mayonnaise" by "anchovy × herb", obviously "anchovy × herbal prawn mayonnaise" is more rich and you can enjoy a rich flavor.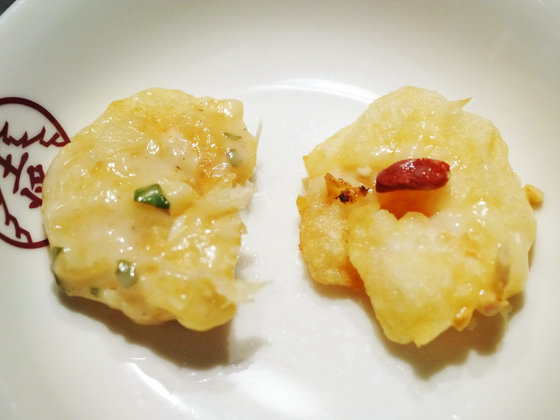 The amount of vegetables is also "anchovy × herbal prawn mayonnaise" more often, the price is also 490 yen and cheaper than "special shrimp mayonnaise", this is a pretty recommended menu. However, because you can not grasp the level of taste when you eat alone with "anchovy × herbal shrimp mayonnaise" alone, if you can, you can order together with "special shrimp mayonnaise" and want to taste the difference in taste.

The shop where this menu can be eaten is limited in the whole country, and it is the following five shops.

·Hiroo branch
·Iwamoto cho branch
·Komazawa branch
·Hiraku-shi station store
·Umeda Rakuten Branch