"ICQ Soundboard" that you can enjoy nostalgic sounds of ICQ such as "Ao" "U-Eeba" with smartphone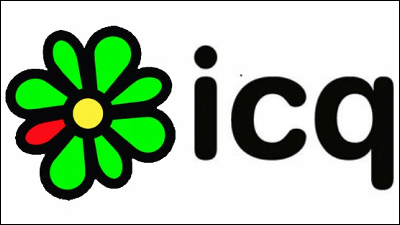 In the 1990s boasting overwhelming popularity as instant messenger (IM) was "ICQ". The name is derived from "I seek you" and is software developed by Israeli Mirabilis.

Especially the impressive part of this software is that sound. At startup, a sound like a whistle sounds, and while typing a message, you will hear a typewriter like a typewriter, when you receive a message,Ao(Cuckoo) "and shouts, when the URL is sent"Wow"When you receive a file you will be told" Incoming file transport "with the voice of a cool man, an application that can enjoy such ICQ sound on a smartphone"ICQ Soundboard"is.

ICQ Soundboard - Apps on the Android Market

Looking for the phrase "ICQ" on the Android Market, the next event comes after the official client (ICQ Messanger), "ICQ Soundboard".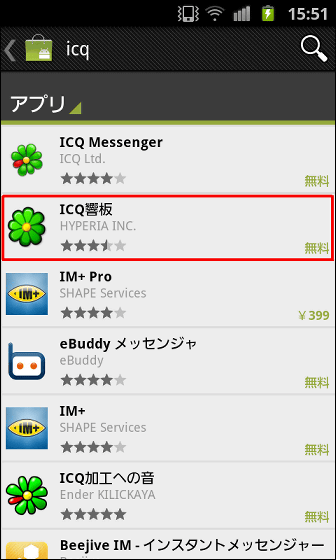 Because it is a free application download it completely.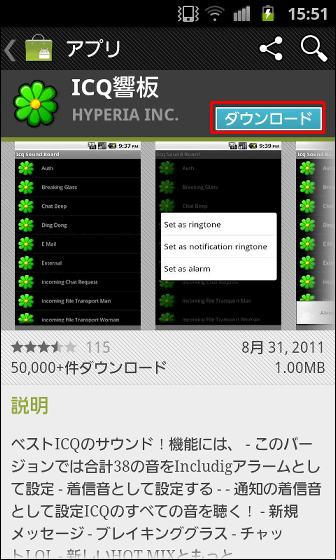 Installation completed, I placed an icon on the home screen. This icon is similar to the ICQ original icon, but the petal part is all green.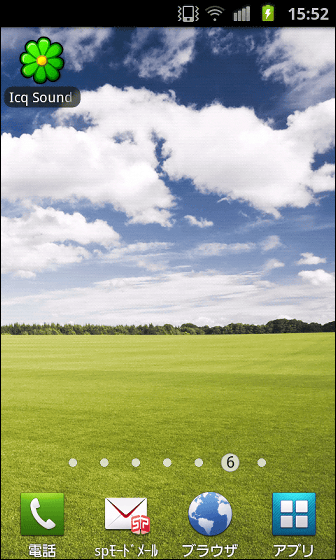 When launching the application, the names are listed side by side on this screen like this. Tap this to play the sound.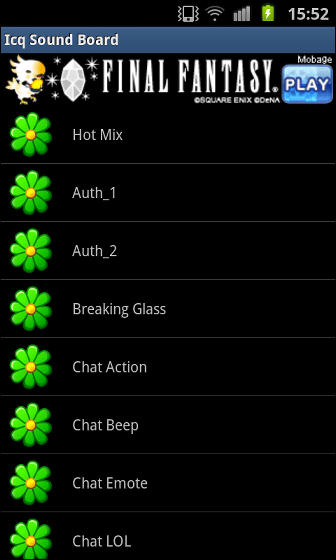 "Start Up 1" and "Start Up 2" are startup sounds.

I tried ICQ start tone at "ICQ Soundboard"


Speaking frequently when using ICQ, it sounds "AOU" when new messages arrive. In "ICQ Soundboard" you can listen with "New Message 1".

I tried ringing ICQ message new arrival sound (AOU) with "ICQ Soundboard"


When a URL is sent, the mysterious sound "Uh Eee" is named "Url 2". What on earth are you talking about?

I tried ringing the URL reception sound (U-eh) at "ICQ Soundboard"


When receiving a file, it was the default that the man's voice "Incoming File Transport" announced. The file name is "Incoming File Transport MAN", and when file reception is completed, "File Done" sounds.

I tried playing a sound effect when I received a file with "ICQ Soundboard"


In addition, the top of the sound list of the application contains "Hot Mix", original music made using sound effects.

"Hot Mix" made using ICQ's sound effect


You can also set the sound as a ringing tone, a notification sound, or an alarm tone by tapping a place with the name of your favorite sound for a long time.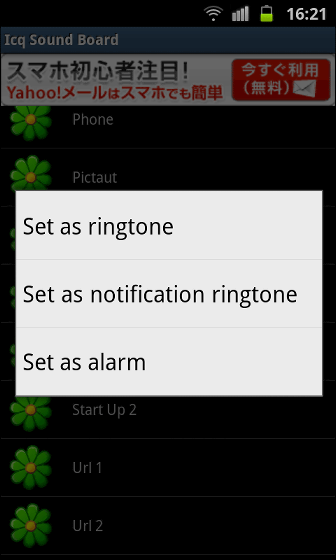 By the way, ICQ is still active, and on the contrary it has expanded the range of platforms with Linux version, iPhone version, Android version and platform. However, although there is no problem with sending and receiving Japanese, the Japanese version is still not available and volunteers are distributing language files.

Download ICQ for mobile - Free SMS to your friends!

Japanese-language relations - IM-NET