"Pi-Chiku Park (Peach Park)" site that gathers over 200,000 only the reviews of people who really purchased


A review wish email is delivered to people who have been about 2 weeks since purchasing at the Yamada Denki store or Yamada WEB.COM, and the site that collects and posts only reviews written in that way "Pi-Chiku Park (Peach Park)"Pre-opened.

Peach Park | Yamada Denki's review site
http://pi-chiku-park.com/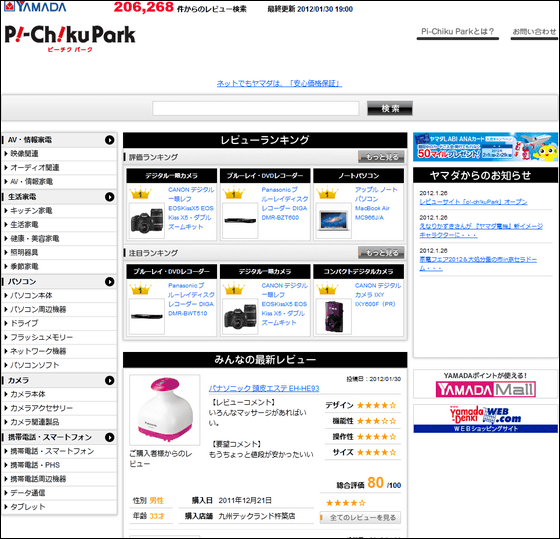 For example, in the case of "Panasonic Blu - ray Disc Recorder DIGA DMR - BWT 510", which is the top attention ranking top, the total number of reviews is 1015, and the number of reviews per week is 430, and a tremendous amount of reviews gather.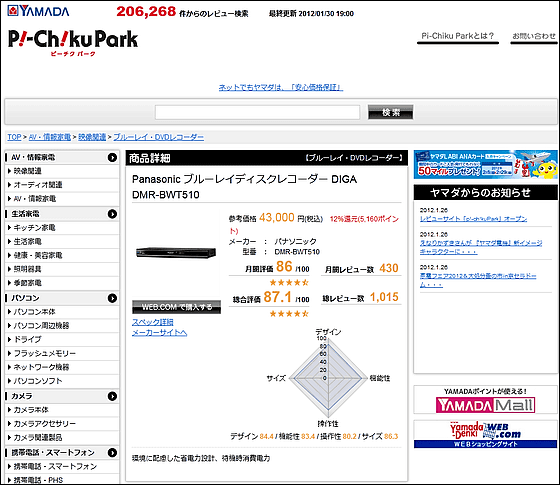 The review has become a feeling that some of the overall evaluation is 100 points, and in addition evaluates "design" "functionality" "operability" "size" with five stars, sex and age of the person who reviewed further · Purchase date · purchase store · posted date, as well as review comments · request comments are also displayed.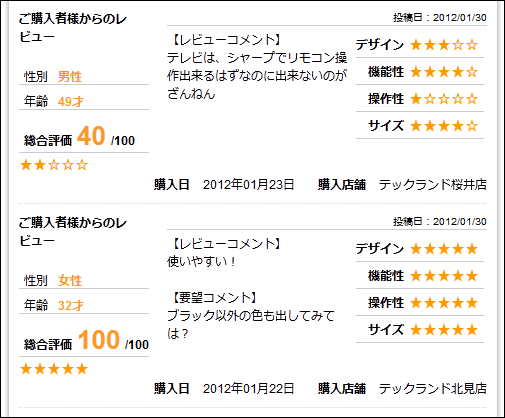 The data of this review itself seems to have been obtained as follows according to Yamada Electric notice mail.


It is a site that managed somehow in shape thanks to everyone who cooperated with us for making a review contribution to the mobile member who actually shopping at our company since last year.

This site is made only by the opinion of "raw" of the customer actually shopping at Yamada Denki.
There is no posting from anyone other than those you asked us!

We are proud to be the most trustworthy site for customers who are considering products from now on.

In the future, we will further enhance categories, expand published items, and further enhance them.

Also, for customers who are busy and not quite ready to come to the shop, we also choose the products by referring to the product review of this site, we also have the functions you can purchase at Yamada Sale at Yamada site.

First of all, it would be greatly appreciated if you would like to receive this opinion, such as a request for improvement, by viewing this site for mobile members who cooperated.

In future, when you shop at our company, please post a product review by all means.
In fact, even at the shop front, "It can refer to the evaluation of the item under consideration by reading the QR code at the price of the home appliance product with a mobile terminal," and it is pretty seriously reviewing the price .com, reviews of Amazon etc. The feeling of meeting is felt, and for that reason, the technique of "collecting only reviews of people who actually purchased and who passed two weeks or more" is quite an interesting point of view.

The evaluation ranking is "average score of the overall evaluation posted in the most recent month", the notable ranking is "the order of the number of review submissions in order", the reviews themselves are sent via e-mails arriving in about two weeks after purchase Besides, it seems possible to post from Yamada mobile purchase history.