A comprehensive summary of new functions installed in Google's latest OS "Android 4.0"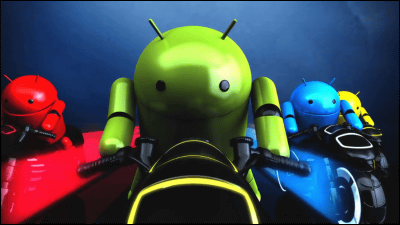 today"Galaxy Nexus"Google's latest OS that was officially announced along with"Android 4.0 (codename: Ice Cream Sandwich)The details of "is released.

At last the tablet OS and the OS for smartphone are to be integrated, but the OS is enhancing usability in all aspects, including the long-awaited screen shot shooting function as standard,Greatly improved engine has been done Android 2.2Similarly, the performance such as browser execution speed has improved.

Android 4.0 Platform Highlights | Android Developers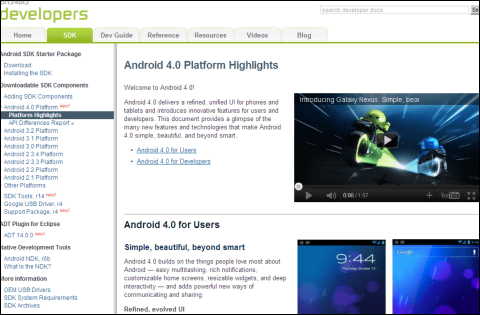 Improve user interface and home screen

This is the Android 4.0 lock screen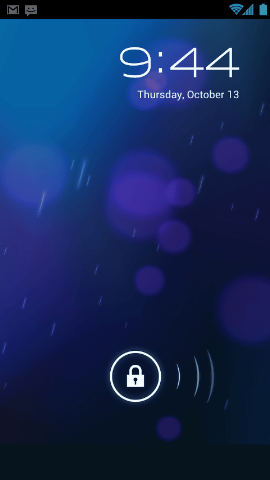 Menu screen. The characters and others become easy to see according to the high resolution display, the virtual button seen on Android for tablet appeared at the bottom of the screen.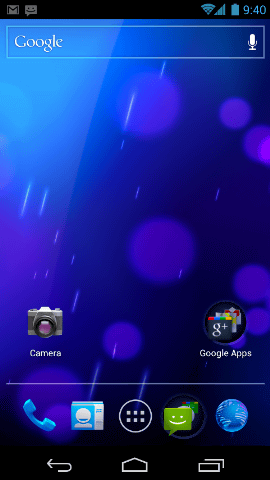 Android 4.0 enhances multitasking. By pressing the virtual button, you can immediately access the running application list and switch tasks smoothly.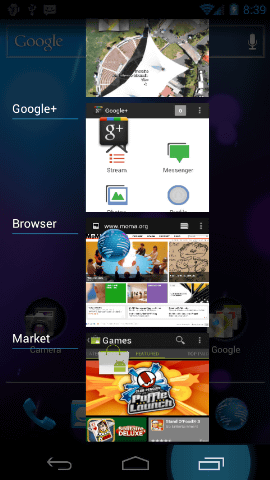 It is also possible to check the camera and notification without releasing the main body lock. The convenience when hurrying is greatly improved.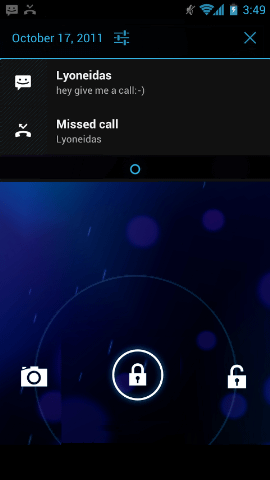 If there is an incoming call, you can respond with a text message. "I can not get out because I get on the train but I can not get out, but when disconnecting / holding calls it seems to take soon ..." It is convenient.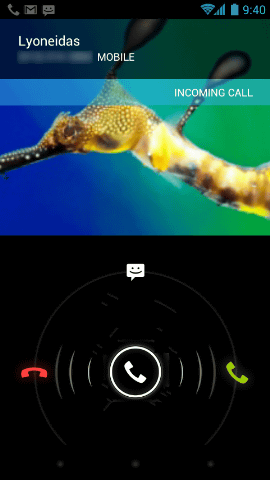 A new "home screen folder" that can check the application list and widget list. You can now uninstall the application immediately without using the "setting" function and disable the preinstalled application as before.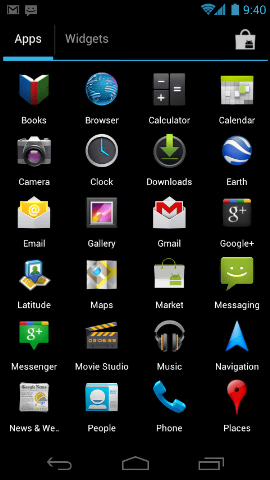 Improvement of character input / display function

When inputting a wrong word an underline is displayed, and a "spell checking function" which suggests the correct word is newly installed. This allows you to correct misspellings quickly, as well as installing third-party dictionaries, spell checkers, text services and more.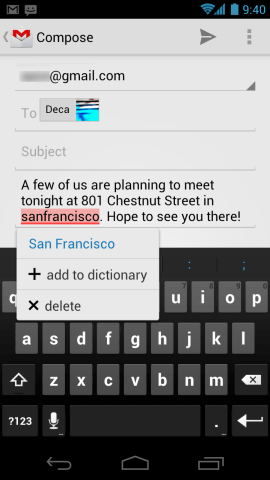 It is also possible to create sophisticated mail making full use of speech recognition. Here is also a feature that can correct mistakes.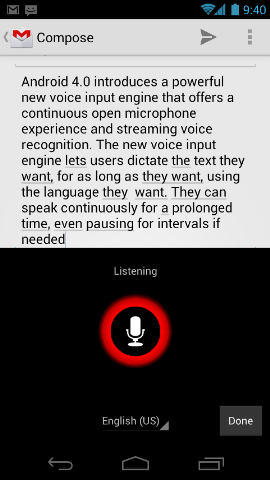 It also features the ability to read page content to browsers for visually impaired people and to expand the default font size across the system to improve readability.

◆ Data communication volume monitoring function that can be used with confidence even with the usage-based billing

Now that Verizon of America and AT & T, No. 2, have eliminated the packet flat rate plan and switched to pay-per-use billing, the amount of data traffic is very concerned to users. Even in Japan, band limitation is carried out when data communication exceeding a certain level is done within a certain period, but Android 4.0 can record the traffic volume.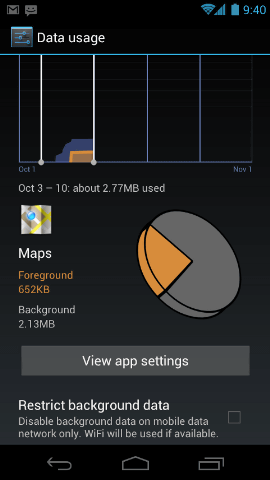 It is also possible to set warnings such as the upper limit of data communication according to the plan contracted by you and "Notify when exceeding ~ GB". It can also be set finely according to the network type such as 3G and Wi-Fi, according to the application.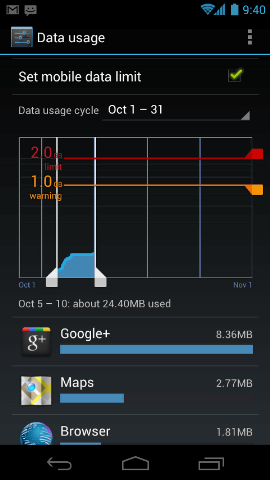 ◆ Improve communication-related functions "People app"

With the newly introduced "People app", account photos such as family photos of friends and friends registered on smartphones, phone numbers, e-mail addresses, Twitter, SNS etc. are integrated and crossing the latest information just by tapping the photos It is possible to check it. Incidentally, Microsoft's "Windows Phone" has the same function.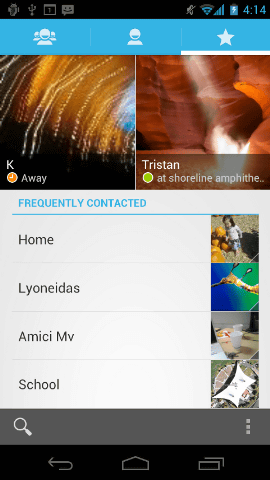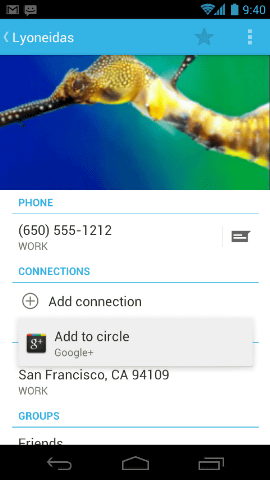 Improvement of camera application

The camera application has also improved significantly. This is the state of shooting.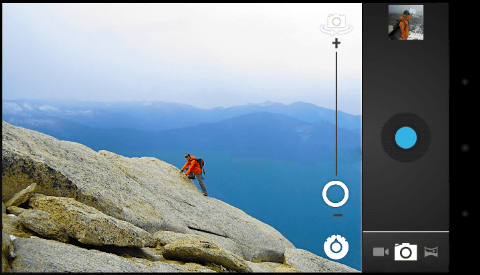 Editing screen. Trimming, red-eye correction, color tone correction, etc. can now be easily done.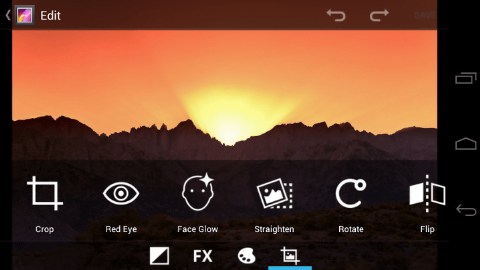 Pictures and movies you shoot can be shared with e-mail, Bluetooth, various SNS etc. with one touch. It also has a function to shoot panoramic photos by turning the camera slowly and a function to take snapshots when you tap the screen during movie shooting.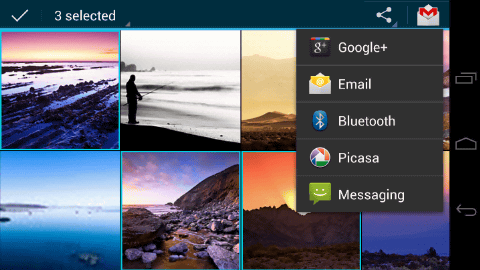 Evolved gallery function. It can be sorted by time, location, people and tags, and you can instantly share multiple photos and videos.



◆ Screen shot shooting function as standard

Until now the screen shot capture function that the terminal maker independently installed was finally equipped as standard. Of course editing and sharing is also possible.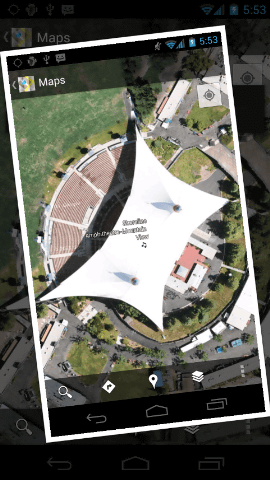 ◆ Improvement of standard installed browser "Android Browser"

From Android 4.0, the standard browser "Android Browser" is upgraded, and has the function to synchronize bookmarks with the desktop version "Google Chrome". It is also possible to read a part of the page when offline.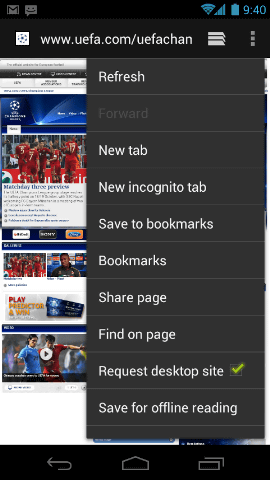 Comparison of Android 4.0 version "Android Browser" and Android 2.3 version "Android Browser". Performance is high as benchmark software "SunSpider 9.1 (left)" has higher performance, "V8 Benchmark (right)" means higher performance as the number increases, even if you install it on the same "Nexus S" , Android 4.0 version has higher performance than Android 2.3 version.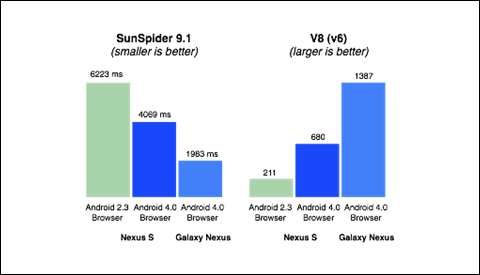 ◆ Various files can be shared with "Android Beam" using NFC

Introduced "Android Beam", a new function using Near Field Communication (NFC) technology. With NFC compatible models, you can quickly exchange most things like music, video, apps, contact information, etc.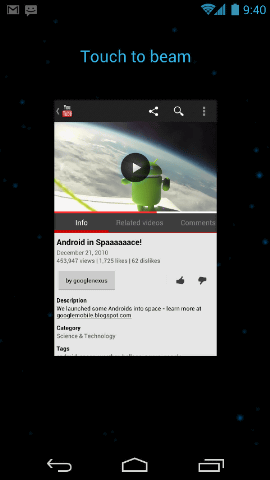 ◆ Unlock function using face recognition

In addition to the lock release function such as traditional PIN and finger pattern, "Face Unlock" which adopted cutting edge face authentication for newly unlocking the main body was adopted. Even if face authentication was not successful, you can use PIN or finger pattern authentication as a backup unlock method as before.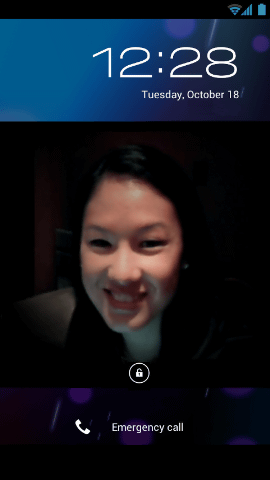 ◆ No need for access point, "Wi-Fi Direct" support where terminals directly connect

Newly support "Wi-Fi Direct", which allows smartphones to connect with each other via wireless LAN, and can share files, photos, and other contents instantaneously. You can also stream movies and music between terminals.

In addition, it supports Bluetooth medical device profile "HDP (Health Devices Profile)" and HFP (Hands Free Profile) 1.6 which can connect to higher quality Bluetooth audio devices.

◆ Major functions realized with Android 4.0 Summary

· Improve user interface and home screen
· Improvement of character input / display function
· Data communication volume monitoring function that can be used with confidence in usage-based billing
· "People app" that improves communication function
· Improvement of camera application
· Screen shot shooting function as standard
· Improvement of standard installed browser "Android Browser"
· Various files can be shared with "Android Beam" using NFC
· Unlock function using face recognition
· No need for access point, "Wi-Fi Direct" support where terminals directly connect

The introduction movies released by Google are as follows.

Introducing Galaxy Nexus. Simple, beautiful, beyond smart - YouTube