Interview with original animation "Cherry Temperature" director · Keita Shimizu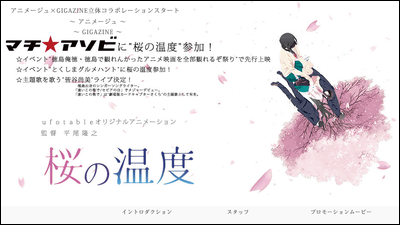 A certain month was held on a certain day "Cherry TemperatureI've been to the scene of the rush check. For this rush checkTakayuki Hiraodirected by,Kondo HikaruProducer, character design / drawing directorKeita ShimizuIn addition to Mr., a total of 8 staff members, including color design and finishing, gathered. I checked for a total of over 30 scenes in about 1 hour.

In the rush check, one scene is repeatedly flowed for about 5 seconds, at most 10 seconds at most, if it is OK, if it is OK, if there seems to be a catching part, it advances in the form of pointing out that point.



Director (central · white shirt) and Mr. Shimizu (right next to the director) are also able to see the fine details such as the orbits of the cherry blossoms petals scattered in the screen and the condition of the light. Depending on the cut, I heard that the comment was better than the director thought, "Oh, is not it good?" On flickering scenes in the scene where flames come out, also specific advice that Flicker flickers are good at the beginning of the seventh episode of "Delusion Agent" which director Hira himself performed directing assistant.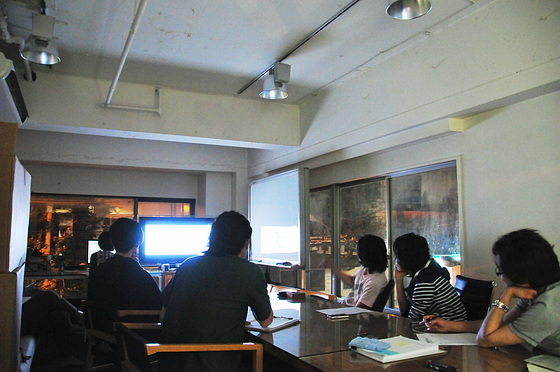 I interviewed Keita Shimizu in a form following this rush check. Once postedA thorough interview with the directorDirector Hirao who leaked the impression that "I was very embarrassed when personal stories became sentences" was read. By director Hirao with a good tempo Tsukkomi, I was able to draw out the surprising (?) Expression of Shimizu.

GIGAZINE (hereinafter, G):
What made you start drawing pictures by Shimizu?

Keita Shimizu (hereinafter Shimizu):
My parents' hobbies were drawing pictures, so when I was a child, I was taken by my father and I drew a paint around the river. In those days I'm not about how I like pictures, but about drawing something.

Director Takayuki Hirao (Hirao):
Will my parents draw pictures too?

Shimizu:
Yes. My father seems to have painted oil painting etc at university. My mother is a mother, and I also do drawing as a hobby.

Hirao:
What were you drawing? Flowers?

Shimizu:
Is it a flower? I thought that it was "a standard." About a few years ago, my mother was painting the leaves of the neighborhood as a hobby.

Hirao:
It began to draw with the influence of seeing it. Since when?

Shimizu:
I guess it's from kindergarten time ... .... But, at that time, I usually draw pleasantly with everyone, with a sense that workmanship is suitable for children.

G:
I see.

Shimizu:
I thought "I should paint something" is in high school. Because it was a funny high school, there was no art class at the first grader, and I wanted to draw a picture but there was no class and it was boring. At the end of the 2 years, art was finally joined and from there I thought that it was "fun drawing." That's why I went to a vocational school. Without this trend, I did not do anything and I did not enter this industry.

Hirao:
Did not you go see a big college or something?

Shimizu:
I wanted to go but, that ... ... I was sorry numerically (lol)

Hirao:
It's with me (lol)

Shimizu:
While annoying parents, "let me go to specialty". I feel like I've come to where I came.

Hirao:
Perth (Perspective)Where did you remember the concept of?

Shimizu:
I do not know the concept of Perth, I do not know well even now (lol)

Hirao:
truly!?

Shimizu:
There is a Perth ruler, but I thought that "Would it be useless if that was not there?" I was trying not to think too much.

Hirao:
When you were a student, did you draw without paying attention to Perth?

Shimizu:
At that time, he probably did not even know the word Perth. I did not understand well even after becoming an original picture. When asking "How do you draw" to those who taught, "Because it is somehow it is not good" because it was said, "Is that so?" Feeling somewhat refreshed, from there you can see the senses, photos, and so on.

Hirao:
Normally, a person who can not draw a picture tries to remember Perth first. Does that mean that you were drawing only the characters?

Shimizu:
It is a character. When entering from there, I do not think much about the background, so when I drew it, the character is not standing on the ground or something (laugh)

Hirao:
It's strange (lol)

Shimizu:
That's why I thought "I have to draw a background", but I will not absolutely do it while I'm saying that kind of thing.

G:
So then, since I entered the industry I studied Perth and etc a lot?

Shimizu:
As I entered the industry, I did not know well about the movie. It was such a state for about a year even after becoming an original picture. "Papani's Dash!By the time I played anime called "Animation", people who taught me enter around, "What is it?" Since it is only a trigger, from there it is full-scale ... feeling that I had no choice but to brush myself.

Hirao:
I have plenty of Kinnikuman figures, right?

Shimizu:
Super modeling soulOr, is not it cool? Only Kinnikuman is special, is usually only three-dimensionalized, but Kinnikuman felt romance in the place whether what it is if it actually exists as a solid if what originally was deformed. I heard that the heat in myself has risen much.

G:
As a taste of the work, did you look closely at Kinnikuman in the past?

Shimizu:
Regarding animation, I see only things like ordinary people see.

G:
Are you from cartoon Kinnikuman?

Shimizu:
Manga is a feeling entered from the comic story.

Hirao:
Corocoro is the first experience of a magazine (laugh)

Shimizu:
I agree. It was colocoro until the middle two.

Hirao:
It takes a long time until the second half.

Shimizu:
I do not know when to stop (lol) Because there is a work that is going on, if you stop reading here, I'm worried. Everyone went to jump or something when they were in the second half of elementary school.

Hirao:
It will be Young Magazine anymore when it comes to Naka II (lol)

Shimizu:
It is early.

Hirao:
No,AKIRABecause it was on (laugh) "It must be read"!

Shimizu:
AKIRA ... .... I was normal.

G:
What kind of work were you reading at Korokoro?

Shimizu:
When I started reading colocoro "Battle! Kiyohara-kun"Or" Person who is "Ganba! Kwata Kun".

Hirao:
"It's sweet! ManWhen did you do?

Shimizu:
later"Little Cop"And. Then when it comes to the middle, "Kaikyo Police CypolisCome and came. "Oshkakan"And"Vine Pikahage RoundIt is about time you are doing.

Hirao:
Was "Ottachakuman" a corner? Was not it a bonbon?

Shimizu:
Bonbon is rather rather Gundam. SD Gundam, Rockman, Goemon.

Hirao:
"Game Center stormOr?

Shimizu:
It is early in the corner.

Hirao:
Was that already over?

Shimizu:
It was over. "NES RockyThere are such as "Dennou BoyFrom the neighborhood where Super Nintendo was released, it just corresponds to generation. After that, "Super Mario kun" began.

Hirao:
I wonder if the game was quite a game system.

Shimizu:
I think that the tie-up has increased since the middle of the period when I was reading. There were still original works, "dash! Yoshiro"And. ...... What is this story? (Lol)

Hirao:
I wonder if I should keep silent (lol)

Shimizu:
Bonbon was an image of a little adult reading guy.

Hirao:
I will read bonbons when I am a child.

Shimizu:
No, as I was a lot of colocoras. The guy who is reading bonbons was a strong image of something adults. The man who is buying both is a rich image.

Hirao:
That was it. Because we did not buy cooker or bonbon, we went to a friend 's house and were reading korokoro and bonbon.


Shimizu:
When I asked my father about it now, it seems that it was fun to buy the korokoro for me.

G:
What was the reason I thought of entering the animation industry?

Shimizu:
I wonder what it was ... .... Because I did not know what I would like to do if I just like to draw a picture, as it is, at a vague idea that "I wish I could draw pictures and give me money." There were also options for illustrators and cartoonists, but I do not have the desire to create a story as a cartoonist, and even becoming an illustrator it will not be gold from the beginning. First of all, it will be a job that will change money.

Hirao:
It seems like "To eat food with a picture."

Shimizu:
It is a feeling that entered by erasing method.

Hirao:
Certainly, although I know a lot of current paintings and the like, I do not know much about animation works at all.

Shimizu:
I am studying, but I am sorry .... Because I do not know old works and OVA, I think that it was "Dragon Ball", it is about it. Look at Arale and watch the dragon ball. That is the only thing I've seen in the magazine, "I made animation!" Dragon balls and people drawing according to times are different, and the picture is also completely different, but until we got into the industry all of them were visible together. ...... Although I did not understand for a while (laugh)

Kondo Hikari Producer (Kondo):
Dragon balls are in the standard.

Hirao:
Well ... how is it? (Lol)

Kondo:
We saw "Macross" and thought that drawing director is important (lol)

Hirao:
When I was "Macross", I have not seen it yet.

Kondo:
Because I was shocked when I was a junior high school student. "Why is this picture so different every week?"

Hirao:
You knew Gundam, were not you?

Shimizu:
The Gundam was not included in the viewing target at all. When I entered high school and specialty, my friend was talking about Gundam, but I felt like "Where are you watching?" Since it was broadcasting in the evening, that time was basically playing or was playing other games .... Master in one of them,
Hitoshi OmoriThere was a person called "I was doing 100 cuts at the Gundam Theater Version (Counterattack)," so I thought I had to see it.

G:
Have you seen something recently?

Shimizu:
Nowadays"Idol MasterI am watching.

Hirao:
When it comes to eyes, the brightness of the face increases by 10%. It seems like awesome.

Shimizu:
I do not understand somewhat, but there are things I can not suppress.

Hirao:
It seems most happy when you are talking about Imasu.

Shimizu:
Because it is a kind of healing.

G:
Is it a relationship from game about Imamusu?

Shimizu:
I wonder if you are going out for about a mid-term. It's a bit around since it was released for home use, and the characters and the system feel "funny" doing it ... ....

G:
Now, just as an animated cartoon is being broadcast, do you feel that you would like to try it?

Shimizu:
I think that I would like to do it by all means.

Hirao:
I wish I could do it (lol)

Shimizu:
If it is not restraint or something, I will be doing it in the blink of an eye (laugh) But, my favorite work is that people who were tolerant to fans are happy.

Hirao:
"that flowerWere you watching it? "To Aru Kagaku no RailgunYou also saw something like that.

Shimizu:
The job was just boiling down at the time of that flower, so the recording is still gathered. Rail gun, why did you see it? All together I do not see the 2 cools inside.

G:
2 Cool things are long if you collect them.

Shimizu:
Because I will give up and erase it when it gets stuck. As recently as one or two in a month it is about to see.

G:
It is rather small.

Shimizu:
Thank you very much for your animation.

G:
I see. (Laugh)

Shimizu:
Speaking of obsession as an extra "entertaining" like entering the industry, it is necessary to incorporate something ... exaggerated .... Although I can shed some overseas dramas or something, I can work normally.

Hirao:
Overseas dramas are healing.

Shimizu:
is not it.

G:
As you saw in the previous interview, Mr. Hirao seems to be watching overseas dramas and other stuff well.

Hirao:
Recently I only saw overseas dramas.

Shimizu:
I am also so. I do not have anything to catch on recent movies.
Something is not enough. There are a lot of things to come.

G:
Are there any recent recommended works in overseas dramas?

Shimizu:
If it's the title I'm looking at now,NUMBERS genius mathematician incident fileThat is,Tony ScottWhenRidley ScottIt is a work which the director is doing. It is a fairly long time ago.

Hirao:
It is a story that mathematicians resolve the incident.

Shimizu:
Using mathematical expressions "You can narrow down the criminal by using this algorithm".

Hirao:
gradually"JerichoLet's propose "Jericho".

Shimizu:
"NUMBERS" If you were watching, one episode of "JERICO" was included in bonus. Thanks again I saw Jericho.

Hirao:
I saw it again (lol)

Shimizu:
I did not see Dr. HOUSE yet, so I thought what kind of thing I was advised of before. "This doctor is funny."

Hirao:
Oh, I have not seen it.

Shimizu:
I forgot, so after all, "Why do you want to see it?"

Hirao:
That is good. It is a story spoken to an old man named Doctor House.

Shimizu:
If you can sprout "Fringe (Fringe)"Dr. Walter gets lost Episode, already thereBukhaviBecause I can, I am.

Hirao:
It is said that the day when the old man who is past fifty nights comes.

Shimizu:
I am crying as I get lost. And when protected by my aunt, when I see the contents ... ....

Hirao:
It will be cunning.

Shimizu:
What I would like to say, I want to protect. Even though he is an old man.

Hirao:
I have not interviewed at all.

Shimizu:
I am not sorry, I'm sorry.

G:
I understand that it's hot for drama and overseas drama, so it's okay (lol)

Shimizu:
As for animation, I'm trying to buy DVD properly. "MushishiI love you the most ... ... You can see that over and over again. Previously I was looking at it running all the while. The lingering feeling is very pleasant. Working while sinking in the middle of the night makes me happy.

Hirao:
Do you mean that the animation that you like best is Mushishi?

Shimizu:
I think about it from time to time, but I do not hear it. As it becomes, "After all, is it a mushishi?"

Hirao:
That reputation was nice again.

Shimizu:
It was from the middle of broadcasting that I found out, but it fits the mental state at that time.

Hirao:
Well, you moved it with two frames, right?

Shimizu:
It is almost like two frames, only three frames when pulling, it seems like that way of omission. But the original author matched that soft expression to a unique world view of women.

Hirao:
The original is a woman. I did not know.

Shimizu:
That touch seems almost not so. I will take in all of thatMr. NagahamaThat is amazing.
The imaginary era between the Edo period and the Meiji / Taisho period is the stage, including the original atmosphere, and there is a world where existence like youkai and ghost coexists.

Hirao:
I hope that I like it.

Shimizu:
A strange feeling is boring from that whole story. By the way, in the era of my mother, there seems to be a storyteller who talks about such things. An aunt 50 years old came to my house and said that he often talked. I feel like I'm watching such an old story somehow, I feel very comfortable.

G:
Is there anything in the end about targets and future work development?

Shimizu:
Because there is a teaching that it is "study for the rest of my life", I think that I can do it fun anime in a corner of my heart.

G:
I see. Thank you very much for a long time today.

"Cherry Temperature"Will be held in Tokushima from September 23 to October 10Participation in 'Machi ★ Asobi Vol.7' decided. Because we have also decided live by Naomi Naitani who is in charge of the theme song, people planning to participate in gore ★ Asobi should check the schedule.

Animage × GIGAZINE stereoscopic collaborationAs for the October issue of Animage released on September 10, I wonder why Director Hirao chose Shimizu as a character design, and how Director Hiroo and Shimizu made up the character design of this work A story is posted. Also enjoying the work, it is quite interesting content, so please read it together.