To the release of 'Crispy God Soda Milk Premium' for the first time into a cup ice cream, revenge of a failed work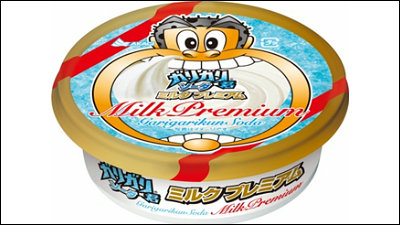 As a commemorative item of "Garigari kun" celebrating its 30th birthday this year, it became the first cup ice in historyGarrigali Soda Milk PremiumIt is clear that it will be released.

Garrigali 30th anniversary commemorative item 4th in 2011 "Garigari Kimi Soda Milk Premium New Release"
6 years from the legendary product "Shari - chani - kun"
I converted from stick ice to cup ice
New release in the whole country from September 13, 2011 (Tuesday)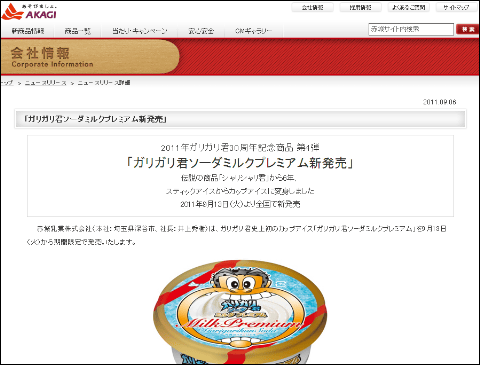 According to Akagi Dairies' press release, the company will release the first cup ice "Garigari kid soda milk premium" for the limited time from September 13 (Tuesday).

This product is a special item with the feeling of gratitude of the 30th anniversary developed under the concept of "the most delicious ice cream to eat with Garigali soda" "How to eat Garigali yourself", the oyster ice club , The proportion of ice is higher than ordinary garigali (ice 2 against honey 1), emphasizing a more gulpy texture.



The milk section uses more than 30 types of milk, vanilla ice cream, and uses premium milk ice with a milk fat content of 14% or more that is reached, and it has a mouthfeel of oyster ice and a smooth and rich cream texture You can enjoy the change of taste.

By the way, although this "Garigari Kimi Soda Milk Premium" and "Kajiru" strong strong Garigari got released as a garigari in 2005, the company's "failed work" that was discontinued in 2006, "Shari Shari It seems to be a revenge product of.