Clearly the copy function is totally upgraded on Windows 8


As a result of investigating based on the telemetry data of Windows 7 users (which seems to be a mechanism to let user data of hundreds of millions of people anonymously provide), the file operation through the explorer such as copying, moving, renaming, and deleting , And in the next Windows "Windows 8" I defined a series of file operations as "copy job (copy work)" and made a big improvement on the official blog.

Improving our file management basics: copy, move, rename, and delete
http://blogs.msdn.com/b/b8/archive/2011/08/23/improving-our-file-management-basics-copy-move-rename-and-delete.aspx

Although 50% of the entire copy operation is finished in less than 10 seconds, many people are doing copy work that takes 10 seconds or more, and indeed 20% is over 2 minutes for copy work.

In fact, it is said that the current Windows Explorer is not optimized for work such as copying a lot or copying multiple at the same time.

Furthermore, when copying work is troublesome, "the same file name and same folder name" exists in the copy destination. It seems that the option of overwriting or interrupting is difficult to understand in Windows 7, and as a result, it seems that the 5.61% of the copying work was interrupted on the way and canceled on the way.

That is,

· Simultaneous copying of a large number of files
· Processing when there is a file or folder with the same name in the copy destination

For these two, Windows 8 is going to strengthen considerably, this isTeraCopyYaFastCopyIt is also affecting that less than 0.45% of the whole user of the Windows 7 user installs tools to help copying such as copying, and it continues to use, and Windows is also a reflection on the fact that such functions did not exist so far in Windows That's right.

This is the dialog window of the new copy function. In this way it is possible to do multiple copies simultaneously.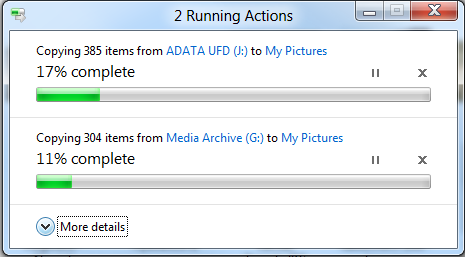 In the case of a hard disk, when you execute multiple simultaneous copies, the performance, that is, the copy speed will be lowered, but since the "pause" function was added in this way, the one that you want to end the copy in preference is executed first It is also possible to stop temporarily to do something while copying.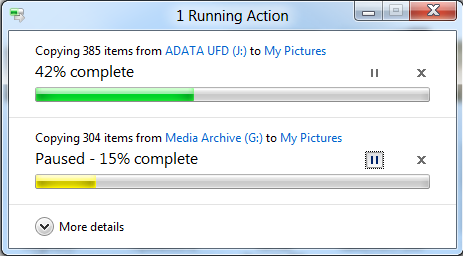 Also, when you display the detailed status during copying, it looks like this, it shows how many megabytes per second, how many minutes it is left, and a graph of speed. This is pretty strong.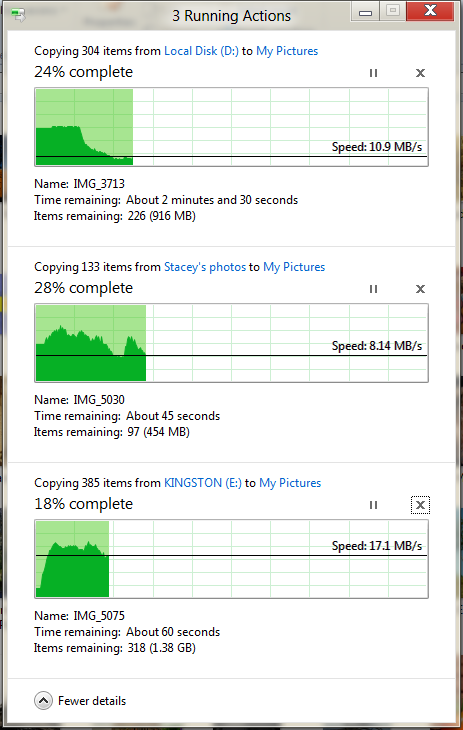 Of course, this copy detail dialog can also be paused in this way, it is very easy to understand because the color changes when paused.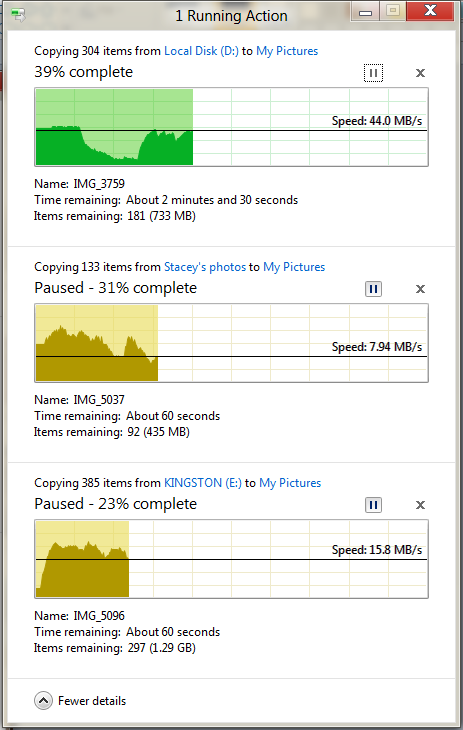 Next is a dialog window when the file with the same name is in the copy destination. This is Windows 7 case. It makes three choices: copying and replacing, skipping without copying, or keeping both copies, but it is very confusing. Moreover, since this is done for each file, if copying a large number of files, it may be that you have to stick in front of the personal computer.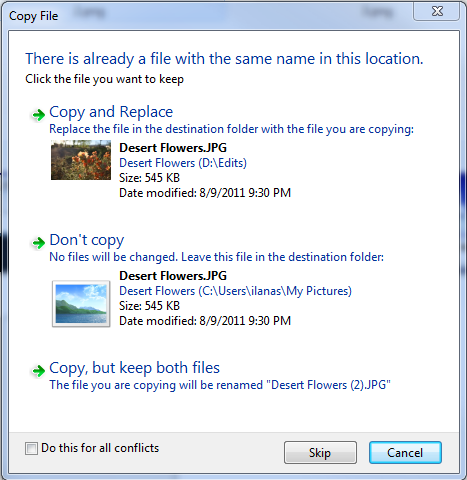 So on Windows 8 it will be like this. The left is the copy source and the right is the copy destination. Thumbnail images · date · time · file size are displayed, and since multiple files are displayed like this, you can see by visually seeing how to process at once.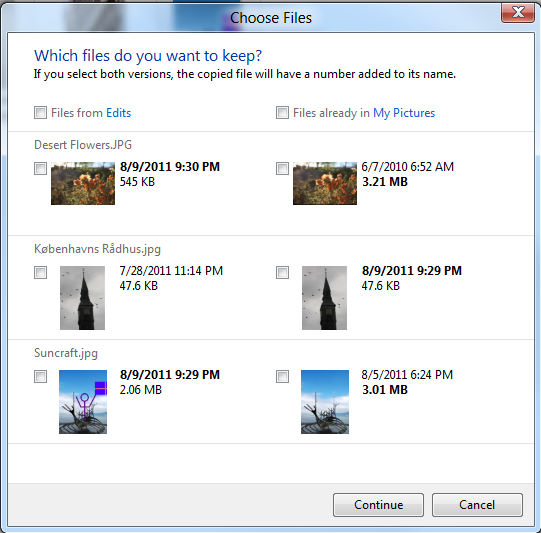 You can see how it actually moves by looking at the following movie.

Clearly that the copy function is greatly enhanced on Windows 8 - YouTube