SOFTBANK's "ULTRA SPEED", it turned out that the area expansion speeded up from schedule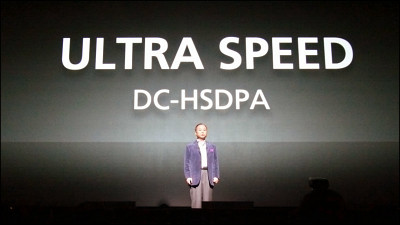 Softbank MobileULTRA SPEED communication service "ULTRA SPEED" maximum downlink transmission rate of 42 Mbps starting service to individuals from Friday, July 8However, it became clear that the area expansion was speeding up from the initial schedule.

Softbank Mobile plans to expand the area revealed at the 2010 Fall / Winter model recital. We announced that it will be about 12% in March 2011 and about 60% as of June 2011.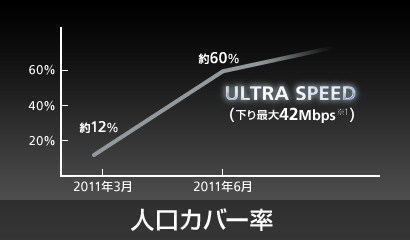 Mr. Masayoshi Son, president of the company, uses the frequency band (1.5 GHz band) of the second-generation mobile phone that ceased in March 2010 at the presentation venue, so NTT DoCoMo service in last December was up to 37.5 Mbps , Highlighting that it can be improved quickly even compared with the LTE service "Xi (Crossy)" with a maximum uploading of 12.5 Mbps.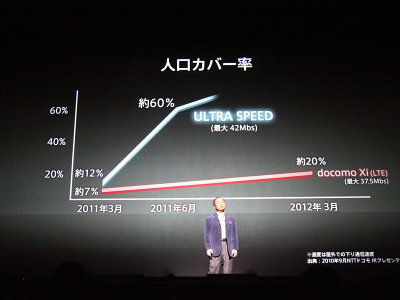 And since there is no particular notice about the actual area improvement situation, the Editorial Department previously asked the public relations department of SOFTBANK MOBILE about the population coverage rate of "ULTRA SPEED" as of the end of June 2011,As of the end of June, the population coverage rate is 75%, and at the end of September it will achieve 80% population coverage rate"Answer.

The 3G data communication flat rate service announced on June 15th "data all you can" and the "ULTRA SPEED" for individuals to be started from tomorrow can not use the existing 3G network,All-you-can-eat area"ULTRA SPEED" correspondence area, so it was necessary to rely on the EMOBILE area which will be available by contracting the set plan, but as long as the area improvement goes smoothly as it is TheBandwidth limitation problemAlthough it will remain, usability will increase.