Headline news on May 11, 2011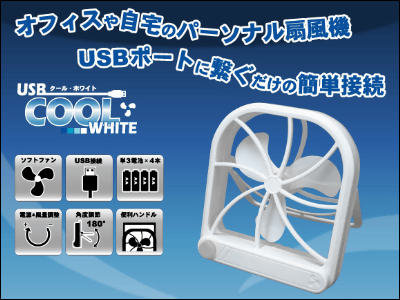 Japan Trust Technology can be used with 4 AA batteries or USB power supply from 13th MayCompact, small size personal fan "USB COOL WHITE"We announced to release. The price is 1480 yen.

"USB COOL WHITE" has large feathers of 120 mm, carries a soft wind, and can continuously drive for up to seven hours with dry batteries. You can also use it by outdoor by hanging on a tent or umbrella by adjusting the angle of blast by using the stand on the back and turning the stand on the back by 180 degrees.

By the way, GIGAZINE of one year ago wrote such an article.

NTT DoCoMo's self-made MicroSIM card and the iPad-based fiercer appear - GIGAZINE

Linear Central Shinkansen, how much is the fare between Tokyo and Osaka - GIGAZINE

Restart at any time, cup set of "Ctrl + Alt + Del" key appeared - GIGAZINE
◆ Story (memo · various others)
Leisure Person \ (^ o ^) / Breaking News: Please think the image that I think is over - Livedoor blog

VIPPER me: OIOI is reading Marui wwwwwwwwwwwwww I always

@nifty: Daily portal Z: From waste factory to cosplay new · Mecca!

[Recommended by Nito] If you blow in the image Hallowaiskepan

Serious overseas cosplay is amazing! Spill out your cosplay folder as well: philosophy news nwk

Pretty girl character also appeared on Chiba's local line and it is not spicy

7 hours sleep was found to be the strongest |

4: Nameless san @ Namida eyes. (Tokyo): 2011/05/11 (Wednesday) 15: 24: 44.58 ID: 4uHSMyND0
Truly the strongest is the longest sleep

◆ Society, Politics, Economy (Incidents · World News · Business)
Asahi.com (Asahi Shimbun): 1 ten thousand yen pass to eliminate the escape JR East, if it is a free seat all-you-can-eat - East Japan great earthquake

Bankruptcy: Jewelry sale "Biehdou", debt 2.2 billion yen Nagoya - everyday jp (Mainichi Shimbun)
"YouTube - Please visit Bieber of Nagoya · Shimizu.The phrase of CM called Nagoya Local was pretty well established.

Fujikyu Highland - Big Car
New attraction appeared on July 16

Documentary titled "Dover Barbaa" by 6 aunts challenging Dover, screening at Tachikawa - Tachikawa Shimbun

A documentary work that chronicles unusual challenge of the Dover Strait Relay relay, while six women between the ages of 54 and 67 living in the Tama area have their daily life of care for their parents and family care.

Asahi.com (Asahi Shimbun): Surrounded by rubble and "Aozora convenience store" in operation Miyagi / Minami Sanriku - Society

Borrow a compact truck equipped with refrigeration equipment and sell goods purchased from adjacent shops in Tome City, from 10 am to 4 pm.
There are few items such as drinks, breads and puddings, but in addition to the victims of the area, stakeholders of restoration work and youth of volunteers make a row.

Wish of a novelist, good at Gunma ... New publication loan: culture: society: YOMIURI ONLINE (Yomiuri Shimbun)

Written by Takeshi Higuchi, a writer, in February released novel "Sayigaya R.I.P.", he wrote a request to suspend the public library for half a year, Takasaki of Gunma Prefecture The municipal library announced the policy of accepting Mr. Higuchi's request.
In addition to the end-of-sentence sentences, we should call directly to the library to seek "ideal way" ...

◆ Lifestyle (life, life, health)
I do not have enough hobby to say otaku, I do not fashion like Rear Chika - Win 2ch Summary Blog

◆ IT · Gadget (Net · Soft · Hard · Mobile)
[Ficia] 【Important】 Notice of Ficia service termination
Online photo storage service "Ficia" terminated all services on 30th June

◆ Anime · Game · Manga (Subcar)
Painful news (No ∀ `): Eroge maker" Aile "rages against Nico Nico video" Extreme fight! "- Livedoor blog

Comic Natalie - "Junjo Pine" Complete Edition as well! Otama Nemei 4th consecutive publication fair

When collecting all the tickets attached to the 4 title bands, applying for the drawing, 10 people got the signature paper containing the tail ball kiss mark in the lottery.

◆ Sports · Entertainment · Music · Movie (Entertainment)
Entertainment runaway 24 o'clock: Ayumi Hamasaki Playing the pachinko

· Previous headline
Headline news on May 10, 2011 - GIGAZINE