Whether it can be a savior of the game center, the surprising penetration situation and future prospects for 4 months from the release of "NESiCAxLive"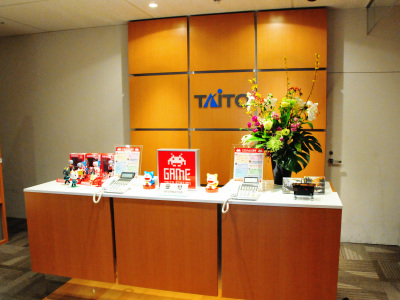 "NESiCAxLive"Is a content distribution system for arcade games operated by Taito which began operation in December 2010. By offering a totally different profit model from traditional arcade game where each store can download games free through the network and sales of software makers will be determined by the number of times played, it becomes "the savior of the game center" Although it is said that this system is said to be not, it really has the power to transform the game center really?

Four months have elapsed since the release, is NESiCAxLive actually changing Nintendo Game Center, or is it not suffering as it seems like it is not spreading, to Mr. Takafumi Fujimoto who is a producer, how the development and concrete profit I got a lot of stories about models, detailed current situation and challenges faced by the game center.

Interview about the savior of the game center is from the following.Taito Corporation | NESiCAxLive Official Page

"NESiCAxLive" can deliver game titles to the general-purpose chassis of the game center via the Internet. Players can choose and play their favorite titles from among the various titles being distributed. (The title may be fixed according to the setting of the enclosure.) Furthermore, when using the common IC card "NESiCA", the play data is recorded online, and points (Nessica points) are accumulated each time you play Mechanism.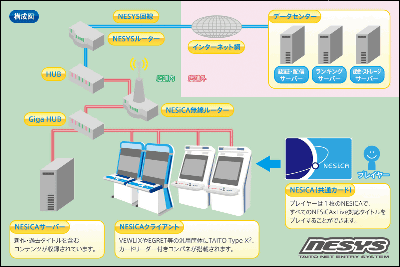 Distribution title is still 6 titles at present. However, SNK's big title"The King of Fighters"Series and the latest of Ark System Works"BLAZBLUE CONTINUUM SHIFT II"There are a lot of names such as"Astrologer steel machine Strania"The title etc. will be delivered.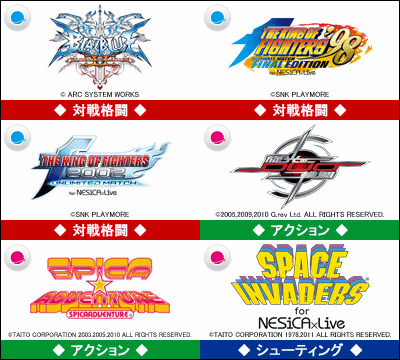 The innovative point of NESiCAxLive is that it changed the shape of trading game title which was sold out so far as to become sales as much as it was played. The game center does not have to pay for anything when downloading the title, and when the game is played, a part of the sales put into that title becomes the sales of the software maker.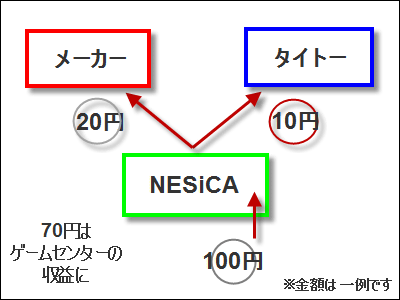 Also, as all the enclosures are connected online, various evolving forms linked to network battle and other systems can be considered in the future. It is a system showing just how next generation arcade game should be, but I asked the producer of NESiCAxLive what kind of progress is going on from release to the present.

Table of contents
· The first plan is to distribute the title of "TAITO Type X" board to the common board
· Development company participating in NESiCAxLive
· Will you be able to compete against networks?
· Future prospect of network matchup
· Genres other than fighting games will also be enhanced
· What is the problem of shrinking video game market?
· Amazing popularization situation
· Needs for general-purpose enclosures are not only for game centers
· Things to consider as the distribution title increases
· Coexistence with home game machines
· System connecting user, development company, game center
· Forming the user community carefully considering the user's position
· "NESiCA xLive is high" is wrong recognition
· New marketing created by a new profit model

Arrived at Taito corporate headquarters located in Shinjuku.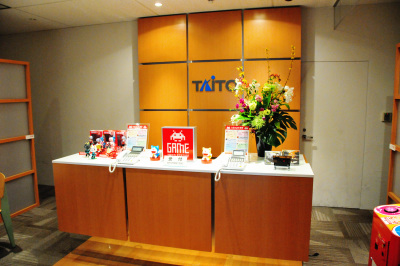 Mr. Takafumi Fujimoto, Deputy General Manager, AM Development Division, AM Business Division, who gave me an interview this time.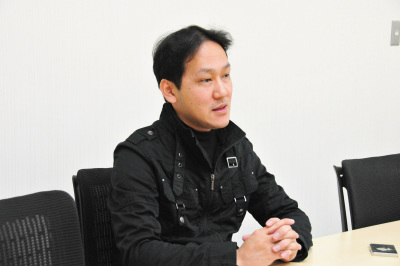 The first plan is to distribute the title of "TAITO Type X" board to the common board

GIGAZINE (hereinafter, G):
First of all, could you tell me about Mr. Fujimoto's games so far produced?

Takafumi Fujimoto Producer (Fujimoto):
"Go by train!"Make a PlayStation version of the game, drive games"Battle gear 4"I've been programming the network part of. I was originally a programmer.

The first work is"Puzzle Bobble 2"It was a transplant to home use, that was about 3 people and I took a break for three months and worked. Originally for arcadeF3 systemAlthough it was a game using a board called the board, because it was porting to the first PlayStation, memory was also insufficient, I tried to connect characters by chopping them and doing various things. It sold a lot more than expected and became a huge hit, and then I was responsible mainly for transplanting to home use.

Puzzle Bobble 2 match screen



G:
Have you been responsible mainly for home use?

Fujimoto
About 10 years I was in charge of home use, but in 2004 I moved to AM (Amusement Machine) Division. Originally I was also making games for home use, but at the same time I was also making game middleware.MiddlewareIt is a thing that can measure various things well between the game and the OS, but in 2004"TAITO Type X"I made a software-based production by saying that a board called "board" will be released.

"TAITO Type X" is a board designed on the basis of PC and can use development infrastructure of PC as it is, so it is possible to keep the development cost considerably cheap.

G:
About when "NESiCAxLive" was first conceived was it?

Fujimoto:
From the real idea level, in 2005, when I shifted to business use, when neither right nor left is understood, it is said that "General purpose game machines should be like this?" It is the beginning that I thought.

In the current game, there is a part where the arcade housing has become a special machine for each game title. In fact it is possible to replace the title in one housing and exchange is also cheap, but recently there are many things that have become exclusive use even in the general-purpose chassis. It would be somewhat funny.

It was 2005 for the first time to say that it is necessary to connect the board called "TAITO Type X" to the network and distribute the game there.

In addition to that, there is a card in the Taito network system "NESYS", but as I was thinking about that we wanted to be able to buy and sell electronic items using this card, In 2009"Fund settlement method"I entered information that the law of being able to do. In order to respond to this law, we adjusted for about a year and finally it was released in 2010.

G:
At first it started with the idea of ​​distributing games to a common enclosure.

Fujimoto:
I agree. We connected to the network so that the game could be delivered, and since we were connected to the network with a great deal of trouble, we decided to make it possible for points to be accumulated with the card.

However, because there is a problem as it is a method of charging cards in relation to the "funds settlement law", NESiCAxLive takes such a form that points are accumulated after playing the game. It is because the user put money in the casing is to play the game to the last, it is not necessary to use money to charge points.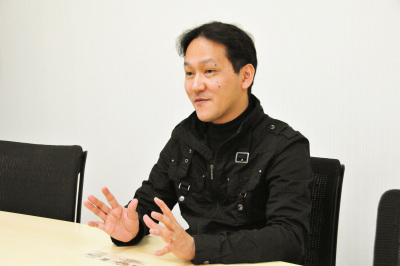 G:
Is it like a point system of home electronics mass merchandisers?

Fujimoto:
That's right. It is together.

G:
What kind of things can you use as you accumulate points?

Fujimoto:
I am coordinating with each company now, but in the future I can exchange with electronic items and other services are scheduled.

◆ Development company participating in NESiCAxLive

G:
How many companies are you currently participating in NESiCAxLive?

Fujimoto:
At the beginning we had nine companies, but now we have 16 companies. There are companies that are still working on adjustment, so I think that it will be about 20 companies in September.

G:
The picture of this card,SNKMr.,Arc System WorksAlthough it is san's, looking at the name of the company that is participating,Atlas (current index Holdings)There are others.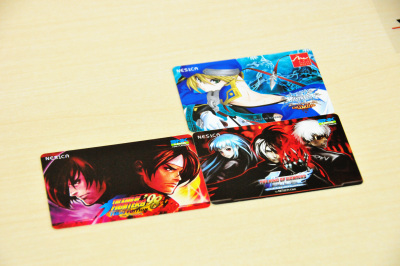 Fujimoto:
Atlas (now Index Holdings) is"Blood Budda Temple Clan"Since it has a work called NESiCAxLive, it is the stage that we are compatible with NESiCAxLive. Even though it remains as it was, it is in a situation where you are embedding the part that connects to the network and takes charge information.

The Blooming Temple series is a popular work, and NESiCAxLive says you do not have to sell the board, so we agree.

"Buddha temple ancestor ancestor"Game screen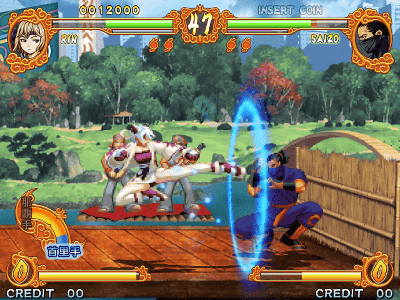 G:
Indeed, it's nice for users to automatically increase the variations of games that arrive at the game center.

Fujimoto:
I agree. Even for the actual game center, once you introduce NESiCAxLive, you do not have any money to pay separately, I think that it is a model that weighs in proportion to the amount you put money into, .

G:
As the title of the game"The King of Fighters"The series was lineuped to NESiCAxLive, which is a work which made quite a hit because it is January 24th, but it is quite"The King of Fighters '98"There are now fewer game centers in operation, and I think that there were a lot of people who think that it is nostalgic though.

Fujimoto:
When "The King of Fighters '98" was remade, in reality it is out as "TAITO Type X". This time, NESiCAxLive added a function that can use the network, the achievement, ring name, ranking to both "98" and "2002". Also, "98" has been newly adjusted for games and so on.

◆ Will it be possible to compete against networks?

G:
It is also attractive to connect to the network that rankings and achievements are recorded, but the most interesting thing is about whether you will be able to compete against the network Cow.

Fujimoto:
It is possible to say whether it is possible or not, but fighting games are important for quick response, and at home we are doing it at the risk of a lag occurring. Although it seems that even if there is a lag in the case of home use, it seems to have forgiven, but in the case of the game center, it is played with putting money, and that is where the software maker companies are lost now.

It's still fine if the game originally has a lag, but for example "The King of Fighters" was a board-direct input method, so there was no delay in the first place. As for the version that can be played at NESiCAxLive, since the introduction of a new "high-speed I / O board", the input delay is zero.

Also, a general-purpose cabinet has long been a screen of a CRT, recently it is a screen of liquid crystal, but blur due to afterimage phenomenon is a problem of the liquid crystal screen. There are liquid crystals with unlimited number of residual images, but this is expensive, and depending on the model it will be blurred as it melts when it comes to a cheaper version. Although I had lost the input delay using NESiCA xLive with high speed I / O, I thought that the liquid crystal would not be useless, so I reduced the price and raised the performance"Bilix Diamond"We made a case called NESiCAxLive together. Although it does not reach the cathode ray tube, it realizes drawing very fast.

Regarding such games, we have set the delay to zero, but there is a part that there will be no delay if there is a delay if you play against a network match. It is necessary to assume that a delay of about 4 frames at maximum occurs, and assuming a maximum delay of 4 frames, it is necessary to wait 4 frames from the input at hand. (1 frame is 1 / 60th of a second)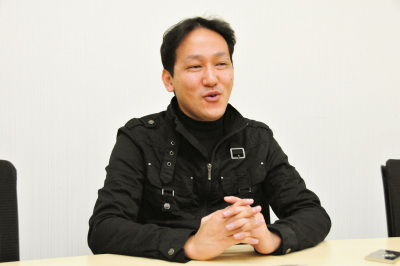 G:
Certainly, depending on the game title, if 4 frames are different, there is a possibility that it may be impossible to output the combo that I had made in the old feeling.

Fujimoto:
I agree. It will happen that there will be no technique that should come out. It is said that alliance company is also in doubt. Since I do not feel any sense of discomfort if it comes to network competition from the beginning, I think that we will correspond to network battle from the new title at first.

G:
So, we are positive about the introduction of network competition.

Fujimoto:
Even at Taito"Cyber ​​diver"I was playing a network game that can play between stores like that, which is working on the network system "NESYS".

"NESYS" is the upper system of "NESiCA xLive", the blue line in the figure is "NESYS". Since cyber divers that use the same "NESYS" line already have fought in shops across stores nationwide, there is no technical problem at all. So, if you play games with less real-time performance, such as shogi or mahjong, you can respond to network matches right now.




"Cyber ​​Diver" game screen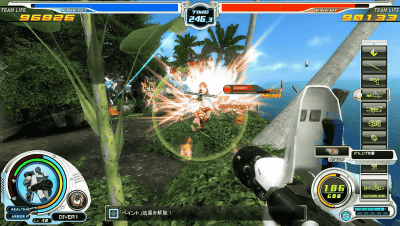 G:
Indeed, if it is NESiCAxLive, since fighting games are not the only games delivered, it can be said that we will respond first from there.

Fujimoto:
Yes. I also think there as a plan.

This "authentication / delivery server", "ranking server", "billing / storage server" is the server currently used by NESiCAxLive, but here is the image that a matching server enters here, and depending on the game game server will enter is not it.

G:
Even if you are a NESiCAxLive user "even though you were doing KOF or something in the past, you have been away for a while, you can not compete at the game center level now", even if you are matched by people with equal ability depending on your score points I think that the hurdle to start a new fighting game is going down a lot.

Fujimoto:
In future, when dealing with network matchups, I think that it is necessary to make a mechanism that creates sort of level matching and does not conflict with people with different levels.

G:
When going to the game center, there are plenty of popular fighting games, but it is quite a hurdle for those who have not done so much to actually put money and play.

Fujimoto:
Well, I'm also being bogged down (laugh)

G:
Currently, lag is a problem, but is there any way to solve this?

Fujimoto:
I think that it is probably tough. When developing the battle gear, it was a competition inside the shop, but it took quite a while. Although it is a NESYS line that I mentioned earlier, in fact the store actually has an optical line called "NESYS light" pulled. But after all the lag will occur depending on the situation of the area and the line. Because it is not early if it is close, because the city center and other prefectures are earlier than the neighboring store, and it will change under various conditions.

G:
Is not it a problem that it can be solved by matching only nearby areas?

Fujimoto:
I agree. There is also a way to skip PING from the server and take the information on how fast it will come back and PING should not connect people who are far away, but if you completely eliminate the lag, I think that it will be impossible unless a line more than the light comes out.

◆ Future prospects for network matchup

G:
As a forefront of the future, is there a prospect of responding to network opponents even in fighting games on the current line?

Fujimoto:
I already do network fighting in fighting games already for home use, so I think that I will definitely do it. After that it depends on the manufacturer. Especially, it is a chance for newly released games. If it is a new game, there is no such thing as the technique that was able to come out has not come out.

After that it is the next line of light, but even if it comes out, we have to spread it, and even as a game center, we have to introduce a new mechanism, so I wonder if it will be a long time ago. However, the transition to "NESYS Hikari" has been progressing with quite a lot of shops, which was surprisingly early."Half Life 2 Survivor"It was at that time when the title was called, but I was able to smoothly transition.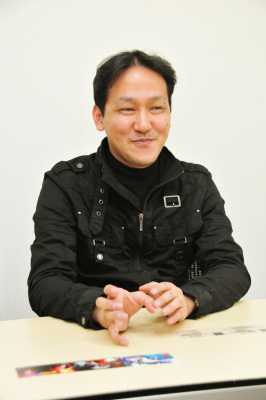 G:
Looking at the situation of the current game center, if you say in other companies"Mobile Suit Gundam Battlefield's Bonds"Ya"Quiz Magic Academy"There are situations where games that can play online games such as online games have been quite successful and I think whether there is a strong need for being able to play with everyone even if there are some lags, How are you seeing it?

Fujimoto:
After all we had a lot of games to be gathered by everyone, or there were many games that silent alone in the past, but I think that it is community and whether everyone can do it, and it is a part I have to do I believe.

The problem with the previous rug occurs when it is a match-up outside the store, but it will be a little okay if it is in the store, and you can do it now if it's such a mechanism.

◆ Gifts other than fighting games will also be enhanced

G:
Currently I think that fighting games are emerging in the center, but will the genres of NESiCAxLive's fusions other than fighting games be enhanced from now on?

Fujimoto:
In action"Ring of optical rotation for NESiCAxLive"With shooting"Astrologer steel machine Strania"The title of will be released shortly.

We will release new titles from now on at regular intervals, with titles originally titled "TAITO Type X" in past titles,"Elevator action""Bubble Bobble"We are planning to release classical titles such as. Regardless of other companies in the company,NEOGEOWe are also preparing titles.

For example, if it is such a classic title, I wonder if I go to a shopping center and think that parents like myself think that "Oh, such a thing happened to exist" and ask them to do it with parents and children.

Actually, nowadays, most of the shopping centers do not have an arcade game enclosure, so there are many places not to put it in the shop's policy, but there is not a bigger shape in the place, but old sweets I am thinking that I can make a small enclosure that was placed on a shop or try to make home controllers available so that they can be placed at a shopping center and be able to make shapes that can be enjoyed with parents and children .

G:
Indeed, with NESiCAxLive, even if a fighting fighting game like a shopping center does not match the atmosphere, you can choose the distribution title as well and there are variations, so how will you expand it?

Fujimoto:
In the first place, if only fighting games are placed, it will not be a long time. This is useless. If there are shops where only fighting games are placed, I would like to use it to fix it.

I often go around the game center, but there are stores that only have fighting games among them, and I would like to use it to fix it.

G:
Certainly, when you go to the game center, there are places where you only have fighting games. For example, if you insert 6 popular titles each, it's a special machine, so it will inevitably become that only.

Fujimoto:
I think that customers actually are running away. As a store side, I'd like to put a fighting game where money gets steadily coming in and of course, but there is a gap between the user and the shop. The system of NESiCAxLive has a desire to manage there.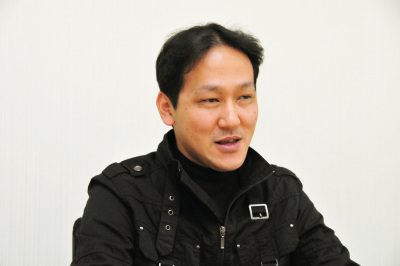 ◆ What is the problem of shrinking the video game market?

G:
There is a current situation that the video game market tends to shrink, but what kind of problem do you think is there?

Fujimoto:
Where originally there were only table enclosures, large quantities of special enclosures were introduced in large quantities. Due to that influence, table-type and upright type general-purpose video game chassis has been decreasing rapidly, and more than 100 thousand units were reported about half the number three years ago and the number of vehicles that cuts below 40 thousand last year It was. This is a little Masui.

But, in fact, it is this general-purpose machine that is most stable. Actually, it is the existence that should become the foundation of the operation of the game center, but everyone bought only the special case. Then it gets huge damage when incomes are bad. Because I can buy a board relatively cheaply, I think that damage is not that big even if it fails, but the special case is expensive as it is. In recent years, a negative spiral was born, but there is a chance that it will probably be possible to obtain stable sales by firmly protecting the base of general-purpose aircraft, so I'm trying to do NESiCAxLive.

G:
In order to operate the game center, it is necessary to think about the composition ratio of sales.

Fujimoto:
I agree. As a matter of fact, you can not lower the ratio of sales by general-purpose machines, but it's getting steadily going down. Actually, the place where you put a large cabinet all the time is getting customers. If you are doing hesitant things, the customer will surely flow into a well-balanced store. It is good to put a general-purpose aircraft as a base, and to put in a prkra or a crane, but I think that balance is eventually important.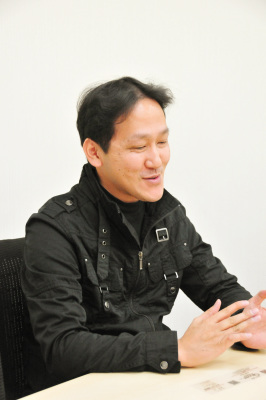 G:
Is Mr. Fujimoto doing such adjustment as well?

Fujimoto:
In addition to grasping the playing situation, the number of play suddenly increases or decreases, there is a case where there is a difference with another title, and when such an abnormal value comes out, there is a possibility of a problem so check it It is. The title of NESiCAxLive is very stable so far so far.

◆ Amazing popularization situation

G:
How about the spread of installation sites?

Fujimoto:
Initially we planned 500 plans or less as a plan and prepared NESiCA server and NESiCA (Common IC card), but in 2010Amusement Machine ShowSince we announced at the meeting, we received orders that exceeded our expectations, we responded in a hurried manner. I think the fact that the first title is "BLAZBLUE CONTINUUM SHIFT Ⅱ" was also a factor that pushed the order. I felt that NESiCAxLive was understood by many customers.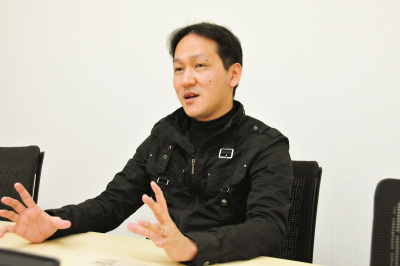 G:
Is there a part of the expression of expectation from the game center side?

Fujimoto:
After all it is part that the game is delivered free. Because it was a problem of trouble so far. When sales declined, I had to buy the next one again, I became a bee cryingly, but if NESiCAxLive is down, it should be changed even if the sales fall. After paying the initial introduction cost, since the profit only rises, I think that there is understanding there.

At first there was only one store at wait - wait, but as the title came up, it became difficult to turn around with a single unit, and the case of increasing the number is coming out. In addition, we anticipate that the number of clients will increase further when "Astro fleet steel machine Strania" and a new fighting game "AQUAPAZZA" come out next time.

G:
Does that mean that NESiCA (Common IC Card) is also bought as a collector item?

Fujimoto:
I agree. When new favorite card comes out, you can take over data from the previous card, so there are times when you use it like that.

G:
Until a while ago, we needed one game card for each title, there was something we needed for each character if it was a fighting game, but if NESiCA you can handle all delivery titles with NESiCA It is also an excellent point.

Fujimoto:
Well, my wallet has been getting more and more pampers, but since NESiCA can be done with only one.

◆ Needs for general-purpose enclosures are not for game centers only

G:
Although this is the initial story I was planning to release in 2009, I feel that I was quite ahead in the game industry, but where did the problem awareness of these parts come from? .

Fujimoto:
Since 2004 I was supporting the board "TAITO Type X", but if you noticed, from other companies are getting more opinions "Can not do this?", In which the "general purpose enclosure I want to resurrect "that there were too many opinions. It seems that there was a lot in many cases that it became a deficit even though we developed software softly though it was not easy to sell normally when sold on board.

G:
Were there any such needs from development companies as well?

Fujimoto:
Well, until now, to sell game boards, stocks of the boards themselves are needed, so there were major risks. To minimize the risk of development companies, Tatao will bear the risk of boards by distributing titles online. The maintenance cost of the server is one of the risks, but Taito has it all. If this condition, you can deliver the game you developed for a while.

Unlike traditional software, it does not mean that money will come in at a stretch after selling software, but there are now 16 companies that have agreed to the form that money gets coming in gradually as they get played Right.

As for the development equipment as well, "TAITO Type X" is designed based on PC, so I think that it is also great that you can make games even on PC you already use. Only when doing important checks, you should check with the development equipment. In the case that it is not PC-based, it is necessary to develop with development equipment as well as check, as the equipment as many as the number of developers was required, the development hurdle is very low compared to the past think.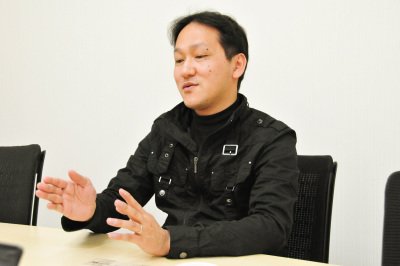 G:
So, is that a company that has not been doing arcade game development so far?

Fujimoto:
We have many inquiries from companies that made only for home use and development companies that already have titles that run on PCs. If it is running on a PC, it can correspond to NESiCAxLive relatively easily.

◆ Things to think that increasing distribution titles will increase

G:
Then, will future distribution titles grow at a considerable pace?

Fujimoto:
Yes. However, as the number increases, it is predicted that the user who actually plays will get lost next time. Even now, I can select more than one game, but I think about a system that users will not get lost when selecting.

G:
When actually playing, if it is a fighting game, the command is not understood in the middle, and there is no command list as it is in the present situation, but think also when thinking that a lot of titles will come in, how to respond Will it be planned?

Fujimoto:
With conventional enclosure, I was able to paste instructions on hand, but NESiCAxLive can not deal with multiple titles because they are covered. The data that gathers the information of the game on both sides is posted on the website, the store downloads it, prints it, and keeps it bundled. Since there is a limit as this method increases as the title increases, we are considering other measures.

In fact, I am actually using wireless LAN for the current system and I think that I should be able to download technical tables and game information with mobile devices etc.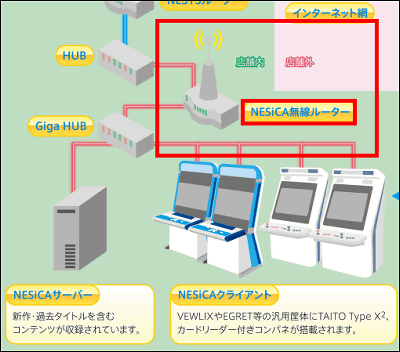 G:
It is just evolving feeling.

◆ Coexistence with home game machines

Fujimoto:
By using wireless LAN, I think that it will be possible to link the home game machine and NESiCAxLive in the future. Until now, the game center was negative with respect to the release of home games, but there is a tendency to play against home games after returning to the arcade after practicing there .

In order to use it well, I would like to make use of wireless LAN. Already, depending on the game you can customize the character by mobile and PC, so we would like to create an environment where arcade, home use, PC, mobile etc coexist.

G:
It is a feeling that special customization can be done to the character when playing at the game center.

Fujimoto:
Arc System Works introduced you as soon as possible. In addition to character customization, recently, it has become possible to use various ways such as exchanging points accumulated at the game center with electronic items.

Until now, arcade games were a way of selling when software was sold, but management became more important in the future. If we can earn the trust of customers, we will be able to play the next title as well. If you do not manage it after selling, the field (store) got rough, and it falls into a vicious circle.

G:
I see. In that sense, NESiCAxLive, it is a system that everyone plows the field.

Fujimoto:
I agree. I tried to review the arcade once more. Since Space Invaders came out in 1978, it is not an exaggeration to say that Taito created the culture there, so it is also a tight order to protect there.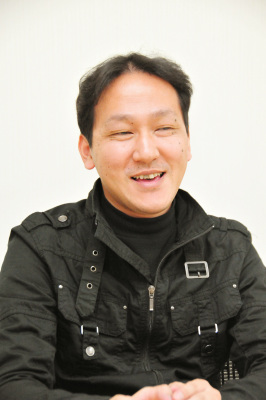 ◆ System connecting users, development companies, and game centers

G:
At the time NESiCAxLive appeared, there seemed to be some expectation from the user saying "If version upgrade is free, it will be possible to reflect opinions from users as soon as possible", but in fact Does the cycle of reflection and are done?

Fujimoto:
It is doing to receive and reflect the opinions of users actually.

Traditionally, it took labor and cost to master up the board. Since it is not possible to reflect the user's opinion in this, basically it made it possible to upgrade the version free of charge. Because those who update it will be positive when looking at gross.

G:
When you throw up the opinion that users want "this way" more and more, the game will be improved more and more.

Fujimoto:
Well, I'd like you to throw in and out faster.

G:
If it is a fighting game, after about a year a pattern is born, so-called strong characters are fixed and everyone uses the same character, but you can also prevent that kind of thing .

Fujimoto:
Since it was not connected to the network until now, it was difficult to understand which character is too strong after actually running, but various data can be shared with each company."Battle drama"Since the title can not be updated when qualifying starts, it will be updated before the event.

Even when doing events and competitions at stores, NESiCAxLive can make all the clients the same title in a blink of an eye, so it is convenient as a tool for convention.

G:
Indeed, fighting fight is a fighting game competition, but NESiCAxLive can handle even fighting games other than fighting games.

Fujimoto:
Actually there are several shooting tournaments, etc. I plan to negotiate with such places in the future. Until now, the shooting score was a self-reporting system, but since it led to the net, there is also a merit that the ranking can be automatically attached.

◆ Form the user community carefully considering the user's position

G:
I have talked about the tournament, but are there information such as strong players are in the game center here, and things like user community are made?

Fujimoto:
Now I am a bit cautious and I was planning to introduce it, but it seems to be annoying if you stand in the position of a strong user. Other than that, it seems like things that doing sabotage are sometimes bald (laugh)

Currently, we are in talks in a form that you turn on with consent.

Regardless of the user search, you can search the game center. It is a search function that says somewhere that the game center where NESiCA xLive which is nearest from the position where you are now is introduced is not it?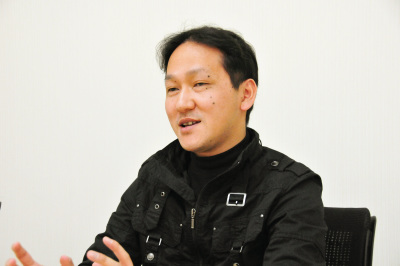 G:
Is there a problem you have seen for the first time by introducing NESiCAxLive?

Fujimoto:
Traditional games are created only by developers, but NESiCAxLive projects have people who are not involved in development enter and give opinions. I get direct opinions, such as instructions must be taken like this, and how many days before delivery we can not respond if we do not receive the information. That is a different part from the game making so far.

G:
I feel that it is unique to Taito that the store and the development team jointly develop.

Fujimoto:
Well, I guess I have to take advantage of that after all.

◆ "NESiCAxLive is high" is wrong recognition

G:
Although the revenue model of the game center and development company will change greatly in NESiCAxLive, what kind of model will it specifically be?

Fujimoto:
Originally when the game center purchased the board, it was bought in full kit or hard disk kit. It is roughly about 20 to 300,000 yen for a hard disk kit alone, about 30 to 400,000 yen for a full kit.

This is pretty cheap if it is NESiCAxLive, and it has become one set with less than 300,000 yen. In addition to this, if the popularity of the game title declined and the sales declined, it was necessary to purchase a new board in the past case, but NESiCAxLive can download it for free.

G:
At the time NESiCAxLive came out, users speculated that "NESiCA xLive is a multifunctional model, its enclosures and boards are also expensive and can only be installed in large amusement centers," but rather, It itself is also cheap.

Fujimoto:
Well, there were quite a few speculations about 500,000 or 2 million, but that is fundamentally different and makes considerably cheap. To make it popular, profits are done at a minimum. Actually, as mentioned above, one set is 300,000 yen or less, once installed, you can use it all the time.

New marketing that new revenue model builds

Fujimoto:
As for sales by the development company side, if the user put money in the model up to now, it was all of the store, but this time around 30 yen is gotten from the store this time. Of this 30 yen, the distribution of 20 yen to the manufacturer and 10 yen to the Taito is the standard place. This amount is divided into 30 yen, 25 yen, 20 yen, 30 yen is a new title. 20 yen is a title that has been past in the past and has not changed almost anything. The one with 25 yen is a classic title.

When developing company sells on board, sales were raised at a stretch at the time of sale, but in the case of NESiCAxLive, it enters only as much as the user has played.

In the case of Taito, I have a game center, so I make a predictive basis for the development company and explain it. Until now the development company did not know the income after shipment. How much sales are coming out, how much span has dropped sales, what kind of way is going down in each genre? I advise you to let me know all this information and say "I'd better update here."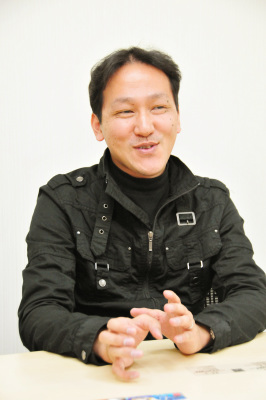 G:
That means that the marketing itself of the game is changing.

Fujimoto:
Where I did not understand at all, for example it seemed to be exciting though it hit an event, but in fact it was a situation I did not really understand, it has become possible to measure the effect.

As a model I think this is the ultimate form as a general-purpose enclosure. As I dared to do what everyone wanted to do, I can hardly think of any more models, but I am going to introduce new mechanisms focusing on wisdom from now on.

G:
Considering that it has already been introduced in many shops, this precedent's profit is big.

Fujimoto:
It is a good feeling as a flow. As the title will also announce more and more new things, please expect it. We can not announce it right now, probably the next announcement will be announced at the Amusement Machine Show in September.

G:
Thank you very much.

(C) TAITO CORPORATION 2010 ALL RIGHTS RESERVED.