A man who won Umehara, a professional fighting gamer 'sako' got a professional gamer talk about how he is actually earning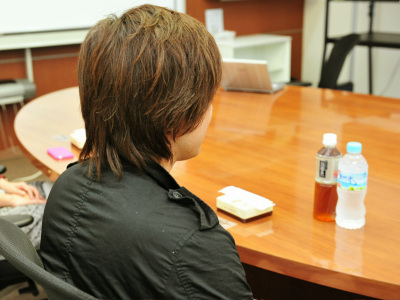 Not familiar in Japan"Professional gamer"It is said that overseas there are gamers who get annual income equivalent to tens of millions of yen. Meanwhile, a strong fighter gamer"Sako"From April 2011, he started activities as a professional fighting gamer.

Mr. sako was held in 2010Super Street Fighter IVTournament"GODSGARDEN online # 2"It is known worldwideUmeharaIt is a fighting gamer who is expected to play an active part in the future, which is expected to advance in the second place by breaking Mr., to raise its name, to take the nickname "the strongest contradiction" from extremely aggressive tactics.

Interview with Mr. sako about the professional market of fighting games, such as how the professional fighting gamers abroad or Japanese got income, talked about the fact that was not well known from the following. Mr. sako began activities as a new professional fighting gamer from April. While face-up is not good, even with Twitter etc."Sako bride"I also had sako 's wife, known as Mr. Sako attend.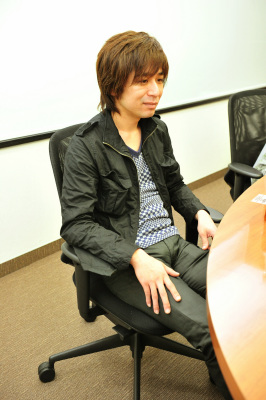 GIGAZINE (hereinafter, G):
It is said that sako became a professional gamer belonging to Team HORI in April, but what kind of mechanism is a professional fighting game professional making money?

Mr. sako (hereinafter, sako):
As a team contract with a sponsor, as a team going on expeditions to local competitions and getting paid, as there are many people who get paid for overseas tournaments, so many people going to the tournament with their own aiming at prize money There is also it.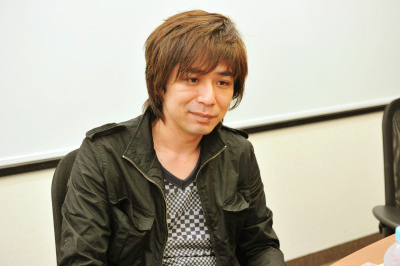 G:
Sako is the third professional fighting gamer in Japan, but could you tell us about the other two?

Sako:
One isUmehara, And the otherSometimesHe is. Umehara belongs to the American team called Mad Cats. The manufacturer who is making the controller is a sponsor.

G:
Again, I think that it is best for companies to guarantee income on sponsors like sports athletes such as tennis, but will software companies not sponsor them?

Sako:
Well, I think there are many reasons. In Japan, I think that the game still has a part that seems to be a game played by children, and I think that it is also great that it is not recognized as a hobby. As our father's generation is growing up in times when there is no game yet, it may seem that they are children's play for those people. If I say the ideal, it is best that the software maker sponsors, but in Japan there are only three fighting game professionals, and the name recognition is also low.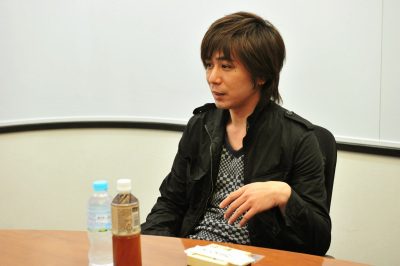 G:
On the contrary, South Korea and others are saying that the game market is rapidly growing and that social recognition of professional gamers is also high, but again, is Japan still in a low social status of the game?

Sako:
Perhaps, I think that there is such a place.

G:
When I return to the place of earning money for professional gamers, for example in the United States, I hear that there are also events to pay a few dollars to fight Umehara, but such events are also commonly held overseas I wonder if they are.

Sako:
Well, overseas, we pay like a tuition fee, we pay money with a professional gamer like a commemorative participation.

G:
In some cases, do you get a few dollars if you win professional gamers there?

Sako:
It is strange to say how many dollar matches and say that you bet money, there are also such forms.

G:
Have sako also paid money and have held an event to fight?

Sako:
Yes, I have done it.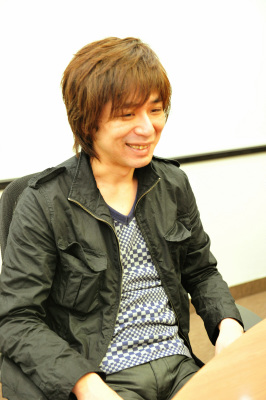 G:
I wonder how many dollars are there once in a month?

Sako:
Although I do not have a market price, I do not do it cheaply. I will do it cheaply ... ...

G:
Indeed, the value of gamers is going down.

Sako:
Yes.

G:
When I say professional gamer, I think that the image of MMO or FPS is strong, but is there a growing number of fighting game professionals?

Sako:
Well, professional fighting games are on the rise.

G:
If you say fighting game, there is an image that Japan is the real home, is not it?

Sako:
Until now, since the arcade was the center, as for arcade Japan was strong from a long time ago, but it was strong, but now for Super Street Fighter IV also for home use, you can watch play games of various gamers It is possible to do research as well. So, the number of people who are good also overseas is increasing.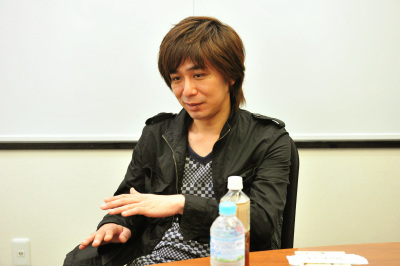 G:
Please tell me more about other Japanese professional gamers. Is Sometimes Mr. somewhere in the team?

Sako:
Sometimes, there are companies that make clothes, such as traveling circus in the USA, but I am in that team.

Sako bride:
In his case it has changed a little, and even famous players abroad, such as Justin Wong, are sponsored by peripheral equipment makers like sako, but sometimes apparel manufacturers As a sponsor, I will appeal T-shirts at the convention. Originally the president of the traveling circus loves fighting games and it seems to be sponsored, but I think that sponsoring a company not related to games is very special.

G:
Indeed, but to the contrary, if the prominence of a fighting game pro now goes up, the offer from a company not related to the game may increase.

Sako:
I agree.

G:
What kind of opportunity did you decide to make in a professional?

Sako:
When I was invited to Los Angeles for the first time, I heard a story saying "Maybe there is a professional offer", "It seems a bit interesting". There was not much that Japanese and overseas people would team together. I guess that's interesting.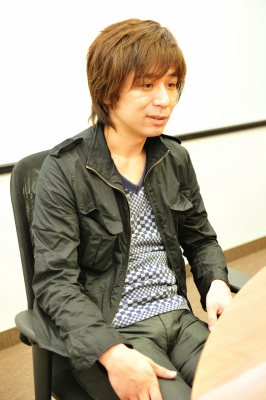 G:
Are the other members of the team all overseas?

Sako:
It is abroad.

G:
Did you have any conflicts or troubles with becoming professional gamers?

Sako:
I was wondering why I could live properly. If I can clear even there, I love fighting games from the beginning.

G:
I want to do it, but what about money?

Sako:
Even if I become a professional, it makes no sense if I can not eat it. After all, I am currently working in Japan.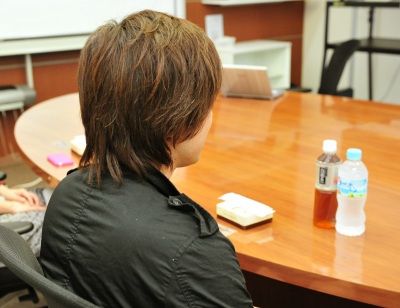 G:
You work with professional gamers in Japan, do not you?

Sako:
I agree.

Sako bride:
In the case of sako, I adjusted and contracted with the story that I want to do professional while continuing my current work, but as an overseas sponsor it is not that high salary, but I can live a normal life I guess it was planned to guarantee about a minute. Mr. Umehara and Mr. Kim are doing it with a single fighting game, and sometimes in a magazine saying "Because I can earn more than civil servants." So, if you think you are going to eat with a single professional gamer, I think that it is possible for even Japanese.

Sako:
On the other hand, even overseas professional gamers seem to do most work while doing another work. Just when traveling to expeditions when there is a convention. In the United States, even in domestic competitions, there are cases where it is very far from the west coast and the east coast, so at the time of the tournament, we gather at the gamers' house living in the locals. That's a fun place, too.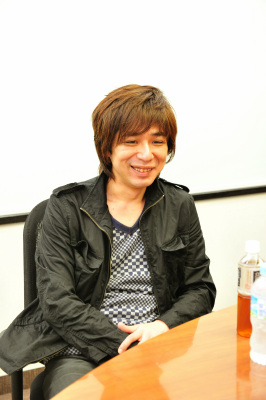 G:
Also in JapanGODSGARDENWe are now hosting tournaments such as online, but how does the Internet affect professional gamers?

Sako:
Since I am working, I do not have time to go to the game center after work. It is for home use so that you can compete in your favorite time, and if you are online you can play against your favorite opponent. I think this is innovative. Although fighting games are temporarily out of spirit, it seems that they have started to compete online, and now they have started to bud newly.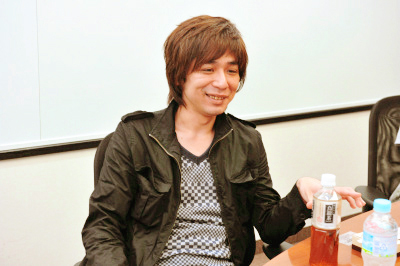 G:
If you say sako, it is Cammy, but what is the reason why you picked Cammy and chose it as a character?

Sako:
Originally I liked Cammy like a character. Also, there is a special technique to put out during the jump called Cannon Strike, this is a technique to enter commands during jumping, but there is a technique to cancel the jump and put it out on the ground Fresnel, It spreads. That's where Cammy is interesting.

G:
However, the skill that I give out on the ground slaughter can not be used in AE, right? Are you planning to continue using Cammy even in AE?

Sako:
Since AE has not done so much yet, I actually try it and think whether I can go.

G:
Do you have cameras that you are not good at using Cammy?

Sako:
Edmond Honda and something like a girl are tough. First of all, in a fighting game like a street fighter, being able to put out a skill by keeping the back behind is extremely strong. In addition, Cammy is a type of character that turns into an attack by crushing the opponent's attack with the Canon Strike that came out a while ago, so there are places where it can not be attacked quite easily if it comes down to the back. With GODSGARDEN it was fortunate that few people accidentally used these characters.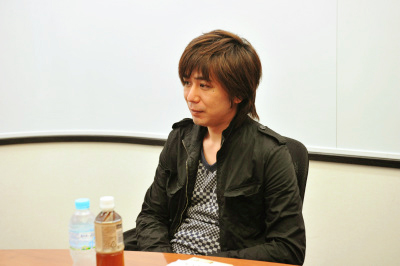 G:
GODSGARDEN is also a tournament that uses the online function for home use, but is it acceptable for professionals about rugs that will definitely occur online?

Sako:
Even in the current arcade environment lag will occur, so I do not mind that much. Because techniques can be issued in the same way. Even if it says a lag, simply input timing is shifted by several frames from the screen, so if you are able to output a combo even if you close your eyes, you only need to input it later.

G:
I use one game as a rug check at the time of the tournament, but can you check how much lag has occurred during that period?

Sako:
You can do it. When I do it online many times, Oh, this will make you understand how many frames behind.

G:
As a professional, even if there is an online matchup lug, is it enough to be established as a competition?

Sako:
I see.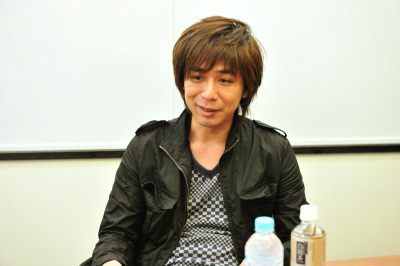 G:
In Super Street Fighter IV, there are various elements that divide victory and defeat, such as the accuracy and match-up of combos, but what is the most important point?

Sako:
I feel mindful if I lose. If you lose to the opponent, practice with thinking it is murky, and will become stronger again. In the long run, I think whether it will be possible to repeat that.

G:
Even sako-san, is it sad when you lose?

Sako:
I am sick, I think it's Kuso (lol)

G:
Regarding Super Street Fighter IV, what kind of features are fun compared with other fighting games?

Sako:
Compared to the past fighting game, the skill is considerably flashy, and I think that it is becoming something that can be enjoyed considerably just by looking at it. I think that funness will be conveyed if you see the competition once as if you lost as if losing it, feeling like simply watching K - 1 or PRIDE.

After that, is it that so many people are playing? When you connect online, people are available for any length of time, and you can play right away. It is such a fun place that such an environment is in place.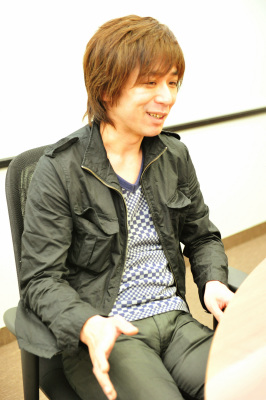 G:
At the Swiss competition, we won the group warfare with Rose, but will the main character shift from Cammy in full swing?

Sako:
In the Swiss competition, it was a rule that we could change the character on the way, so it was strict that the other party was cumy, so I used Rose. I think that it was quite effective because it was a character that has not been pioneered much yet. It is because Cammy first used it with AE.

Not limited to Rose, Super Street Fighter IV thinks that there are still characters that can dig into the top if you pioneer. Now in Japan, I won the GODSGARDEN online # 2 as wellMago'SFeylonIt is very strong, but there was not a strong Feylon until Mago started using it. Considering from the character performance, although it should definitely be strong like a fiery fist, everyone did not use it (lol)

G:
For example, you saw sako's Cammy at the convention and thought that "I want to do that," can you become strong even if you start a fighting game now?

Sako:
I think it will become possible. Because the videos of strong people all over the world are on Youtube or Nico Nico video, if you look at it and steal all the good points, you can be considerably stronger. For fighting games, the same series has been continuing since long ago, there are aspects that it was difficult to enter newly, but now the hurdles should be very low. If you play online, you will be matched with someone as strong as yourself to some extent, and I think that it will be very interesting to practice and win against interpersonal warfare.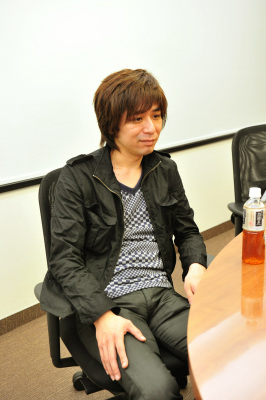 G:
Is it better to go to the arcade after all to practice fighting games?

Sako:
As for the fight in the arcade, there is a peculiar interest but after all it costs 100 yen. In that sense the arcade is "Where you go to fight" So I think that it will be more interesting to practice at home and win by arcade. I will do the tournament at the arcade.

G:
How many hours a day does sako practice?

Sako:
I will do it every day for about 3 hours to 4 hours. Practice combo will be practiced in two stages so that it can be completed in online matchup after completing offline once. If it is a match, you can not combo more than you think, so first offline, practice until you can combo without considering anything, then put it in the match after completing it.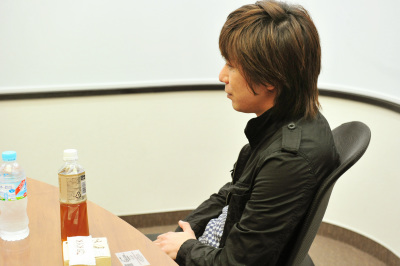 G:
Is the practice environment home?

Sako:
It is home.

G:
Although sako has established an aggressive style enough to be said as "the strongest contradiction", what kind of place is different between other people and sako?

Sako:
For example, the combo is a bit strong but it is a very difficult combo and a bit weak but a simple combo, practice to get the hardest but perfect outcome, I will use that. After all, in order to give big damage at a stroke with little chance, it is useless if we do not thoroughly stuff that part.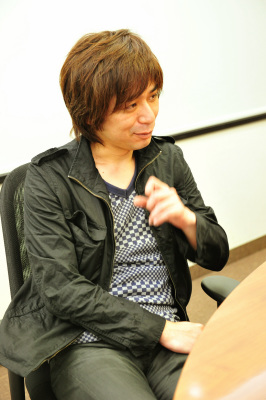 G:
Professional people, is the arcade stick has a my stick?

Sako:
When it is an oversea tournament, everyone brings a stick on their own and fights against each other. So, everyone has it.

G:
There are things like tens of thousands of yen in arcade sticks, but are they still different in performance?

Sako:
I think there is performance, but I will immediately break the arcade stick. A cheap guy is broken soon. As you can tell, durability is different. It's not because I am receiving HORI's sponsorship, but HORI's stick is still sturdy, is not it?

G:
Operating the controller I think that if you injured your arm, it would be a fatal injury, but are you always careful not to get injured?

Sako:
I am not careful. Sometimes the nail has broken.

G:
Do you practice at such times too?

Sako:
Even then I played a match. It hurts though (laugh)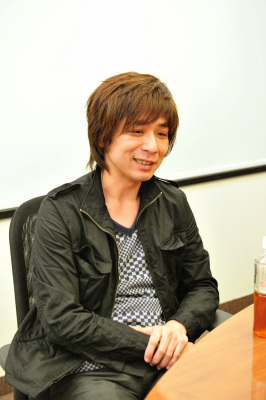 G:
How is physical condition management etc being done?

Sako:
It is about time to keep early hours. It is not good when you are sleepy. At the same time that it is decreasing.

It is quite common that overseas conventions are pretty loose in time, the opponents go somewhere and can not find it. I will search until such time as I can find it, but the time of the match will be steadily shifting and it may be kept waiting for about 10 hours. It's pretty hard, is not it?

G:
When you say fighting game, there are images that need talent that can not be done just by effort alone, such as reflexes and motor nerves, but is such a thing necessary?

Sako:
I do not need talent. It is knowledge and persistence. It is necessary not only to own character but also to have the knowledge of the character of the opponent, which skill will be hit if it is this interruption, this character will decide this combo in this state, such a huge knowledge You can not win if it is a tournament that you do not know what character you hit if you do not cram them. Another way to practice is already finished.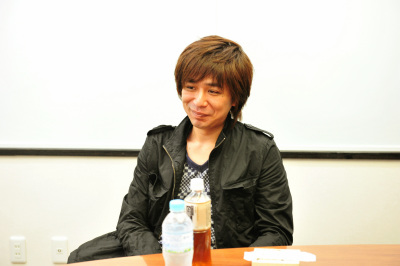 From sako 's fight so far, I got him to pick up his own match.

Battle against Umehara (GODSGARDEN online # 2 qualifying)
YouTube - SUPER STREET FIGHTER 4 GODSGARDEN ONLINE # 2 Qualifying 11-01


Sako:
It is a game that I hit in the qualifying session with Umehara, I lost. I am fighting with Umehara in the main battle, but please join us with the match of the main battle by all means.

Battle against Umehara (GODSGARDEN online # 2 main battle) * It is quite a long movie, but it is a development that the god had taken at a high level so that even people not familiar with fighting games knows
Ustream.tv: User godsgarden: OnGODS 2 Day 2 # 2, GODS. Video games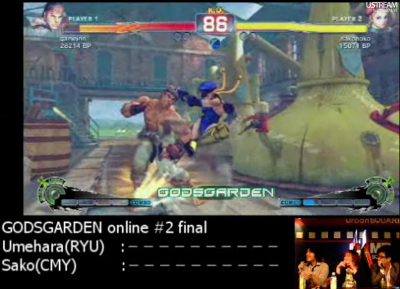 Sako:
First losing streaks. However, as it was another football game that I managed to finish a bit more, I did not think about giving up. Because I am a so-called "correspondence type" that responds to opponent's offense, GODSGARDEN's rule of 10 winning preeminence is appreciated.

Nationwide girl warfare (Swiss competition)
【Beat by contest】 Super Street Fighter IV 【sako】 - Nico Nico Video (Harajuku)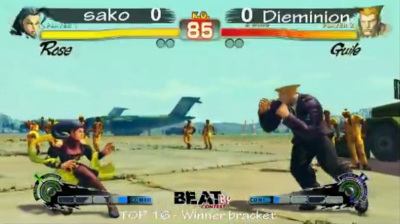 Sako:
At the beginning of the game against Gile, I got bogged down, but I felt strongly that I could fight twice at the same competition and I can not lose.

【Beat by contest】 Super Street Fighter IV 【sako2】 - Nico Nico Movie (Harajuku) ※ It is a rematch at the same tournament with the one national girl



Sako:
In this tournament, I won the team by teaming overseas players called Arieun at the group battle. Is not it rare for Japanese and foreigners to win the team by teaming up? It is interesting to join a team with people from other countries and go to the competition.

The state of the tournament "ReveLations" that Mr. sako and Umehara participated also from June 11 to 14 can be confirmed from the following site.

Nagoya Street Battle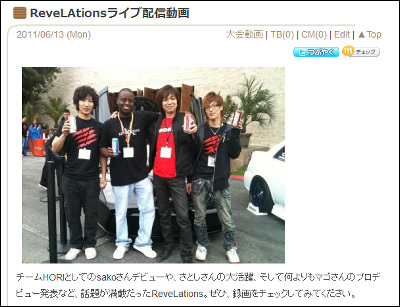 Mr. sako is the world's largest fighting game competition to be held from July 29th to 31st"EVO 2011"We are also scheduled to participate in the game.
Evo Championship Series | Evo Fighting Game Tournaments