Twitter client "Twirit Mobile Mobile Twit" that can move time line at 3 times speed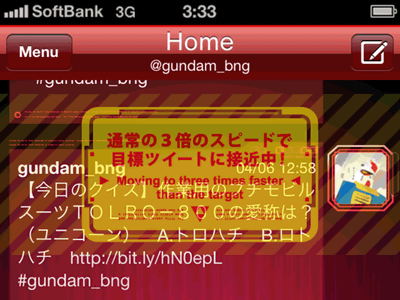 Some people may be suffering from Twitter's timeline that does not make a tremendous decision as to whether it is a problem on the client or not on the "Timeline, Movement! Timeline, Why Does It Work?" A Twitter client appeared that you can move on the timeline at 3 times faster speed.

Their name is "Mobile Twir for Mobile". It looks just like a chalet, but Bandai Namco Games is an exciting Twitter client that delivers from April 25th. Apart from the above-mentioned triple, we also added elements of Char, which means that Twitter users are satisfying clients.

Details on what functions are included, please see below.
The sample image looks something like this.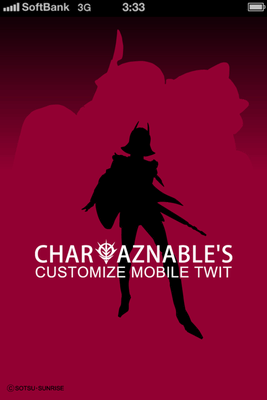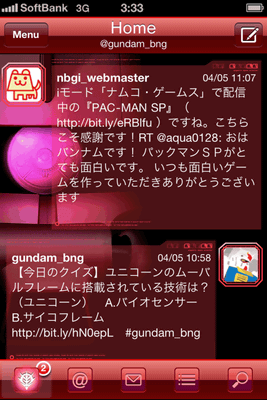 First of all, I emulated a cheer for a sharrer who was described as "one Zaku approaches at three times the normal speed!" And implements a function that can move the timeline three times faster. You can approach the goal twice as fast as normal 3 times faster.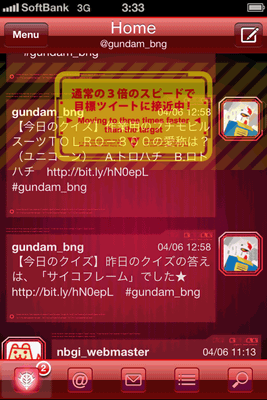 There is also a function that you can quote tweets and reply quoting the name of Char 's line. "You a victorious chair tweet!That seems to be the case, I definitely want to master it.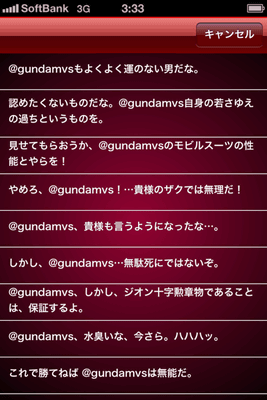 As sound effects, Zaku implements mobile sounds moving in the universe, blinking sounds of mono eye, driving sounds and so on. When updating, there is a new type of sparkling sound and you can feel like "you can see" each time there is a new tweet.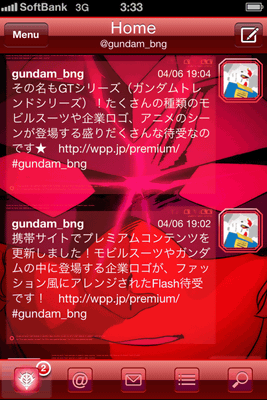 The price is 350 yen (limited time price), and you can download from the App Store.

App Store - Char Mobiles Twit

© Suzumi · Sunrise