More than a month after the Great East Japan Earthquake, a shocking photo book showing what happened to the disaster area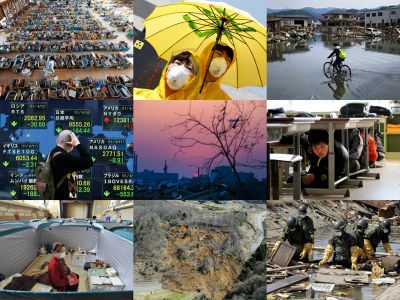 A month after the Great East Japan Earthquake that occurred on March 11, the Fukushima Daiichi nuclear accident was initiallyFrom 'accident level 5' to 'level 7' side by side with Chernobyl nuclear accident, The situation is taking on a prolonged appearance.

Even now, locomotives, police, fire fighters and other rescue teams are searching for missing persons and goods are being transported, but such evacuation centers, townscapes in devastated state, people who offer prayers and the state of radiation inspection etc. I gathered the pictures that recorded. It may be a chance to think about East Japan great earthquake once right now.

Photograph collection is from the following.Japan's crisis: one month later - The Big Picture - Boston.com

Just one month after the earthquake disaster, monks, SDF personnel, firefighters and rescue teams offered a silent prayer at the site of the Himawayama Fuji Princess Shinto shrine. (April 11: Miyagi prefecture Natori shi Kamagami)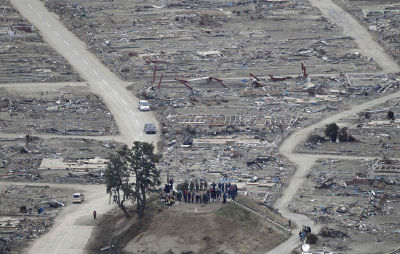 A strong aftershock has occurred, and elementary school students are crawling under the desk and are evacuating. Also this day is the day the evacuation area due to the Fukushima Daiichi nuclear accident was expanded. (April 12: Onagawa Town, Miyagi Prefecture)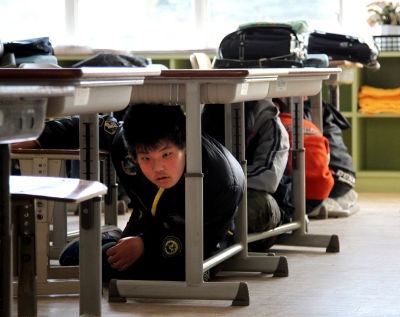 Landslides occurred due to an earthquake of magnitude 7.0, mud and trees filled the road. (April 11: Iwaki City, Fukushima Prefecture)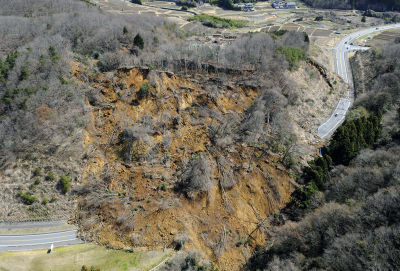 A woman sitting in a "room" partitioned by a partition in a gymnasium turned into a shelter. (April 12: Kamaishi City, Iwate Prefecture)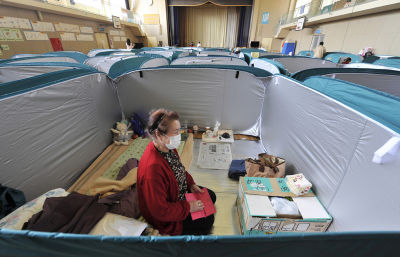 Satoului who is 2 years old is playing with members of the Japanese Red Cross using key holders. (April 11: Refuge in Fukushima)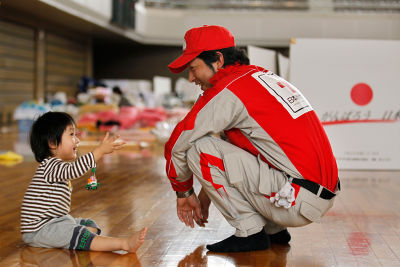 Stowel, 8 years old and his older brother Len you are eating stew and rice that was distributed. (April 12: parking lot in Minami Sanriku-cho, Miyagi prefecture)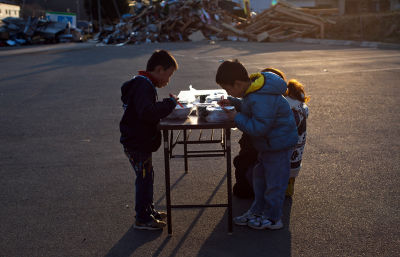 Volunteers cleaning family photos of babies. (April 12: Volunteer Center in Ofunato City, Iwate Prefecture)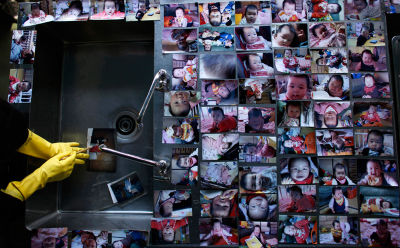 The police people who wear a mask and climb the slope. (Minami Sanriku-cho, Miyagi Prefecture)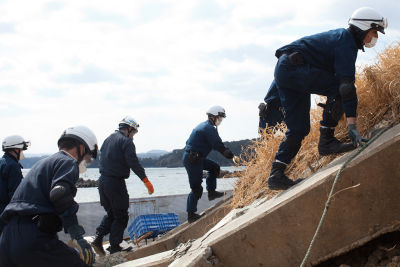 Fisherman Sasaki Kouichi looks for a wedding ring that was lost on the day the earthquake occurred. (Ofunato City, Iwate Prefecture)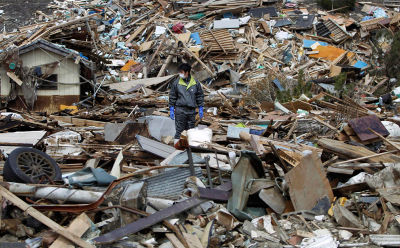 Shoppers looking for vegetables produced in Iwaki City, Fukushima Prefecture, which is sold at low prices. The government is trying to support farmers in Fukushima prefecture, which is suffering from rumor damage. (April 12)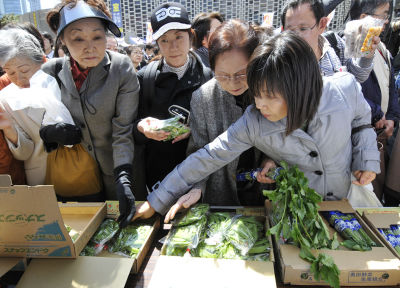 74-year-old Oikawa Kiyoi who is drinking water to wash clothes using a bucket. (April 12: Miyagi ken Minami Sanriku-cho)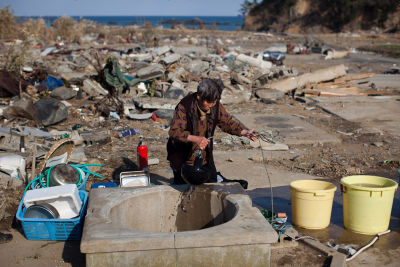 A man who clears his workplace that was devastated by the earthquake. (Minami Sanriku-cho, Miyagi Prefecture)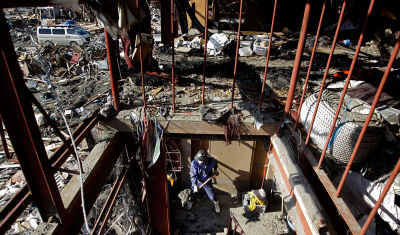 Prime Minister Naoto Kan who will hold a press conference at the prime minister's official residence. (April 12)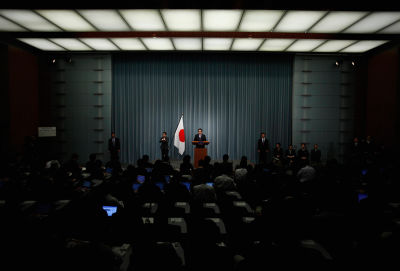 NISHIYAMA Hidehiko, the minister's secretariat of the Ministry of Economy, Trade and Industry, said he will raise the accident level from "level 5" to "level 7" at a press conference at NISA. (April 12)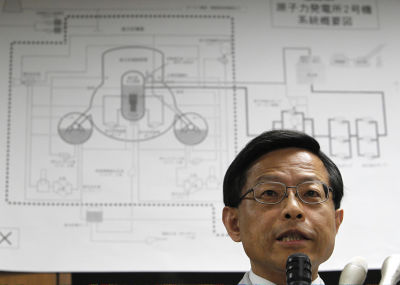 Although it was extinguished soon, a fire broke out at Fukushima Daiichi Nuclear Power Station. (April 14: Okuma Town, Fukushima Prefecture)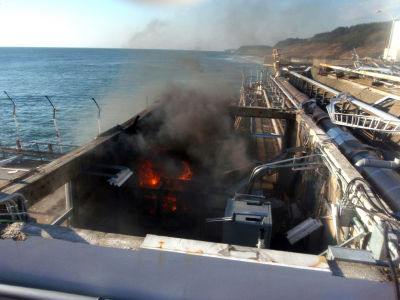 Employee of rock dies casting industry which inspects automobile parts on production line. Toyota said that the number of production will decline due to the delayed supply of parts. (Yamamoto Town, Woriki gun, Miyagi prefecture)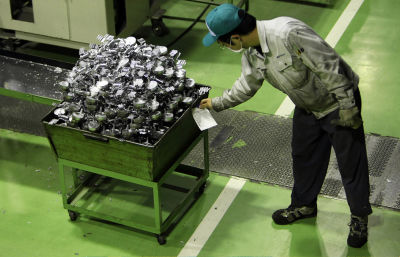 A man looking at the closing price of the Nikkei 225 average stock price that showed a downward trend for two consecutive days. (April 12)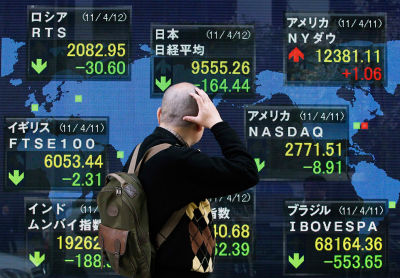 A gymnasium where luggage found from the rubble is lined up. Men are trying to find their own.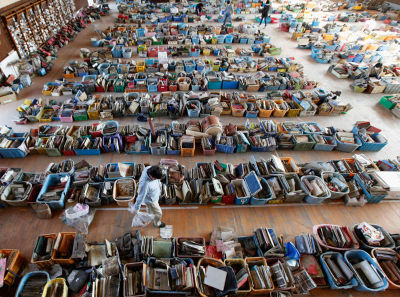 The SDF who searches for missing people in a devastated city. (April 12: Natori city, Miyagi prefecture)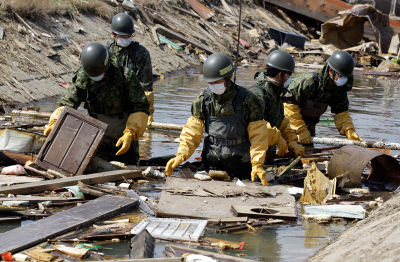 Meeting the radiation level of strawberries produced in Iwaki-shi, Fukushima Prefecture, in an event appealing the safety of agricultural products. (Tokyo)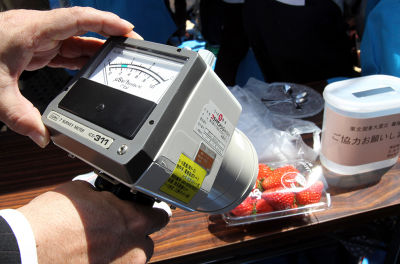 Men undergoing radioactive contamination testing. (April 12: Koriyama city, Fukushima prefecture)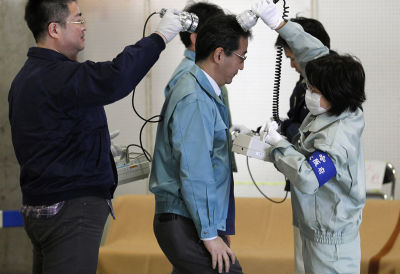 A priest offering prayers to the victims of the disaster at the burial place. Silent drinks were sacrificed in Japan thought people who died at 2:46 PM on April 11, just one month after the earthquake. (Higashimatsushima-shi, Miyagi)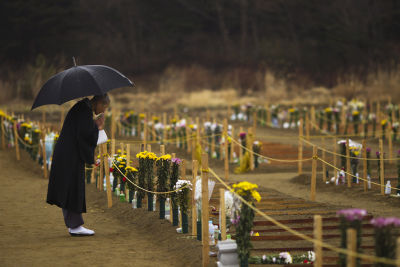 International environmental protection NGO Greenpeace and other environmental groups donated candles for Japanese victims and offered folding cranes. (April 11: suburb of Quezon City in the Philippines)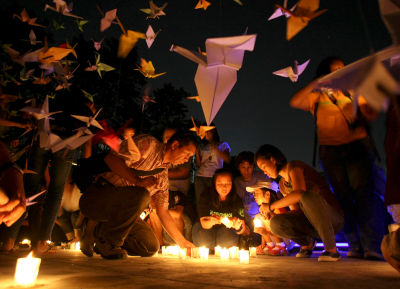 People wearing masks and raincoats are taking anti-nuclear demonstrations to urge the government to disclose information such as radiation rain quickly. (April 12: Seoul City of Korea)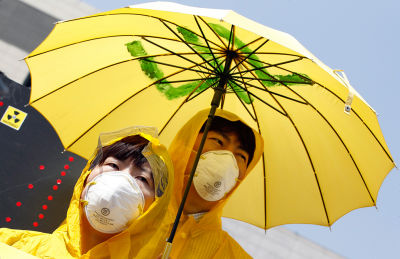 A family looking at the collapsed home. (April 11: Kesennuma City, Miyagi prefecture)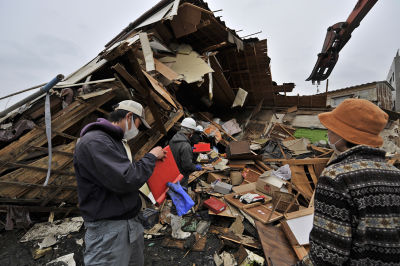 The SDF who clears up the collapsed elementary school. (Okawa elementary school in Ishinomaki-shi, Miyagi)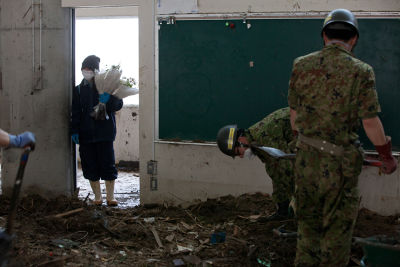 A man who goes through a region that has been flooded by bicycle. (Kesennuma city, Miyagi prefecture)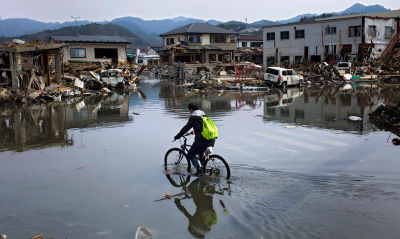 A man reading a newspaper telling the situation of the disaster. (Prefectural office of Sendai city, Miyagi prefecture)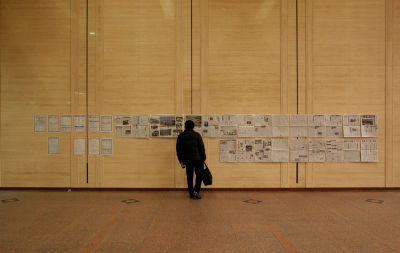 Whether my family died or not, my hands are aligned in the rubble of my house.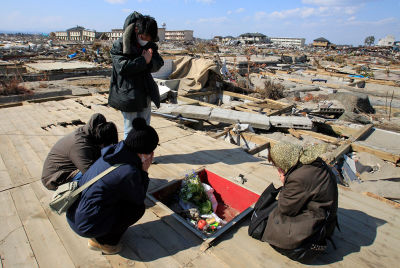 Foreign flowers were dying in places that became an out of bounds area due to the accident at Fukushima Daiichi Nuclear Power Plant. (Futaba Town, Futaba-gun Fukushima Prefecture)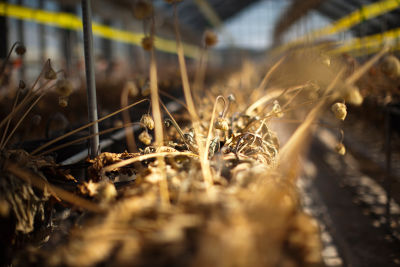 A state of the town that became an evacuation area quietly dying like a dead. (Namie Town, Futaba-gun, Fukushima Prefecture)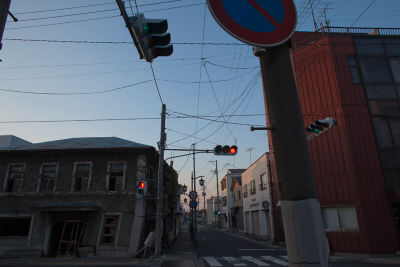 The rubble is scattered in the evacuated area. (Namie Town, Futaba-gun, Fukushima Prefecture)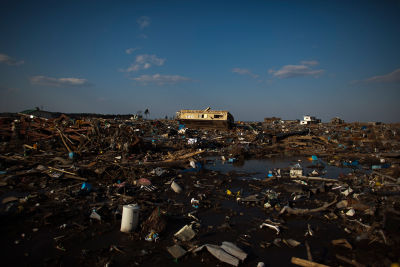 A Self Defense Force person who clears rubble. (April 11)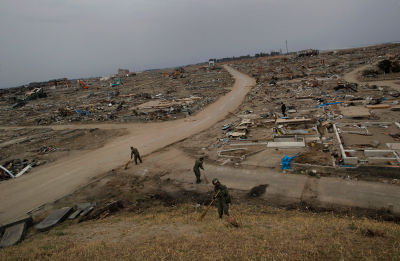 The two-year old Ayaka-chan family pray to the grandfather who got missing. (Ishinomaki-shi, Miyagi)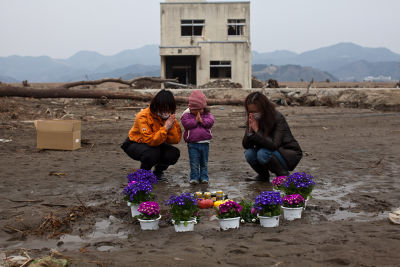 TEPCO Mr. Masataka Shimizu president who lowers his head in a press conference. (April 13: TEPCO head office)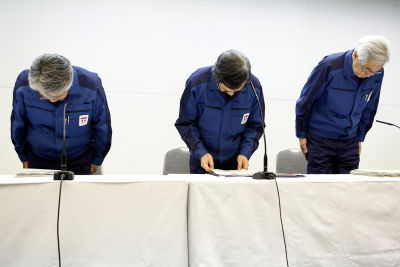 The sunset that falls to the affected area where rubble is piled up. (April 13: Ishinomaki-shi, Miyagi)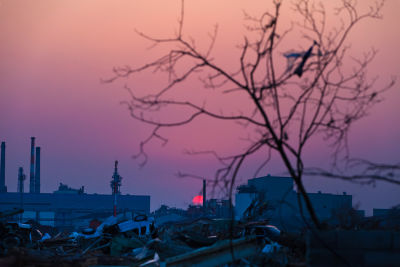 in Note, Posted by darkhorse_log