The missing ``minimal capsule containing radioactive material'' is discovered by a large search of 1400 km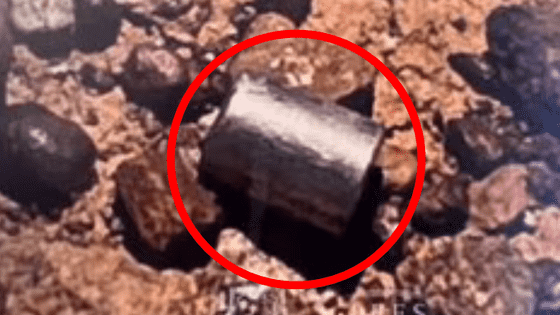 A capsule with a diameter of 6 mm and a height of 8 mm containing the radioactive material '
cesium 137
' used in mining equipment in Australia has been missing since around January 10, 2023, and health authorities have issued an emergency public health warning. I was. After an intensive search, the capsule was finally discovered on February 1, 2023.
Urgent public health warning issued over lost radioactive capsule in Western Australia - ABC News
https://www.abc.net.au/news/2023-01-27/radioactive-capsule-lost-in-wa-emergency-public-health-warning/101901472
Call for review into disappearance of 'dangerous', tiny radioactive capsule in Western Australia - ABC News
https://www.abc.net.au/news/2023-01-29/call-for-review-into-disappearance-of-radioactive-capsule/101904900
Missing radioactive capsule found in WA outback after frantic search - ABC News
https://www.abc.net.au/news/2023-02-01/australian-radioactive-capsule-found-in-wa-outback-rio-tinto/101917828
The missing radioactive capsule was part of a radiometer used to measure radiation levels in oil and gas processing plants. The radioactive capsule disappeared from January 11th to 16th while being transported by truck approximately 1400km between
Newman
and
Perth
in Western Australia.
On January 25, 2023, Washington State Chief Health Officer Andy Robertson held a press conference and announced that a radioactive capsule with a diameter of 6 mm and a height of 8 mm was missing. According to the health authorities, although it is difficult to use this radioactive capsule as a weapon, it may have a serious impact on health. .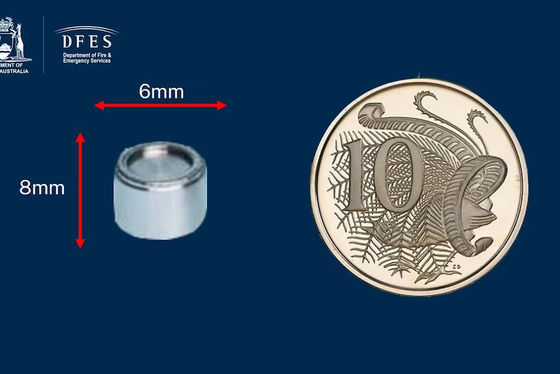 Mr. Robertson said, ``The radiation emitted from this capsule will be exposed to a radiation dose equivalent to 2.4 millisieverts of
natural radiation
in an hour if it approaches within a radius of 1 m.'' If you are exposed to radiation while in the air, you may develop
acute radiation syndrome
.'
A team of fire, ambulance, police, Department of Health and other experts was organized to search for the radioactive capsule, and an intensive search began covering about 1400km between Newman and Perth. In addition, Simon Trott, CEO of the mining company '
Rio Tinto
' that lost the radioactive capsule, apologized and said, 'In addition to supporting the relevant authorities, our company has started its own investigation into the cause of the loss during transportation. I did.'
The search team for the radioactive capsule was searching using
Geiger counters
, etc., but said, ``It is not certain whether the capsule will be found.''
After an intensive search by the search team, the missing radioactive capsule was found on February 1, 2023, 74km south of Newman. The capsule was found 2m away from the roadside and showed no signs of movement after falling off the truck, confirming that the possibility of civilian damage is extremely low.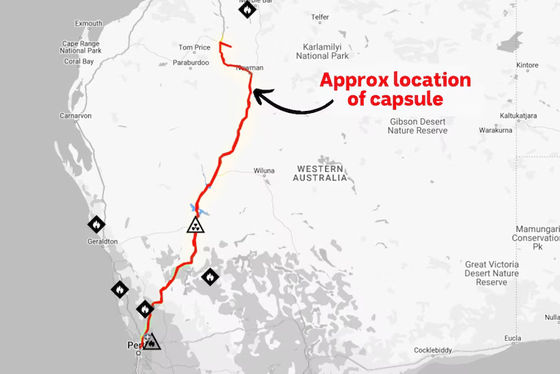 The radioactive capsule found is designated as a 20m radius off-limits for safety, and is transported and inspected after being stored in a lead container.



Robertson reports, 'We will sue Rio Tinto under the Radiation Safety Act.' Rio Tinto's Trott added, 'We will cooperate fully with the state to conduct a full investigation and will gladly reimburse the costs of the search if requested by the government as part of the investigation.' said.