Super Nintendo "SUPABOY" that can be carried like a Game Boy, to be released soon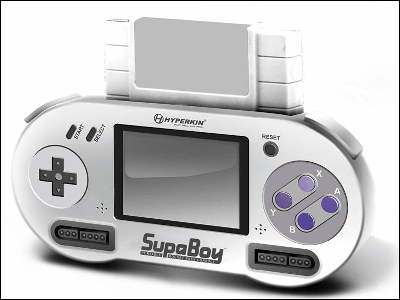 Super Nintendo that can be carried like a Game Boy "SUPABOYIt will be released soon.

Although it is an overseas product, it is compatible with Japanese Super Nintendo Cartridge cartridges and can be played anywhere at any time by using Superfami's software that was not thrown away to throw away.

In addition, because AV output and controller connection can also be made, it is hard to have a multi-purpose application that can be used in the same manner as a stationary machine.

Portable Super Fami "SUPABOY" specs etc. are from the following. This is a portable Super Nintendo "SUPABOY". It seems that the screen size will be 3.5 inches and the battery will last for 5.5 hours, but this is the value of the test that was run with no sound. The size of the main body is 8.5 × 4 × 1.5 inches (about 21.59 × 10.16 × 3.81 cm), and the weight is 11.5 ounces (about 326 grams). AV output possible with stereo sound, headphone jack and volume adjustment button are attached.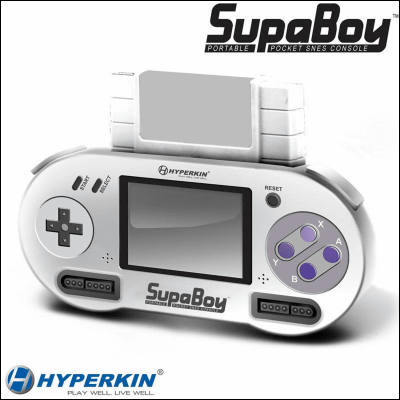 Surprisingly, although it is a mobile device, two connectors for the controller are attached, and the North American version of Super Nintendo "Super Nintendo Entertainment System (SNES)"Controller and gun type controller"Super Scope","Mario PaintIf you can connect to the controller port, it will work almost like a mouse. Since it can connect multi-tap for SNES, it also supports multi-player battle. Therefore, it is possible to connect the controller by outputting the image to the TV, and use it as an ordinary Super Nintendo Entertainment System.

Because it has compatibility with Japanese Super Nintendo cartridges, you can also play software sold in Japan. Although it seems that playing SNES 's software is the main use, the cartridge stabbed as a sample for some reason is a software for Super Nintendo in Japan "Romancing Sa Sa 3".

The title is from September 21, 2010Delivered at Wii's virtual consoleAlthough it is being done, it may be said that it is an attractive aircraft for the person who wants to play even at the destination utilizing the old cartridge at hand, or the professional who wants to play using the cartridge to the last.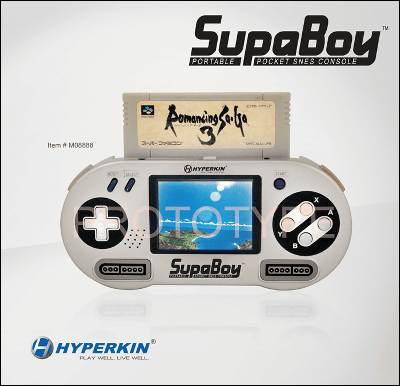 It's quite reasonable if you think that the price you care about is $ 79.99 (about 6611 yen), which also serves as a stationary machine and a portable machine. Although it is not shown a definite time to "to start selling soon" to the last, it may be good to check regularly if you are interested.

SUPABOY Portable Pocket SNES Console