Movie that Google realized the lie on April Fool using Kinect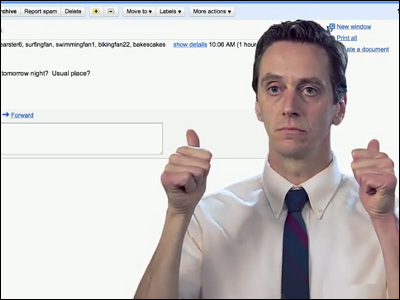 Also in JapanShow off the story that various sites have devised various devices by piggybacking on April FoolsAlthough it was doing, it seems that the neta battle was done as well in the United States as well.

Among them, Google had a lie that seems to be serious slightly, "I will be able to move Gmail by gesture", but what a user who saw this seems to be a controller for Xbox 360"Kinect"I realized that it was realized.

The movie of the original story that Google lied to and the movie that realized it using Kinect are as follows.Hackers Make Gmail April Fools Joke Into a Reality - NYTimes.com

The movie below is what Google announced about the new feature "Gmail Motion".

YouTube - Introducing Gmail Motion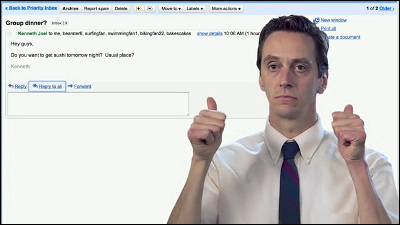 In this way you can open mails and enter text with gestures,Steve BuscemiA man similar to the one will demonstrate.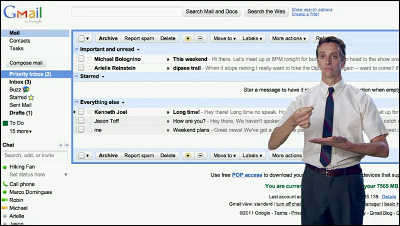 When sending mail, I will stick the stamps. This is an action to lick stamps.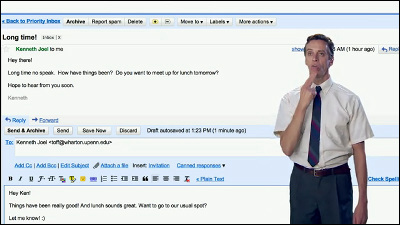 And paste it on the knee.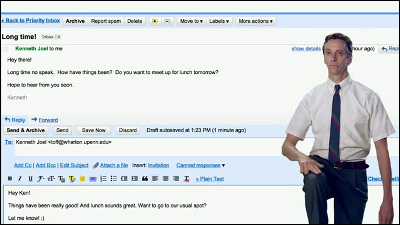 By coping with various gestures, complex sentences can be expressed.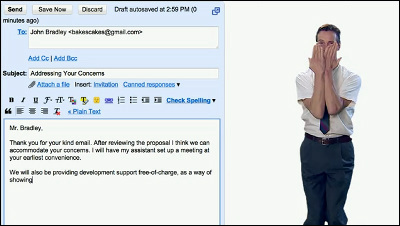 "According to research in the past 24 years, we know that body language will occupy about 80% of our roles in our conversation," the function itself is a lie.



And the movie below realized this function using Kinect.

YouTube - ICT MxR Lab's Response to Google's Gmail Motion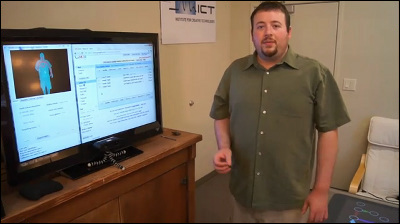 According to the description of the movie, "Since Google's Gmail Motion seems not to work for some reason, we will introduce our solution." It operates with natural motion rather than it.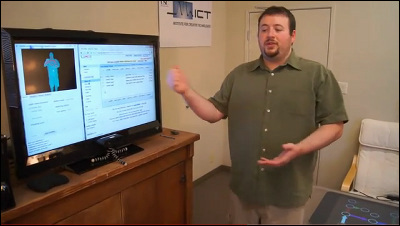 The Kinect camera is connected to the PC.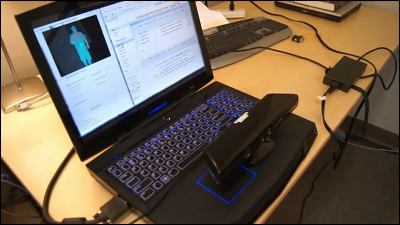 In this way I am reading the movements of the head, arm and torso. The screen below shows the state with both hands on the head.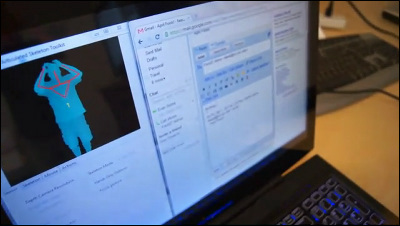 This function is based on Kinect "FAST" (Flexible Action and Articulated Skeleton Toolkit) originally developed by Mr. Evan A. Suma appearing in a movie, applied with middleware that enables operation such as key input by body manipulation by body manipulation It is said that it was named "SLOOW" (Software Library Optimizing Obligatory Waving).

The movie under is playing "World of Warcraft" using "FAAST". A bit of motion is Hide, but I can play it properly.

YouTube - World of Warcraft with Microsoft Kinect using FAAST and OpenNI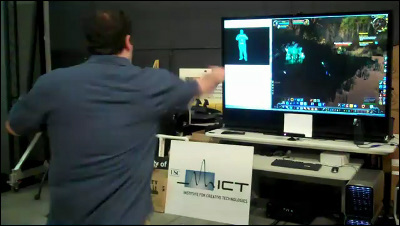 Evan A. SumaCreative Technology Institute of Northern California UniversityIt seems that various projects using virtual reality technology are progressing at the laboratory.