"Soujistiks" makes custom made wooden arcade sticks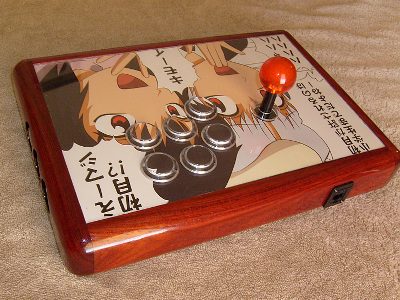 For those who play fighting games, their own arcade sticks may be indispensable. Among the ready-made products sold in JapanThose with a price close to 30,000 yenAlthough it is a surprisingly deep market, it is said that there are even companies that are developing services that make arcade sticks how tailor-made.

It is customizable to customize to the kind of stick and button layout, to the strength of the spring, and even to provide the ultimate customized stick for making wooden case"Soujistik". Aaron Wright, who develops this niche service, is interviewing the business.

A terrible product of "Soujistik" and an interview with Mr. Wright from the following.Home Page - SoujiStiks

Interview with Custom Fightstick Guru Aaron Wright of SoujiStiks - DeviceMAG

"Soujistiks" was established in Southern California in 2007 by Aaron Wright. Mr. Wright's strong thought that Mr. Wright wanting to deliver the experience in the arcade to the home user also makes him make his own arcade stick and after several experiments to provide a customized arcade stick for users all over the world It is said that it became.

In partsSanwa Electronics,Seimitsu Industry Co., Ltd.,HappWe are using products made, layout etc"Slagcoin.com"I will respond if it tells hope by referring to.

There are also various types of sticks.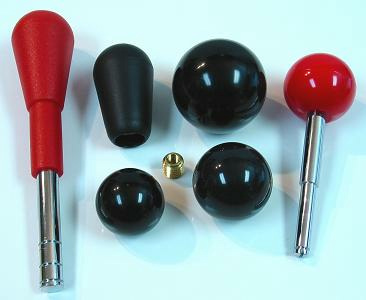 There are various holes for moving the stick. These are just a few of them.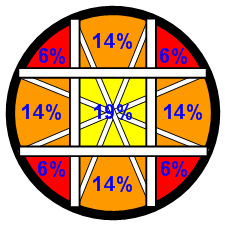 Depending on the structure of the hole, the ratio of the area occupied by the input key will change.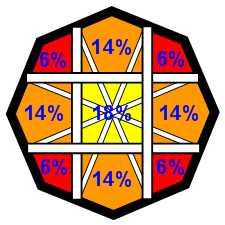 This is a type with uniform area.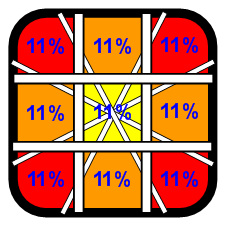 Button layout is also various. This is the simplest six button type.Street fighter seriesIt corresponds to.




With 8 buttons, the array is angled.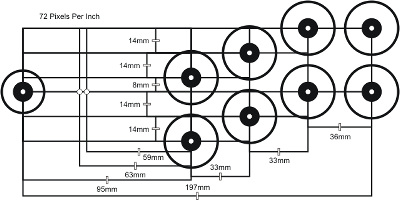 When coming so far, it is also very difficult to memorize which buttons correspond to which buttons.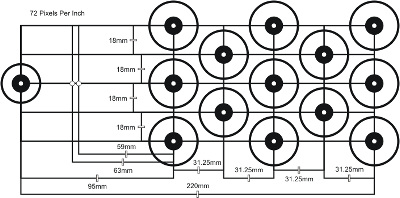 Arcade stick made by Soujistiks. For 6 button style street fighter.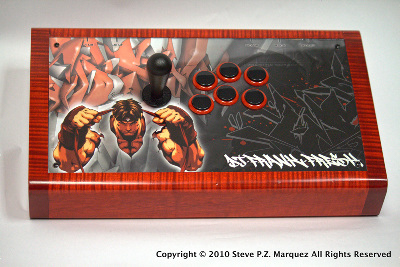 Customized stick which can not be ordinary can also be produced.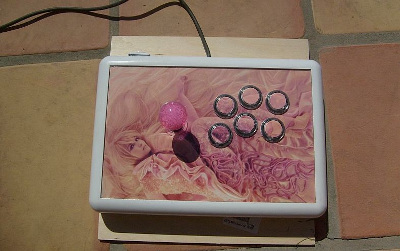 Depending on the specifications you can insert art on the back.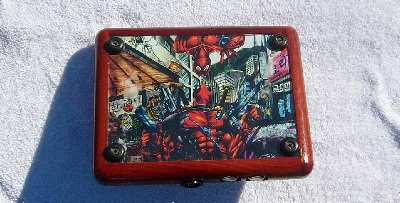 Prison kill version of the majestic demon. It might be interesting to try stick making with your own character.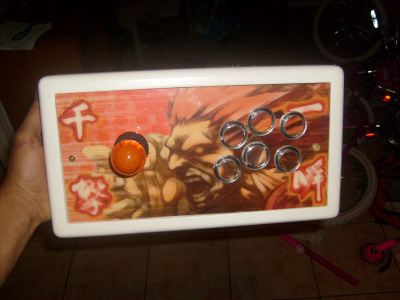 Aaron Wright who runs Soujistiks is answering interviews with local media.

Q:
One of the major features of Soujistiks is that it is made of wood, but is not it that the price will increase depending on the cost of wood?

Aaron Wright (Wright):
In some cases, it costs certainly. But it does not cost so much. Purchasing timber is lowering costs as much as possible through wholesale shops. Depending on the type of wood used for customization, it may cost a little. However, in terms of weight and durability, substantial effects beyond cost can be expected.

Q:
What kind of wood do you use?

Wright:
It depends on the customer's request. My dream is to challenge all the timber. Each wood has its own characteristics, each with its own different beauty. That is why it is attracted to natural wood.

Q:
At what rate would you prefer a wooden case?

Wright:
We are hoping for natural wood and dyed timber at a rate of 90% to 95%.

Q:
How does the design process proceed?

Wright:
I am busy but it's a lot of fun. Normally, the idea about the custom stick that the customer has at the time of contacting me is very rough. From there, select the wood, choose the layout of the button, decide the size and design of the case. Once that is decided, I go to a timber shop, hunt the best wood, go back to the store and build it up.

It takes several weeks for the mirror finishing process. Meanwhile, I will contact the customer about the details of the stick art. When the case dries, after that, incorporate the internal device, paste the photo, send it out to the customer, and have you play with your favorite game.

Q:
Are you making custom sticks alone?

Wright:
I'm doing it by myself from start to finish. It is not a type of job that can be outsourced. I think that I would like to give out my own sense just like other people who are making custom sticks in the same way by one or two people. But my wife has been helping me ship.

Q:
Do you have any favorite parts?

Wright:
Sanwa Flash 1is not it.

Q:
What is the luxury stick you have ever made?

Wright:
It's a new "God hand stick" with a retail price of $ 500. Using a very expensive maple wood in the case, the hole in the control panel is accurately calculated and opened to be exactly the same as the arcade specification. For connection with the outside, it is made compatible with Xbox 360, PC, PS 1, PS 2, PS 3, Wii, GameCube, and others. Using the bottom plate of reinforced plastic on the bottom of the case, we also insert the art on the bottom and incorporate the screws that will become the feet.

The first model is planned to sell for only three in the summer of this year, so please keep an eye on your eyes.

Q:
What is your favorite fighting game?

Wright:
"Street fighter 3rd STRIKE"I love it, I am looking forward to re - release. In others,"Super Street Fighter IV","Marvel VS. Capcom 3 Fate of Two World","Neo Geo Battle Coliseum"It is my favorite.

Q:
What does the company name Soujistiks mean?

Wright:
I am a big anime fan and a history fan. "Souji" came from Shoji Okita, anime and manga on Shinsengumi, and "stiks" was somewhat catchy sounding.

Q:
What is "a dream arcade stick" for you?

Wright:
Sticks are ebony and Sanwa Flash 1, with buttonsOBSF-30 RG. Attach a sliding tray to the bottom so you can leave a pizza to eat.

Q:
How much can you buy Soujistik's arcade sticks?

Wright:
From the model of 275 dollars to the one of $ 500. In case only it is $ 75 to 200 dollars.

Q:
Is there anything you'd like to say to fans and customers?

Wright:
I would like to say to all the fans thank you for continuing to support me forever. Soujistiks will make even more effort to deliver the best custom sticks.