"Magical Girl Madoka ☆ Magica" Episode 11 is the fastest delivery with Nico Nico video on late night March 23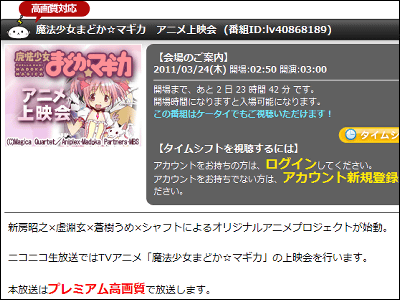 TV anime broadcasting from January "Magical Girl Madoka ☆ Magica". The fastest broadcast of its 11th episode came out as MBS, which is the secretariat, and other television stations, there is the possibility of becoming a Nico Nico video.

This is affected by the suspension of broadcasting due to the special formation etc. due to the Tohoku Region Pacific Offshore Earthquake that occurred on March 11.

Details are as below.
Magical Girl Madoka ☆ Magica Animation Screening - Nico Nico Live Broadcasting

Magical Girl Madoka ☆ Magica Channel - Nico Nico Channel

According to the animation screening venue in the Nico Nico video "Magical Girl Madoka ☆ Magica" the next delivery date is from 3 o'clock March 23 (26 o'clock) on March 24 as planned.

Originally "Magical Girl Madoka ☆ Magica" is a production station MBS (Every Day Broadcasting) is performing the fastest broadcast from 25:25 on Thursday, followed by TBS from 25:55 on Friday, CBC from 26:00 on Wednesday , The "Magical Girl Madoka ☆ Magica" channel of Nico Nico Douga was also delivered from Wednesday 27 o'clock the same week.

However, due to the occurrence of the earthquake and the special formation of the program accompanying it, after the 10th episode "I will not depend on anyone anymore" was broadcast on MBS on March 10, TBS on the 11th, CBC broadcast on the 16th I decided to pause. On the Nikoniko Channel, delivery was done on schedule.

And last week, we decided to stop broadcasting at MBS, TBS and CBC, and the episode 11 broadcast at MBS on March 17 and the tenth episode broadcast at TBS · CBC were closed. Distribution on Nico Nico Channel has not been scheduled to be suspended at the moment and delivery has already been carried out from Wednesday at 27 o'clock as scheduled, as already scheduled, and venues have already been prepared so that the latest talks are delivered ahead of all TV stations It is supposed to be.

As for the schedule of the suspension, it seems that it will be carried forward instead of transfer broadcasting, MBS will be broadcasting 11 episodes on March 31 and 10 story on March 30 at MBS. . Details on TBS are unknown.

A new program starts from AprilIn some cases, the influence of special formation accompanying this earthquake seems to start greatly in the beginning of April.