TEPCO announces that it is expected that the planned blackout will be implemented tomorrow as well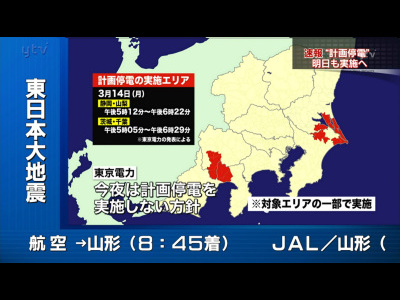 TEPCO announced that it is planned to planned blackouts in five groups tomorrow depending on the supply and demand situation of electric power.

Details are as below.

2011/03/14 21: 53 Add, scheduled for March 15 (Tue) is "Time zone and area group list when TEPCO's scheduled blackout will be implemented on March 15th"Please refer to.
2011/03/14 20: 40
According to the situation of supply and demand of electric power, TEPCO announced that it is planned to planned blackouts in 5 groups between 6:20 and 22:00 of electricity reception tomorrow, divided into five groups.

Today's planned blackouts took place in the following areas.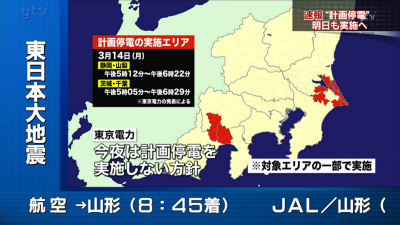 2011/03/14 20: 46
Tomorrow's planned power outage seems to be done as follows.
6: 20 ~ 10: 00: Group 3
9: 20-13: 00: Group 4
12: 00-16: 00: Group 5
15: 20 - 19: 00: Group 1
18: 20 ~ 22: 00: second group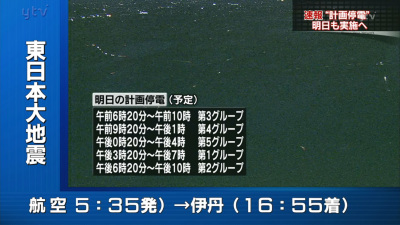 2011/03/14 21: 00
TEPCO's planned power outage 15 days to implement NHK News

TEPCO, in response to the Tohoku Great Kanto Earthquake, plans to stop electricity supply "planned blackout", if there is a danger that the demand for electricity will exceed supply, we divided into five groups on the 15th, We are announcing that it will be carried out between 20 minutes and 10 PM. Tokyo Electric Power Company is taking a planned blackout in some areas of the pipe on April 14, saying that it became difficult to secure the necessary electric power in the Tohoku Kanto earthquake.
in Note, Posted by darkhorse_log