For people who can not return home due to the Tohoku Region Pacific Offshore Earthquake, free open space in Tokyo Summary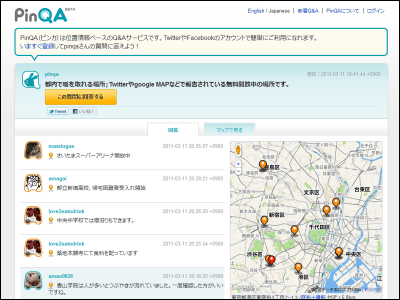 Tohoku district Pacific offshore earthquake occurred before 15:00 todayAre still affected by many people in the metropolitan area as well as Miyagi prefecture, Aomori prefecture, Iwate prefecture, which are close to the epicenter due to the fact that further aftershocks continue and further tsunamis are also expected. If the house is nearby to some extent, you can walk home, but it is expected that there are quite a few people who are not.

NTT Resonant'sPinQA (Pinka)The information of the place where you can get warm which is currently open for free for those people is summarized.

In addition, evacuation center information of Miyagi prefecture, Iwate prefecture, Aomori prefecture and evacuation place at the time of flooding in Tokyo are gathered together, so please look through those who need information.
Where you can get warm in Tokyo; it has been reported on Twitter and google MAP etc .. [Minato Ward r: 5.8 km] - PinQA (Pinka) Location Information Q & amp; A

Tokyo evacuation area - Google Maps

According to contents currently being summarized, the following places are currently open for free. It seems there are many places that are not summarized here. Since the link destination is made for traffic access, please refer to those who do not know the direction.

·Rikkyo University(Ikebukuro): Distribution of food is being done
·Aoyama Gakuin University(Aoyama): Information that there are already many people
·Sophia University(Yotsuya)
·Meiji UniversitySurugadai
·Akihabara Schatzkiste: It is scheduled to be open from 7 o'clock to 8 o'clock in the morning
·Tsukiji Honganji(Chuo Ward Tsukiji)
·Shinagawa Prince Hotel
·Tokyo Metropolitan Shinjuku High School
·Saitama Super Arena(Chuo Ward, Saitama City)
· Denny's each store: (It is said that opening of the toilet and provision of beverages will be carried out as soon as safety can be confirmed at each store)
·Shinjuku Imperial Garden
·Academic hall(Jimbocho)
·Eurospace(Shibuya)
·Tokyo Metropolitan High School(Sumida Ward Koto Bridge)
·Access Tokyo Metropolitan Asuka High School(Oji Kamiya)

Currently, all the metropolitan high schools are accepting and major universities, theaters, hotels, etc. are dealing with it.

Also, evacuation centers when the flooded inside of Tokyo are summarized below.

Refuge evacuation center in the center of Tokyo Metropolitan area PinQA (Pinka) Location information Q & amp; A

The evacuation centers in Miyagi, Aomori and Iwate prefectures are summarized below.

Evacuation center related to Miyagi prefecture offshore summary PinQA (Pinka) location information Q & amp; A

As it is expected to cool down so much, please do not force to walk home with difficulty going home, share information and try to spend the night well.