KDDI improves speech quality to 1.4 times higher than before, to realize even higher-quality calls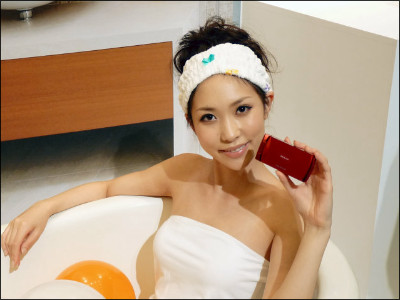 Announced that KDDI will raise the quality of voice calls to 1.4 times higher than before.

It is said that it will be possible to realize high-quality phone calls, so it seems that everyone, such as businessmen and elderly users who often talk in crowded places, will benefit from it.

Details are as below.
Improvement of call quality on au mobile phone | 2011 | KDDI CORPORATION

According to the press release of KDDI, the company will introduce new technology "EVRC-B" to the base station equipment from February 25 tomorrow.

"EVRC-B" is a technology capable of transmitting voice information equivalent to conventional 1.4 times at the current transmission rate, to realize higher-quality calls. Approximately 90% of the evaluators also say that "Quality is equal to or better than before" even in the quality evaluation that the company carried out in-house.

This is the usage image of "EVRC-B". By increasing the compression rate of audio data than before, it is possible to make calls with higher sound quality without changing the data transfer speed.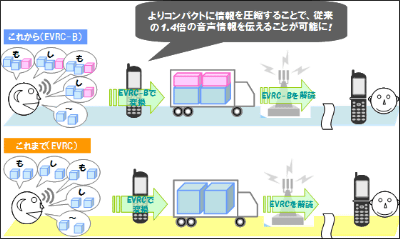 The models that have been compatible with "EVRC-B" at the present time are as follows.


REGZA Phone IS04, IS05, SIRIUSα IS06, T005, T006, SH011, G'zOne TYPE-X, EXILIM Mobile CA006, BRAVIA Phone S005, Cyber-shot Mobile S006, K006, K007, Simple Mobile Phone K008, mamorino2, X- RAY, G11, E31T

Below are the models scheduled to be supported by software update, such as mobile update.


IS03, biblio, T002, T003, REGZA Phone T004, AQUOS SHOT SH003, SH005, AQUOS SHOT SH006, SOLAR PHONE SH007, AQUOS SHOT SH008, SH009, AQUOS SHOT SH010, EXILIM cell phone CA003, EXILIM cell phone CA005, BRAVIA Phone U1, Cyber- Shot Mobile phone S003, BRAVIA Phone S004, SA001, SA002, mamorino, beskey, URBANO BARONE, URBANO MOND, Easy mobile phone S PT001, PLY, LIGHT POOL, E08T
in Mobile, Posted by darkhorse_log