3 TB HDD, selling down to nearly half for less than 3 months


Although it was released in mid-November last year,3 TB HDD that was not expensive as a flattering priceIt has been revealed that it has fallen to nearly half the price in less than three months of release.

The 2 TB model has entered the 6000 yen rangeAlthough it is not cheap yet, I am surprised by the speed at which price falls.

Details are as below.
Price .com - WESTERN DIGITAL WD30EZRSDTL [3TB SATA 300] Price comparison

According to the major price information site "price.com", the Western Digital 3TB model HDD "WD30EZRSDTL" which was accepted for reservation at 27,800 yen in November 2010 is about 46 as of 02:00 on February 5, 2011 It is sold at 10,480 yen which decreased as much as%.

The price fluctuation graph for the past 3 months is like this. At the end of January, it finally falls from nearly 20,000 yen to nearly 15,000 yen at a stretch.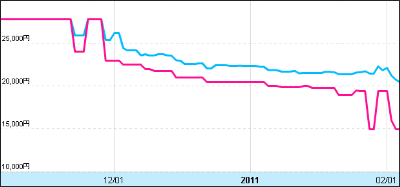 Incidentally, when dealing with recording media of 2 TB or more, compatibility problems occur on many personal computers, so if you are considering purchasing,Check compliance statusIs very important.