KDDI's "IS03" recorded a steady startup, the subscription rate of the discount plan "IS flat" also performed well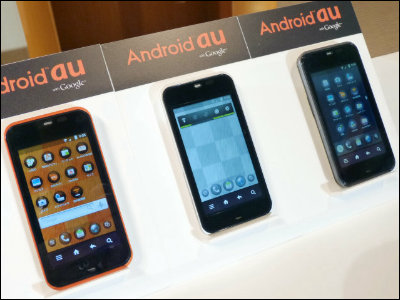 KDDI today announced the settlement of accounts for the third quarter of 2010 (October - December 2010).

I am concerned about the sales of au's first Android smartphone "IS03" released on November 26, but in addition to revealing that I recorded a good start,New price plan "IS flat" for which the packet usage fee becomes cheaper, The effect of measures launched together with the catch phrase of "Android au" is clarified.

Details are as below.
Accounting summary. On a consolidated basis, net sales declined minus 0.5% compared to the same period of the previous year, and operating income decreased by minus 1.3%. The total sales of smartphones "IS01", "IS02", "IS03 (released on 26th November)" and "IS06 (released on 23rd December)" sold during this period totaled 390,000.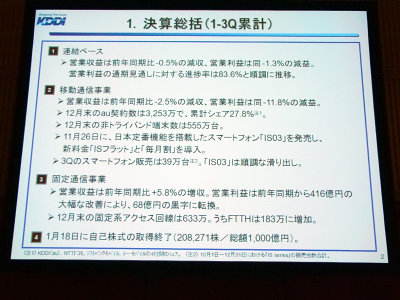 Initial trend of "IS03". There are many users in their 20s to 30s, and male users have reached 70%.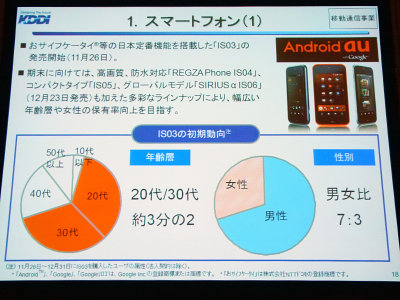 "IS 03" user's "IS flat" contract rate reached 86%. In the case of a model change user, ARPU (sales per subscriber) of data is increased by about 40%.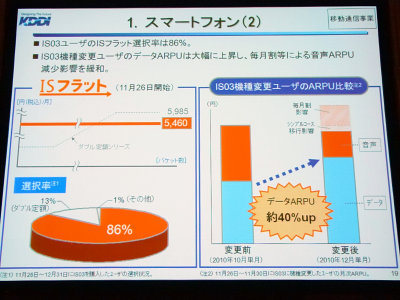 Approximately 30% of users download Skype that appeared as "forbidden app". Even in the popular application ranking, it is second only to LISMO.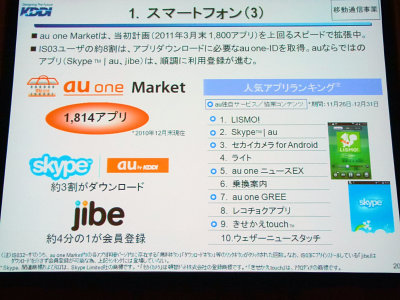 The question and answer session conducted at the financial presentation meeting is as follows.

Nikkei Newspaper Horie:
What is the outlook for smartphone for the current term?

KDDI:
We expect to be less than 1 million.

Nikkei Newspaper Horie:
Factors of increased sales of fixed business?

KDDI:
Two companies acquired overseas are affecting the increase in sales.

Takai of the Nikkei Newspaper:
Is the voice ARPU itself not depressed? Also, were you expecting growth in data ARPU?

KDDI:
Thanks to 'IS Flat' for rising data ARPU. The influence of Voice ARPU is as expected, although it is decreasing with the shift to monthly rate and simple course. 86% think that selecting the IS flat is the content as expected, but since it is still at the stage of the initial trend, I would like to watch over the future.

Q:
Although not directly related to performance, is there any intention to acquire own shares

KDDI:
From the conclusion it is not decided at the moment.

Q:
Although ARPU growth is more than expected, when will data exceed voice

KDDI:
With internal prospects, I think that the data and voice ARPU will reverse in the coming year. I think that the total ARPU will rise.

Reuters Communication Company Murai:
It is estimated that the sales volume of smartphones is 1 million units, but what is the cumulative sales volume?

KDDI:
Although it was estimated that it will be several hundred thousand in the second quarter, we are planning to introduce a new model in the future, and we anticipate a total of less than 1 million.

Reuters Communication Company Murai:
It is said that there were a lot of model changes, but what are you thinking about the prospect of acquiring new contracts

KDDI:
Honestly speaking about the condition in December, there was an aspect not reaching new users, as the reservation of model change users was rushing and "out of bullets" occurred. By the way, 92% of users who purchased "IS03" at the moment is a model change. Since we will introduce new models in the future, we believe that new contracts will increase.

Toyo Keizai Kuwahara:
NTT East and West announced price cuts for optical fiber connection fees, but I would like to ask your frank impression

KDDI:
As we perceive ourselves, we believe that proper judgment is being made about the price itself itself.

Toyo Keizai Kuwahara:
Do you consider how price cuts of connection fee affect business and are considering price cut of optical fiber to users?

KDDI:
We have not calculated the impact on our company, but we believe that price cuts will work positive. Since we are considering thinking about what is attractive to users including services, there is nothing decided at present.

Freelance Ishino:
I feel that usage rate of Skype is low, but will you try to increase the download rate in the future?

KDDI:
It is the impression that the download rate is high compared with the original plan. Because it is used by users of the high ARPU layer, the impression of reasonable start-up.

Freelance Ishino:
I would like to ask you what you are thinking about Verizon's iPhone.

KDDI:
I'm sorry, but for the iPhone I'd like to say "no comment".

Ishihara of freelance:
Verizon has released four LTE-compatible smartphones, will you beat LTE ahead of schedule?

KDDI:
Since it will be possible to use radio waves in the 800 MHz band from July 24, 2012, there is no plans to schedule the schedule of December 2012 scheduled to start LTE service also from the test relationship.

Imura of NHK:
Although I feel that it will be more difficult to extend profits the more you introduce smartphones, what do you think about growing profits?

KDDI:
Currently ARPU is declining, as this was the slowest transition to "simple course" compared to the other two companies. Although smartphones originally have a high data ARPU in the first place, I think that data ARPU and voice ARPU will be reversed next fiscal year, and ARPU will be positive again next term.