Interview picture with valuable Japanese translation of young Facebook CEO Mark Zuckerberg of movie "social network"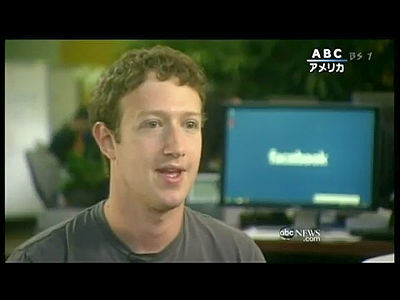 Approximately 500 million people (shortly600 million peopleThe world's largest SNS boasting the number of users of "Facebook"It is the CEO of the 25-year-old at that time, ranked first in" the youngest world's youngest billionaires "announced by Forbes in 2010, with estimated total assets of about 4 billion dollars ( About 330.4 billion yen) ridiculous programmer, that isMark · ザ ッ カ ー バ ー グHe is.

Currently released movie "Social network"Although it is made to film the early episodes of this Facebook founding based on fact to some extent, there are also many parts that are different from the movies, various funny funny exaggerations, and facts .

So, in fact, there are a lot of interviews done on Facebook who are young CEO Mark · ザ ッ カ ー バ ー グ, and in abroad there are many interviews, but in Japan there are few, so watch the valuable interview with Japanese translation Let's. Playback is from the following.
First of all, the movie trailer is here.

YouTube - January 15, 2011 Published "Social Network" trailer "The Social Network" JP trailer


And the following are Real Mark's Zuckerberg.

YouTube - Young CEO of フ ェ イ ス ブ ッ ク Mark · ザ ッ カ ー バ ー グ.


The privacy problem that comes out in the above interview movie is the so-called "Beacon problem", and you can read the following article on the point of "What is Beacon?"

What is "Project Beacon", Facebook is announcing Tuesday? Medium coverage of coverage

Facebook changes online brand advertisement

In short, although the information on what you bought was released as a missing or advertisement was displayed based on it, it can be changed once by setting, but in the initial setting it is fully disclosed and the change setting window is also opened for a few seconds Because it was a ridiculous specification that it disappears at the end of the day, the advertiser was forced to evacuate, and the policy had to be forced to withdraw.

Advertising partner escaping with Facebook Beacon's privacy disturbance - ITmedia News

The new advertising system "Beacon" recently released by Facebook by social networking service (SNS) bought the anger of thousands of users. In the Beacon system, there were cases in which even information not wanted to be known to friends was released.
Now that Facebook is becoming the world's largest SNS, it means that it is never a success.

Also, Mark Zuckerberg said "It seems that you are still coding the product program?Even now it seems that he is still at the forefront of programming to some extent, and indeed, in the movie it is only drawn on Facebook, but also free software was developed It seems.

Facebook founder, what kind of person is Mark Zuckerberg? (Part 1) - CNET Japan

Mark Zuckerberg was born in 1984 and grew up in a town named Dobuus Ferry located in the outskirts of New York. According to the article by Time magazine "Person of the Year", the father was a dentist and the mother was a psychiatrist, but he left the job to help the husband of the practitioner. My father depicts Mr. Zuckerberg as a child as "a strong-willed child." In the previous article, I wrote that the Harvard era was computer major, but also psychology major. In the era of Phillips Exeter Academy, he developed free software for music playback called "Synapse Media Player" with friends, Microsoft and others were interested at that time (formal transaction was not done).
In the play, the software "Synapse Media Player" which had been washed off was seemingly downloadable although the development is now stopped.

Synapse Media Player - Free software downloads and software reviews - CNET Download.com

This software has a fairly intelligent function that tells us the songs played by the user and the playlist to recommend the next song to be played back, so if you say something similar to the one on iTunes Choose "GeniusThat is the same function that we realized from that long ago. From this also he himself is a pretty good programmer and it can be guessed that the skill of such a skill will be demonstrated to the shadow of Facebook's own success.

The following interview is detailed about the circumstances such as why I started writing programs.

Adam Penenberg x Mark Zuckerberg (founder of "フ ェ イ ス ブ ッ ク") - VIRALLOOP.jp Book "Viral Loop" Official Site

- Why did you start writing programs?

Mark · ザ ッ カ ー バ ー グ ("ザ ッ カ ー バ ー グ") It was around the sixth grade of elementary school or the other time that I got my computer for the first time. Soon afterwards, I was interested in "What kind of work is going on" and "What kind of work does the program doing" and started to write code on my own, and I stepped into it steadily.

- Why try disassembling the computer apart?

Rather than the Zuckerberg hardware, I examined the origins of the software. I often hear people talking about disassembling the radio and reassembling it or trying to disassemble it anyway. But I was more interested in why the program is working, rather than such a thing.

- Programming self-taught?

Zuckerberg yeah. Buy a manual, do it by trial and error alone, catch people and ask questions.
- On other sites, it's always a great deal to expand the scalability (to increase the processing capability according to the rapidly growing users), why did you expand easily with フ ェ イ ス ブ ッ ク?

Zuckerberg I think that there were only 2 or 3 really important aspects. That first time was launched. Since I had not established a company yet and I had no money, I sold advertisement to make money to buy a server to increase the target school. Nevertheless I knew that the throughput would be full, so I wrote a program to prevent all users from logging on at the same time. Thanks to that, I suppressed much of my own growth. But, that's why we did not go down the system while continuing to grow.

- If you can market for people's correlation, it will become an extremely advantageous weapon for any company. Can you explain about that?

Zuckerberg I think that the basic idea of ​​フ ェ イ ス ブ ッ ク is a phenomenon over people's involvement. The truly important thing is that it was a message from whom it was rather than receiving some kind of message from someone. If you truly trust a message from a person, you will listen carefully. On the other hand, messages from unreliable partners may rather read the content. Because, I do not trust him. I think that is the root of the value of using this site.

See someone's profile and know that you like something brands. I think that is more meaningful than seeing the brand's advertising billboard. We found a truly organic way of earning money, keeping the company alive, and matching these interests.
Furthermore, as you read the following interview, it is gradually becoming obvious that things such as his own way of thinking are evolving, from the first appearance depicted in the movie, it is growing up with various experiences I understand.

Live from D6 - Talk about Mark Zuckerberg and former Google COO, Sheryl Sandberg, Facebook

Swisher: What is Facebook? Try defining Facebook.

Zuckerberg: I ​​think that Facebook is helping people to share information and intimate each other at the same time. Facebook helps people open their personality and share some of them with each other - yet they have complete control over their privacy - they are building services.

Swisher: What inspired you to think of Facebook?

Zuckerberg: It has been four years since we started Facebook. AOL was your first inspiration. I tried various experiments through the chat room on the AOL platform. For our friends I often studied programming at AOL.

Swisher: I moved to Silicon Valley and soon became the focus of attention, did not he?

Zuckerberg: Since 30 universities came to use FB, we decided to come to California during summer vacation. There are lots of famous companies such as Yahoo along the No. 101 (El Camino Real Road) - I thought that I could visit some places.

At the end of summer vacation, Zuckherberg and some of his colleagues decided to take a leave of Harvard and remain in California. Eventually the university decided to drop out.

He was taking Harvard 's "Classes of the Emperor' s Art of Augustus" class, but he said he never attended. I thought I wanted to get out, but I made FB instead. A few days before the class' s last lesson, we succeeded in finishing out tools that everyone can upload and share photos and information. Moreover, it said that the unit was taken.

Swisher: At the beginning of this year I made a large funding and you just decided to keep my CEO after myself.

Zuckerberg: The role of CEO is to recruit talent by making company vision. We have not realized that vision yet. Recruitment of talent continues.
Zuckerberg, Y-Combinator speaks a lot about the past and the future - "Failed through the Facebook flow"

Q: I want to ask you a little while ago. What did you do before Facebook? What did you learn there?
A: Generally, I made something I liked. I came to go to college and handled various programming. By the way it has such a story. I was making Facebook for the week before the final exam and I have not studied at all though there is a lecture that I can not drop. In the art class. I had to find out about various works of art. A few days before the examination, even if it did, I did not do anything yet. So I made a site, uploaded images of artworks, asked everyone to write commentaries. Then this became a useful study tool for everyone receiving that lecture. Everyone wrote down the lecture notes and the information he found himself. After the exam, the professor said that the results of this class were better as we saw it rarely in the near future. This is my first social experience. The thing I wanted to do first on Facebook was to open more Harvard universities and other universities.
Q: Please tell me about the past failures.
A: Where shall we start? (Think a little) What kind of story do you want to hear?
Anyway at first it was not even a company. I started Facebook with my friends at Harvard, but they were very smart but the seriousness of how we approach Facebook has not changed. There were a lot of friends who are going away from going away when moving to Silicon Valley. That's why the original founder group was dismantled at this time. I do not feel like touching business oneself at all. Eduardo founded a company called FloridaLLC. I do not know well what kind of thing was still wrong, but when I came here, a lawyer told me to do it all over again, saying that he could not do it. Certainly we did not think at all at all that business would grow to such a scale. Anyway, I wanted to provide something useful. However, instead of choosing an open university which Facebook seems to be comprehending, we have chosen the most closed university in the United States. We brought Facebook first to Stanford, Colombia and Yale. A traditional community has already been established in such universities. As Facebook began to gather popularity at these universities, we realized that this is probably worth doing seriously. Our colleagues are passionate about burning passionate about making great service that is useful. In Silicon Valley there are many cases in reverse. It is also becoming a joke. I want to make a company but to make a company, but it is an example that there is no value to offer. We tried to provide valuable service.

Q: There is a startup dilemma there. It is said that value will not come if users do not increase. (Chicken and Egg problem)
A: Facebook is essentially a service that spread in word of mouth. Various sites have a friend list import function from external sites and networks, but in fact it is not very useful. It became a really useful feature on Facebook. However, it took a few years since I started to add a tool to import friends from outside sites to Facebook. This helped attract a huge number of new users. Until then it had only spread little by little at the campus trip. It is surprising to think from now but only when most of the students requested it was opening Facebook for that university. At that time, we had no money to open Facebook at all universities. We rented a server for $ 85 a month and increased it one by one as needed. When opening at Dartmouth College, half of all students registered for the first night.
Q: Have you learned to run a large company?
A: I do not feel like I've learned so much. (Laugh). But the smaller the technology company the smaller the faster you can move. Even if it gets larger, it has to be able to move freely as it was when it was small. Otherwise the power of inertia will gradually win. When I last came to this start-up school, I said to you, there are people who preach that they are impossible, this is the reason for this, but this is the reason behind such sermons It was that it should not be inclined. It seems that it seems that it was transmitted as if it was departing from context and walking alone and that I denied the value of experience, but that is not the case. I do not misunderstand because you think people you are here are those who are determined to do something everyone else.