TOHO CINEMAS, in some prefectures, we reduced the viewing fee of 18 years old and over to 1500 yen, and also introduced a net discount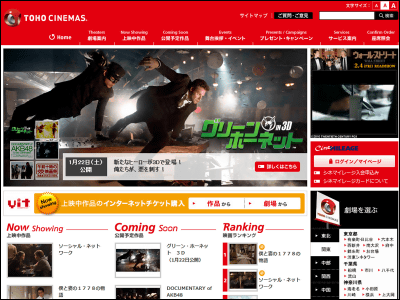 A major cinema complexTOHO CinemasHowever, it seems to change the viewing fee in some prefectures.

According to the interview to TOHO Cinemas, now it is a system of "general 1800 yen, large and high school student 1,500 yen, middle and primary school students 1000 yen, infants 1000 yen", but this is basically "18 years old and over 1500 yen, under 18 years old 1000 yenIt is said to be in the form of.

Details are as below
TOHO CINEMAS - a comprehensive information site of movies including movie theater information, screening schedule, work information, Internet ticket sales
https://www.tohotheater.jp/

According to the interview to TOHO Cinemas, it is planned to change the viewing fee structure in some prefectures.

The basic part is "1,500 yen over 18 years old, 1000 yen under 18 years old", "Senior" who was over 60 years old will be changed to "Senior 65" for 65 years old and over. Also, it seems that Women's Day will not be set in units of "day", and if you are in the morning you can appreciate at 1300 yen.

Also, if a cine mileage member makes a seat reservation from the Internet, it will introduce a net discount that will be reduced by 100 yen. Incidentally, it seems that settings such as First Day will remain intact.

According to TOHO Cinemas, "I want many customers to enjoy the movie without being caught by sex and age in a good environment", and it will be investigated what kind of shape meets the needs of visitors It seems. Introduction will be introduced by Tochigi (TOHO Cinemas Utsunomiya), Yamanashi (TOHO Cinemas Kofu * Opening Spring 2011), Nagano (TOHO Cinemas Ueda * Spring 2011 Open), Hiroshima (TOHO Cinemas Midori), Nagasaki (TOHO Cinemas Nagasaki), Kagoshima (TOHO Cinemas Yojiro) in six prefectures.