Headline news on 18th January 2011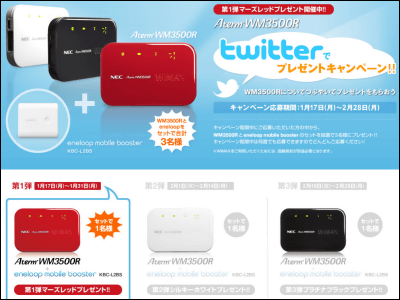 NEC access technica will be the longest in JapanA Twitter-linked campaign to present a mobile WiMAX router "Aterm WM 3500 R" capable of driving for 8 hours and a mobile battery "eneloop mobile booster (KBC-L2BS)" as a setIt was started.

Entries are only murmuring why they want to follow their gift campaign accounts or murmuring campaign sentences, with Mars Red on February 1st in Monday, January 17 (Monday) - January 31 (Monday) The second bulletin from Tuesday (Tue) to February 14 (Monday) is Silky White, the third from February 15 (Tue) to February 28 (Monday) Platinum Black ... Different body color models will be presented to you.

By the way, GIGAZINE of one year ago wrote such an article.

A famous voice actor famous for Dazzle and Zabi and Robin Mask, Mr. Daisuke died, doubt of suicide also - GIGAZINE

A series of cats that have forgotten the wilds sequentially - GIGAZINE

GAME & WATCH mini solar key holder "faithfully reproduces old-fashioned pocket game machines, keeps moving forever with solar power - GIGAZINE
◆ Story (memo · various others)
As people move, ZOGKO also moves! Movie to move Gundam with motion capture by Kinect

Will it be possible for Real Plazo Kyoshiro to do things, this is!

◆ Society, Politics, Economy (Incidents · World News · Business)
Yamagata Univ., A new Nazca ground painting discovery human head and animal seen as two points | Yamagata Shimbun
"If you show it to an unknown person, it seems to be said that it is a spirit photograph

Asahi.com (Asahi Newspaper): Akiba Hoco Heaven, Cover of Resurrective Countdown Signs Removed - Society

The resumed pedestrian heaven will be held from 1 to 5 pm on Sunday afternoon (from April to June at 6 pm), about 600 meters from the Chuo street interchange at Okuda 5-chome. We will conduct it experimentally until June and continue if there is no problem.

Arrested Morioka Station, 32-year-old man suspected of nakedness on Shinkansen deck - 47 NEWS (Yona no News)

According to the Iwate Prefectural Police Department, the station staff found and reported that Tezuka suspected that he was throwing away the jumper, jeans, and the like from his car to his home. Hayato started about 10 minutes behind.

Tezuka was scheduled to return to Yamagata from Koriyama (Fukushima Prefecture) in search of the prefectural police, but he took a wrong ride and said he was frustrated with his own illness.

◆ Lifestyle (life, life, health)
Whether job hunting or not going well depends on the environment and parents that are put in mind ... I feel bad ... - Yahoo! Chiebukuro
While there are opinions that it relates to the environment in which it is also placed, it is also the opinion that "doing so by doing so is the primary reason why job hunting does not go well".

◆ IT · Gadget (Net · Soft · Hard · Mobile)
Announcement about "Mobile Update" of au mobile phone "IS03"
The problem related to e-mail related problem is resolved and the layout of call screen is changed

◆ Anime · Game · Manga (Subcar)
"K-ON !!" Live event Second Priority Winning & Disapproval Report Kita ━━ (゜ ∀ ゜) ━━ !!!!!! | Yao!
Some of the defeated people have ten times or more "people who could not prepare tickets"

◆ Sports · Entertainment · Music · Movie (Entertainment)
"No friends or even one" Kenta Nishimura Akutagawa Award - Sponichi Annex Society

"I also do not usually talk with anyone, neither have any friends."

Notice from Ota Productions | Atsuko Maeda Official Blog Powered by Ameba
AKB48'sMaeda AtsukoIn spite of the appearance of a spoofing blog, Ota production at the affiliated office is alerted on a real blog

◆ New product (clothing / food / housing)
We offer Kentucky 's classic sandwiches at just the most expensive set price!
"Kentucky's Sand Campaign" Started February 3
"Japanese style chicken cut sand set", "Chicken fillet sand set" is only 500 yen each now,
Sand and chicken together Launch "Pair BOX" which is perfect for their two meals
Unusual in Kentucky, a set of one coin appeared

· Previous headline
Headline news on January 17, 2011 - GIGAZINE