Final Final 13 "Final Fantasy XIII-2" will be produced and released will be released in 2011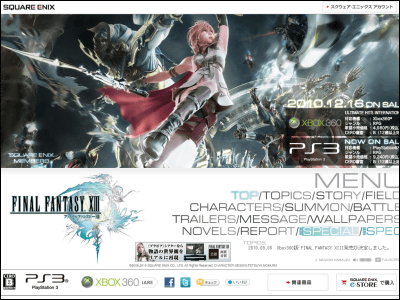 It was released as PS3 software on December 17, 2009, and in March 2010 it was released in overseas for PS3 and Xbox 360, the latest version of Square Enix's popular series "FINAL FANTASY XIII (FF 13)To be a sequel to "FINAL FANTASY XIII-2"Was announced.

The release is scheduled for this year, it is content that reflects the opinions given to FF13.

Details are as below.
4GamerLive (4GamerLive) on Twitter

SQUARE ENIX 1st Production Department Conference live broadcast! - Famitsu.com

According to "SQAURE ENIX 1st Production Department Premiere" which SQUARE ENIX is doing today, it seems that "Final Fantasy XIII - 2" will be released for PS3 and Xbox 360 as a sequel to the requests of fans all over the world. The release is planned for 2011, director Tori Toriyama is in charge of the director as well as FF13.

Mr. Toriyama said, "Development is progressing smoothly", though the opinion that "Route is one main road" was given to FF 13, "After resolving various opinions received in FF 13 I am doing my best to make it an answer. "

The title "FINAL FANTASY Agito (Agito) XIII" for PSP will be released in large volumes of UMD 2 set at the summer of 2011, after changing the title to "FINAL FANTASY 0 type". And it is said that "FINAL FANTASY Versus XIII", which is said to be paired with FF 13, has become a work as if set in Japan.
in Game, Posted by darkhorse_log