Noitamina Staff meeting roundtable in 2011 news, what made it because it is noitamina, what I could do without a noitamina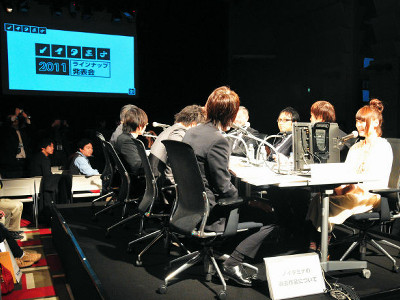 Noitamina New Line Release PresentationIt is donePart 1,Part 2I wrote an article twice, the end is the appearance of a round table held as the second part.

From Hakuzaki and Hanazawa Kaori from "Fractal", Director Aoi from "Wandering Son", Director Kenji Nakamura from "C" and Mr. Takashi Hashimoto, "We do not know the name of the flower I saw that day" Directed by Ryuki Nagai and Shiga Tanaka. As a special guest here, Yukihiro Yamamoto, producer of "Noitamina" frame joined, we did a dark talk that I could not believe it was delivered very well on Ustream.

Details are as below.
A long table was placed in the center of the space where the recital was held before before the roundtable started.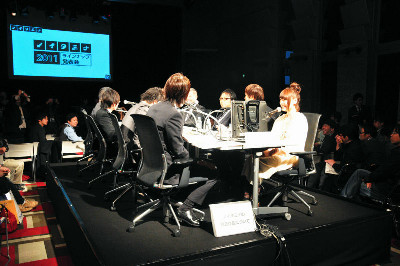 The theme given by Yoshida Naoji announcer of the host is "Thinking about the Noitamina Frame". As a result of having trouble talking from whom, the first target is Mr. Kana Hanazawa.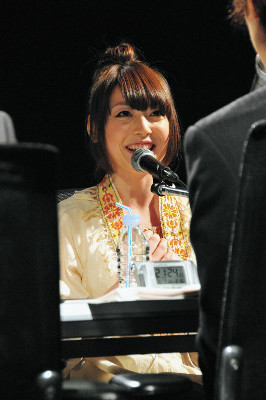 Hanazawa:
Is it noitamina ...... It is a place of yearning.

Yoshida:
A place of yearning. Is not it cool as it enters the University of Tokyo?

Hanazawa:
That's right, I have always been watching the Noitamina frame.

Yoshida:
What were you looking at?

Hanazawa:
It is Hachikuro.

Yoshida:
Mr. Nagai, that's Hachikuro.

Hanazawa:
I was looking forward every week. "Princess Maritime"When I did it, I was glad that usually friends who had not watched cartoons said" I saw you ".

Yoshida:
Well, if you are a university, some people do not see people who watch animation.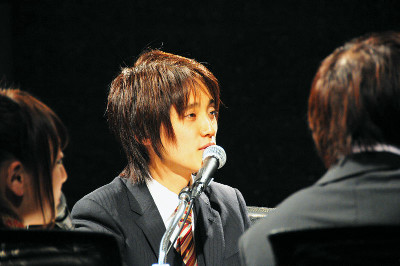 Hanazawa:
Because I am watching my grandpa.

Yoshida:
(Princess Maritime Princess) As a work I feel I do not know pretty dark story.

Hanazawa:
No, no doubt it is a work that everyone can enjoy.

Yoshida:
Grandpa said, "Angel Beats!Were not you seeing it? (Mr. Hanazawa appeared as an "angel" role)

Hanazawa:
I wonder if I did not see it ... ....

Yoshida:
Excuse me for showing the story of another world to someone close to the other world ...

Hanazawa:
What a thing! (Lol)

Yoshida:
East also "Angel Beats!" ...

east:
I'm watching "Angel Beats!"

Yoshida:
By the way, I'm also of course watching.

Hanazawa:
"Angel Beats!", It has nothing to do with Noitamina.

Yoshida:
Because I am told that I can tell you what I am today.

Hanazawa:
Is that so, then I too. "Tora-dora!"I like it.

Yoshida:
Noitamina has a feeling that you are doing a different thing from the person who sees animation.

east:
Because I am an outside person, I feel like "You can do something like this with noitamina."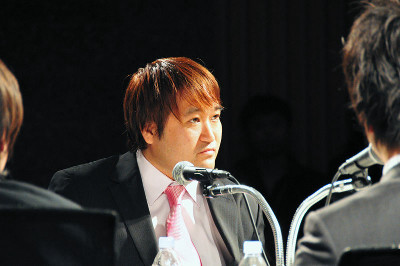 Aochi:
Actually, I did not decide to do with Noitamina at first. Although it was planned to do with another frame, although it is "Doing with an ordinary animation frame it is not going to work as a project, do not you do it with a solid frame?" Talking about it, Aniplex's Ms. Shimizu asked Yamamoto (Koji) to talk to him.

Yamamoto:
Mr. Shimizu answered "Yes, because it is a plan that can not be done without Noitamina", so yes.

Aochi:
At that time I did not expect to be able to do with Noitamina, I said that I should do it but I was glad. I also saw works of Neutamina.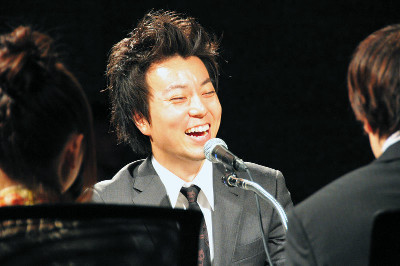 Yoshida:
By the way, I'd like to ask about who you were watching.

Aochi:
I was thinking that I would definitely see you when I was watching Nakamura Kenji's work.

Nakamura:
I also wanted to meet Aoki, I met for the first time today, but suddenly I said "I wanted to see you" with the first voice. I am still a bit nervous still now.

Yoshida:
I think that one of the images with impact was "Nakamura's" aerial swing "from the situation of several years past.

Hanazawa:
"Airborne swing", it was fun.

Nakamura:
Thank you very much.

Yoshida:
In "Airborne swing", it was a very experimental video like a half live-action picture, but is not it scary to put out something like that on TV?

Nagai:
I could not have done such a bold picture composition with me.

Yoshida:
I do not really understand this but seriously or praise (laugh)

Nagai:
I am serious.

Nakamura:
Thank you very much, Mr. Yaenaa.

Yamamoto:
I do not know what Mr. Nakamura thinks. I gradually understand what I was saying at the time of the scenario, but I do not know until on air.

Yoshida:
Do you feel like goin 'in seeing the picture?

Yamamoto:
It's already broadcast a bit. I want you to see the difference in how the picture moves with "that flower."

Nakamura:
Even though it is flowing in Ustream, Mr. Yamamoto does not change as usual, I feel that a dangerous feeling is coming out as it is.

Yoshida:
From the team who is doing video production, is there no hurdle in shouldering the team?

Nakamura:
There are hurdles. But, since things I did it will flow (on the air) .... It will return if it is fine adjustment or small things, but at the timing of returning or not returning, as long as you are in your own strike zone, it will remain. Because I do not know how it echoes to users. So I'm sorry, I'm sorry if I wrote the impression "On the air!" Basically, I think that I will do my best for my work.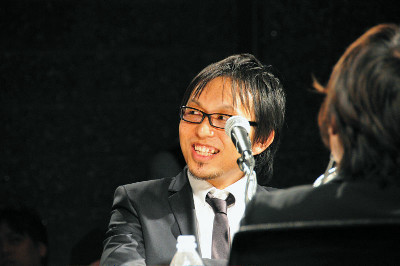 Yoshida:
Mr. Hashimoto says that I heard that for the first time.

Hashimoto:
I have never heard of it, but as the story gradually enters deeply and its shape changes, it is hard to keep up with it. Although the picture may be crushed on television, I talk while drinking things like trying.

Nakamura:
As expected three or four days later I thought "There is no such thing", I immediately called Mr. Hashimoto and said "Without that".

Hashimoto:
There is no telephone. If there is no mail, and I notice it, the CG group is doing other work so "Oh, is that so?" There is something.

Nakamura:
Oh, I see.

Hashimoto:
I was talking about strange things like caricatures that deteriorated more and integrated with the background, enlarging copies of face pictures of culprits in newspapers, or talking about doing something like that would be funny I was preparing. In that case, I was asked to come check from the CG group, and it was completely different if I went to see it. The director will make something good to choose with. There are many things that can not be said any more.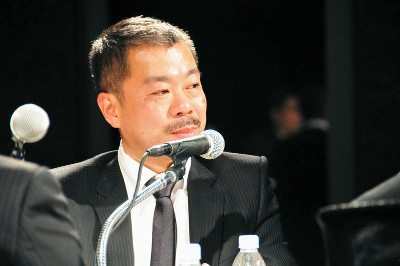 Yoshida:
I think that this is also the Nagai team ... .... Mr. Tanaka?

Nagai:
There is no such thing



Yoshida:
Director, I'm sorry, the director is a suspect.

Tanaka:
This person decides if it is early. Everything is also a meeting.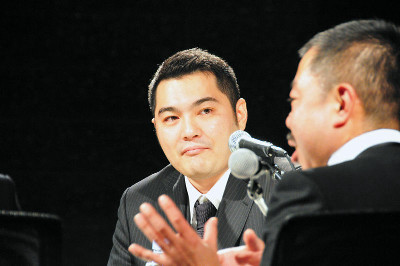 Yoshida:
"Tora Dora!" Has already started, and we have already made huge hit works with other frames, but those who make such works will get on to Noitamina. Aoki's work is like "I can not do it unless it is noitamina", is there such a thing? Mr. Yamamoto probably wants to say bad things.

Nagai:
If it was not Noitamina, it would be 12 or 3, but it was.

Aochi:
Certainly 11 are few. If there are two more ... ... there is.

Yamamoto:
It is often said.

Hashimoto:
"Aerial swing" was awful if there was one more story.

Yoshida:
Do you think that Mr. Hanazawa is short after all as it is 11 episodes?

Hanazawa:
Well, after all it is normal that there are about 12 episodes, it is short that there are only 11 episodes. I want to do something if I can do it.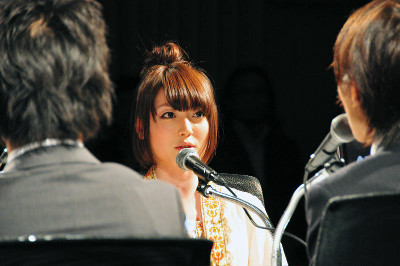 Yoshida:
In the case of "fractal", I do not know how (Nasa acting by Mr. Hanazawa) treats.

east:
I made Nessa as a very prominent character, but I do not know how Yamakan thinks.

Yoshida:
There is a slight crack on the team here ...!

east:
As long as you read the script, it stands out

Yoshida:
Do you have any rules like this if you are noitamina that you decide to do?

Yamamoto:
There is not it. I am thinking rather than trying to decide the rules widely rather than deciding rules. There is a thing that you want me to do essential things as much as possible.

Yoshida:
With regard to "Shiki" there is no such depiction as it can not be that work. As expected it is said that Neutamina could not do this too?

Yamamoto:
It is told to Mr. Nakamura "I want to do animation with Twitter linked" and how does it go? There was something.

Nakamura:
I think that this seemed to be somewhat related. Then Mr. Yamamoto says "Eh" or something, and when I noticed he was doing a novelty work of Noitamina at Ustream, I thought that this person responded quickly.

Yamamoto:
Even when we talk about money this time, I will try "Do you want to meet Horiemon?"

Nakamura:
Did you say that?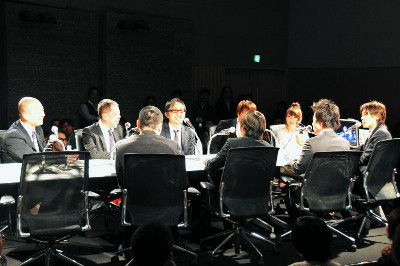 Yoshida:
Today, Timeline on Twitter is being operated by Mr. Sora of "Dada Leakage".

sky:
Various questions are coming on Twitter. Why did "Director Yamamoto (Hiroshi) return home?" There are, but I would like to ask this. "Is" C "behind the logo on the Tokyo Stock Exchange?"

Nakamura:
It looks like it.

Yoshida:
You can also ask a more funny question.

sky:
Have you managed anything about the nickname "ANA chan" of "Anoha?" I also have a question.

Nagai:
That is the biggest concern of Mr. Okada Yuri, as it was said that it will not become a story when you remove that one, it remains. The broadcasting code may be, but as I say it, I will gradually get caught.

Yoshida:
Well then, "Akachan" flows on the air?

Tanaka:
It was embarrassing for us to put it in my mouth, so I told you I was not forgotten, but I did not bend there.

Yoshida:
When meeting at a coffee shop or the like, the next person always keeps talking about 'ANATA', is not it? ...... Anyway, Mr. Hanazawa, I'm sorry.

Hanazawa:
It is true! (Lol)

sky:
Also, I wish you all a word about the Tokyo ordinance.

Yoshida:
Mr. Yamamoto, as for me I am thinking whether to answer by Mr. Yamamoto alone, or a person losing in Jangken answers.

Yamamoto:
No, this is to Mr. Toh ... ....

east:
I tweeted tweetly on Twitter, so I will do my best with Twitter.

Yoshida:
In the first place, there are no regulators in this industry, right?

Yamamoto:
Regarding Noitamina, I'd like to ask a little about what Mr. East thinks.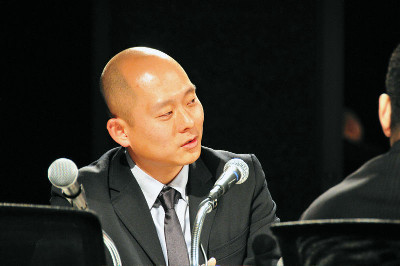 east:
It is an animation frame with no moe, right? Is not it like that? I am sorry for the unusual answer .... "Fractal" that was supposed to be done this time, the title was decided by the intention of Yamamoto director for quite a while. With that, I thought rivals were "East Eden". Though it is different now.

Yoshida:
I have been pushing quite a lot of time, but I would like to accept someone from the venue.

Question:
"My sister can not be this cute"There was a story that animator makers and original writers can tame up, but is there such a story?

Yoshida:
This ... ... How about a black cat?

Hanazawa:
stop it! (Laugh) (Note: "My sister can not be this cute" and Mr. Hanazawa plays a character called Black Cat)

Yoshida:
So, again, this is Yamamoto.

Yamamoto:
Differences in position may surfaced.

Yoshida:
What do you do after you do it?

Yamamoto:
It's about consulting the manager or consulting with your boss.

Yoshida:
Even in a world where you are doing only swinging swings, you have to talk to your boss, so what happens? After consultation ......

Yamamoto:
Passing to your boss.

Yoshida:
Somehow, at the end it has become like a hurting development by everyone. As time has become full, I will assume that the Noitamina new lineup presentation will end. Everyone, thank you.
in Anime, Posted by logc_nt