"Fate / stay night [Unlimited Blade Works]" which was able to enjoy Ginzuli on the Rin Route Preceding Screening Event · The state of the Osaka venue is like this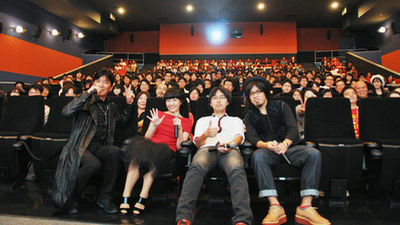 October 4 (Saturday) at 24 o'clockFate / stay night [Unlimited Blade Works]The broadcast started. thisThe first broadcast and the broadcast on October 11 (Saturday) are 2 hour continuous 1 hour specialThe thing was revealed at the preliminary screening event held on September 28th, but at the venue the talk approaching the work was done, so we will deliver that state.

"Fate / stay night" TV anime official website
http://www.fate-sn.com/

At Umeda Buru 7 where Osaka 's venue was, Kondo Hikaru Producer, character designer Toshiyuki Tabata, Uena Rina role Utoida role, Mr. Kenji Nanba as a guest appeared as a guest.



Kondo Hikari Producer (Kondo):
Thank you very much for coming today, I have finally reached where I can see. I'm looking forward to it while I am excited about the reaction I have seen.

Toshihide Tabata (hereinafter, Tabata):
It is Tabata Toshiyuki who was in charge of character design. On behalf of the staff who is still working, I came in with a feeling that I visited Osaka. Thank you for your time today.

Kana Ueda (Ueda):
It is Uenida Kana of role Tohsaka Rin. I returned to local Osaka. I am pleased to see # 00 in Osaka with everyone. Please enjoy yourself today.

Mr. Joji Nakada (Nakata):
It is Joji Nakata of Kenfen Kirei. Thus in Osaka "Fate / Zero - Fourth Holy Grail War Exhibition -"It is an honor to be back with us and seeing the opening of" Fate / stay night "as a" supervisor "with you all. I would like to thank you for your participation today.

Kondo:
Today we came to visit Father and Rin and we made Zero, but regarding stay night I am thrilled to be over seniors over there for 10 years.

Nakata:
When Mr. Kondo was asked, I was working on various things until the end of the day.

Kondo:
Regarding stay night, I am trying to work hard with a stone, and the production has been starting quite a while ago, and I am working on quite a while now. However, my staff wants to talk about later that it was serious as "I want to do it!" And doing work even after the delivery is over ... ....

So, after the greeting of the opening ceremony was over, Mr. Nakata sat down at the theater's seat and decided to see the main part together. The screening was "# 00 prologue". The story I saw at Shiro's point of view, the main character of "# 01 Winter Day, Fate of the Morning" screened in Tokyo and Tokushima, but what was Rin doing at the same time, what kind of movement It was what chased after Rin 's point that there was. It was revealed by the talk after the end of the screening etc. why such a constitution was made.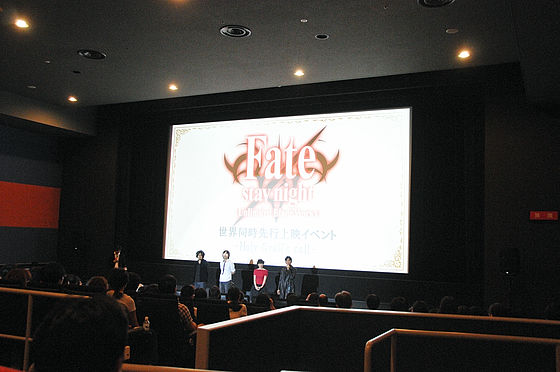 Nakata:
Wow ... ... when Mr. Toki was out in the first scene, it made it dorky (venue haha). That is, is not your father used for somewhere? (Lol)

Ueda:
That's right, there is a purpose ...... A little to a bad guy (lol) Although I dubbed it nearly a year ago, I clearly remembered it as if I had done it two weeks or a week ago, I did not think it would be such an image, but I did it silly.

Nakata:
It was pretty enough to think "Rin's promotional image?"

Ueda:
I think that you understand who played the original, but the cut of Rin and the original cut are animation as it is. The game is Shiro's point of view, but it was good to understand that this is Rin's point of view.

Kondo:
Because it is a Rin Festival. I was glad that Rin was happy in this way.

Nakata:
In the second half, when the battle between servants starts, it will burn. It is cool. And Archer is convenient and good, why are not you here today? ... Well, I do not mind if I come.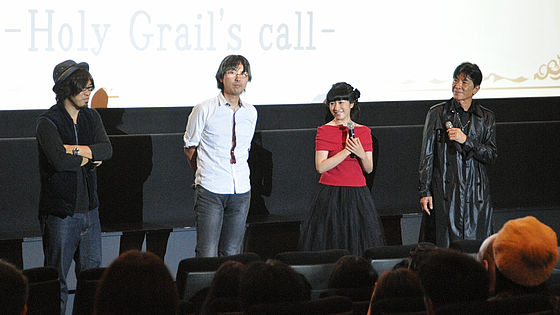 (Clapping at the venue)

Nakata:
By the way, Mr. Kondo, animation is usually one talk 30 minutes, but this is one hour.

Ueda:
Does anyone not know about it for 1 hour? (Hands raised at the venue) Welcome!

Toshiyuki Kanazawa, Aniplex Advertising Advisor (Kanazawa):
It seems that everyone felt it to be long for 30 minutes, but this time we delivered in one hour. Mr. Tabata is in charge of Rin's character design and I think that he was drawn in # 00 screened this time, so I would like to hear his impressions.

fields:
Well, the content has been checked over and over again, but since I never saw it on the screen in this way, it was fresh to look at it again.

Kondo:
I also want to hear the impressions of everyone. how was it?

(Clapping at the venue)

fields:
Are you OK? Thank you very much. Anyway, it is the impression that Rin was crawled.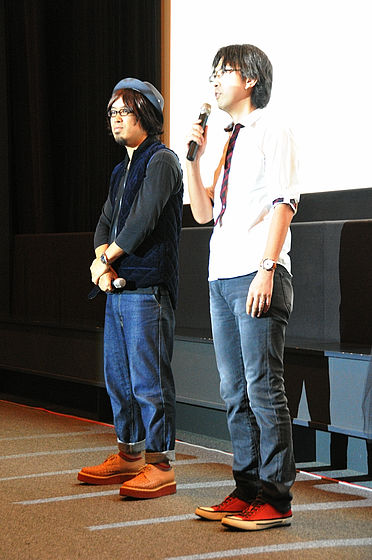 Kanazawa:
Rin with various facial expressions came out.

Ueda:
Rin is somewhat like a human being (laugh), the expression changes a lot.

Kondo:
The staff members have made it because they are happy if you are happy, so there is a sense of tension that "at last the battle begins". I draw, paint and shoot on the spot now. Mr. Nakata mentioned earlier, but the delivery itself has already been done long ago, but there is a voice saying "I want to plug into # 00" from the staff, and when it is broadcast it will enter about 40 more cuts. As I saw earlier, there was no problem and I myself was pleased that "I was able to make it with the best specs", but "I still do it!" .... Perhaps, as dust increases, I think that it is such a level that I do not know even if it sees such a thing.

(Venue lol)

Kanazawa:
The staff who are made at the site are being worked more and more to make good ones. I have released a couple of PVs already, but on the airplane I go further up than PV I am out now.

Kondo:
Yes. Finally I was able to see the main battle scene other than PV. A lot of battle appeared on PV, but the staff got scolded me saying "Please do not say that Mr. Kondo will broadcast on the quality of PV". ...... That means that the broadcast is more amazing. "We can do even more, so you can say that it is over PV". Staff are putting their strength in that extent.

Nakata:
That is why I saw what I made with such a hard feeling at the same time in Osaka, Tokyo, Tokushima, and the world.

Kanazawa:
Yes, it is about the same time.

Kondo:
Because it is Los Angeles, Paris, Nuremberg, Seoul, Tokyo, Osaka, and Tokushima. Yuuma Takahashi, a propaganda producer who is not here, is called "7 big city of animation".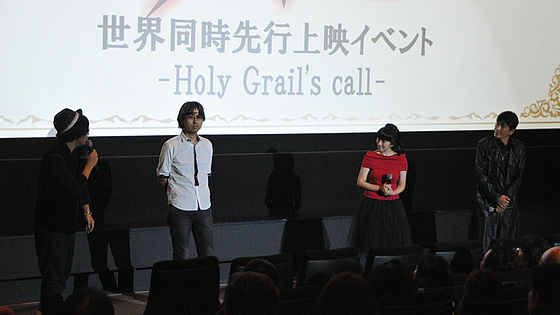 (Venue lol)

Kanazawa:
It is a city that raised hands in this screening, and it is seven in a form that matches the servant.

Kondo:
By the way, what servant is Tokushima?

Kanazawa:
Let's ask the producer Takahashi (laugh)

Nakata:
Who are you planning to go to Asobi in this later? You are quite well. Kana also goes there and this time Archer will also go, so please enjoy it as well.

Kanazawa:
I would like to ask Ueda-san and Mr. Nakata-san about the recording site. About 1 year ago I started around and I think that we are progressing quite a lot, but how is the atmosphere?

Ueda:
It's been 10 years since I recorded the previous TV anime series of "Fate / stay night", but there are various new animations, there is a theatrical version and there is a CD drama and it is several times a year It felt like I'm doing the same regular program all the time because I match the face. I think that there are also people who notice it when you see it, but there are also the lines that have appeared so far in this animation. However, I did not feel like I did before, and there was atmosphere that I am doing a whole new work, I talked with Suwabe who is the role of Archer "I am different Fate".

Kondo:
NASU and Miura coached the story of "making the Fate of 2014" all the time, and came to make "Fate / stay night" instead of the sequel of "Fate / Zero", so that the actor I am glad that it has also been transmitted to. From here, the actor is a climax.

Nakata:
At first, I did not expect to play again after 10 years, so I am deeply embarrassed .... Everyone saw "Fate / Zero" (the 4th Holy Grail War) and from that time we saw the "Fate / stay night" of the 5th Holy Grail War, from which we were expecting I will. Also, since ufotable made the quality stuff in Zero, I thought that I also expected the next stay night so I was pleased that I could watch the video with you like this in this way. When it is a story of dubbing, they are used to it all the time, but there are some saying "Oh, I'm talking about Archer after a while." Although Rin has been so small as long as this, it grew bigger and somehow difficult to handle ... (lol)

Ueda:
Because the priest cuts off the phone unilaterally (laugh)

Nakata:
Even twice (laugh) I'm getting nervous for the climax recording now.

Ueda:
Well, but I think that it was meaningful to see the screening while heading towards the climax recording. Actually, I had anxiety before doing TV animation this time. ...... because when I had a movie version of Unlimited Blade Works a couple of years ago, I thought that I performed the best performances at that time in the after-recording, and even when I saw it in the theater, It was because I had a feeling.

Nakata:
I understand it.

Ueda:
But I feel that you can record with # 00, # 01 and full power, I understood the meaning to do again. When I heard a word saying "Rin's father, my Holy Grail war begins" that came out in PV and the previous screening, "I, I, I could not express that expression four years ago "I felt that what we have built up and what we've been overlapping gave a fruit. Today, I looked through the whole # 00, and the thought became stronger. ... ... If you talk too much, you will end up crying, so let's go on a different story (lol)

Kanazawa:
Thank you very much. So, if you could ask Mr. Kondo, "# 00" shown this time is one hour frame, but what is the reason for making it one hour?

Kondo:
I think that you know who played the game, but the game will proceed with the first person of Shiro. But, since I decided to do Unlimited Blade Works which draws Rin, I thought I'd make a story with Rin. At that time, "It is better to draw also Shiro-kun's point of view" ... In fact, what's taking in Tokyo now is "# 01", it's one hour frame drawn by Shiro's viewpoint. In other words, two consecutive episodes are one hour.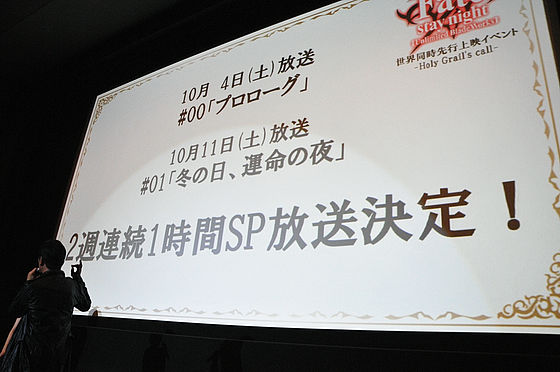 (Venue Rumble, then applause)

Nakata:
...... That means that each one is different?

Kondo:
Shiro and Rin passed several times on the way, right?

Nakata:
What I took from you and what I took from here.

Kondo:
Rin is prologue, Shiro is the first episode. The game started with the first episode, so I made it to such a constitution.

Nakata:
I'm sorry for the producer, but ... well done! It's like having taken two cameras with time and effort.

Kondo:
When thinking about going with Lin, doing Unlimited Blade Works, thinking that Shiro 's point of view might change the impression. As a hand there is sometimes "mixing viewpoints", but this method is good. At this point, Rinosujiro is not related to each other directly, because of the relationship through cherry blossoms, but from that there will be two people walking on the same time axis. I hope you'll be looking forward to "# 01".

Kanazawa:
That is why the people in the Osaka venue saw "# 00 prologue" on October 4 (Saturday) at 24 o'clock. And on the 11th (Saturday) the following week the broadcast is "# 01 Winter Day, Fateful Night", 1 hour special broadcast over 2 weeks.

Kondo:
I think that I was able to do something good with a very challenging job but the staff was serious, and Sudo, a character designer, said, "I'm not making any movies."

(Venue lol)

Ueda:
When I received a script, it was the same story, so I thought "Retak?" I was surprised because I did not know that it was such a scrap.

Kondo:
Because it made it to such a constitution so much, we had these screenings so that everyone can have fun.

Ueda:
I wonder if it is better not to know the contents or if I should know ... ....

Nakata:
Those who played the original game would be glad that "Oooh" is such a way of making.

Kondo:
I think that it made a hardship to the staff because it is the same way of entering the game, but there is a meaning to do. how is it?

fields:
I think that there is definitely a challenge, so I only had to ride this, "I have no choice but to go anymore."

Nakata:
Mr. Tabata has only one complaint! As you can see from the picture, # 00 is filled with Mr. Tabata's "Rin" love. However, unfortunately, although the face did not come out only by the voice of the phone alone, it was nice to be able to help you Mr. Sudo while doing something like "I was celebrating, if I do it in this way a little beautifully" I would be happy When. Thank you.

fields:
Yes, I will do it while consulting with Mr. Sudo (lol)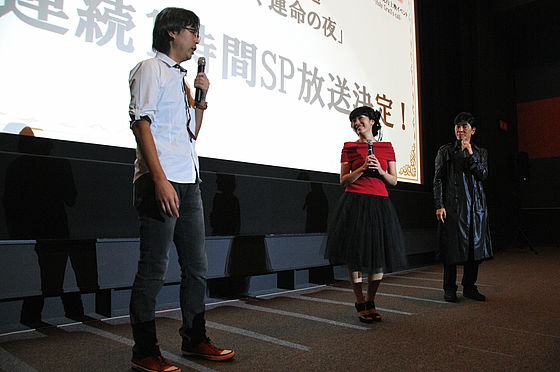 Kanazawa:
We will continue to produce more in the future, but can Mr. Tabata ask about the work being done now?

Kondo:
Probably you do the same thing when you take Tabata kun from the back.

fields:
Everyday, I am working quietly and gently.

Nakata:
As picture making privilege "Making of stay night", try putting a fixed point camera behind Mr. Tabata.

fields:
I hope it will be fun.

Kondo:
It is going to be a pressure.

Kanazawa:
And, although # 00 you watched today took an opening song at the ending, # 01 has an opening and ending.

Kondo:
What I saw earlier is the special ending for # 00.

Kanazawa:
That's right, so those who came to the Osaka venue can not see the opening and ending ... ... so this time I would like to take a closer look at the opening and ending images.

(Screening of opening video, non-telop ending video)

Kondo:
It was really a rocky route, is not it?

Ueda:
It was Rin Route. At the end of the ending, it was Archer when I thought that the person who looked back on laughter was Shiro ... ....

(Venue lol)

Kanazawa:
Mr. Tabata is in charge of cutting Rin in opening and ending, too.

fields:
Yes, we are in charge of all Rin cuts. The ending is made with consciousness of Lin Root.



Kondo:
Since the ending is cutting the contest on the premise that a lot of telops will be entered, it seems that it is nervous if it is non-telop, is not it?

Kanazawa:
Ending was sent in non-telop. Various tickers come in at the time of broadcasting.

Kondo:
Only Osaka was seen non-telop?

Kanazawa:
It's just here.

(Clapping at the venue)

Kanazawa:
What kind of impression did the opening and the ending have been made to convey?

Kondo:
Since it is still a start, I made it while talking about various things, how it is vigorous and how it differentiates because it is announcing that it is already the 2nd season. As you have seen the opening telop, the staff of Zero is almost sliding. There, Tabata Kun as Newcomer and Hideyuko Fukasawa who was in charge of music at TYPE - MOON 's "Witch of the Wizards" joined there, and we are making it in a very good situation. You can see it when you see the end roll of # 00, but you also included the name of Mr. Kajiura properly, did not you?

Nakata:
I wrote "Guest Composer".

Kondo:
There were also songs like Kajiura san anyway. This time, we are able to do very good production with "stacking" and "new blood".

Kanazawa:
Mr. Nakada, how was the video? There was also a crowd.

Nakata:
I'm glad, I was there!

(Clapping at the venue)

Kanazawa:
From yesterday also the honorable version of the numbering CM started.

Nakata:
I heard that it will be broadcasted from 24 o'clock to 25 o'clock, so if I was stuck in the TV and waited, it flowed past 25 o'clock (laugh)

Kanazawa:
Since there was a blond hair character glaringly at the end of the CM and the opening cut, I think that you can look forward to it. Also, a new key visual was released as a ban on today. Mr. Kondo, what is the concept of this visual?

Kondo:
Sudo-kun painted on the concept that "the Fifth Holy Grail War begins". Finally it is time to go. ...... This Saver, cool (the hall) The last Saver of # 00 is also good.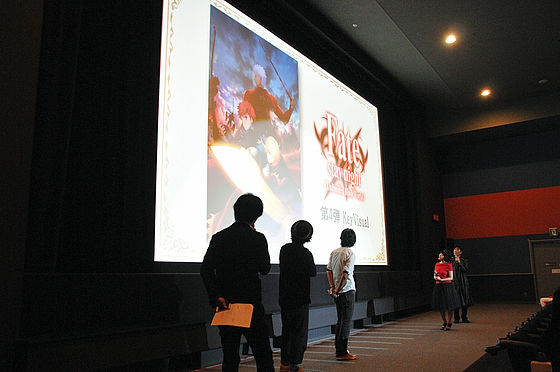 Ueda:
It is cool! Rin will get to see him in that Saber.

Nakata:
I think that there is an aspect of growing story of Rin to Shiro this time, but as I looked at earlier ...... Shiro, it is cool.

Ueda:
That's right.

Nakata:
"That? Shiro is cool, I wonder if this time will it?" I feel.

Ueda:
Shiro is getting better every year. I think that some people were read in magazines etc, but at the beginning, Ms. Ayako Kawasumi of me and Saber said "I dislike Shiro, I love archer or girugamesh" and "Ueda-san! Kawasumi!" There is something I was told (laugh). However, this time Shiro was super cool!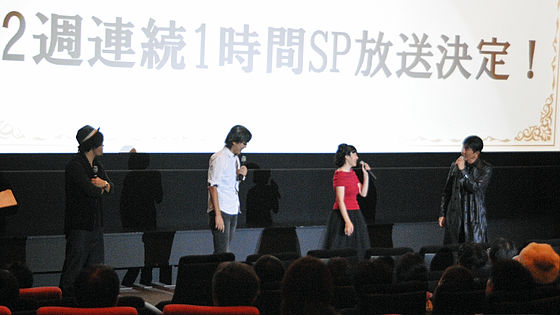 Kondo:
I wonder what kind of face Mr. Sugiyama was facing at that roundtable meeting.

Ueda:
Mr. Sugiyama said "I will try my best from now!" (Laugh)

Kondo:
That is not because of Ms. Sugiyama, so the story is like this.

(Venue lol)

Kondo:
By all means, I think that you should also pay attention to Shiro Kun who became cool. ...... Everyone, blond hair people and Esse may find their eyes somehow.

Kanazawa:
Panels of all sizes are prepared in the aisle, and photography is OK. In addition, there are also Lin, Archer, and a celebrity life standing signboard in the lobby, so please take a look at your return.

Nakata:
Can I take a picture on the way home?

Kanazawa:
Yes, certainly. I hope everyone will take pictures. "Fate / stay night [Unlimited Blade Works]" will finally start broadcasting on Saturday, October 4 this weekend. Finally one by one from everyone in the stage.

Nakata:
Thank you for coming all the way to the venue and looking forward to the fifth opening with us. I am pleased to be able to start with you in this way. It is still a long way to go, and maybe there is no possibility that we will come back here a while. If you can support "Fate / stay night" forever for a long time, there is no more pleasure.

Ueda:
Today I am delighted to be able to deliver # 00 to everyone. I also saw it for the first time today, but it seems that I can fall in love with Archer and Shiro drinking again, with Archer being drawn attractive. I saw it today and I liked it further.

Nakata:
... .... I'm sorry, but is that fun?

Ueda:
It's not about love ... ... not love ...... Let's be a master of teachers (laugh). I'm going to be working hard on future dubbing. Everyone please look forward to it.

fields:
As a staff there is not much to hear the reaction in front of the guests, so I am relieved to applaud this way. I'm surely thinking that Mr. Miura and Mr. Sudo will be applauded in Tokyo, too, but I would like to say that "It was popular even in Osaka."

Kondo:
Thank you for gathering today. It is told that Mr. Nakada "is opening", I am nervous to be starting again from here. We will do our best as a battlefield between Koenji and Tokushima, but in order to be able to deliver good ones, and after the broadcast is over, we would like to make it so that we can gather again like this. If everyone supports us, surely Tabata - kun and Sudo - kun 's brush will ride, Miura' s story will be better, the actor 's voice can also ride and the best situation can be made. I think that the voice surely arrives at the staff and I think we can do something good.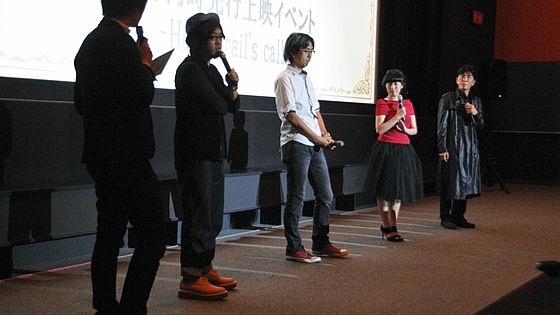 Kanazawa:
This will end "Fate / stay night [Unlimited Blade Works] World Simultaneous Screening Event - Holy Grail's call-". Thank you for today.

Finally, a commemorative photo with customers gathered at the theater.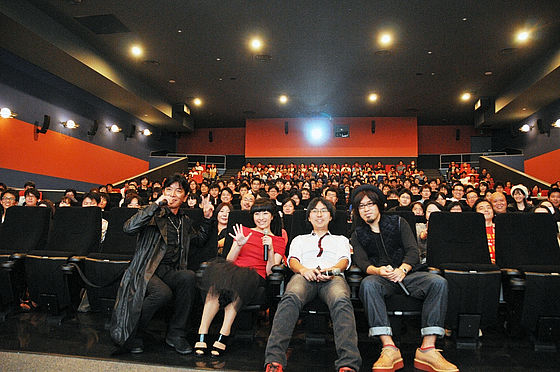 In the lobby of the venue, Rin, Archer, and a celebrated life-size signboard were set up.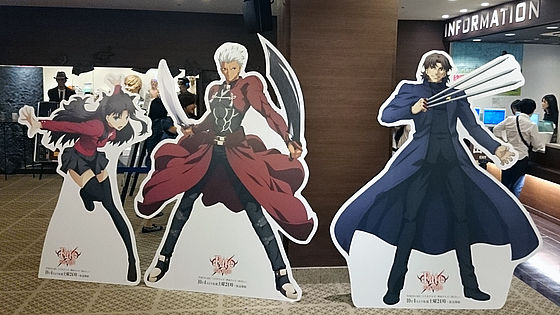 The key visual full B panel installed outside the theater after the event.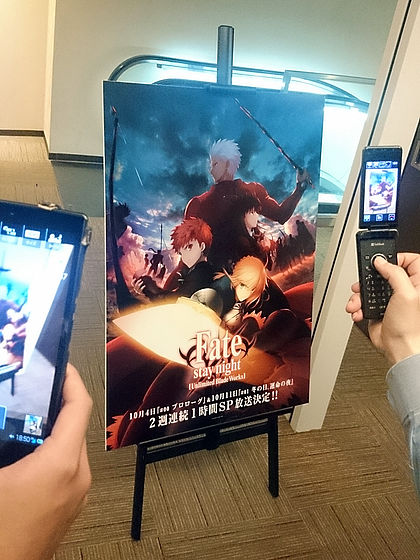 "Fate / stay night [Unlimited Blade Works]" is broadcasting every Saturday from 24 o'clock on TOKYO MX · Gunma TV · Tachibana TV · BS 11 every week. In addition, from niconico on Saturday from 25 o'clock, GyaO! · Bandai Channel · Since distribution is done from Monday at 12 d at the animation store, it is still possible to catch up from # 00 now.

© TYPE-MOON · ufotable · FSNPC

By the way, the Tokushima venue was like this.

"Fate / stay night [UBW]" Prefectural governor appears at the Tokushima venue of the pre-screening event