"Neuro Communicator" that communicates with brain waves to commercialize this summer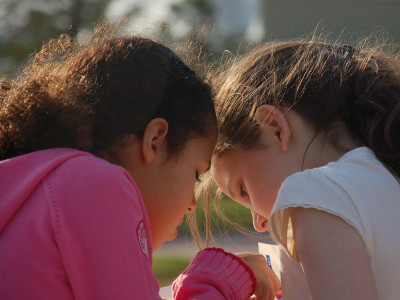 ByThisIsIt2

We use words and letters to communicate our own intention, but those who can not freely use words and letters can not convey intention very smoothly. Of course, various means are prepared for such people's support, but there are times when it is difficult to operate and the equipment is expensive and expensive in some cases.

National Institute of Advanced Industrial Science and Technology(AIST)Then, in order to solve this problem,"Neuro Communicator" to decipher intent in brain using brain waves and communicate with each otherHas been developed. It itself was completed in the spring of 2010 and it was scheduled to be released in 2013, but as the inquiries on the desire to use it early have been one after another,Released around the summer of 2011It was decided to be done.

Details are as below.
AIST: Developed a neuro-communicator, a communication device based on electroencephalogram measurement

Muscles of the whole body weakenAmyotrophic lateral sclerosis (ALS)Diseases such as disorder such as brain function (stroke etc.), spinal cord and body injuries in traffic accidents, deterioration of physical function due to aging etc, it becomes difficult even to talk or write letters, enough There are times when you can not communicate with each other.

There are various technologies to support such people's communication, but there were times when it was not possible to receive sufficient support unless it was a mild case, or an expensive device was necessary in the case of severe cases.

"A neuro-communicator" developed by AIST is a device that decodes intracerebral intention and measures communication by measuring brain waves on the scalp. As the equipment to be put into practical use, we use the world's lowest level electroencephalograph and we have realized long-term operation with coin type batteries.

The structure is like this.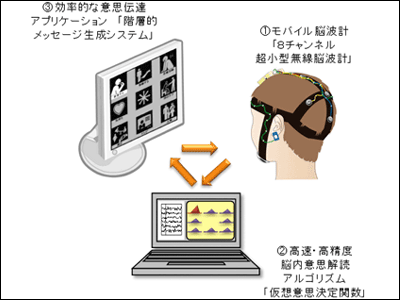 In past systems, it took time to increase the accuracy of intention prediction, and had a problem that accuracy would decrease if time was shortened, but "Neuro Communicator" realized high speed and high accuracy prediction.

Ultimately, with the goal of a product of 100,000 yen or less excluding the PC part, it was planned to be put to practical use around 2013, but inquiries and consultations from injured patients have been repeated one after another, commercialized in the summer of 2011 It was decided that. The price seems to be about 500,000 yen or less.

Probably transmitted system, also commercialized this summer AIST schedule the plan ahead (1/2 page) - MSN Sankei News

This project (research and development), Ministry of Health, Labor and WelfareHeisei 21st Health and Welfare Promotion Project for Persons with Disabilities "Research and Development Projects for Persons with Disabilities Independence Support"It was said that it was done with support from.

Even those who had difficulty in communicating their intentions due to severe illness or injury, seems to be able to communicate their intentions in a shorter time and with higher precision than ever with this device. If the product is further brushed up, the price will fall further, and many people will be able to use it easily.