The tendency for young people to move away from newspapers, books, magazines, and fixed phones more notably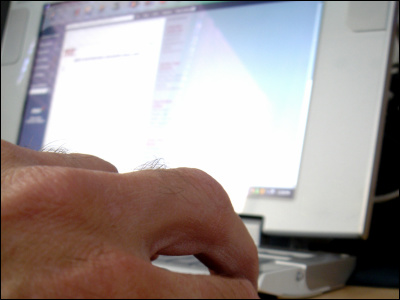 Due to the spread of the Internet and mobile phones, it has been known for a long time that young people get information from the Internet and are moving away from newspapers and magazines, but when compared between 2000 and 2010, that tendency It has become clear that it is very prominent.

What kind of money is used for what on the contemporary young generation?

Details are as below.
Home information expenses | kuraray | Information of modern family information | Kuraray questionnaire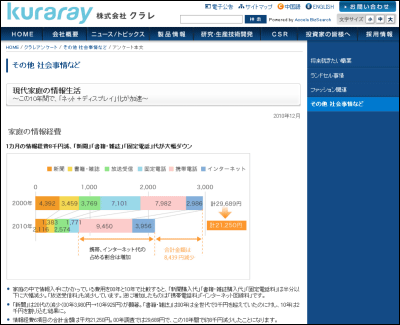 According to a questionnaire about information lifestyles of modern families conducted by Kuraray, a chemical manufacturer that manufactures functional resins, chemicals, artificial leathers, synthetic fibers, optical related products, medical products, etc., information expenses of homes in 2000 and 2010 As a result of the comparison, it seems that it turned out that the conversion to "net + display" accelerated in 10 years.

Questionnaire consists of six items: "newspaper purchase fee" "book / journal purchase fee" "fixed telephone charge" "broadcast reception fee" "mobile phone charge" "internet line charge" Comparing between 2000 and 2010, "newspaper purchase fee", "book / magazine purchase fee" and "fixed phone fee" decreased sharply to less than half, whereas "mobile phone charges" and "internet line charges" increased about.

Comparison graph. Despite the fact that the total amount has decreased from 20,6989 yen per month to 22,150 yen in 10 years, "mobile phone fee" and "internet line charge" will increase. Furthermore, although it is not as good as newspapers, magazines, books, fixed phones, "broadcast reception fee" has also decreased.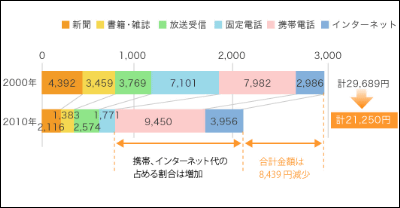 Comparing each item for each age is like this. In the twenties, it has declined by more than 10,000 yen, which shows that you are concentrating on mobile phones and the Internet.



Incidentally, "non-use (subscribers / subscribers)" who answered "0 yen" in each item is 44.6% for newspapers, 30.4% for books and magazines, 26.6% for broadcasts and 18.8% for fixed phones, but in particular for newspapers in their twenties 74.4% and fixed phone 48.9% are more conspicuous than other generations, and in the twenties, the tendency that "I do not take a newspaper and do not have a fixed telephone" has become pronounced.
in Note, Posted by darkhorse_log