UQ WiMAX finally overtakes eMobile with a single monthly subscriber net increase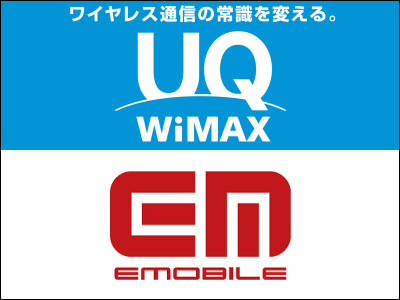 High-speed communication service with maximum downlink speed of 40 Mbps and upload maximum of 10 Mbps in July 2009UQ WiMAX"Officially started, nearly a year and a half passed, but it became clear that it finally exceeded e-Mobile with the number of contractors of a single month.

Although it is a story of a single month to the last, mobile wireless LAN router "Pocket WiFi"By combining netbooks and iPod touch etc. at low price it was possible to exceed eMobile which is steadily increasing market share, which is considered to be very interesting thing.

Details are as below.
Mobile service monthly contract data | data collection | KDDI CORPORATION

Number of subscribers | EMOBILE COMPANY | Corporate information

According to the monthly contract data summarized by KDDI, the parent company of UQ Communications which develops "UQ WiMAX" and the number of contracts compiled by EMOBILE, the number of subscribers to net increase in November 2010 was 61, 000 for UQ Communications · It is said that mobile was 50,600.

The net increase in UQ Communications exceeded EMOBILE is the first time UQ Communications is releasing subscriber growth every month. The total number of subscribers as of the end of November 2010 is 432,200 for UQ Communications and 2,852,200 for e-Mobile.

Although it is a reversal due to a slight difference, as UQ WiMAX genuinely bite into the share fight, telecommunications carriers deploying mobile broadband will be provided with better services and terminals for users Considering the merit of having it, the reversal play of this time has a big meaning.

Regarding mobile broadband, DC-HSDPA service "e-Mobile" starts at December 3 with a maximum downlink of 42 Mbps "EMOBILE G4NTT docomo launched the LTE service with a maximum of 37.5 Mbps downlink and 12.5 Mbps upload from December 24 "Xi (Crossy)Scheduled to start. Furthermore, SOFTBANK MOBILE is also downsizing from March, DC - HSDPA service of maximum 42 Mbps "ULTRA SPEEDWe are planning to develop ".
in Mobile, Posted by darkhorse_log