"Monster Hunter Portable 3rd" shipped the first week in 2 million units, the fastest record in the series is updated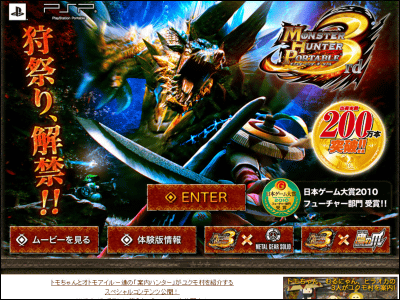 Capcom's popular series released on December 1 (Wednesday) "Latest work"Monster Hunter Portable 3rdIt was revealed that the number of shipments of the first week of release of the product reached 2 million.

With a good start that will be the fastest in the series, it will have arrived in about a half of "Monster Hunter Portable 2nd G" which established the record of 4 million shipments on March 31 in less than a week.

Details are as below.
Capcom's "Monster Hunter Portable 3rd"
Achieve 2 million books in the first week of release!
~ Maximize brand by acquiring new users, update series fastest record ~

According to the press release of Capcom, communication cooperation play "Cooperate with a friend to challenge a mighty monster" establishes a new communication style, the latest work of the "Monster Hunter" series which caused the social phenomenon called "Monhan phenomenon" "Monster Hunter Portable 3rd" was released We are shipping 2 million copies of the series in the first week.

The company has introduced a number of new elements such as "Monster Hunter Portable 3rd" adding new fields and monsters, "Otomo Airo" evolving players, etc. In addition to promoting communication among players further, We cite the linkage with the spin-off work "Monhan Diary Poka Poka Airou Village" which succeeded in exploiting the audience, as the background that the number of shipments of the first week reached 2 million, and said that they are predicting long-run sales.

In addition to launching the "Collaboration T-shirt" from UNIQLO, in addition to positively collaborating with other industries such as holding events at Shinshu Shibu Onsen in Nagano Prefecture and running a wrapping train, in March 2011 We plan to hold "Monster Hunter Festa '11" in 6 districts nationwide from now and plan to participate in various user-related events in the future to further enhance the brand value of "Monster Hunter".

By the way, although it is a number of "2 million copies in the first week", it is the latest work of "Pocket Monster" series which is highly popular regardless of children and adults, "Pokemon Black and White"(PDF file) First week sales sold 2.55 million, You can see that it is a very high figure.

Despite shipping 2 million copies, even at major mail-order sites such as "Amazon.co.jp"Out of stocks are out of stock, prices are soaringAlthough it is "Monster Hunter Portable 3rd", it seems that it will take more time to get to those who want it.
in Game, Posted by darkhorse_log