Completely free call arrival, KDDI officially announces usage fee and offer time of "Skype au" for smartphone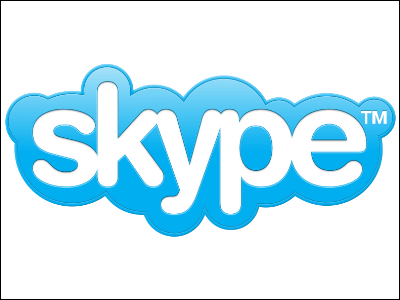 As a "forbidden app" at the KDDI presentation held on October 18The free calling software "Skype" will be installed in the company's Android smartphone or a conventional mobile phone (feature phone)It was revealed, but at last the usage fee and the time of offering were officially announced.

Details are as below.
On launch of "Skype (TM) au" on au's Android (TM) equipped Smartphone | 2010 | KDDI CORPORATION

According to this release, KDDI will launch a specialized application "Skype au" customized for the Android smartphone in conjunction with the launch of Sharp Android smartphone "IS03". It also supports "IS 01" already released.

"Skype au" is an application characterized by lower power consumption than Skype for ordinary Android smartphone, etc. By always starting up in the background, free calls to a PC or mobile phone on which Skype is installed, And you can talk overseas phone.

Usage image looks like this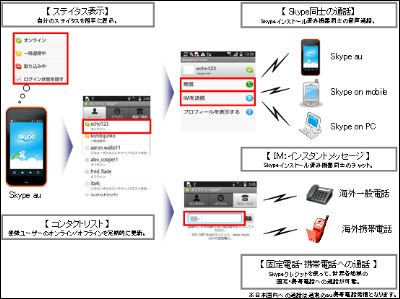 In addition, when using calls to overseas phones, it is necessary to purchase "Skype Credit" provided by Skype in advance, and make a phone call to a domestic fixed phone or cellular phone through a normal au line .

List of call charges etc. Is not it quite large that calls between terminals that installed "Skype au" become completely free for 24 hours?




By the way, pay attention because packet communication charges are generated for sending and receiving instant messages, contact list, status display, ID authentication at the time of voice incoming / outgoing etc.