"PSP go" which was a big price cut of 10,000 yen further falls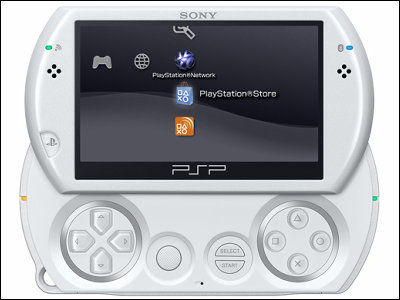 It was cut by 10,000 yen from the suggested retail price at the time of release,Sony's "PSP go" to be sold for 16,800 yen from October 26However, it became clear that the price has further fallen in just a few days from price revision.

Unlike the conventional model "PSP - 3000", despite having 16 GB built - in memory, it has become quite reasonable price, so download and play the game of the original PlayStation, play music and video player It may be just right for the layer you want to use as.

Details are as below.
Price .com - SONY PSP Playstation Portable Go Piano / Black PSP-N1000PB Price comparison

According to the major price information site "price.com", Sony's "PSP go" piano · black model is sold at 15,000 yen as of October 30, 2010, 2010. As a result of this price correction on October 26, the suggested retail price was 16,800 yen, "PSP go" is calculated to be about 1800 yen more affordable. In addition, it is not uncommon for itself to fall down to a certain extent immediately after release date or price revision.

Price change historyIt is like this. After all, the effect of price revision is big, and the graph is outrageous.




Incidentally,PSP-3000 piano · black modelAs of 23:30 on October 30, 2010, it is 14,400 yen.

Although it is lightweight and compact, it also has built-in memory, so it seems that if you have a service that will allow you to play UMD assets you own, it seems to be getting popular, but again the hurdles to realization are high Is it ... ?.
in Game, Posted by darkhorse_log