Start of inventory disposal, or "PSP Go" price of poor sales fell sharply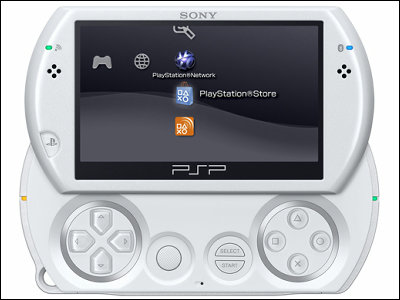 It was adopted in the conventional PSP series"PSP Go" that discontinues recording media "UMD" and limits game software to download sales onlyAlthough it was released in November last year, in contrast to the strong old model, the sluggishness of the sales continued.

Although it seems that the high price of the main unit, the fact that conventional software assets can not be used, and that there is not so much software downloaded and sold seems to have led to sluggish sales, but the selling price of the main unit has fallen at a stroke and stock disposal has started It became clear that it became such a state.

Details are as below.
Price .com - SONY PSP Playstation Portable go Pearl White PSP-N1000PW Price comparison

Major price comparison site "Price .comAccording to "PSP Go" Pearl - White model is sold at 19,675 yen as of 23:45 on 23rd October 2010, 2010. In addition, since the suggested retail price at the time of release was 26,800 yen, it was calculated to be about 10,000 yen lower.

Price change historyIt is like this. Although it had been moving at a price exceeding 20,000 yen by the end of September, I understand that it has fallen tremendously since entering October.



Also,Piano · Black modelThe selling price is 10,7618 yen as of 23:45 on October 23, 2010, resulting in a slightly more expensive price than the Pearl - White model.

By the way, I am involved in research and consulting mainly on game businessSurvey results of October 11 - October 17, 2010 conducted by Media CreationAccording to the fact that the sales volume of "PSP go" was the lowest at 1590 units, which is lower than "Xbox 360 (2342 units)" or "PS 2 (1715 units), the PSP of the conventional model was 37,127 units And it is a symmetrical result, and it seems that the demand of the PSP series itself is not sluggish.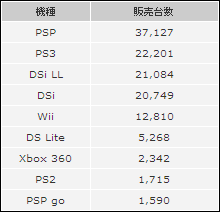 Mr. Kazuo Hirai, CEO (CEO) of Sony Computer Entertainment, said in August, "Not enough network infrastructure is not necessarily being developed for download sales around the world" ,I will reveal that we will not release hardware that can purchase game software by download onlyAs PSP Go's upsides are believed to leave a great lesson to Sony, attention will be gathered in what way this lesson can be applied to new game machines.

· Next article
Sony cuts "PSP go" by 10,000 yen sharply, starting from October 26 at a new price - GIGAZINE
in Game, Posted by darkhorse_log