Publish a cooperative application where Facebook links with mixi, enabling information sharing with my mic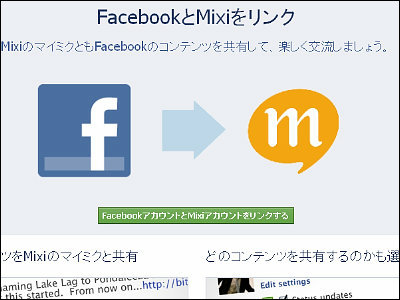 It is the largest SNS in the world and has entered full-fledged entry into the domestic SNS market such as establishing a Japanese corporation in February this year but releasing a cooperative application that makes it possible to share information with the largest mixi in Japan, It is now possible to share Facebook content with my mic.

Cooperating with mixi that was thought to be a competing horse is a pretty drastic strategy, but from the user's point of view it has become a convenient way to continue the relationship with my mike that I've built so far on Facebook .

About the function of the application from the following.Link your profile with Mixi | Facebook

Facebook has released a new application today that Facebook users can share information posted on Facebook with friends "Mi Mike" on mixi.

It is possible to link with mixi using application, you can share up-to-date updates posted on Facebook, links, notes, videos, photos on mixi.

You can share Facebook unique information such as links, pictures, notes, events, groups etc, with Twitter-like features used on Facebook "What are you doing now?" And mixi's mic. Moreover, it is possible to find more friends on Facebook using the information provided on agreement on mixi.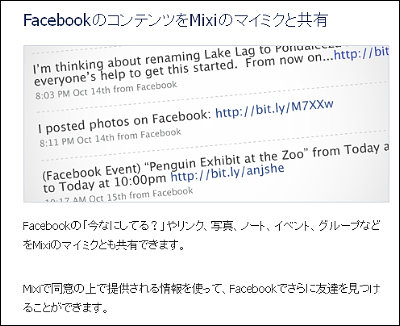 As with privacy management on Facebook, it is also possible to choose which content to share with Mi Mike and this sharing can be canceled at any time, so it is safe to design even if the situation changes.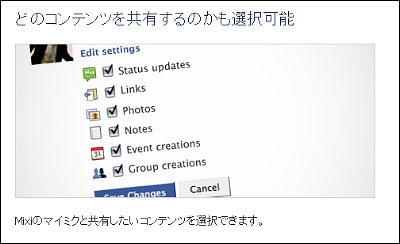 There was one reason why Japanese SNS users can not get on Facebook, "There are people you do not know on Facebook", but by linking with mixi you can increase the connection on Facebook from Mi Mike It is also good news for those who are planning to use Facebook, and Facebook is likely to see an increase in users in Japan, so it is expected that future developments are increasingly expected.