Finally VOCALOID songs will start full-scale distribution at DAM, can we break the JOYSOUND stronghold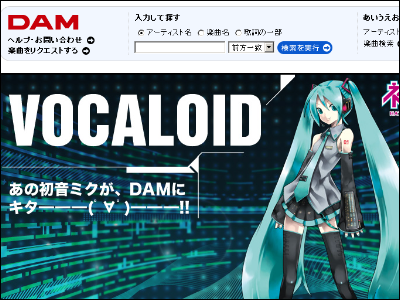 Hatsune MikuYaKagamine Rin & LenIt was not an exaggeration to say that karaoke distribution of VOCALOID songs made using JOYSOUND and so on was a situation so far, but the provision of VOCALOID songs will begin in earnest even in "Karaoke industry's largest" DAM " It was revealed.

JOYSOUND not delivered "Disappearance of Hatsune Miku"Series is also being delivered, and it seems to be trying to differentiate the lineup of songs.

Details of distribution music is from the following.Karaoke [club DAM.com]

Karaoke [club DAM.com] A feature page appears on the site, and it was announced that it will strengthen the distribution of VOCALOID music such as Hatsune Miku. Because the momentum of contents related to VOCALOID continues to accelerate, it seems that this delivery has been strengthened.



Virtual idol singer, Hatsune Miku, born from "VOCALOID" software that synthesizes realistic voices based on the recorded human voice. When you enter the melody and lyrics that you made, it will sing with a cute singing voice. Its ability to express Fortesimo and vibrato finely, just like a real singer!
It is an extremely popular idol who releases songs on the Internet by producing various people regardless of Pro Am.
Hatsune Miku also played a major debut on CD, games, goods, the momentum does not stop.
Finally deliver her songs in live at DAM! Let's sing a lot of famous songs born from the net!


A list that says the recommended items from the songs being distributed is like this. From among the enormous number of songs certainly famous songs and popular "P (producer)It is a feeling that we incorporate the songs in good balance.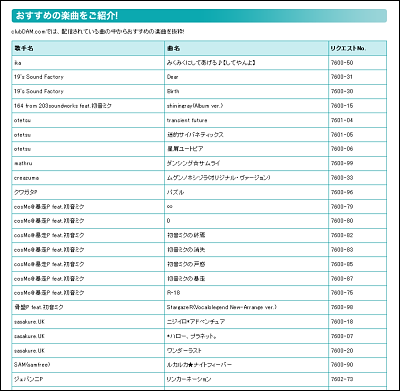 However, it is known by the song composed by Hatsune Miku such as "Melt" in the listSupercellHatsune Miku did not have any songs, so when I looked it up, it seems that the other songs are delivered, but the vocals by Hatsune Miku are not yet delivered. It is a place where future delivery is awaited as it is not an overstatement even if it is said that it took on one part of the boom.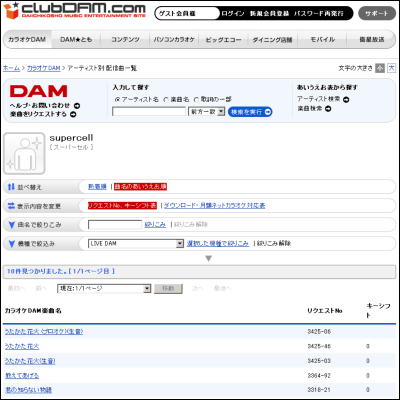 By the way this is a comprehensive ranking of JOYSOUND which is strong on the songs related to Nico Nico animations such as VOCALOID music. Although it is not ranking of a specific genre, Hatsune MikuMegurine LukaMany songs are ranked in such as.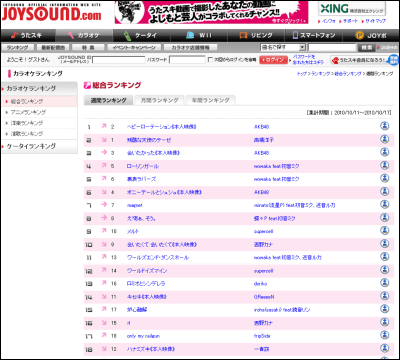 Whether or not DAM will become the same lineup as JOYSOUND is worrisome, but if you do not have a karaoke store where JOYSOUND introduced in the neighborhood and you could not sing VOCALOID music with karaoke, Is not it a great pleasure to add songs to the industry's largest DAM?
in Note, Posted by darkhorse_log