Anime Director Satoshi Kon of 'Paprika' & 'Millennium Actress' Passed Away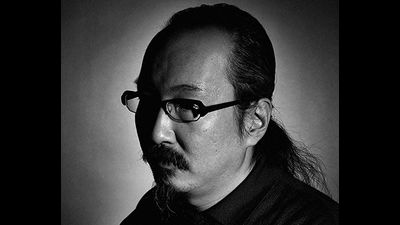 Highly acclaimed anime director Satoshi Kon of
Millennium Actress
,
Perfect Blue
and
Paprika
passed away yesterday at the age of 46.
今 敏 永眠のお知らせ - KON'S TONE
http://konstone.s-kon.net/modules/info/index.php?page=article&storyid=37
Kon's website was updated around 15:00 Aug. 25 by his wife Kyoko. According to the announcement, Kon passed away for pancreatic cancer at 6:20 AM, August 24.
Kon's apparent last tweet was posted at 21:40 August 23rd (JST), saying something to the effect of "I might be old-fashioned, or maybe it's just that I still admire the old values."
古くさいというより、古びた価値観にいまだに憬れているのかもしれないが。

— kon (@konsatoshi) 2010年8月23日


Around 18:00 August 24, Madhouse's president Masao Maruyama tweeted "An important director to us (Madhouse) passed away just now..."

すいません!すいません、夕方ということで時間が決まってましたっけ?いまマッドの大事な監督が急逝して…

— Masao Maruyama (@MasaoMaruyama) 2010年8月24日


And around 02:00 August 25, Yasuhiro Takeda, founding member of Gainax, expressed his grief. It roughly transtrates to "I've just read the news of Satoshi Kon's death on mixi. He was only 47 years old. It's too sad. Can't believe we won't be meeting again at a pub in Kichijoji."

今敏さんの訃報をさっきmixiで読んだ。47歳。もう吉祥寺の飲み屋で会う事がないのか。悲しすぎる。

— 武田康廣 (@takedayasuhiro) 2010年8月24日


An hour after that, Takeda tweeted "It seems to be true. He was suffering from cancer, I've heard."

@hisayuki本当のようです。ガンだったそうです。

— 武田康廣 (@takedayasuhiro) 2010年8月24日


Manga artist Masami Yuki, who heard about Kon's death from a reliable source, tweeted "To me, Satoshi Kon was an absolutely trustworthy creator. It's unbearably sad to think that I won't be able to see more of his distinctive style."

今敏監督は僕にとっては絶対的に信頼のおける作家でした。あの作風がもう見られないとは悲しくて仕方がありません。

— ゆうき まさみ (@masyuuki) 2010年8月24日


Born on October 12, 1963, Kon attended Musashino Art University and made his debut as a manga artist on Young Magazine during his college years. After college, he worked as an assistant for Akira author Katsuhiro Otomo. Kon entered the anime industry by working as set designer for Roujin Z(1991), for which Otomo was the screenwriter and mechanical designer. He made his screenwriting debut with Magnetic Rose(1995) and his directorial debut with Perfect Blue(1997).

He is best known for directorial works on Millennium Actress(2001), Tokyo Godfathers(2003) and Paprika(2006). Lately he was working on an upcoming film called The Dream Machine (Yumemiru Kikai).

Here's a link to Kon's official website.

Kon Satoshi Official Site - KON'S TONE
http://konstone.s-kon.net/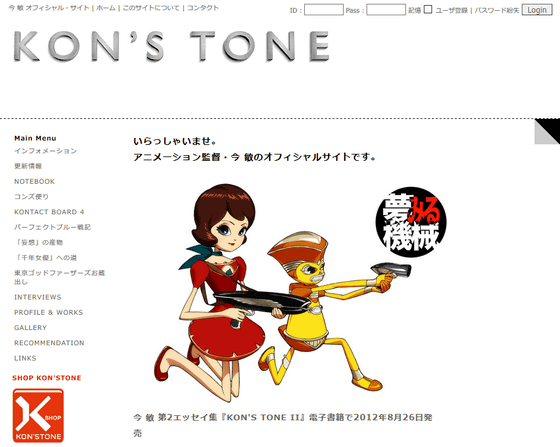 And his final blog post.

NOTEBOOK >>NOTEBOOK>> Blog Archives >> Shinsetsu na Osekkai - KON'S TONE
http://konstone.s-kon.net/modules/notebook/archives/562

Manga artist Seiho Takizawa, who's been friends with Kon since their grade school days in Hokkaido, also writes about the sad news on his blog.

Hioufuku Shokan (Un-Correspondence) | Kon Satoshi
http://blog.takizawaseiho.com/?eid=1210727

I heard about his death from a mutual acquaintance on the phone.
The last I've seen him was at his one-man exhibition.
The half-joking tone, his tendency to space out or reply halfheartedly to things he doesn't agree with, hadn't changed one bit from his school days.
A while before that, I was invited to his house.
I went there in the afternoon but time passed fast while we talked and talked and before I knew it it was midnight.
We didn't reminisce at all.
We talked the whole time about our works, other people's works, what we want to create and what we shouldn't, that sort of stuff.
Unlike me, who's flirty and loose when it comes to my career, he was the sort of guy who always took his creations seriously and tackle it head-on, never backing off.
He tends to be hard on himself as well as his works, which might have led him to be misunderstood sometimes, but his strict attitude comes from his sincerity to people and sincerity to his creation.
Since middle school, he only praised the things he truly approves of, so I'd treasure his compliments for life.
I've checked his blog and the latest post listed his favourite movies.
You've never told me you liked King of Hearts.
I don't want to write bullshits like RIP.

Why'd you die, you idiot?

Here are some other websites (in English and Chinese) reporting Kon's death.

Perfect Blue / Paprika Director Satoshi Kon Passes Away (Updated)-News-Anime News Network
https://www.animenewsnetwork.com/news/2010-08-24/award-winning-director-satoshi-kon-passes-away

Influential Anime Director Satoshi Kon Has Died-IMDb
https://www.imdb.com/news/ni3963353/

Satoshi Kon, Anime Filmmaker, Dies at 46-The New York Times
https://www.nytimes.com/2010/08/26/arts/design/26kon.html

传《红辣椒》导演今敏因癌症去世 享年47岁(图) - 新浪网
http://ent.sina.com.cn/m/f/2010-08-25/09133063470.shtml